As promised, we're back with the second half of our month-long Oscraps Designer Spotlight. A new thread has been posted in the Oscraps forum and for the last half of this month we challenge you to have a Q&A session with another person. A single question? An entire interview? That's up to you. Your page must have at least one question and one answer, though.
We asked you to spend some time each day writing down quotes from your daily life, and if you're like me you noticed that sometimes the conversation between you and a loved one originates from a question you asked them. The dialogue doesn't always show up organically, a lot of times you inadvertently (or deliberately) went out in search of it – sometimes receiving an answer you expected and other times being completely surprised by the response you received.
Once again we have some free products for you for this part of the challenge, They're free for two weeks (2/13-2/16) and you must use pieces from at least one of them in your challenge page.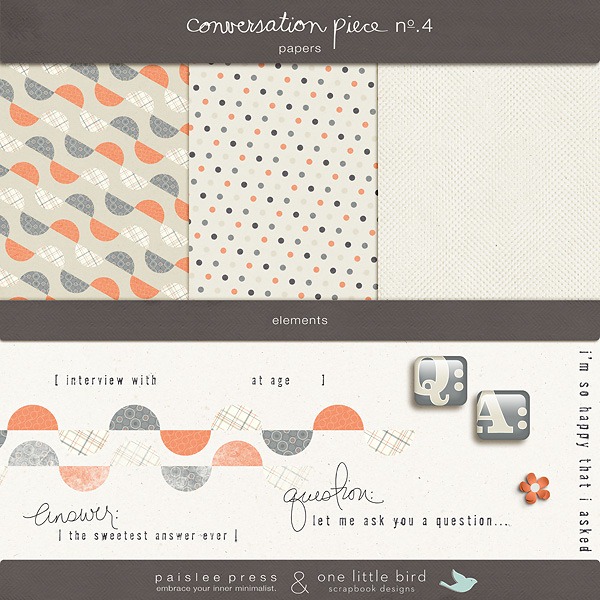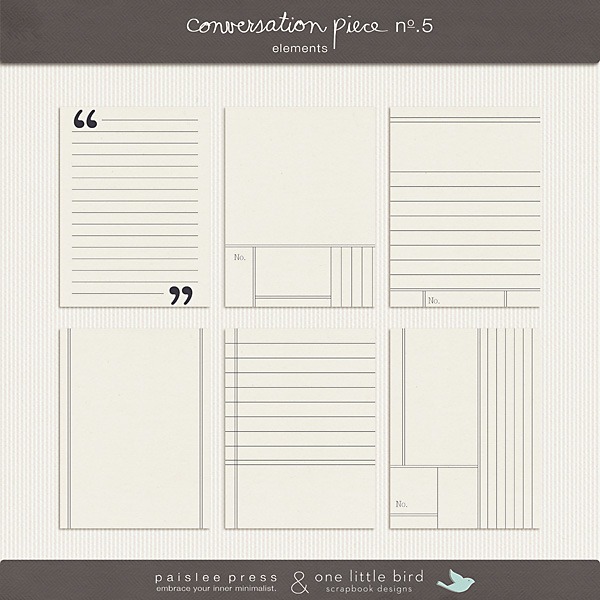 Once again, these are made to coordinate with our collaboration, Dialogue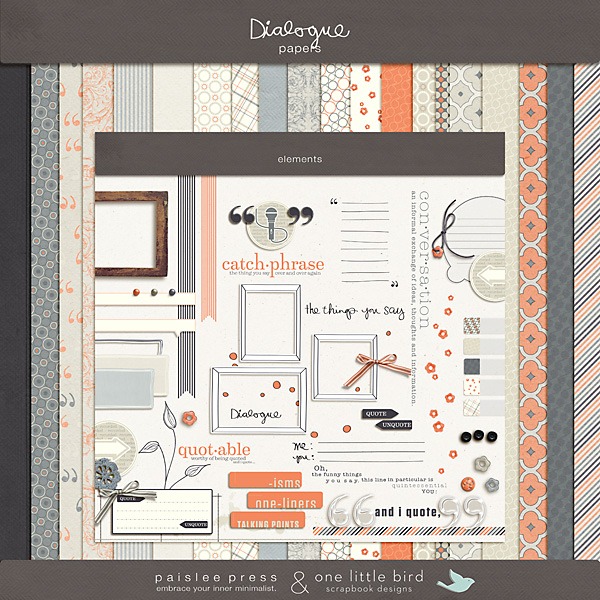 The Rules:
Use at least one of the freebies in the design of your page
Use 100% Oscraps product (from any designer)
Post your layout in the Oscraps Designer Spotlight Gallery with your credits
Post a link to your layout (and the image, if you know how) to the Designer Spotlight Thread
You must post your layout by Saturday, February 26th at Midnight EST-USA
The Reward:
Everyone who plays along with us (all month long – you'll need to have also done a page for the first half of our challenge) will receive a $2 participation code for your next purchase at our collab shop, which will be filling up with additional products throughout this journey.
In addition, Liz and I will be choosing one Master of Dialogue winner at the end of the month, a person with a very memorable and/or above-and-beyond project in one of the challenges. That person will win a one month guest spot on both of our Creative Teams for the month of their choosing.
There will also be a prize for the Most Projects Submitted – a $15 coupon to One Little bird and a $15 coupon to Paislee Press.
After that, everyone who meets the challenge guidelines will be entered into a random drawing for the following three prizes:
Prize 1 – $10 coupon to One Little Bird and $10 coupon to paislee press
Prize 2 – $5 coupon to One Little Bird and $5 coupon to paislee press
Prize 3 – $5 coupon to One Little Bird and $5 coupon to paislee press
The more projects you complete, the more times you're entered to win.
A little bit of inspiration to spark your creativity
by Me
JOURNALING: i guess we'll just keep going through this then, every day. i know you're a smart kid, but nothing? you can't be serious. two can play at that game, and we go through this back and forth banter about kissing girls every week because it always gets a rise out of you, yet you won't cough up the goods on what happened at school. if i break it down subject by subject i can usually get you to tell me a little bit of what you discussed. i suppose i should feel grateful that you've progressed from your previous answer, "stuff". although learning "stuff" seems a little more interesting than nothing at all.
MATERIALS: Dialogue, Conversation Piece no. 4 and Conversation Piece no. 5 by Paislee Press & One Little Bird
JOURNALING: "Um…I want to go to Las Vegas! Is that a good idea?"  That's how you answered when we asked, "What do you want to do today Audrey?" You didn't respond with Disneyland, the park, the zoo or some other kid friendly destination, but Las Vegas of all places. We've already taken you there a total of 5 times since you've been born because it's one of our favorite weekend getaway spots. Judging from your reponse, perhaps its becoming one of yours as well. We love that you're a good traveler. We love that you love road trips, that you love getting ready for the trip and making a big deal out of packing your favorite toys, that you clutch on to your blanket during the entire card ride and that at the end of the day, you love falling asleep with your sister in a big fancy hotel room bed.
MATERIALS: Dialogue, Conversation Piece no. 4 and Conversation Piece no. 5 by Paislee Press & One Little Bird
So go ask a question and see what sort of answer you get, then join us for the challenge!