I caught a Jeep commercial Thursday night on Bravo – and I was instantly smitten with their "Genetically Engineered…" slogan for their new ad campaign for the 2011 Compass (then I was somewhat amused to find out that other people feel, let's say, not so much the same way as evidenced by the comments on the Jeep blog here.) You can't please all of the people all of the time.
I've been a Jeep lover since February 2007 when I took mine for a test drive. I drove no more than 20 feet and was ready to buy it. I joined the so-called "Jeep Cult" right then and there, and despite it being the most finicky vehicle I've ever owned I am adamant that I will never drive anything other than a Jeep for the rest of my days.
But that's not why I liked this ad campaign – I'd have liked it if it were a Ford or a Honda campaign all the same. Because what caught my attention was the "Genetically Engineered to be…" tagline and I was instantly inspired to create.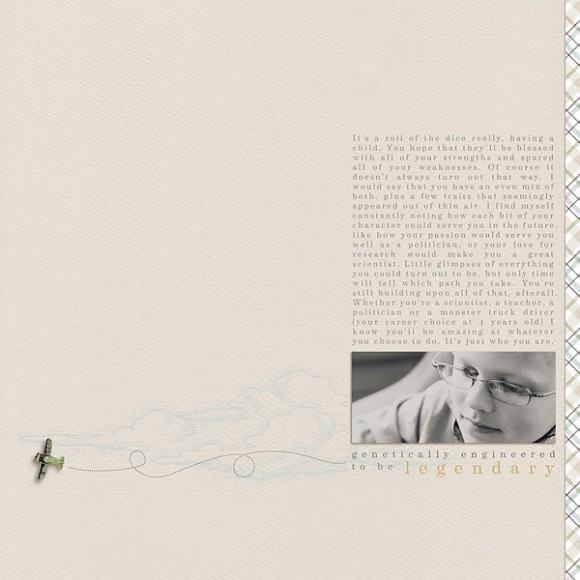 JOURNALING: It's a roll of the dice really, having a child. You hope that they'll be blessed with all of your strengths and spared all of your weaknesses. Of course it doesn't always turn out that way. I would say that you have an even mix of both, plus a few traits that seemingly appeared out of thin air. I find myself constantly noting how each bit of your character could serve you in the future, like how your passion would serve you well as a politician, or your love for research would make you a great scientist. Little glimpses of everything you could turn out to be, but only time will tell which path you take. You're still building upon all of that, afterall. Whether you're a scientist, a teacher, a politician or a monster truck driver (your career choice at 4 years old) I know you'll be amazing at whatever you choose to do. It's just who you are.

MATERIALS: Air Time and Little Honeybee (airplane trail) by One Little Bird; Font is Eames Century Modern by House Industries.
The clouds from Air Time are actually stickers, but they just weren't working right as stickers for my page. I quickly turned them into faint stamps on my background paper by changing the blend mode to "Darken" and bumping the opacity down to 60%. Only took a few seconds and this way I could include them as a subtle element that didn't interfere with my text.