I'm beyond thrilled to be a part of the FREE Big Idea Festival at Big Picture Classes this summer. 12 instructors (1 of them is me!), 12 words to live by and, at the end, a mini-album that's a reflection of how those words inspired you.
We each recorded little video messages to share the inspiration behind the words we chose, and I typically black out as soon as I have to speak on camera so there's no telling what I said! How exciting is that?! Mystery message!
There will also be some amazing giveaways throughout from some really amazing manufacturers and from Big Picture Classes.
Registration is open right now – it's completely free – and it's a great way to expand your creative horizons this summer. Just add the class to your cart, go through the checkout process and you're in like Flynn.
For the first time this year, Big Picture Classes offers a coordinated kit of papers and supplies to go along with the Big Idea Festival. They created a limited number of kits – first come, first served. When they're gone they're gone. Except for one that I'm giving away here, that is. It's a little out of the box for me to be giving away paper scrapbooking supplies, right?
That's the fun part. I'm an enigma, always leaving you guessing what I might come up with next.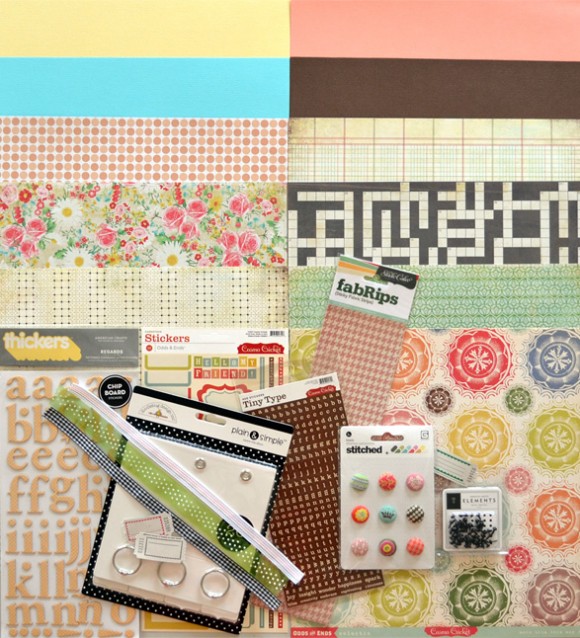 Wouldn't you love to open up this package in the mail? Maybe spread it all out on your table and stare at it, wistfully? You know you would.
Click here for a complete list of what's included.
To enter for your chance to win the Big Idea Festival Kit, simply leave a comment below answering the question: What one word could sum up your life right now? 
We've already picked our words, but I'd love to hear yours!
Your comment must be posted by Monday, July 25th, 2011 at 11:59pm (midnight) EST. One winner will be chosen at random from all entries received. You can double (or triple) your chances of winning by posting about this giveaway on Twitter or Facebook (psst, there are "tweet" and "like" buttons at the bottom of the post even!) – just make sure you come back here and leave a separate comment each time in order to earn your extra entries.
Note: The giveaway period has ended, any further comments (while welcome) will not be eligible to win, thanks to everyone who entered! I will announce the winner here on my blog on 7/26/2011.
Good Luck!