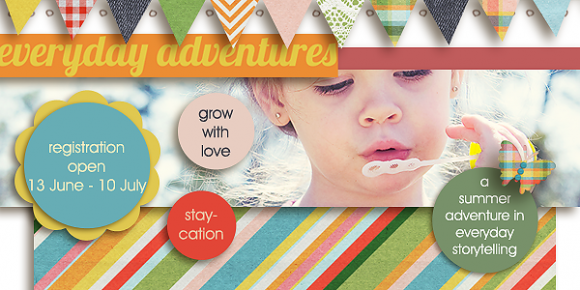 Summer can be a difficult time for scrapbookers – or at least for this one. We talked about it a bit on last week's episode of The Digi Show – about how summertime seems to be when we take the most pictures, yet get the least amount of scrapbooking done. I'm sure it's a mixture of the kids being out of school and all of the events that are packed into the summer months, but also it can just feel a bit overwhelming to sit down with all of these individual, everyday stories and know where to start.
So I wanted to feature the Grow With Love: Staycation workshop from Sara Gleason & Crystal Livesay here as a shortcut to memory keeping success here today so that all your summer moments don't have to wait until winter to appear in your albums! PLUS Sara & Crystal have graciously given me one seat in their workshop to give away here on my site (details below).
If you're not familiar with the Grow With Love series, it's an 8-week long workshop that combines journaling prompts, products and tutorials that guide you through the process of scrapbooking the moments in your life, with each series centering around a specific theme. This is what makes it a perfect summer project – because the majority of the thinking and planning has been done for you, allowing you to sit down with your photos and the products provided and fast-track the process. We all want to spend less time in front of the computer this time of year and more time with our families enjoying each moment.
The class is offered as both self-paced and enhanced workshops, with the enhanced version giving you access to a community where you delve further into each of the prompts, laugh together, cry together, braid each other's hair – and get a complimentary exclusive kit from Jennifer Barrette as well as other exclusive articles, tutorials and discounts not available in the self-paced. (Some of these things MAY be exaggerations.)
Registration is open through Sunday, July 10th – but read on for a chance to win a spot in the class.
To enter for your chance to win a seat in the Grow With Love: Staycation workshop, simply leave a comment below answering the question: What's your favorite summer memory from your own childhood? 
Your comment must be posted by Friday, July 8th, 2011 at 11:59pm (midnight) EST. One winner will be chosen at random from all entries received. You can double (or triple) your chances of winning by posting about this giveaway on Twitter or Facebook (psst, there are "tweet" and "like" buttons at the bottom of the post even!) – just make sure you come back here and leave a separate comment each time in order to earn your extra entries.
Note: The giveaway period has ended, any further comments (while welcome) will not be eligible to win, thanks to everyone who entered! I will announce the winner here on my blog on 7/9/2011.
And if you haven't already, make sure you also enter to win a spot in the Me & My Shadow classroom at Big Picture Classes, which also ends this Friday.
Good luck everyone!