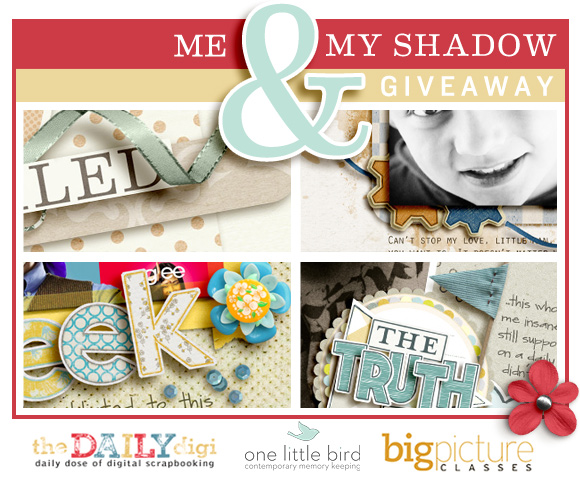 For the next week you can enter to win a spot in the Me & My Shadow classroom at Big Picture Classes. I developed this class in conjunction with The Daily Digi and Big Picture Classes in order to expand upon the Mind Blowing Drop Shadow Tutorial that you can find here on my blog.
"Peppermint, why should I take the class if I can read your tutorial for free," you may ask? Good question! The partnership with BPC and TDD allowed me to build upon what I had already laid out here on my blog. Most importantly – it forced me to organize my thoughts and provide more information from the ground up. I had a limitless amount of space to fill, whereas here on my site I'm constrained by bandwidth and server speeds, so I can't serve up a lot of information to a lot of people at the same time the same way that they can.
I just bought your "Me and my Shadow" class at Big Picture, thinking that since the blog tutorial had covered the linear burn tip and hex color thingie, what else could there possibly be to drop shadowing? WOW–a lot more it turns out–so much so that I've just started and already my pages look 100% better. Such great info, and taught at a level everyone can understand! Best $10 I ever spent!

-Kristi
I don't want to make you hyperventilate with excitement or anything, but there's also video in this class! Lots and lots of video! Which may not be a selling point if you'd rather NOT have to listen to me for an extended period of time, but I'm one step ahead of you. There are video transcripts! You can just mute me and read along. You could even try to get Morgan Freeman to read the transcripts to you, if you have that sort of pull.
I know that many of my lovely blog readers and customers have already taken this class, and I didn't want to leave you out of the fun – so even if you have already taken Me & My Shadow you can enter this giveaway and choose a $10 Gift Certificate to my store in lieu of the prize.
To enter for your chance to win a seat in the Me & My Shadow classroom, simply leave a comment below answering the question: What Photoshop technique or process would you most like to see explained further? Keep in mind that I do not have Photoshop Elements nor have I ever used it, so if your question is specific to Photoshop Elements I may not be your woman. But many techniques are similar or identical in both.
If you can't think of any tutorials you'd like to see in the future, feel free to say "I already know everything, just enter me to win, lady!" That way I'll know who to contact about doing tutorials for all of these other people.
Your comment must be posted by Friday, July 8th, 2011 at 11:59pm (midnight) EST. One winner will be chosen at random from all entries received. You can double (or triple) your chances of winning by posting about this giveaway on Twitter or Facebook (psst, there are "tweet" and "like" buttons at the bottom of the post even) – just come back here and leave a separate comment each time in order to earn your extra entries.
Note: The giveaway period has ended, any further comments (while welcome) will not be eligible to win, thanks to everyone who entered! I will announce the winner here on my blog on 7/9/2011.