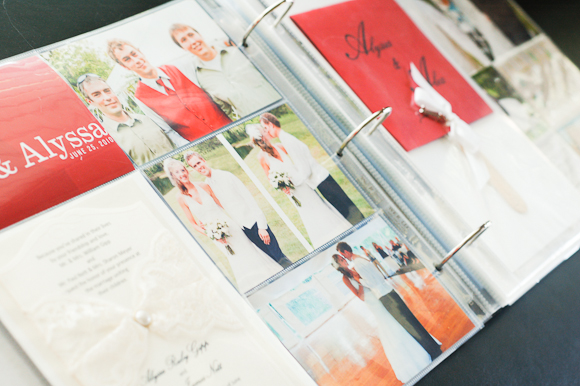 I'm working backward and forward in time – I have pocket pages that are partially filled here and there as I retrace our steps through the month of June, gathering all of the little bits and pieces of our summer so far. I did manage to finish this section from a wedding we attended a couple of weeks ago, though, so I wanted to share these pages today. These pages went together in a snap because I had already edited the photos and written about them here on my blog.
So far I haven't been following any specific formula to how I approach this project and that means I feel no pressure as I'm working. I'm arranging the pages chronologically but it's not a photo-a-day. My goal is to have no specific goal – to just enjoy the change of pace and process that goes along with recording these moments in paper form. I can work in little bite-sized pieces and feel like I've finished a little something if a few pockets are now full. Immediate gratification.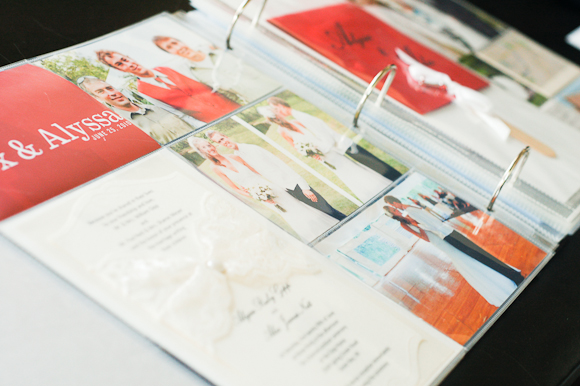 I used a We R Memory Keepers page protector (from their 12×12 Multi-Pack) here because I wanted to be able to include the wedding invitation and the 6×8″ pocket on this page worked perfectly once I flipped it upside down in the album.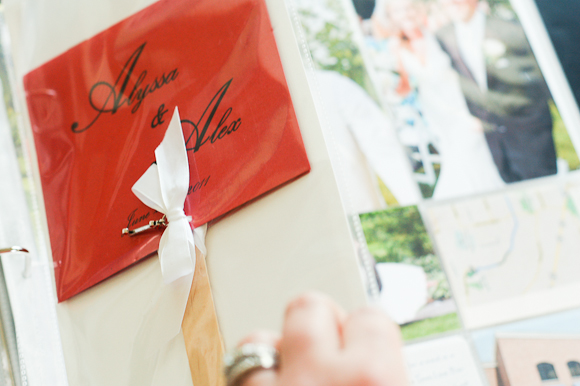 At the wedding had these pretty little handmade fans that also served as the wedding program and I just adored them. I used an American Crafts 6×12″ page protector in order to include it along with the photographs. I didn't want to glue it down because I like the idea of being able to remove it from the sleeve to look at it at a later date, so in order to keep it from sliding around I cut two small slits into the page protector and pulled the original ribbon (used to tie the fans shut) through and tied it on the outside of the page sleeve. I also added a little key charm that I had floating around in my "Big Big Box of Random Supplies" in order to feel fancy about the whole thing.
I was a little worried that by cutting the page protector that it might continue to tear, but it doesn't seem to have compromised it at all and I like having the tactile feel of the ribbon outside of the plastic – it gives it a little dimension.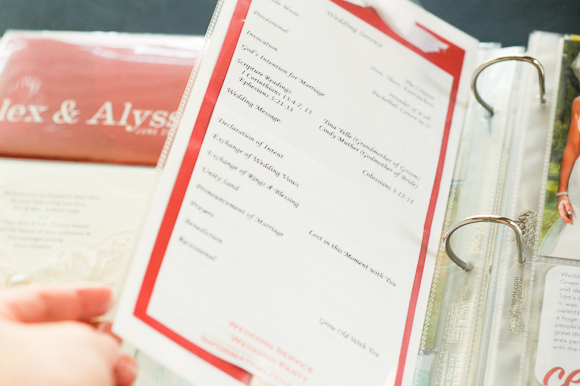 We had two copies so I opened up the second one and placed it on the other side of the page sleeve, open to the page with the Wedding Service details. It's attached to a piece of cardstock so it can be pulled out and flipped through. As a digital scrapbooker, the idea of  people being able to remove these things from our album and leaf through them appeals to me in a big way, so I was mindful not to attach anything too permanently. I want the album to remain very interactive, both for us and for others looking through it.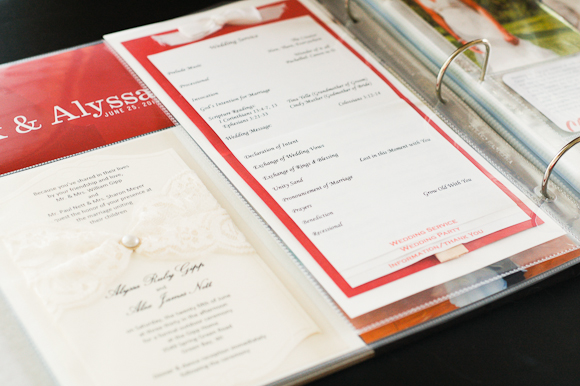 I also liked how, when flipped over, the 6×12″ sleeve covered the photos on the opposing page and created a nice, blocked display of all of the important wedding details at  a glance. It pleased my inner obsessive compulsive.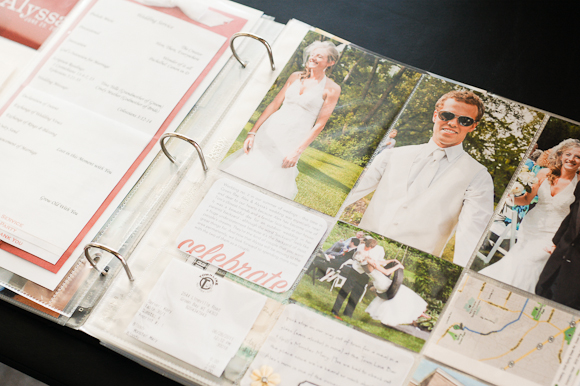 I finished this section of the album off with one of the Project Life Design B page protectors containing a few more of our favorite photos, a bit of journaling with our personal thoughts about the weekend and a couple more odds and ends that we collected along the way – the printed map that guided us around Green Bay, a receipt for our meal the next day and a photo of the restaurant. Easy as that.
A few notes on my workflow:
I created a Collection within Lightroom called "Project Life" then marked it as my Target Collection. When I import the photos off of my camera into Lightroom, I can take a quick spin through them and press the letter B for any that catch my eye and they get added to that Project Life Collection instantly. I've written about this method of organization before here: Lightroom Trick – Tagging Photos to Scrap. It's easy enough to change the Target Collection, so when I want to mark photos for regular scrapbooking I just right click on my "Photos to Scrap" collection and mark it as the Target Collection again. Over in the Collections dialogue Lightroom puts a "+" sign next to the current Target Collection, so I just check it each time to make sure I'm on the right one. I don't post-process or edit the photos at this time, I'm just pulling them out so they're easily accessible.
After a lot of back and forth, I chose to print my photos here at home in order to keep me on track and let me work on the album in little doses as I go along. I know my own weaknesses, and sending photos out to a lab and then running out to pick them up is something that I would put off for weeks at a time. I have a Canon Pixma printer that creates borderless 4×6 prints, so when I have a free moment I load up that Project Life Collection and print a few out directly from Lightroom. Then I just collect any accompanying memorabilia and start tucking things into the album.
I find myself to be way more mindful of all the little trinkets and things that I normally wouldn't keep, but what's most surprising is that my husband is turning out to be even more mindful of it. He remembers to grab an extra copy of something that he thinks I may want to use, and he has the presence of mind to keep things like table place cards, receipts, ticket stubs and product packaging. When we get home he leaves these stacks of items on the work table in my office and I tuck them all away into a 12×12 storage box that I keep underneath it. Collecting all these little items plays to his strengths more than it does mine, so I'm pleasantly surprised that this has turned out to be a collaborative process between the two of us. My son is a natural at keeping everything that passes through his hands, also, so a quick rifle through his piles of keepsakes usually turns up some great treasures.