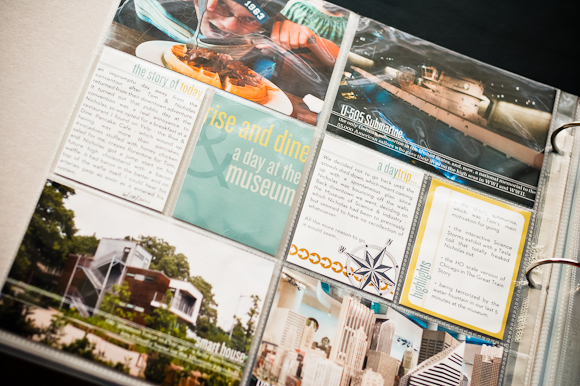 These pages document a day trip we took to the Museum of Science & Industry while we were in Chicago in June. Both Tom and I were taking pictures so I must have had a couple hundred photos by the time we left.
I struggled with a plan for these photos initially – I wanted to write a bit about each of the exhibits that we visited, but I also wanted to include my own journaling so that the page didn't feel too clinical and impersonal. I think I left them laying on my work table for at least four days before I figured out a solution that accomplished both tasks.
I decided to reprint the photos and overlay the information about each exhibit on the photos themselves – just the name of the exhibit and a short explanation for each that I pieced together by combining information from the museum map (which we kept) and the museum's website.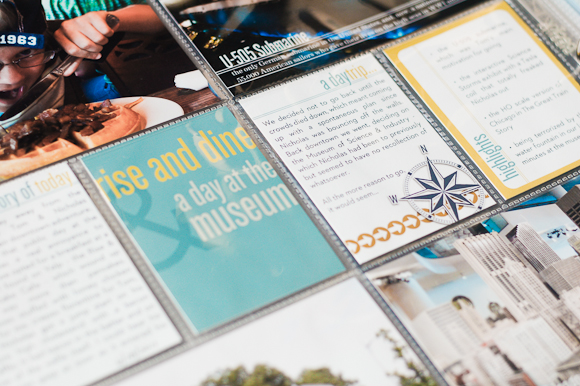 Doing so let me reserve the journaling spaces for my actual journaling about the experience. I wrote a bit about the eclectic little restaurant we ate at before heading downtown (where my son had a bacon waffle that he's still talking about) – the the other two cards had details from the museum trip.
I managed to pare them down to a "highlights" card with a few of our favorite experiences – like the Tesla coil in the Science Storms exhibit that totally freaked Nicholas out, and the water fountain near the chemistry exhibit that attacked me and essentially ended our museum trip.
These are just cards that I created in Photoshop and printed on matte photo paper.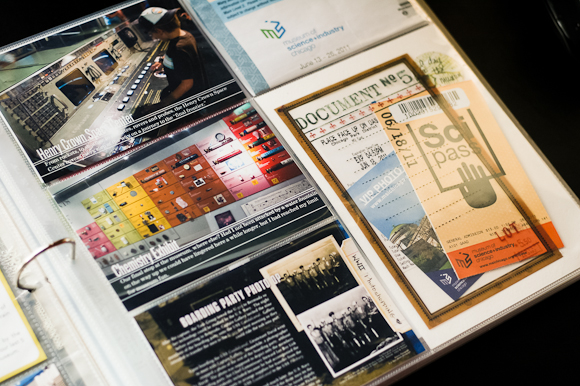 The facing page holds a few more exhibit photographs, then I folded up the map and tucked it into the top right pocket. It's a little bulky but it had so much information on it that I think it will be fun to look at again in the future.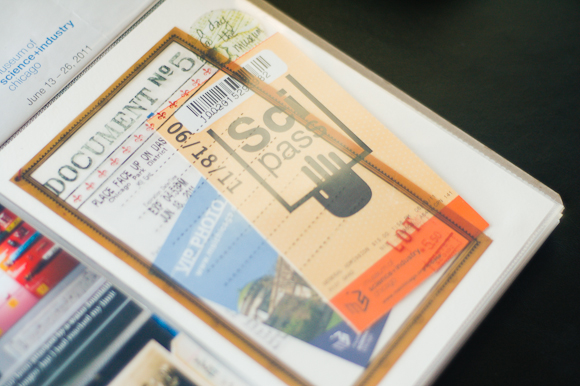 This bottom 8×6″ pocket holds the wedding invitation for the pages that I shared previously. I slid a sheet of cardstock behind the invitation and adhered this Vintage Travel Transparency from 7 Gypsies to the cardstock, leaving the one long side open so that I could store our museum tickets, our parking receipt and other assorted paraphernalia in a way that didn't require separate pockets for each.
All in all I managed to fit a lot of text into these two pages without sacrificing photo space.