I'm back with the winner! We had 197 entries to choose from and I said that you could feel free to post any off the wall comment that crossed your mind, so it was an interesting read for me as the comments came in. One of my favorites:
Did u know "Dammit, I'm mad" spelled backwards is "Dammit, I'm mad" :D
~ Gail E.
I did not know that, Gail, but I spent the next couple of days telling everyone I knew. They were all equally unaware and amazed.
Gail was not our winner, though. She impressed me with her eye-opening palindrome, but the random list generator at random.org puts everyone on equal footing: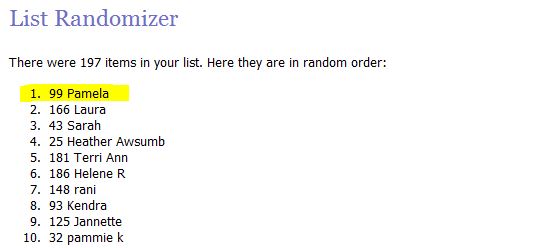 Pamela is our lucky winner of a seat in Tiff Tillman's Scraphic Design: Core classroom – and I thought it would be fun to mention that I only copy the top 10 results from the list (to show that I actually used it!) but had I cut down a little bit further you would have seen that Pamela's other two comments came in at the no. 12 and the no. 14 spots, which almost never happens. The stars were definitely aligned for Pamela.

Congratulations, Pamela! I'll be passing your information along to Tiffany to coordinate your prize claim (note: as usual, no actual chicken dinner will be included – at least not from me, but Tiffany might cook one up for you? It's all in the negotiation!) There's still plenty of time to enroll in Tiffany's class if you didn't win today. You can check it out at ReneePearson.com and reserve a seat. You can ask around, everyone loves Tiffany's classes.
Thank you to everyone who participated, and I hope to be back again in a few days with another hot summer giveaway for you all.
Have a great weekend!