I'm beyond thrilled to be able to team up with Amy Martin ( blog | store | newsletter ) to create a holiday collection for 2011. I met Amy a few years ago, another friendship forged through scrapbooking. We participated on creative teams together, I worked more closely with her when I was a part of The Lilypad's creative team (The Pollywogs) from about 2008-2010, and then she joined my creative team in 2010.
I've often talked about how Amy is my go-to template person (mentioned it here, and on The Digi Show here), I feel like everyone should have one. I've used a lot of templates from a lot of different designers and Amy's make me feel as though she's inside my head. (A scary place to be!) I think it's important that everyone find their "right people" and Amy Martin is definitely one of my right people.
But she's more than just templates! She's a complex woman, that Amy Martin.
Star On Top contains 22 papers, over 80 elements, three of Amy's awesome 12×12 page templates and two 4×6 holiday photo card templates. We wanted it to be holiday, and we wanted it to be BIG – so that it's suitable for a variety of December projects. Because December is full of projects, isn't it?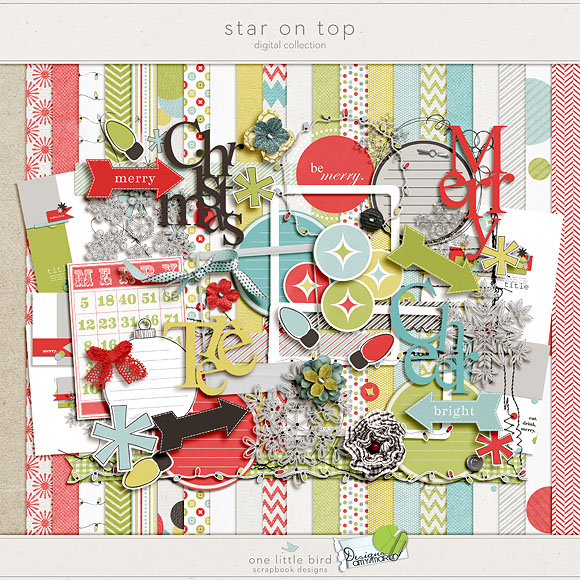 You'll save 20% on Star On Top, and when you purchase the kit you'll also receive the Star On Top 3×4 Journaling Cards as a complimentary gift. Add both products to your cart and let the cart work its magic.
Both offers end 11/28/2011, so hurry in!
CT Inspiration
[nggallery id=32]
Black Friday One Day Sale
It's the One Little Bird Black Friday Sale! One day only, save 20% storewide on One Little Bird products – no coupon necessary for that!
Cage Liner Subscribers save an extra 20% on a selection of Holiday Products to use for your holiday gift giving projects (or the projects you'll just keep for yourself, of course!) Check your latest newsletter for a coupon code. Not yet a subscriber? Subscribe now and get a coupon of your very own.