We had a lengthy stretch of beautiful, sunshine filled days here in Wisconsin, and although it began to cool off again this week it was still enough warmth and sunlight to kickstart my annual spring fever.
In the midst of it all I just could not stay away from yellow, the color of sunshine and happiness, the color that promises brighter days ahead. So I'm pleased to announce that Meadowlark is now available in my store, and it's 20% off through April 1st, 2012.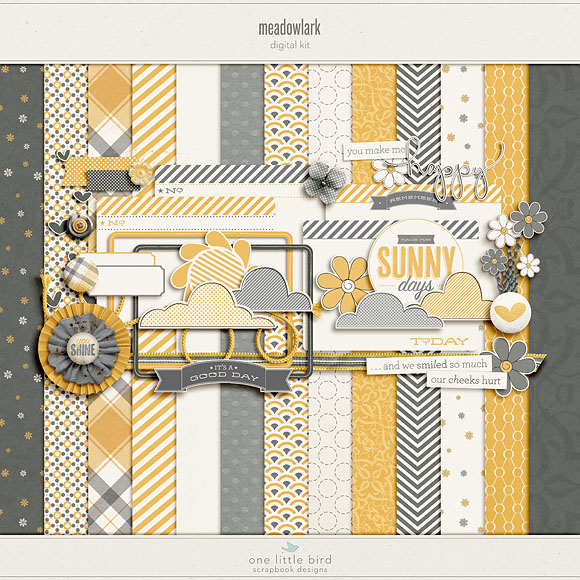 Fellow fans of The Weepies will recognize the "Made for Sunny Days" word art in this kit – it's a spring anthem of sorts for me, it's in heavy rotation around here right now.
Because I was made for sunny days, of course.
[easyembed field="youtube"]
Exclusive Savings on Meadowlark
Cage Liner subscribers receive extra savings on Meadowlark! Just check your latest newsletter for your savings code and enter it during checkout to receive your discount. Not yet a subscriber? You can subscribe now and get a code of your very own.
Storewide Savings
The Oscraps Birthday Party is still in full swing, and the entire One Little Bird store  is on sale through Saturday, March 31st, 2012. No coupons necessary, no hoops to jump through – just straight savings on all of it.
Inspiration from The Flock
(They were made for sunny days, too! It's like a day at the beach looking through these.)
[nggallery id=38]