A couple of answers to recent questions via email, blog comments and comments over at The Digi Show.
On Android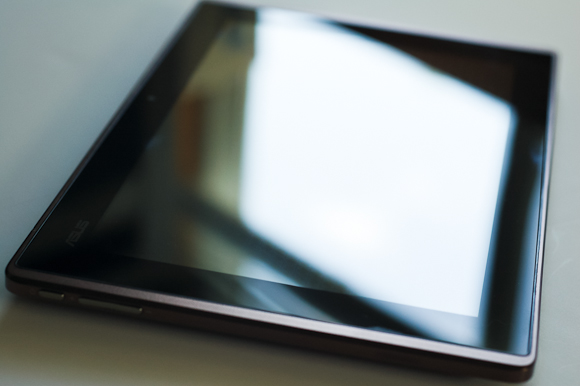 Q |  I'm sure I missed this, but have you said what kind of tablet you have? I'm in the market for one and yours looks fantastic. And most importantly to me, I know you are not an apple girl. I'm not either and I want to stick with windows/android. Anyway, I'd love to know what tablet you have and if it syncs up with your phone or computer?
A | I have an Asus Transformer (TF-101) which is the previous generation of their tablet (the Transformer Prime TF-201) is the current generation. The reason I chose the Asus was because there's an available keyboard dock that turns the entire thing into a 10″ netbook of sorts. As for synchronizing, most of my "things" are cloud-based at this point so everything is accessible across all my devices. I'm heavily entrenched in Google as far as email and calendar go, so that's all integrated into the OS for me. For transferring of individual files I can hook the tablet up via USB to my computer, or it has an SD card slot so I can bring files along with me that way. I mainly rely on Dropbox for files I want to access on multiple devices, though.
Q | Loved Peppermint's pick this week – my new Android phone will be arriving soon and I would love it if Peppermint would make a list of all her favorite Android apps. Pretty please!
A |  I download and try out a lot of apps (because I hate to think that I might miss out on something awesome) then I wind up uninstalling the majority of them because I don't actually use them. The ones that are heavily used and that I couldn't manage without are:
On Food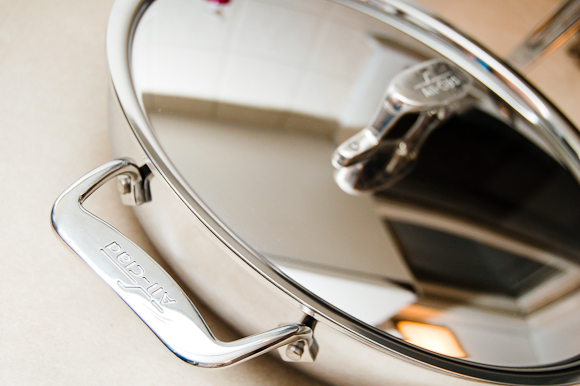 Q | I want to know what four recipes you always keep ingredients on hand for? Coming up with ideas is the hardest part for me! I would love some of your ideas!
A | This one is from Episode 38 of The Digi Show where we discussed our "Life Hacks" and I said that I had 4 recipes that are "go to recipes" for me on busy nights, and I try to keep ingredients on hand for at least two of them at any given time and at this point they're so embedded in my life that I can make any of them from memory.
The reason they're versatile is because they use a lot of shelf-stable ingredients, they use up leftover portions of more perishable items used in other recipes, and the last two especially can be varied up to use whatever meat or veggies I happen to have on hand. We're not a family of picky eaters, so your mileage may vary with these:
On Shadowing
Q | I love your "Mind Blowing Drop Shadow Tutorial" and have it printed out on my desk because I was wearing the bookmark out! ;) The one thing you don't really talk about is how you shadow things like lace, loosely woven fabrics and wispy things like tulle and feathers (specifically the tulle in your Worn collab with Sahlin Studio, which I can't manage to get a realistic shadow on). Any tricks for those?
Yup! But I'm hoping you're a Photoshop user, because I'm not entirely sure if these same options are available in PSE. (These are the settings for the "Lace & Fabric" layer style in my Shadow Like Me Styles, though, so hopefully those work in PSE!)
For tulle, lace, and "light wispy things", first I apply a drop shadow with these settings:
Blend Mode: Linear Burn
Color: I use #2c1901 but whatever color you use is fine
Opacity: (varies) 15~30%
Distance: (varies) 10~20px
Size: 10px
Then I add a second Outer Glow layer effect with these settings:
Blend Mode: Color Burn
Opacity: (varies) 20~30%
Color: I use #2c1901 again
Technique: Softer
Spread: 0%
Size: (varies) 10~35%
That Outer Glow is what makes it yummy.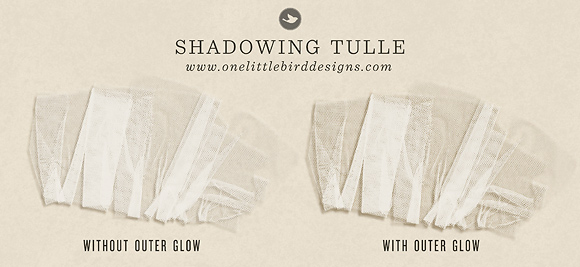 Got Questions?
Let 'em fly! Hopefully I have answers!