Welcome to another installment of the "It's A One Little Bird Christmas" Guest Blog Party! From today until Christmas, you'll find guest challenges, stories from the One Little Bird Designs creative team, and lots of other fun Christmas goodies! Be sure to participate in the challenges, especially, because they are all chances to win big with One Little Bird gift certificates! Come join the fun! 
---
Happy December, everyone! This is Stacy and Renee with another challenge for our Christmas celebration –  a double recipe challenge.
We all have holiday recipes that are favorites, either ones passed down from generations or new favorites. Your challenge is to document one of them and the person(s) you associate with it.
Here is what makes it a double recipe challenge: You'll also need to follow a bit of a "scrapping recipe" in the creation of your page! Your layout should include the following ingredients:
At least 3 patterned papers
1 piece of word art
Something "shiny"
You can use more ingredients in your page, of course, but the items on this list must be present in order to win!
Stacy's Page: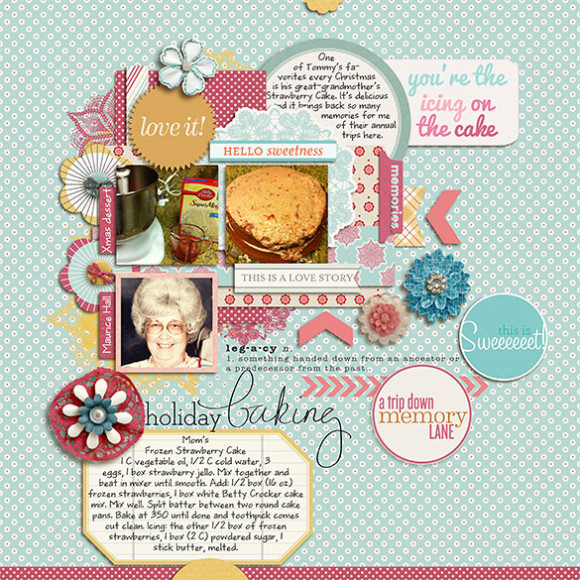 Materials: La Belle Vie, These Walls, These Walls Add-on (Moving Day), Happygram Papers, Happygram Elements, Big Ideas, Sweetness Page Accents, Retrospective by One Little Bird; Generations Collab and Fairytale Collab by One Little Bird and Paislee Press; Wrap Star by One Little Bird and Forever Joy Designs; Calendula and Tea Rose by Sara Gleason. Font is The Everyday by Heather Hess.
Renee's Page: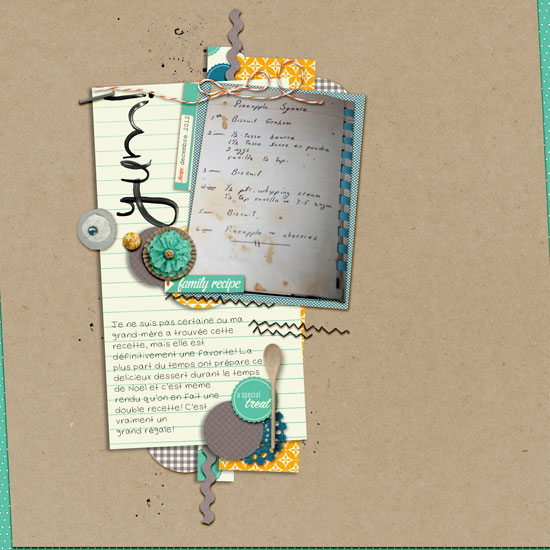 Materials: Foodie Papers and Elements by One Little Bird; Template by Amy Martin; Free Spirit Alpha by CD Muckosky. Font is The Sara by Heather Hess.
Ready to take part in the challenge and have a chance to win $25 worth of One Little Bird product?
Here's how to do it:
You must use 75% One Little Bird products to be eligible.
Your page must contain the "recipe" ingredients listed above.
Create your layout, upload it to a gallery, and come back here and leave a link to your page in the comments by Sunday, December 30th.
Good luck everyone! Have a happy holiday!
---
Stacy is a CPA and mom to two college students enjoying her new found free time after years of volunteering. Most evenings you can find her working with photos and telling her family's stories. You can find her at The Lilypad, Scrap Stacks and on her blog.
Renée is a French Canadian who resides in Northern Ontario, Canada. She's a mom to two very rambunctious boys and married to her high school sweetheart. Digital scrapbooking has been part of her life for the last 7 years and she's been lucky enough to have been published 3 times in Creating Keepsakes magazine. She works as an x-ray/CT scan technologist and when she's not busy driving her children to hockey and various other activities, she tries to stay in shape by running and practising Yoga as well as taking an adult Ballet/Lyrical class.