Welcome to the first installment of the "It's A One Little Bird Christmas" Guest Blog Party! From today until Christmas, you'll find guest challenges, stories from the One Little Bird Designs creative team, and lots of other fun Christmas goodies! Be sure to participate in the challenges, especially, because they are all chances to win big with One Little Bird gift certificates! Come join the fun! 
---
Today, I, Allie, from Alexandra Rae Designs, am here to kick off "It's A One Little Bird Christmas"  with the first challenge!
You're challenge today is to document an annual Christmas event or tradition.  I chose to document how busy the first Saturday of December always is for us– many Christmas parties that kick off Christmas, in my eyes!
Here's the page that I made: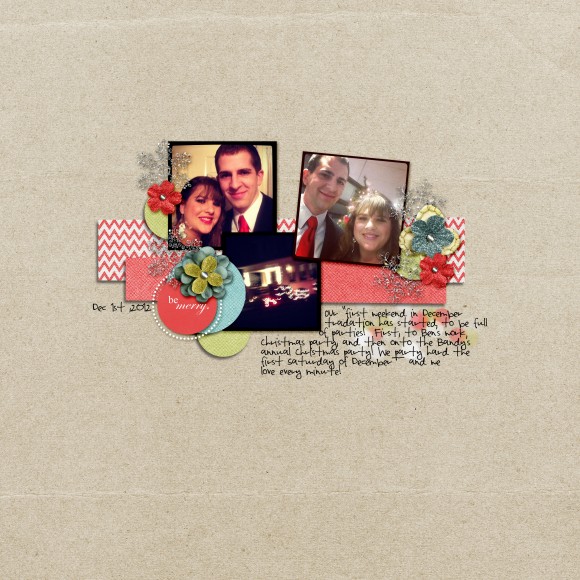 (Made using One Little Bird's Star on Top template and kit) 
Ready to take part in the challenge and have a chance to win $25 worth of One Little Bird product?
Here's how to do it:
You must use 75% One Little Bird products to be eligible. (May I suggest Star On Top? My favorite Christmas kit by Peppermint!)
Create your layout, upload it to a gallery, and come back here and leave a link to your page in the comments by December 10th, 2012 (that's next Monday!)
One layout will be chosen on Monday, December 10th by random draw to win $25 worth of product.
Easy, right?  I can't wait to see the pages you create about your favorite Christmas event or tradition! Happy Scrapping!
---
Allie is a designer, photographer, and is marketing obsessed. She's been scrapping since she was 8 years old, but only discovered digital in the past 3 years. She's a One Little Bird Creative Team member, and can also be found scrapping at Document Life Workshop and Alexandra Rae Design.