Hi everyone.  I'm beyond thrilled to be here with my first post for the One Little Bird blog. Today I wanted to share with you a tutorial for how to create non-destructive cut out shapes on a background paper using clipping masks and the Inner Shadow layer style. Make sure to read on down to the end for a special treat from Peppermint!
Let me share with you an example of what I'm talking about.  Here is a beautiful layout by Susanne. Notice on the right side of the layout how you can see three long rectangles cut out from background paper and to show a zigzag striped paper underneath? I'm going to teach you an easy way to create this look without having to do anything as permanent as cutting away pieces of the background paper – so you can alter and move the cut out through your design process as necessary.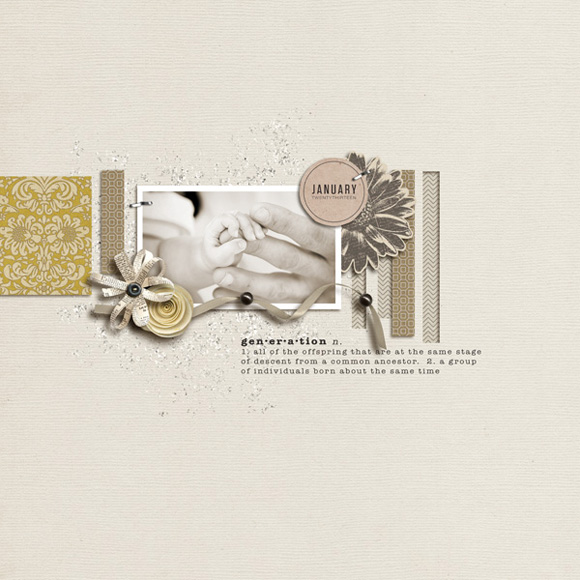 Materials: Generations by One Little Bird & Paislee Press; Round about now vol. 2 by Paislee Press; Mix Max Vol. 3 by Jimbo Jambo Designs; picture by Marika Burder.
---
 VIDEO WALKTHROUGH
Are you ready to try this out for yourself?  In this video I will walk you through the process.  I'm using Adobe Photoshop Elements 11, but you can use this trick with any program that allows for inner shadows.
---
TIPS & TRICKS
1. Make sure all your shadows on your page are going in the same direction. If your shadows are all going down and to the left of your elements (like on my page), then your inner shadows should be in the top right corner of the shape, making it look like a shadow on the background paper is down and to the left.
2. I like to keep the paper layer that is clipped to the shape layer separate from the shape layer instead of merging them. If you do this, keep the inner shadow style on the shape layer. And if you want to move the shape, make sure you move just the shape layer and leave the paper layer still.  As you move the shape you will then reveal different parts of the paper layer as you would if you cut a shape out of a different part of the background.
3. You could use this same technique for cutting shapes out of other papers, elements, or even pictures. Create a shape. Copy the layer that you want to show through and bring it over the shape and clip it to the shape. Then add an inner shadow to the shape. You could even use letters instead of shapes to make a cool cut out title on a layout.
4. Because your cut outs are actually on new layers and not part of the background layer, make sure you don't let papers or elements slip "under" them. Let me show you what I mean. In the image below follow the red arrow and you will see that I let my journaling card go "under" the cut out star making it look unrealistic like the star is being cut out of both the journal card and the background.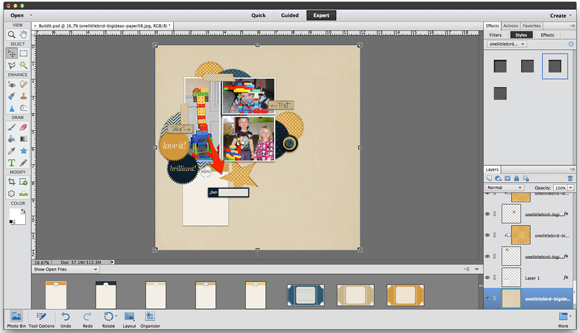 Instead, the card should be in the layer above the star shape like this: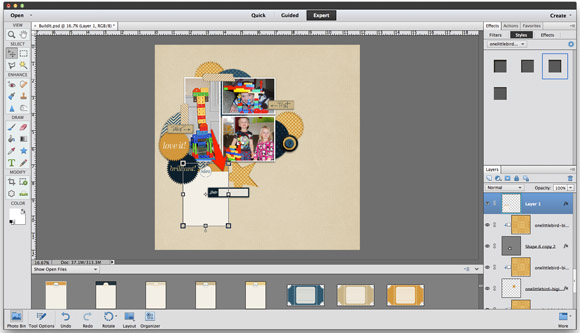 I hope you found this tutorial helpful and can have fun "cutting things out" on your digital pages.  Here is a peek at my finished layout: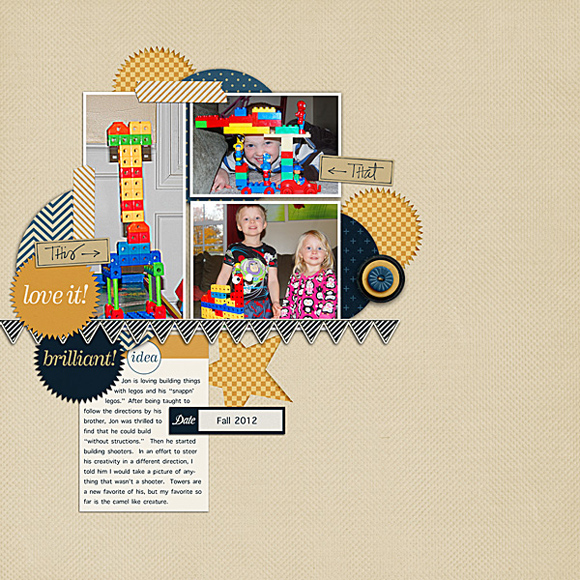 Materials: Big Ideas by One Little Bird.  Font is Apple Symbols.
---
FREE DOWNLOAD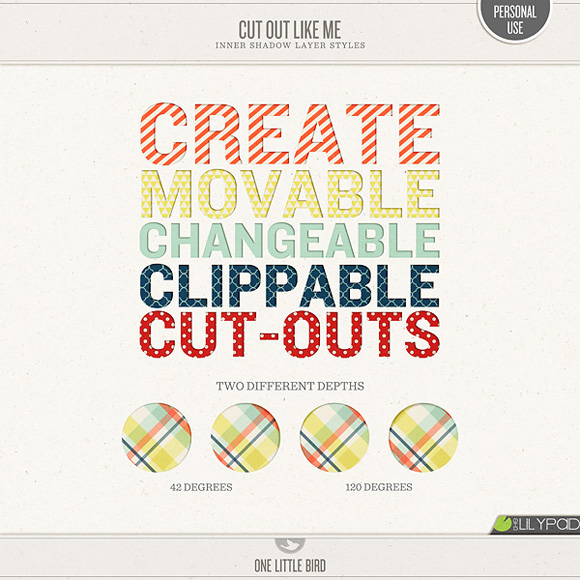 To help you get this look on your own pages, Peppermint is offering her Cut Out Like Me shadows for free. Click the button below to download them.
PSE 7-10 Users: See the PSE Installation Guide for instructions on how to install these layer styles in your software. (PSE 11 users, it's just a simple drag and drop!)