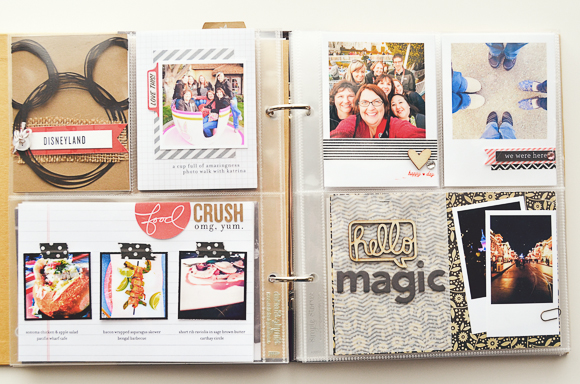 Still back in January for my itty bitty Project Life – documenting the second half of my trip to Anaheim which was the Disneyland portion.
I found myself bogged down with indecisiveness on these pages. I think the fact that these weren't  "everyday events" raised the stakes for me a bit. Plus I had so many photos and stories from this trip which made narrowing the field difficult. I had to remind myself that these Project Life pages aren't meant to replace my scrapbook pages, that I could just aim for the the high notes and let the melody play out in individual layouts down the road.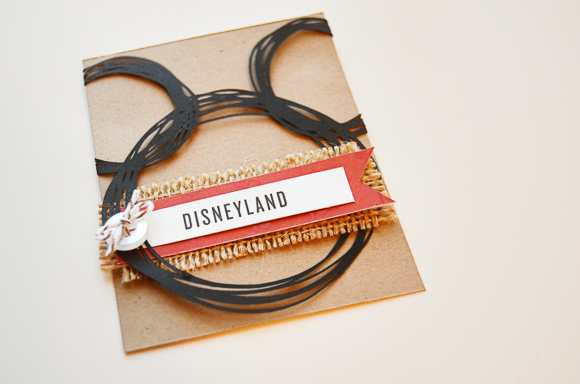 I made heavy use of my Silhouette on the left side, on the title card especially. I did some circular scribbling in Illustrator then cut out on the Silhouette using trace & cut. It took quite a while to cut out. Our orange tabby, Mo, is not a fan of the sound the Silhouette makes while it's cutting and he stayed clear of my office for half a day after this one. It really did a number on my cutting mat, and it was a bit of a process to remove it from the mat without tearing it in a dozen different places, but totally worth it.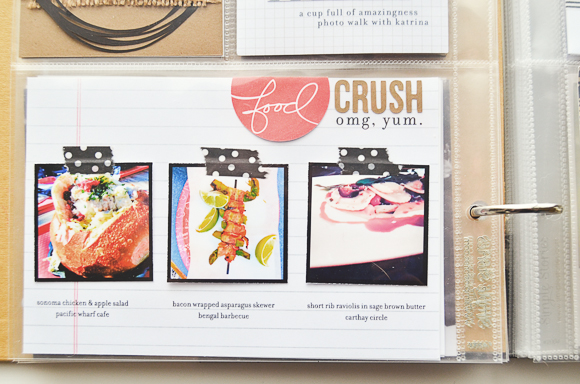 Also on the left side, food photography. We ate some amazing food at Disneyland and I'm all about the food. These items still appear in my dreams on a regular basis.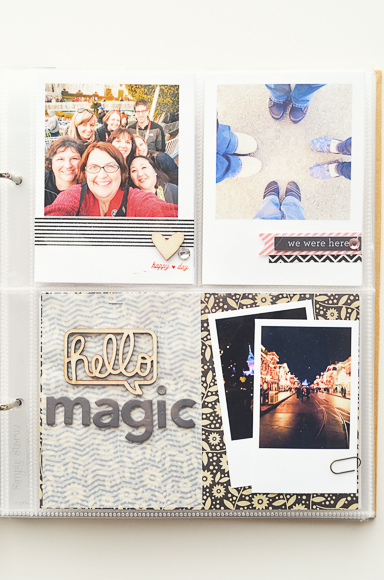 Right side, the nighttime Disney photos on the bottom are my absolute favorites from the entire trip, both taken on my Galaxy S3 and printed out "instax style" for this purpose. The group photo was taken by Katrina Kennedy, whom I adore and miss immensely. Sometimes it feels as though certain people just "get you" and Katrina was one of those people for me. She left a day earlier than I did, and when I stopped by her hotel room on Monday morning to say goodbye to her I got all fidgety and awkward trying not to cry. If she noticed she didn't mention it.
Fidgety and awkward is sort of my wheelhouse anyway.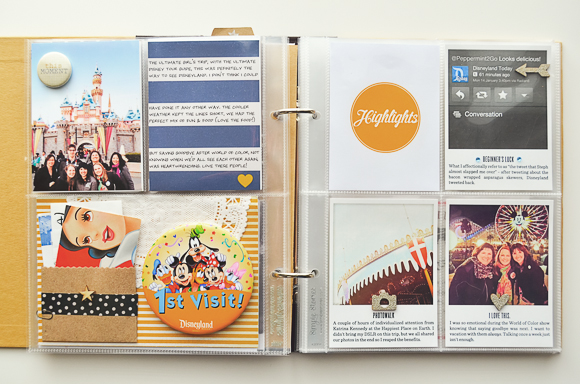 I must have spent a couple of days trying to narrow my photos down to a 2-page spread before finally deciding to carry over onto 4. In the interim I sent a bunch of Instagram photos into Persnickety Prints to be made into 3×4 Instagram Polaroids.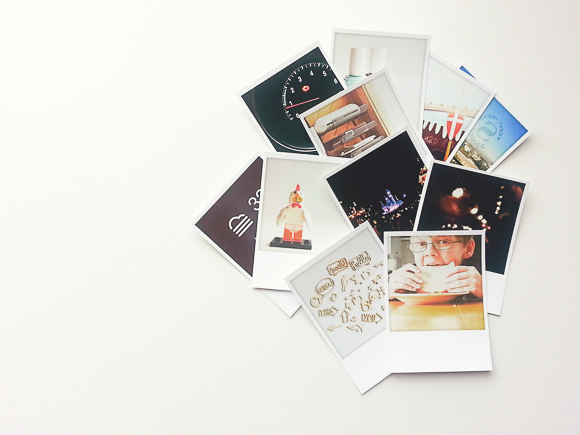 Hello, amazing. These rock my face off.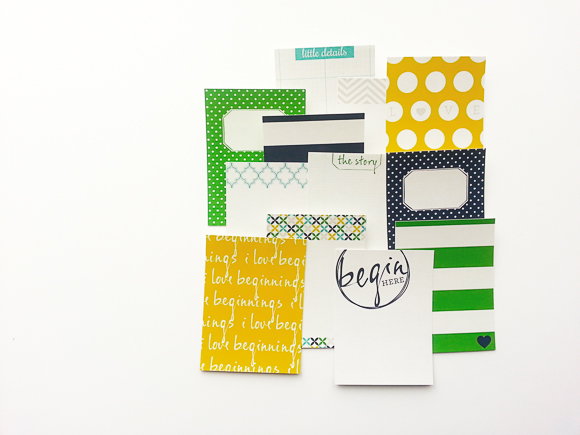 I sent in some of the 3×4 cards from my shop to be printed at Persnickety Prints, too. They'll even round the corners for you before shipping them out, but I prefer square corners.  This is the full set of How It Began Journaling Cards available in my shop.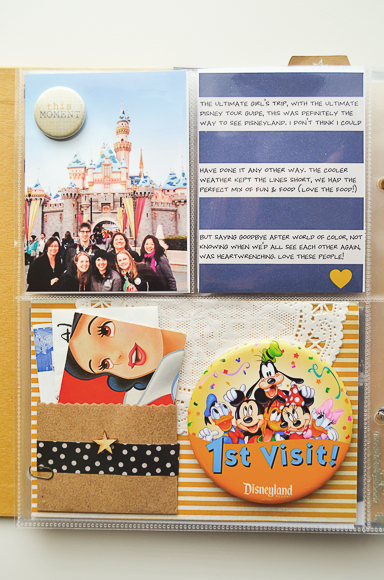 I used the navy card for my journaling. The font is The Short Caps by Heather Joyce – I'm utterly smitten with it. I write in all caps a lot, but not nearly as neatly as this.
I had a couple of large Disneyland buttons from the trip but the yellow one told the best story. I stuck it on the outside of the pocket using a ton of foam adhesive dots. Time will tell whether they'll hold that button for all eternity – it's alarmingly heavy. I used a large glue dot for the Evalicious badge on the top – that one seems pretty firmly cemented. It has a flat back so it was much easier to work with.
The pocket is made from a mini kraft bag, just folded it under and taped it. I had a few bits I wanted to tuck in there – my park hopper pass, the receipt for our dinner at Carthay Circle and my Fast Pass for the Hollywood Tower of Terror (which I didn't get to ride because we ran out of time).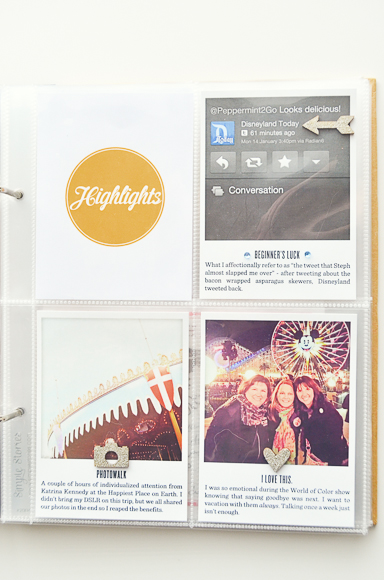 On the right is where I used some of my Instagram Polaroids. I ran them through my printer to add the journaling, being careful to let them sit and dry for a couple of minutes because they have a slightly glossy finish. I smeared the top one a little bit then learned my lesson.
I painted the wood veneers (Studio Calico, courtesy of Christine's paper supply addiction) with some silvery gold glitter nail polish from Essie – which is as close to real glitter as I'll ever get. When it's suspended in nail lacquer it doesn't completely freak me out. The color is Beyond Cozy and it looks just as great on fingernails as it does on wood veneers. And the Highlights stamp is from my In Review Elements.
The photo of Katie, Steph and me makes me feel a bit emotional every time I look at it – but in a happy, bittersweet sort of way. It was our last photo together before we said our goodbyes – all bundled up and exhausted because we just happened to be there during one of the biggest cold snaps on record and we had probably walked fifty miles together over those couple of days between CHA and Disneyland. Yet, if the park hadn't been closing and if I didn't have an early morning flight the next day, I would have tried to find a few more excuses to delay this goodbye.
I'm hoping to pick up momentum now that I'm past this big event. My plan right now is to skip ahead and start completing some of my March pages while photos and everyday moments are fresh on my mind. Then I can also squeeze in a few details from Jan/Feb each time I sit down to work. It takes a lot of extra time to go back through my photos, my calendar and my daily OhLife entries to refresh my memory, so my fear is that I will just find myself further and further away from the present day if I maintain that pace. I'll have to see how it works!
---
For this project I'm using a 6×8 Snap Album and a variety of pocket pages, all made by Simple Stories. Photos edited using RadLab by Totally Rad and printed at home on Epson Ultra Premium Glossy Photo Paper on a Canon Pixma printer – with the exception of the Instagram Polaroids I mentioned in this post, which are available through Persnickety Prints.