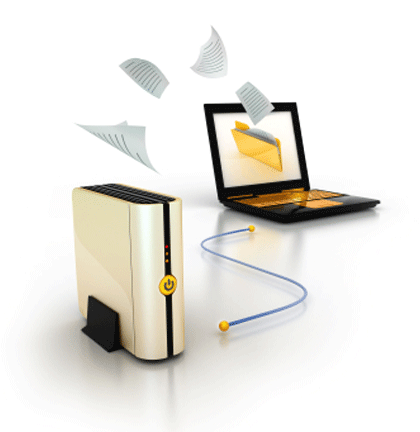 Making sure your computer is backed up is a funny thing. It's like storing extra drinking water in a closet at your house. It's one of those things you hope you'll never need but keep, just in case.
Since backup is something so many of us procrastinate, I thought it would be good to share a refresher on what makes a good backup plan.  I'm hoping that you will take time to review your current plan and/or add just one more thing to protect your files.
Reality is that it isn't a matter of if you will need computer backup, but when. Getting a backup plan in place now ensures that when you need your files, they will be there.
Automatic Local Backup
The first step to backup is creating an automated local backup plan. This is usually accomplished with an external hard drive (EHD) attached directly to your computer. An important piece of this backup is automation which you can do with software.
Automated local backup happens regularly without you having to do anything besides set it up. Below are a few software options and helps you can use to set this up:
Syncback tips (links to Syncback Pro tutorials & ebooks)
Syncback Screenshots (links to Syncback Pro screenshots)
Time Machine (Mac)
Time Machine Helps (links to Apple tutorials)
Automatic Off-Site Backup
This is the type of backup you really hope you'll never need. It is the type of backup you will use when you can't get access to your computer or local hard drive. This usually only happens in cases of fire, flood, theft or another type of disaster.
There are a few providers of off-site backup – I've used all of them at one time or another and my favorite is Backblaze for speed, ease of use and reliability. Keep in mind that you will want to choose the plan that works best with your configuration, internet speed, etc.  You can test many of these services. I recommend doing so before committing to a long term plan.
Manual Off-Site Backup (for slower internet connections or data limits)
There are situations where internet service agreements limit the amount of data transfer.  There are also situations where internet connections are slower and full backup online isn't possible. In these cases I recommend using a second regular local EHD backup and storing it off-site (office, friend or relative's home).
If this is the option you choose, you will need to set reminders and alarms in your calendar to remind you to switch the drives to provide the best possible backup.  Reality is you don't want to go to your off site backup and realize the last time you backup up your photos was 6 months ago…
Lastly, if you don't have an off-site location you trust you could also store it in a fire-proof safe. However, keep in mind that off-site backup is usually needed when you can't access your home – so plan accordingly if possible.
A Few Thoughts on Backup
I wasn't going to focus on backup for this month's post until it became very personal for me. I'm writing this post from a hotel room I have shared with my family for the past seven days. Long story short is that our builder came into our home to repair some issues and chemically contaminated our house, making everyone sick. We barely had enough time to pack what we would need to wear – never mind trying to gather files or hard drives – we had to get out of the house.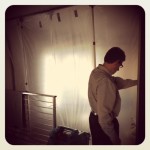 Timing is everything and as soon as we couldn't return I remembered all the files I needed on my hard drive – emails, tax documents that needed to be filed, etc. We honestly still don't know if we would be out of our home for a couple days or weeks…
Then I remembered I could access the files via Backblaze. I logged into the site, selected the mail files I needed and within 20 minutes I had an email with a download link where I could restore them to the laptop computer I had with me. I can't tell you how much assurance that brought me in a very uncertain time.
I've had my fair share of file mishaps over the years – mostly accidentally deleting files and restoring them from my Time Machine hard drive without missing a beat. However, I honestly never thought I would really need my off-site backup.
However, that is the point of backup – you don't really need it until you do and then…  Just do yourself a favor – get something in place today and protect your most precious files and photos.
I sincerely hope you'll never need it, but when you do, you'll be so glad you were prepared.