I was listening to The Digishow Episode 85 when I heard Peppermint pick "How I Work" from LifeHacker. So, being the curious person I am, I went and checked it out.
I stumbled upon Tina Roth Eisenbergs' SwissMiss website and saw that she was the keynote speaker for SXSW convention. (She is the creator of the awesome TeuxDeux minimalist calendar app.) Through watching the keynote speech and finding out about all the interesting, productive stuff she does, I discovered her site, Creative Mornings.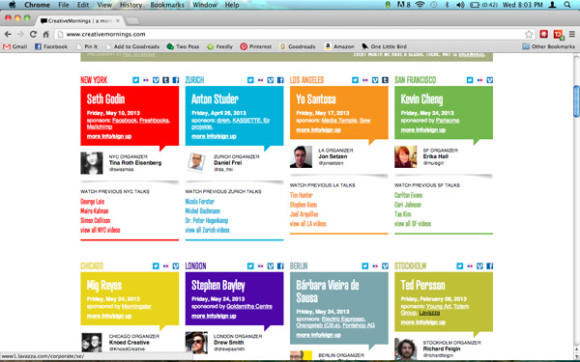 "CreativeMornings is powered by a troupe of über-talented folks. Each and every month, hosts, videographers, photographers, and helpers come together, in their respective cities, to make our events happen."
I watched a keynote from Chicago with Nick Campbell. The site brings the motivation of attending a convention without the travel and financial investment. There is something to be said for listening and learning from someone who just gets it – gets how creative types feel, think and connect.
If you're reading this blog chances are you consider yourself a creative person. We may or may not be looking to monetize our creativity, but we do need to keep our mojo going. Enter Creative Mornings. After listening to a presentation and the follow-up questions you will leave your computer feeling inspired to take action. It's amazing!
Go. See. Do. Get inspired. Go check out Creative Mornings for yourself. Your creative mojo will thank you and you will leave with some great sound advice and knowledge.