Hey everyone. Kim here. As everyone doesn't know, I'm a newly professed beauty junkie. I didn't learn how to be girly growing up living on a farm and all, but when I reached 31 I suddenly decided I needed to know and learn all things beauty related. I have watched hours of makeup tutorials on YouTube and have moved on to fashion. I'm slowly learning how to dress this bod of mine and do it on a budget.
What I have for you today are my tried and true 5 summer beauty must-haves.
SUN SMART | I am a very fair skinned girl who refuses to tan and turns lobster red the first sight of the sun or a warm room. The sun and I have a mutual understanding that I won't go outside if it is shining and it won't give me a sunburn in return. However, my 8 yr old boy requires that I take him swimming a couple of times during the summer, and when I do, I require massive protection. I want to purchase SPF sun clothing, but since those things are off the chart expensive, I opt for the Target brand of SPF 50+ sunscreen called Up & Up.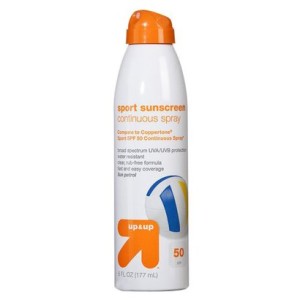 This continuous spraying can (hello covering my back myself) costs under $7.00 on Target's website and blocks both UVA & UVB rays. Thank goodness because if I get one more age spot/sun damage spot on my face I'm going to need a lot more of that concealer I learned how to use on Youtube.
FLAWLESS SKIN | The second item of business that you should/could keep around for summer is my trusty L'oreal BB cream. I heart this stuff so much. It comes out of the tube a light color and does a little development of color when you apply and rub it into your skin. BB cream acts to even out your skin tone. I heart this stuff because it isn't heavy like foundation and I have found that it doesn't tend to melt down like foundation will. It gives your face a nice matte finish, even if you're sweating buckets or swimming laps. It's not waterproof, so don't get your hopes up, but it stays put when the heat is on!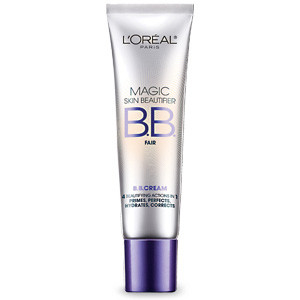 Bonus points for this product being under $10 and for lasting several months. Score!
LASHES THAT POP | Third item up for summer beauty goodness is Urban Decay's Waterproof Cannon Ball mascara. Holy lashes girls! I love Urban Decay makeup. I can be considered one of their cult followers and during the summer I need their waterproof mascara. If I want to bat my eyes at hot lifeguards, I want my lashes to POP baby – and this is the mascara to do it.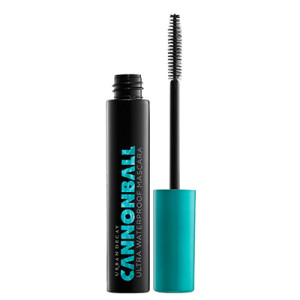 This mascara is pricier, as Urban Decay is, but with all the money you're saving on sunscreen you can splurge a little and pick this up for around $20!
If you're not going to be swimming and need super long lashes, use Maybelline's Stiletto mascara. I have short, stubby lashes, hooded eyes and I wear glasses. When I put this mascara on, everyone notices. It's under $10, but not waterproof.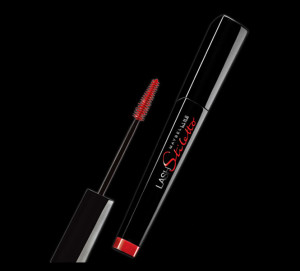 SWEET KICKS | Flip Flops. Raise your hand if you live in them during the summer. (Okay, raise your hand if you live in them all year round!) Go pick yourself up some cheap flip flops in every color, because hey, they're like $2.50 or less. I found these cuties at Old Navy. Hurray!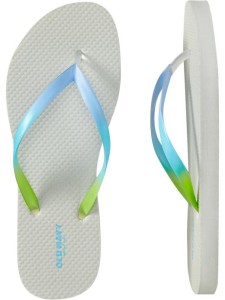 BOOKWORM CHIC | Last but definitely not least is my favoritest item of all time, the Kindle. If the Kindle had been born in 1980, I would swear we were separated at birth. It's not beauty related but definitely a summer must have. If I'm not working (okay, maybe even when I'm supposed to be working) I'm reading. I have a little part-time job reading and I love it. My kindle and kindle app for my phone allow me to read and have access to my books anywhere. The cool Paperwhite versions are awesome because you don't even need the light anymore – it's built right in. Did I mention the battery lasts forever? Well, several weeks without charging on the traditional Kindle anyways. I have one of the older ones that comes with special offers. If the special offers scare you, rest assured that they only appear when your kindle is off. Who's looking at their kindle when it's off anyways?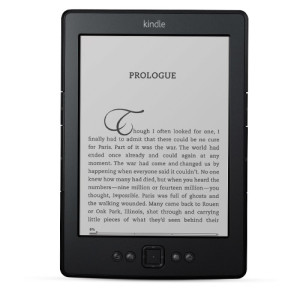 The Kindle is a little more expensive than the above mentioned, but it is more affordable than some really cute sandals on Piperlime. The tradition Kindle with special offers is only $69 or you can put the kindle app on your phone for free.
There you have it folks. My top 5 summer beauty must-haves. Do any of you use any of the products I mentioned? Love something even more? I'm a beauty junkie and need to know. What are you loving this summer?