Taking a little time to share my (itty bitty) Project Life album as it stands so far – which is to say that it stands in various stages of incomplete.
Back in March I officially finished up January, which required that I rely heavily on social media updates, diary entries sent into OhLife! and my photo library itself.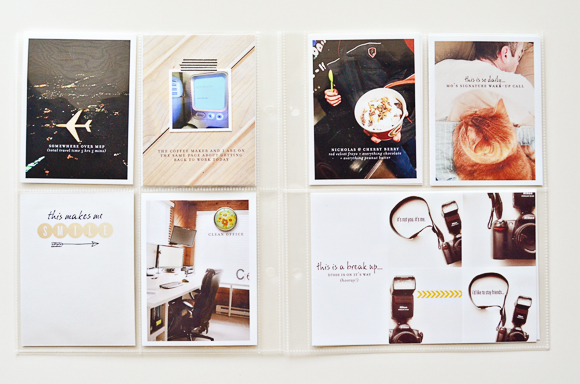 It won't come as any surprise that this strategy is not a sound one, but it did manage to work for the remainder of January's photos. The project was fresh on my mind in January so I was extra vigilant about taking photos and documenting details that month.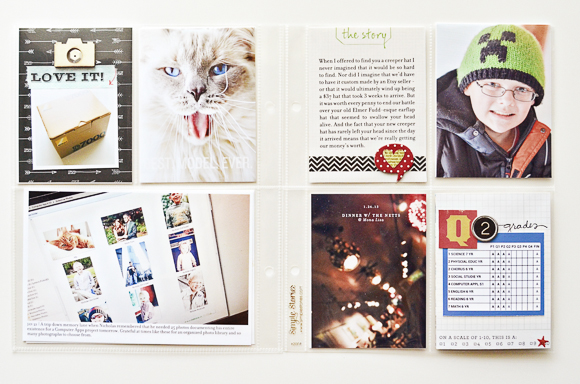 It also helped that I had upgraded my camera in January, and the arrival of my D7000 is documented above along with Sisko's best photo EVER. Enthusiasm over a new toy had me taking more random, everyday photos. The pages above have journaling cards from So Major and How It Began, plus various odds and ends from my paper supplies.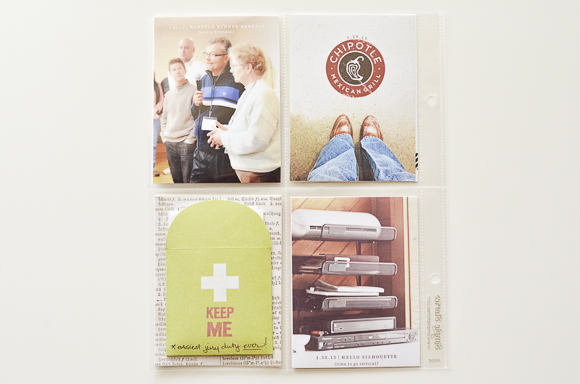 The little "Keep Me" pocket above is a leftover from my Smash Book supplies and it contains my jury duty notice – all of the trials over those two weeks wound up being canceled, so all in all I can't complain about jury duty.
These pages came together fairly easily overall, but as I was completing them in March I had to face the fact that I had lost some of my commitment to documenting in real time. Also I had a growing, unsorted stack of daily bits and pieces that were becoming a concern for me.
So instead of inserting the pocket pages as I completed them, I placed them all into the album at once (empty) and started placing items into them in loose chronological order every time I had a free moment.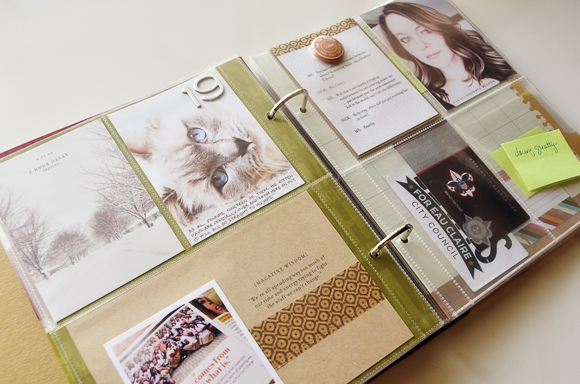 Which means that March-June are all variations on the theme pictured above – a few items placed in pockets, plus Post-It notes marking photos that I know I took or journaling I need to write. Some 2-page spreads are almost entirely finished while others are mostly post-it notes.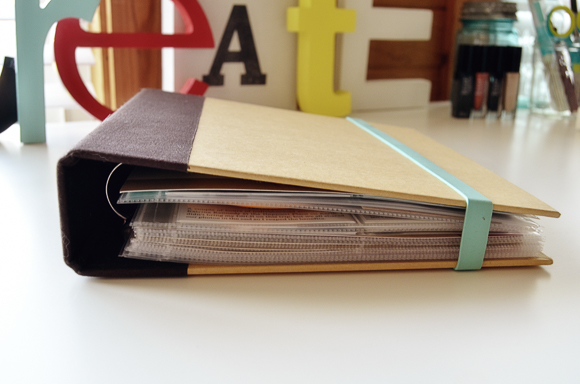 But at the end of June my album was already looking pretty full, and I wanted to make sure I left enough room in it for any sections that got a little bulky.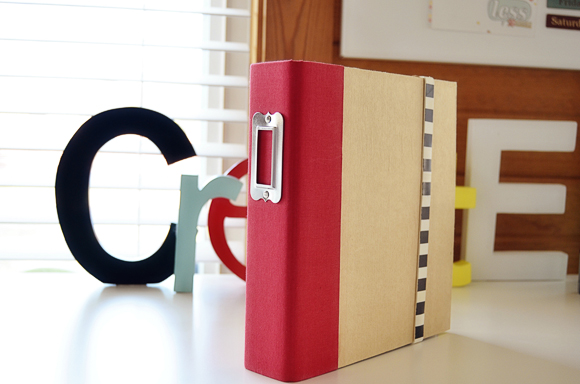 So I purchased my second Sn@p Album, this time in red because my local Michael's doesn't carry the brown and I'm just not all that particular. The large rubberbands on both binders are Smash Bands. The bindings on the Sn@p albums take a while to loosen up so they tend to slowly work their way open and lock me out of the desk drawer that I store them in.
Since I was starting fresh with a new album, I set a goal to try to keep up to date on the second half of the year – with "up to date" being defined as "no more than one month behind". Because I'm a Realist.
I finished up July on Labor Day, but I'm totally going to count it as a triumph.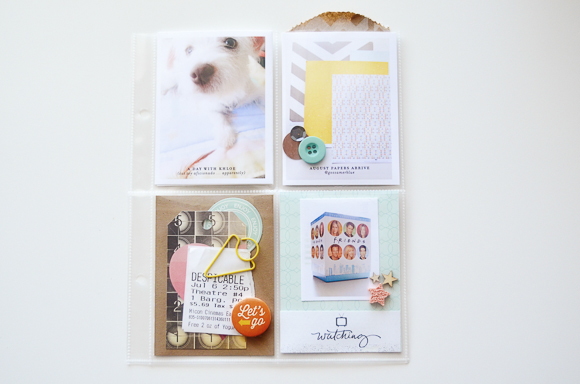 There's no delineation of weeks in any given month, and pages tend to be more of a personal diary for me than documentation of our family as a whole. I used pieces from the Gossamer Blue August Main Kit and Add-On Kit here as well as veneers from Studio Calico and tag from Cosmo Cricket Summer Love/Sweet Disposition. The "watching" is cut from the top of one of the Stay Tuned Journaling Cards.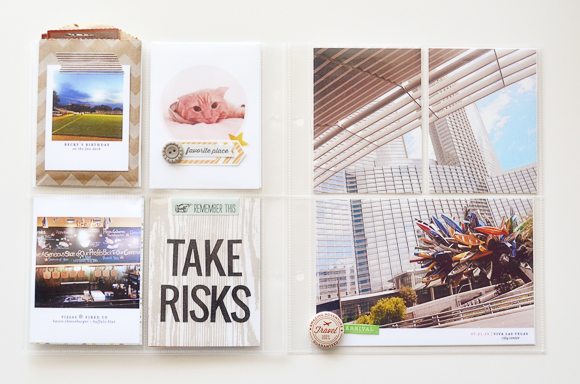 Tickets from a friend's birthday celebration at a local baseball game are tucked into a chevron mini bag from Studio Calico, then I taped my Instagram photo to the front. The right side marks the start of our trip to Vegas for Summer CHA. The photo was taken just outside the Vdara resort at City Center. Oddly enough I never realized that the art installation was made up of canoes until I was printing the photo. I am nothing if not observant. More pieces of the Gossamer Blue kits here, as well.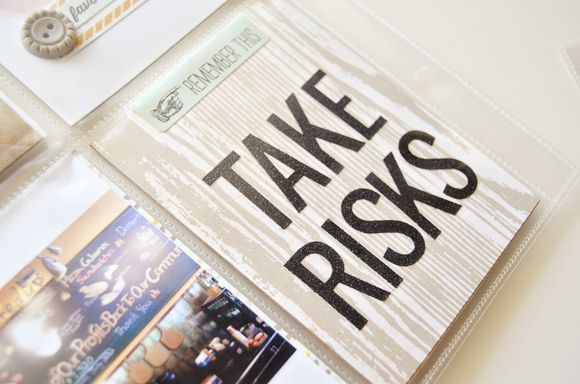 Probably most out of character for me was this card. I had written "Take Risks" in the margin of my planner in July as a gentle reminder to myself and I wanted to document it more permanently in my album. This glitter alpha (Luxe by Pink Paislee) had just arrived in my September Main Kit from Gossamer Blue and it seemed only fitting that I use it on a card reminding me to step outside my comfort zone.
Those familiar with my glitter phobia will understand what a big step this was for me. (Although I must admit that the glitter doesn't shed at all on these alphas, so I wasn't in any real danger.)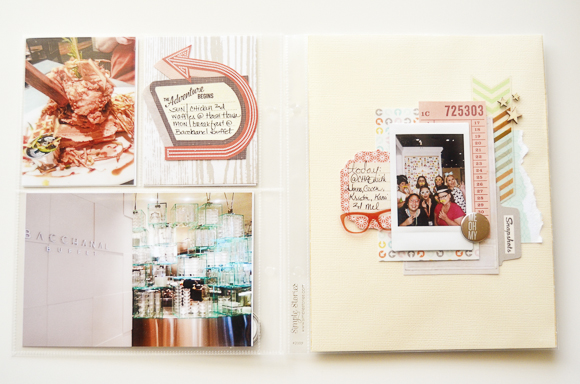 Two pages of just Vegas using more Gossamer Blue (August Kits) and Studio Calico (veneers, brads & paper). The right side is a 6×8 paper layout with an Instax photo taken in the Doodlebug booth of me with the girls from Scrap Orchard and my friend Gwen, who came with us to Vegas and tagged along to the convention despite the fact that she doesn't scrapbook at all.
I haven't made a paper scrapbooking layout since 2004 and my fear of commitment was on full display the entire time I was making this one. I left it laying on my desk for two days before I felt confident enough to glue anything down.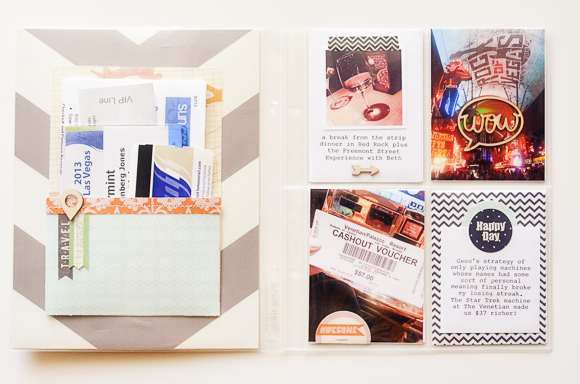 On the opposing side I made a pocket out of the August papers and elements to hold some assorted bits from the trip. I created and cut the pieces for the pocket using my Silhouette, but I could have just as easily done it with a paper cutter and a corner rounder. I can't find my corner rounder, though, and I was really set on having round corners.
The right side documents a night spent off-strip in Red Rock and down on Freemont Street, as well as my one and only positive gambling experience. I won $37 on the Star Trek slot machines at The Venetian using my friend Gwen's advice – she only plays on slot machines whose names have some sort of meaning to her. I've been subjected to more Star Trek episodes (courtesy of Tom) than I care to think of, and it was about time that Star Trek gave a little something back to me. Parts of the September Gossamer Blue Main Add-On Kit start to appear here, as well as the wood veneer speech bubble from Freckled Fawn.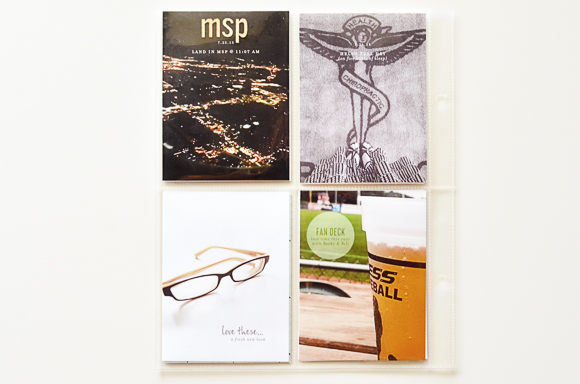 My final page for the month was photo-centric, save the veneer alpha from Studio Calico that I used to add the airport code to the photo of our flight home. Tom and I took an extremely late flight out of Las Vegas, trying to eek every last second out of the trip because it's one of his favorite places on Earth. We didn't get back home until 2am and I had agreed to open the chiropractic office at 8:30am, which allowed me 4 hours to sleep.  I wanted to be sure to document that moment of temporary insanity by taking a quick "where I stood" shot after I unlocked the practice. A photograph of my new glasses and our final baseball game of the season closed out July.
And now I just have to keep my eye on the prize and get August completed before the end of September.