Despite the fact that temperatures have still been in the 80s and 90s here, September always marks the change of seasons for me. Even though Nick is going to school in shorts and t-shirts, it's already autumn in my mind. And for the month of September I chose Narrative as the Featured Product of the Month, because it's an everyday kit in a cozy autumn palette. It's September in a kit.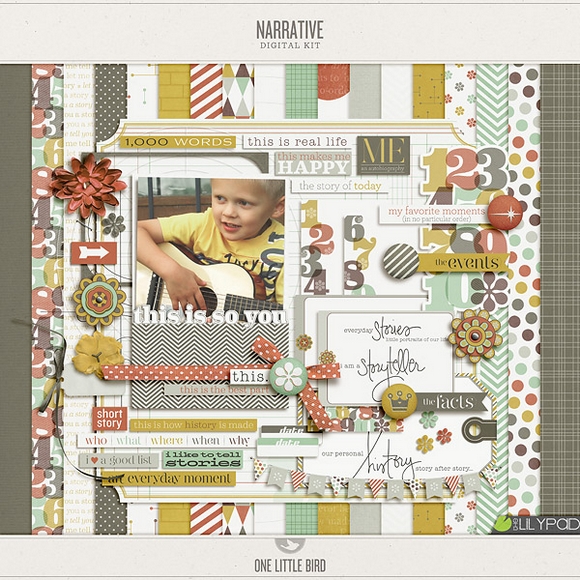 You'll save 30% on Narrative all month long, and if you have any layouts of your own to share using this kit (new or old!), please be sure to post them in my gallery at The Lilypad if you haven't already, and then post a link to those layouts in the comments by 10/07/13 for a chance to win a $15 coupon to my store.
---
|| INSPIRATION FROM THE FLOCK ||
A few new inspiration pieces from the members of my creative team.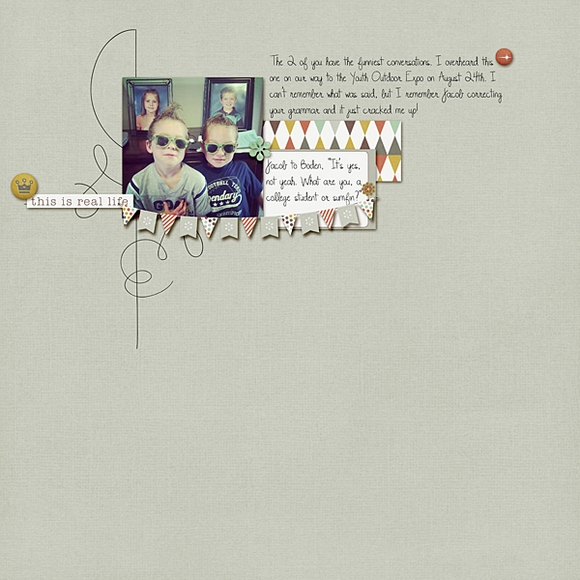 ▲ By Tali – I love the conversation that she captured between her twin boys. "What are you, a college student or sumfin?" is going to be my go-to comeback for the next couple of days.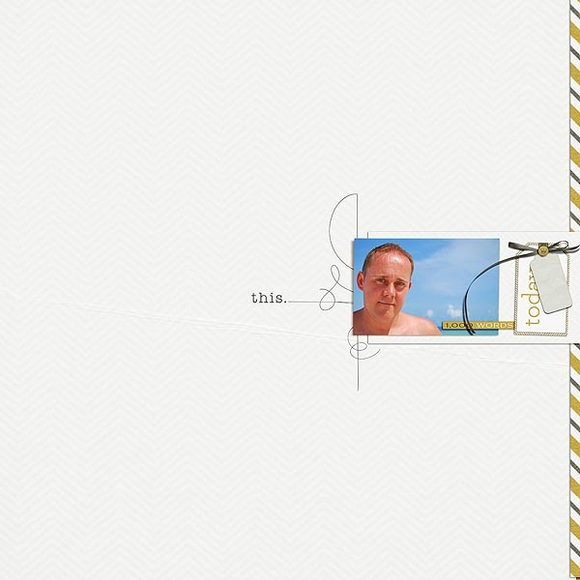 ▲ By Sue – whose simplistic, minimalist style makes me swoon. I love a good whitespace layout, don't you? I adore the skinny strip of striped paper down the edge. Things like that just elevate a layout and make a page feel complete.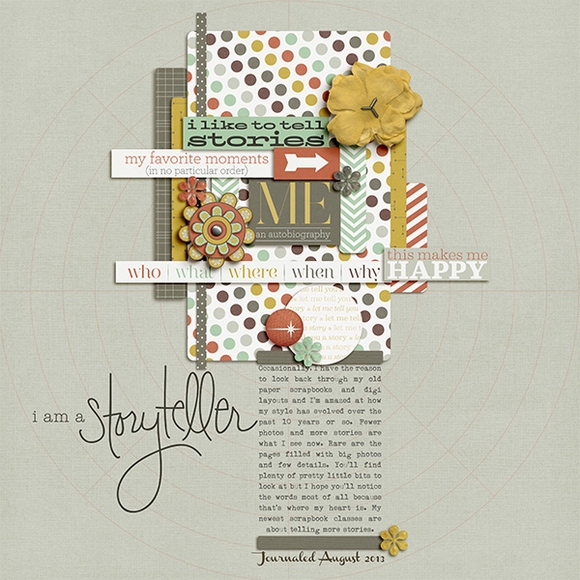 ▲ By Stacy – a photoless layout with a message I can really get behind. I've spoken a few times on The Digi Show about how my only real scrapbooking regret is that it took me so long to feel comfortable telling a story on my pages. It's the best kind of vulnerability, though, and like Stacy I always hope that people will notice the words on my pages most of all.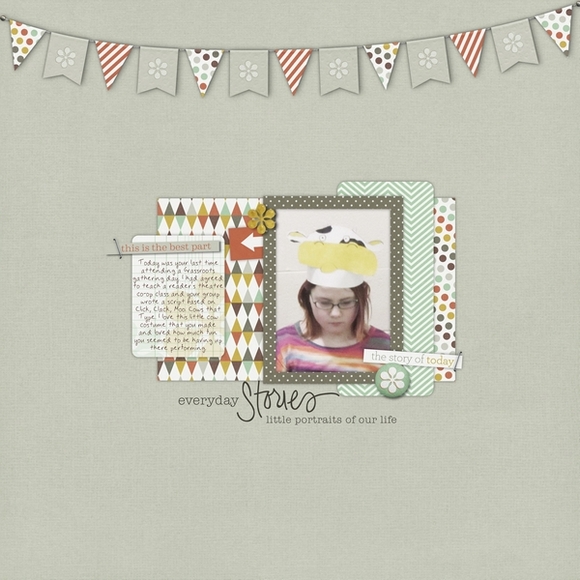 ▲ By Sarah – capturing a true everyday story with her photo + words. And I'm starting to think that one of the reasons I feel such a kinship with so many members of the Flock is that so many of us love to use word art as our "titles" on our pages. I'm title challenged, and word art picks up the slack for me.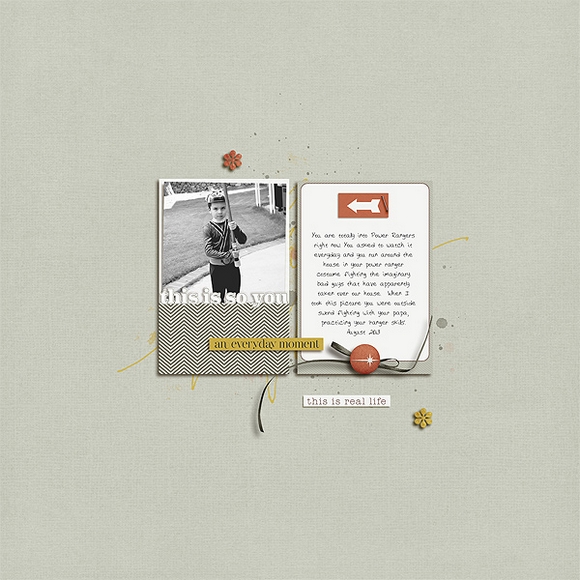 ▲ By Kelly – this kit was the genesis of the photo pocket, and Kelly used it so perfectly here for her little Power Ranger addict. That little pocket eventually morphed into Photo Pockets No. 1 and No. 2, and I've had grand plans to create more of them but I'll be damned if they're not really labor intensive to make. Of all things … I think I over-complicate it.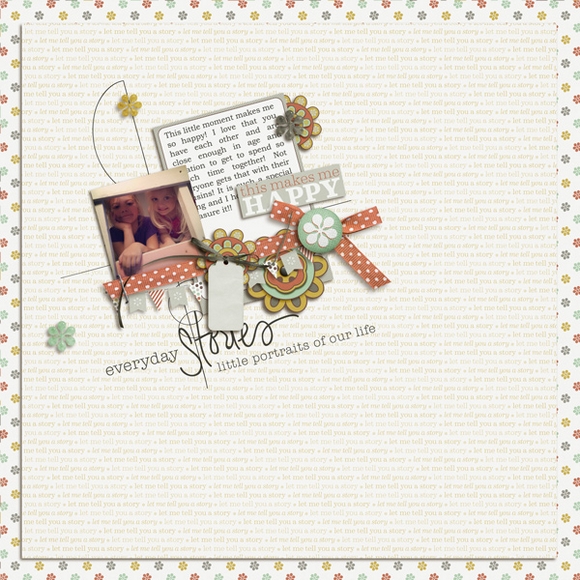 ▲ By Crystal – a little celebration of Cousins. Crystal can pack so many things into a small space on her pages and I always find myself scrutinizing them like ISpy books, trying to find all the little bits she's carefully placed. She's a magician, that one.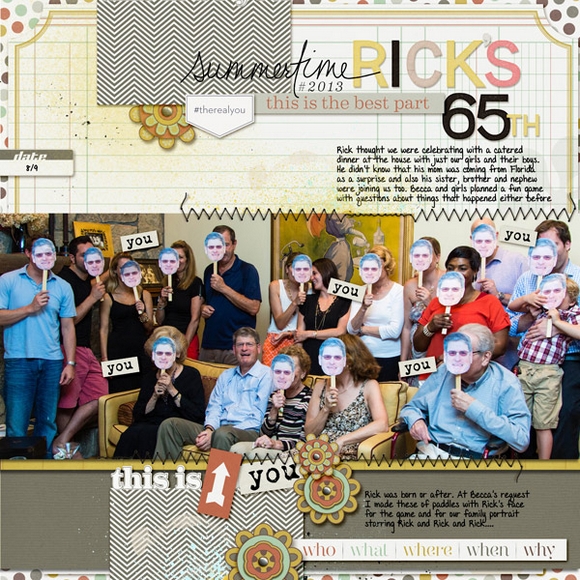 ▲ By Bobbie – who was one of our lovely and talented August guests. When I saw this layout it made me laugh, I love how she tacked all the little "you" word snips next to people in the "family portrait starring Rick and Rick and Rick…" I'm in love with the entire idea of this, making up all the little face paddles and crafting a game of questions about things that happened before or after he was born. I want to emulate this for the next milestone birthday in our own family.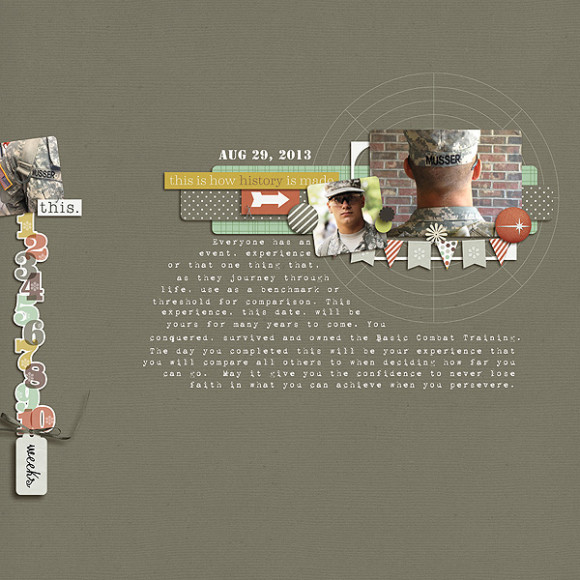 ▲ By Lori – who is with us for the month of September as a part of the Guest Flock. I'm immediately drawn to the way she used photos almost as page elements – it's a great way to add more photos to your page. The close-ups of the small details deliver a lot of the story. Plus her text on a path is simply brilliant. A lot of technique on this page!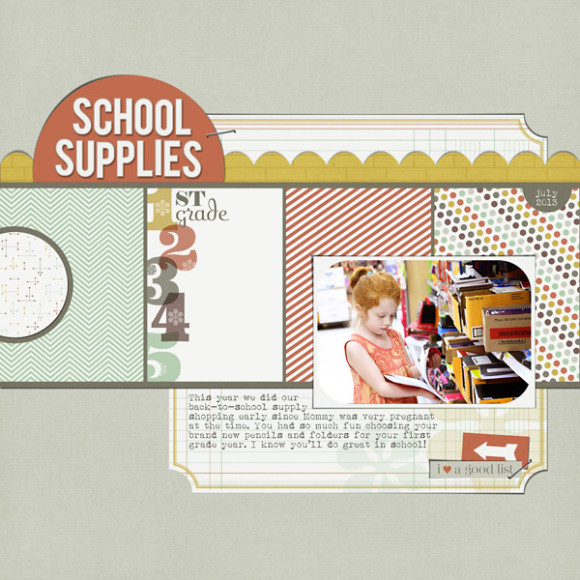 ▲ By Emilie – another of our September guests! Emilie gives a great example of how to use journaling cards on non-Project Life pages. I didn't do a separate journaling card for this kit back when I first made it, but there are journaling cards inside of the kit that are sized to fit Project Life. Emilie added the text to create "1st Grade" using one of the cards and I think it's genius. You could easily do the same for 2nd-10th grade, or any list of things really, and convert these cards to word art elements for your page.
---
Remember that if you have any layouts of your own to share using Narrative, you'll need to post a link to them in the comments prior to 10/07/13 for a chance to win the $15 coupon to my store. I look so forward to seeing your pages. ♥