I've added a new kit in my shop this week! I know that food photography gets a bad rap in a lot of circles, but this one is for all of you "foodies" out there who insist on snapping that quick photo before taking your first bite. It's become something of a calling card for me when I'm out with friends, one of them will throw an arm out and say "Everybody wait! Peppermint has to take a photo first."
Food photos (and pet photos) are an almost guaranteed "like" for me on social media, so I don't know what all the fuss is about. Food photos also take up a lot of real estate in my Project Life® album, so it's a wonder I don't create more food themed products. The classic colors and food-inspired motifs in Prix Fixe are sure to inspire you to find a place in your scrapbook albums for your food photography, favorite haunts and most memorable meals.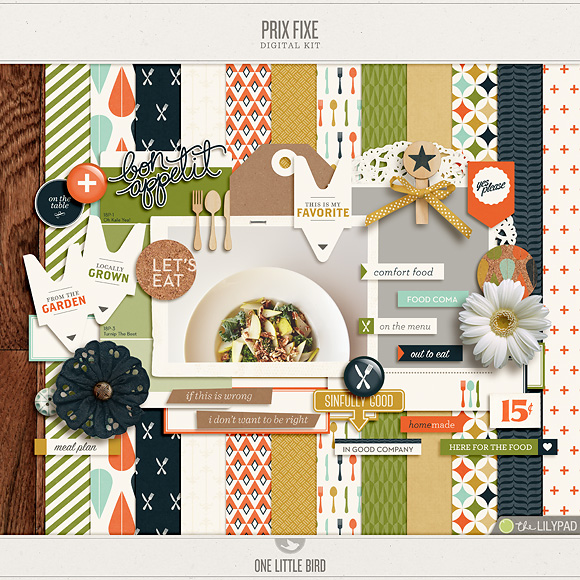 The coordinating Prix Fixe Journaling Cards include (6) 3 x 4″ journal cards that can be used on your digital scrapbook pages, as well as in your Project Life®/pocket page albums. The package contains individual PNG files, JPG files with bleed (for professional print shops – like Persnickety Prints) and printable PDF and PSD files.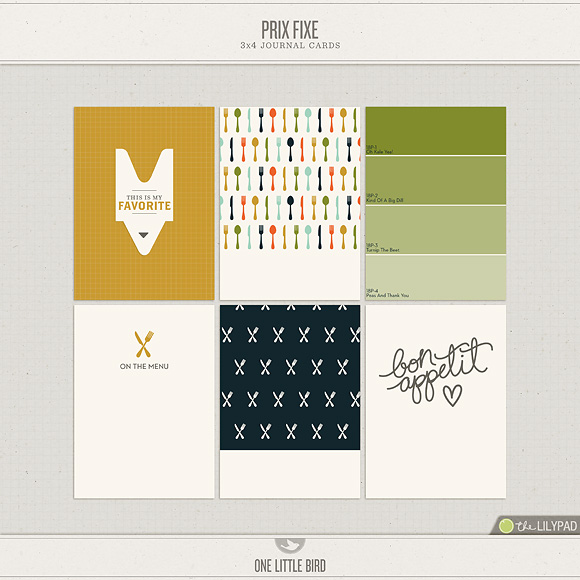 If you saw my latest post on Canon 4×6 matte paper, then the Pro Printer cards with bleed are your bread and butter. The standard PNG cards are just a bit too narrow to fill the 6″ canvas. So I make two 3×4 rectangles, line them up side by side on my 4×6″ canvas, then clip the Pro Printer cards to them – centered. Works like a charm.
---
 
Purchase Prix Fixe by 4/20/2014 and you'll save 20% PLUS you'll receive the Prix Fixe Journaling Cards free with your purchase.
---
|| LAYOUTS BY THE FLOCK & THE POLLYS ||
[nggallery id=103]