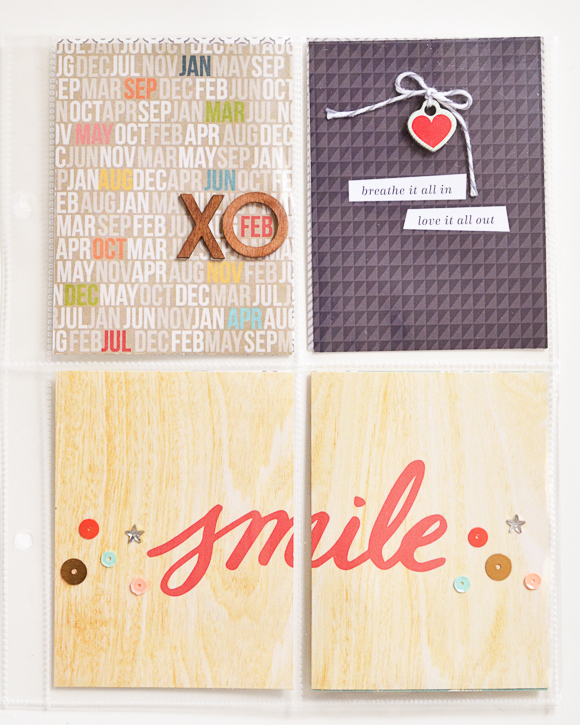 So happy to have finished up my Project Life® 2014 pages for February – even if it's now May. I think my favorite part of this year's album is quickly becoming the monthly divider pages because they're pure play – a chance for me to use cards and embellishments I've set aside for uses unknown. Top left is from Daily Grind (Simple Stories) and and bottom two are from a Daydreamer (Dear Lizzy) cut-apart sheet, they're from the January and April Gossamer Blue kits respectively. Top right is from my set of Busy Week Journaling Cards – a gentle little reminder I need to hear over and over again. Breathe it all in, love it all out…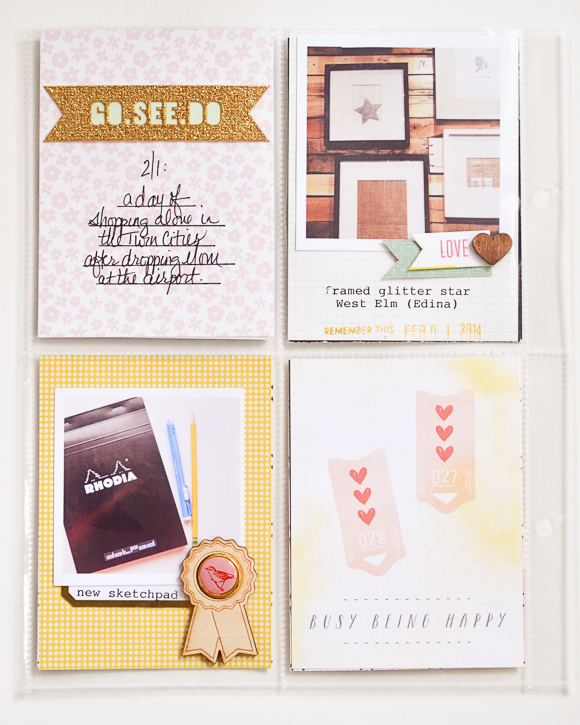 February began with me volunteering to drive my mom to the airport in St. Paul with my ultimate goal being a day of shopping in solitude. There were a couple of things I wanted to pick up at Blick Art and then – you know – West Elm is just right there. I used a mixture of Gossamer Blue items from the April kit again here, including one of the wood veneers I designed for an April Life Pages Add-On. April marked the debut of the Life Pages Add-on kit #3 with exclusive One Little Bird cards (and sometimes embellishments). It's now available monthly.
I also found myself smitten with the gold glitter banners from Studio Calico's Wanderlust collection. My dislike of glitter is still all-consuming for the most part, but I've come to appreciate products where the glitter is adhered with whatever sort of dwarven magic is required to keep it from shedding. Loose glitter is my enemy, and I always find myself holding my breath when I open packages of glittered embellishments. These banners don't make me twitch. Non-shedding glitter is a cause I can really get behind.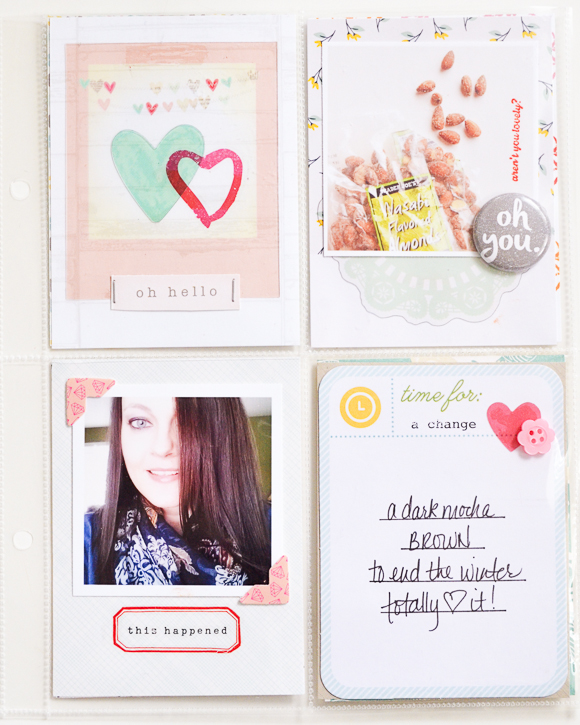 I colored my hair a dark, all-over brown in February – something my stylist has been itching to do for a few months. The change was fun for me but eight weeks later I added blonde highlights again, mostly because I hadn't anticipated how the dark color would turn into a whole discussion with so many people. Even Nick's friends got all "Dude? Is your hair .. like … darker?" Eight weeks was all I could endure. A mixture of Gossamer Blue and Studio Calico kits here, plus a yellow floral card from my Lemon Drop Journaling Cards.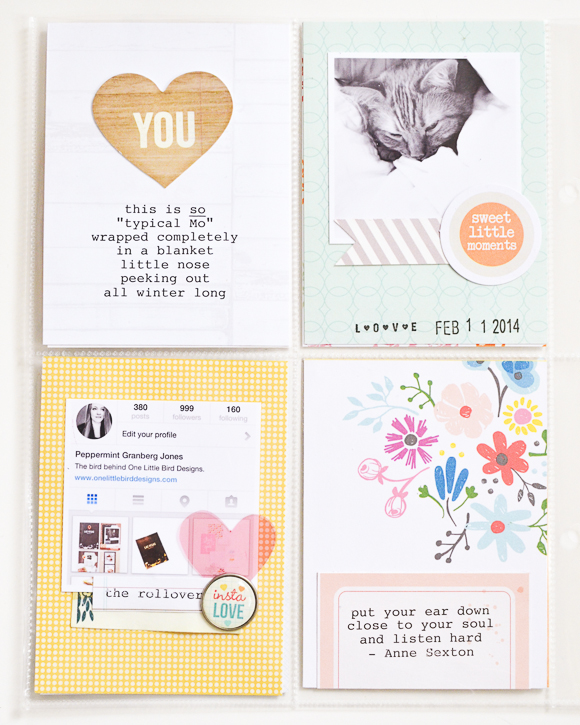 I took the time to pull out my typewriter for the left side of this spread. I need to use it more often so I'm storing it in a more obvious spot. The quote on the bottom right is a recent favorite (on another Daydreamer card).  I've been pinning quotes and images on Pinterest that pertain to my One Little Word of focus and since my album is a personal diary of my day-to-day rather than a detailed record of the whole family, I'm trying to include a few of them when space permits throughout a month.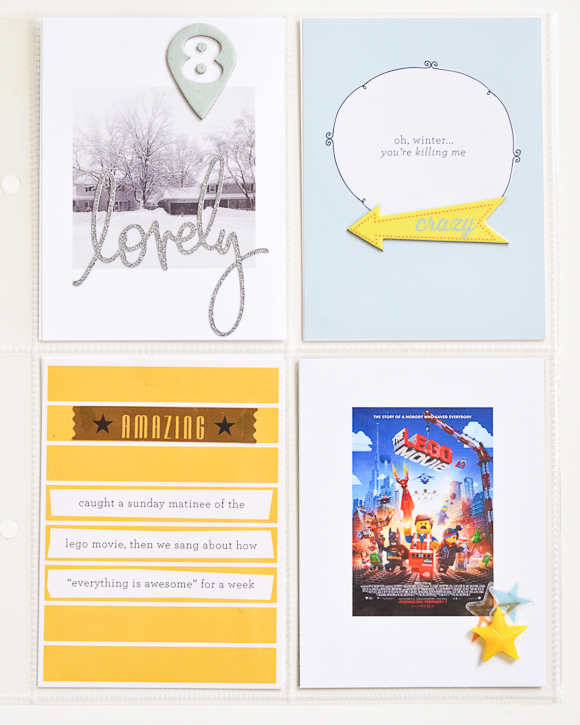 Right side of this spread documents the "winter that will never end" here in Wisconsin – a rare photo I took of one of the brutal snowfalls that seemed to arrive every week, like clockwork. The snow didn't keep us from catching a matinee of the much-anticipated Lego Movie on opening weekend, though. If we let snow keep us from doing things we'd have gotten nothing done this winter. Blue card is from Busy Week, yellow is an exclusive I made for the April kits at Gossamer Blue. Adore the glittered "lovely" from Heidi Swapp – even if was more tongue-in-cheek than anything.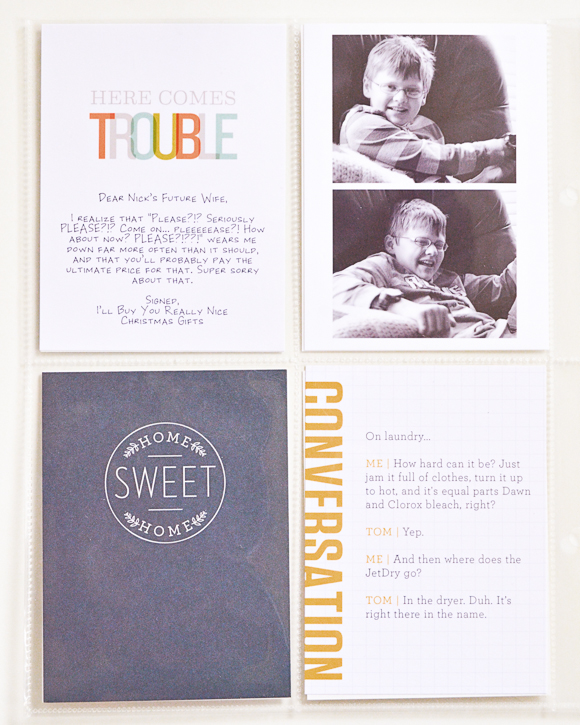 Next spread, left side was collected from social media status updates. Typically I jot down notes about my week in my planner and the middle of February was particularly void of notes. I was skimming my wall on Facebook to pinpoint a date for something else and I stumbled upon a note I had written to Nick's Future Wife (something I do from time to time) and a conversation I had with Tom illustrating a standing joke here in our house – which is that I don't do laundry as well as he does. I included both of them, along with recent photos of the ever-elusive teenage boy. The photos were actually from the end of March but it's feast or famine around here as far as Nick photos go. Mostly famine.
"Here Comes Trouble" card is from my Troublemaker Journaling Cards, the Home Sweet Home card was one of my exclusives for the Gossamer Blue April Kits, and the Conversation Card is from Press Cards No. 7 by Paislee Press.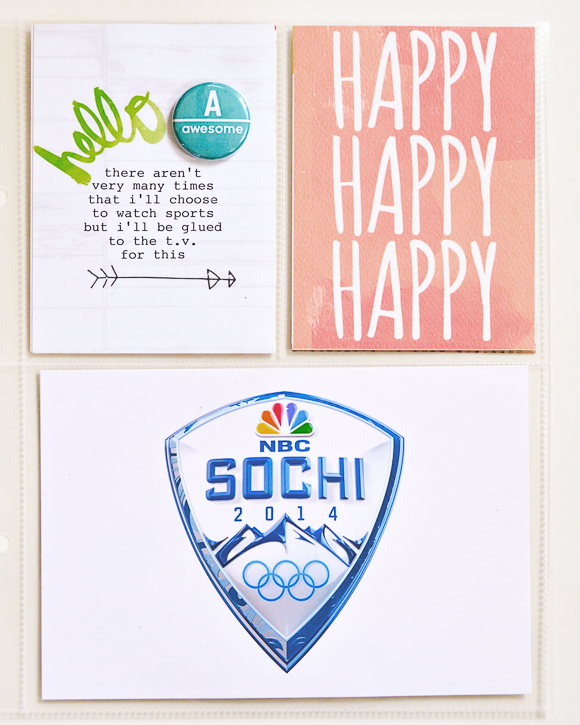 Right side, the debut of the Sochi Olympic Games. I live for the Olympics and I am locked in a two year cycle of "The summer games are my favorite" and then "No wait, the winter games …" The Olympics are the only sports I watch and I take them very seriously.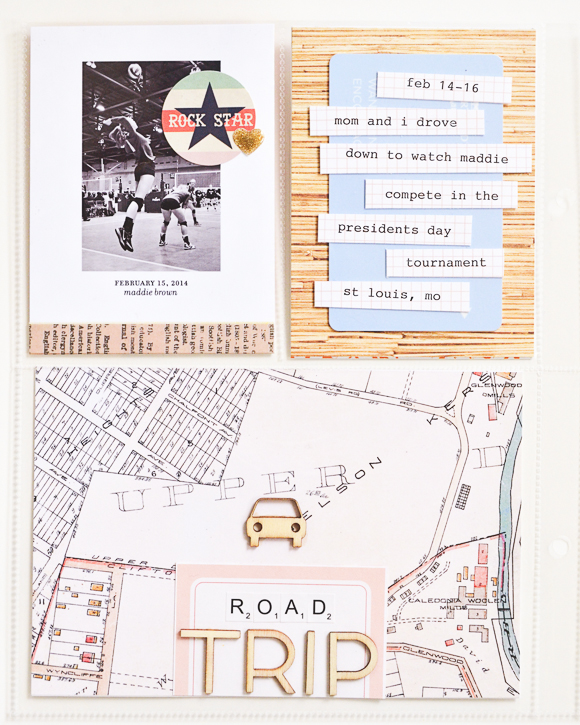 My mom and I spent Valentine's Day weekend in St. Louis watching my oldest niece compete in a volleyball tournament. This was the first time I've ever seen her play and I was mesmerized by her talent – I have no fewer than 450 photos of her over the course of the 3-day tournament. At 15 years old she stands just over 6 feet tall and she's a force on the court. I'm so grateful for the opportunity to see her play and also for the the 16 hour road trip (round trip) with my mom, who was a month into her latest campaign for office – it felt a bit surreal to have her undivided attention for so long.
I finished my last two pages of February while I was on in San Diego visiting Christine, which was a bit difficult for me because I'm indecisive on the best of days … on my home turf with my own supplies. I'm not accustomed to thinking ahead, and selecting photos and supplies ahead of time was a total shot in the dark for me. Plus Christine's scrap room is a treasure trove of supplies and scrapbooking tools so most of my time there was spent going through all of her things and deciding that I needed them.

For instance, she had a special vellum adhesive that I used to make the vellum pocket on the lower left and I had no idea that such a thing existed – but I immediately decided I could not live without it. Supplies on this page are from the May and June Gossamer Blue kits, plus the card on the upper right from my So Major Journaling Cards.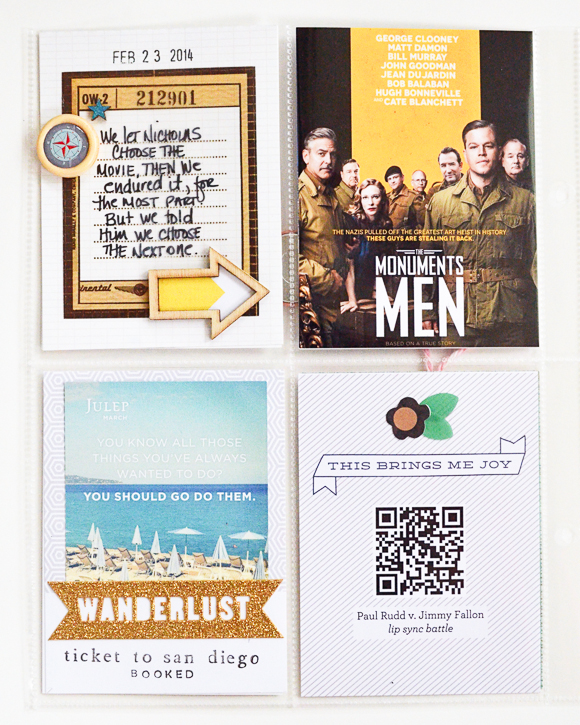 My final page for February. Nick really wanted to see Monuments Men and I'm always game for a George Clooney movie, but this one was a bit of a let down for Tom and me. We powered through but decided as a group that Tom and I  would get to make the next box office pick. The Studio Calico gold glitter banners appear here again, along with supplies from the April and May kits at Gossamer Blue. The "This brings me joy" card is from my Identity Journaling Card pack.
|| WHAT I'M LOVING ||
QR codes for documenting "web things" like my favorite Tonight Show clips in the two pages above.  I generate them on QRStuff.com in batches and then download them to a folder with filenames that include their air dates (i.e. 20140225-PaulRuddLipSyncBattle). That way I can easily find the ones that pertain to a particular month then drag them directly onto the digital cards in Photoshop, add my journaling and print them out.
Typing on my journaling cards vs. hand writing them, which feels a bit odd to me since my handwriting is something I regularly use in my digital products. I wrote out a few of my journaling cards while in San Diego then wound up re-doing them once I got home because they felt too messy to me. This is where my digital side wins – I don't find it tedious at all to type my journaling out in Photoshop and run the card through my printer. Especially considering most of my journaling cards are digital to begin with. Typing them on the typewriter, however, is very tedious – but I still prefer it to hand writing.
3-pocket or 4-pocket "layouts" like our trip to St. Louis. Honestly I still struggle a bit with the random and incohesive nature of the pocket format, some of which was mitigated by switching to this 6×8 format last year. At times it still feels a bit reminiscent of someone talking in sentence fragments. Dedicating a whole page of pockets to one particular event or theme feels more natural to me, and since I'm not worried about containing my year into a certain number of albums (I'm okay whether it's two albums or six albums) I'm allowing myself as much room as I want. It's also why I feel free to add bulk and dimension by way of things like badges (which I love), veneer and buttons. Even if it cuts down on how many months I can fit into an album, I don't want to approach this project from a place of scarcity – worried about using too many page protectors or taking up too many albums. It will take as much space as it takes.