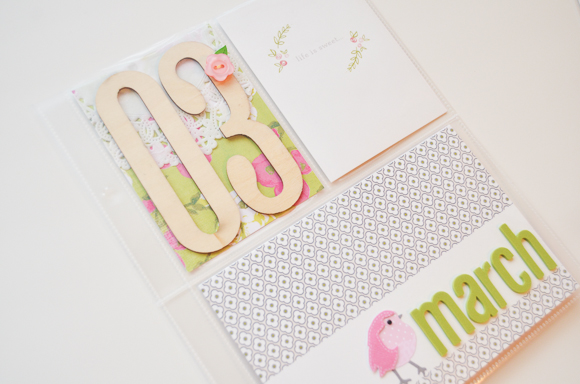 I've made a goal to finish March and April this month, moving toward my ultimate goal of being all caught up at some point in June.  I made my March divider page while I was out in San Diego, working off that "Life is Sweet" card that I designed for the April Life Pages Add-On No. 3 at Gossamer Blue. I've been wanting to use the giant Freckled Fawn veneer numbers as well, and they worked perfectly here.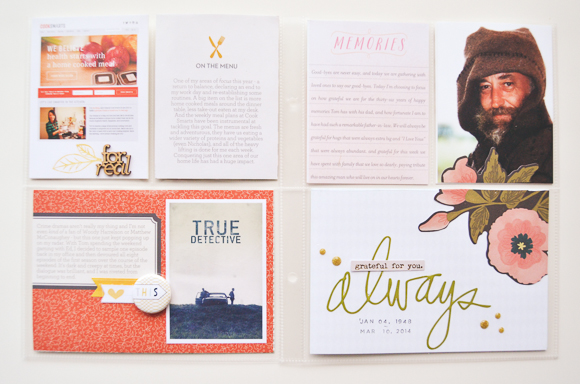 I'd been consciously putting off March because my father-in-law passed away mid-month and I knew I wanted my feelings on his passing to be a part of my monthly record, but I also knew I needed a bit of time to pass before I felt up to tackling it.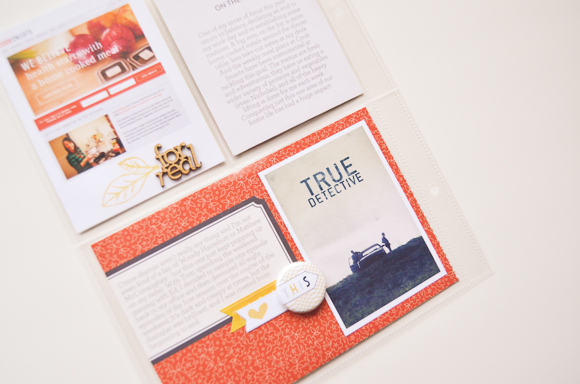 The left side of the spread is normal monthly happenings. I subscribed to a new meal planning service in March called Cook Smarts and it's been instrumental in helping me achieve our goal of more healthy home cooked meals, less eating out this year. Bottom pocket is all about Season 1 of True Detective, which I devoured in one weekend. Have you seen it? I was not expecting to like it as much as I did.
Materials: On The Menu card is from Prix Fixe, the 4×6 card is from Timeless – both available in my shop at The Lilypad. Veneer is from the Gossamer Blue April Life Pages No. 3 (designed by me), and the Evalicious flair and page label are from the upcoming June Scrapbooking kits. Leaf stamp was from Cuppa at Studio Calico.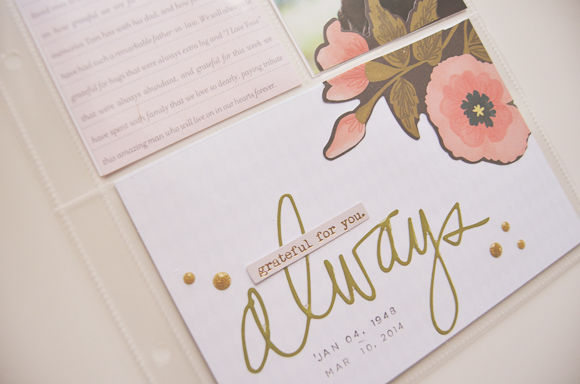 I had originally planned to do a 6×8 layout for this page, but I discovered I was out of 6×8 page protectors. When I started working on these pages late one night I figured I would stop when I reached this page, but I felt inspired to finish it in the moment so I switched gears and used a 3 pocket page. The text is a modified version of what I posted on Instagram on the day of the funeral – I added a bit more since space allowed. The photo was one of my favorites from a collage we put together for the service. I let Tom choose which photo to use – this was one of his favorites as well.
Materials here include an expoxy sticker from Favorite Things by Heidi Swapp, enamel dots and die cuts from Market Street from MME (part of the June kits at Gossamer Blue, as well) and a digital card from the Daydreamer Project Life® Mini Kit by Dear Lizzy.