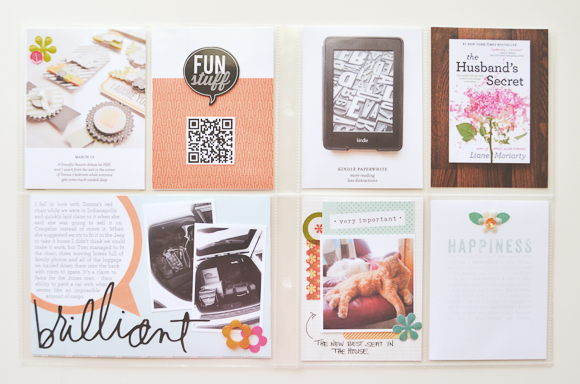 I'm hoping to spend a portion of the long holiday weekend finishing up March pages. I feel as though I have a fairly efficient system down at this point and I don't want to lose momentum. I finished these two pages last weekend.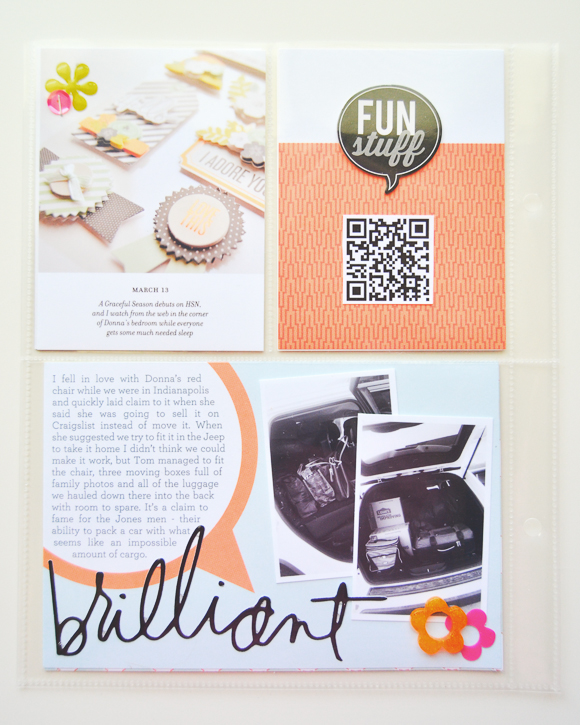 The left side of this spread covers our final few days in Indianapolis for my father-in-law's funeral. I'm grateful that I thought to take photos of the way Tom packed the car for our trip home because the ability to efficiently pack the cargo area of a vehicle is quite a huge point of pride for the Jones boys, and it served as a poignant end to the week to see him live up to his family legacy once again by fitting an impossible amount of items in the Jeep.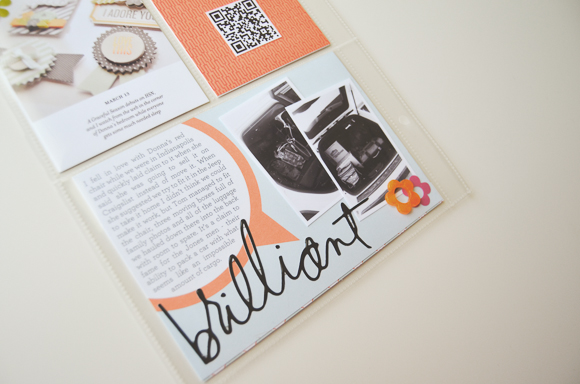 Also included is the QR code for the Billy Joel Doo-Wop session on The Tonight Show. Nick was completely enamored with it for several days because his acapella group was working on the same song for an upcoming school variety show.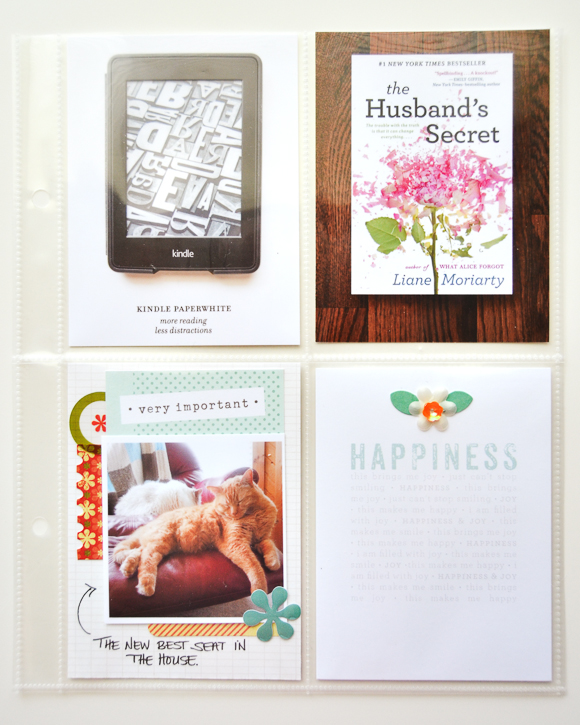 I purchased a Kindle Paperwhite in March and had a chance to set it up and play with it once we returned home. I switched to eBooks back in 2008 with my first Sony Reader and the whole family has followed suit over the years. For the past two years I've been reading eBooks on my Android tablet and I've read less books as a result. I had too many options on my tablet and found myself constantly distracted by email and app notifications popping up as I read. I'd heard really great things about the Paperwhite, so I made the decision to "downgrade my tech" in this regard and now I'm reading more again as a result. The Husband's Secret was the first book that I read – our Amazon Prime membership includes one free book from the Kindle Lender's Library each month and that one grabbed my interest.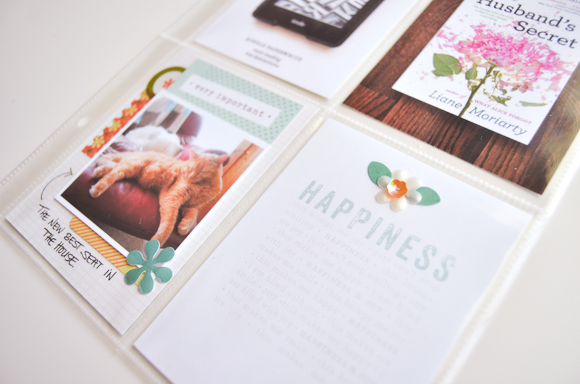 Materials on these two pages are from the May kits at Gossamer Blue, including the cards I designed for the May Life Pages Add-On No. 3. Plus a few old odds and ends from Dear Lizzy and Basic Grey on the right page. 
|| WHAT I'M LOVING ||
Working (almost) entirely with a monthly subscription kit allowed me to complete these pages really quickly – which is a big perk when I'm trying to catch up. It's definitely a strategy I'll continue to use when the kit colors and theme work for me. (I do so love to use printable cards, though – so I'll always dabble between the two.)
I've started using Excel to plan my pages – I'm such a nerd! I am obsessed with spreadsheets and working on entire months at the same time is a bit too much for my brain to handle. I've tried using a few other methods recommended by Project Life scrapbookers, including printable sheets, post it notes and software like Evernote. All roads tend to lead back to Excel for me, though.
The "Lens Correction" panel in Lightroom for these photos I've been taking. My lens tends to distort at certain focal lengths so my pages are often slightly "off square" when I look at the final image and that makes my head want to explode. I'm completely aware that I don't use Lightroom to its full potential, but when editing these photos I finally poked around in the panels and unearthed the Manual tab in the Lens Correction panel which allows me to quickly fix lens bulge and vertical or horizontal shearing (which happens a lot when I'm photographing a page that has flair or something bulky on the opposing side). Hooray for Lightroom!