I feel as though I can say "summer has arrived" here in Wisconsin – the days are long, the lawn always seems to need mowing, and I've even planted a few herbs and vegetables on my patio that I promise to tend to with all my might. I do not come by gardening naturally, but I feel determined this year.
A week or two ago I saw the phrase "There is sunshine in my soul today" on an art print and it stuck with me, because the warmer weather makes it feel as though sunshine is radiating from within. Summer vacation is just around the corner for Nick and I find myself making more plans and setting more goals for this summer than I have for summers in the recent past. There's nothing like a long, grueling winter to give you a new appreciation for the summer. I don't want to take a single second for granted this year.
Today I've added two new products to the shop. The Sunshine in My Soul Digital Kit is just in time for summer and its bright colors and cheerful elements are just right for conveying the warmth and playfulness of sunny days.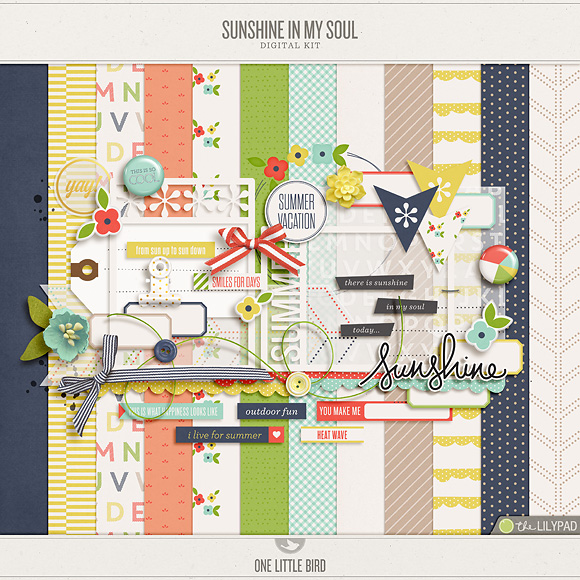 The coordinating Sunshine in My Soul Journal Cards include (8) 3 x 4″ journal cards  and (2) 4 x 6″ cards that can be used on your digital scrapbook pages, as well as in your Project Life®/pocket page albums. The package contains individual PNG files, JPG files with bleed (for professional print shops – like Persnickety Prints) and printable PDF and PSD files.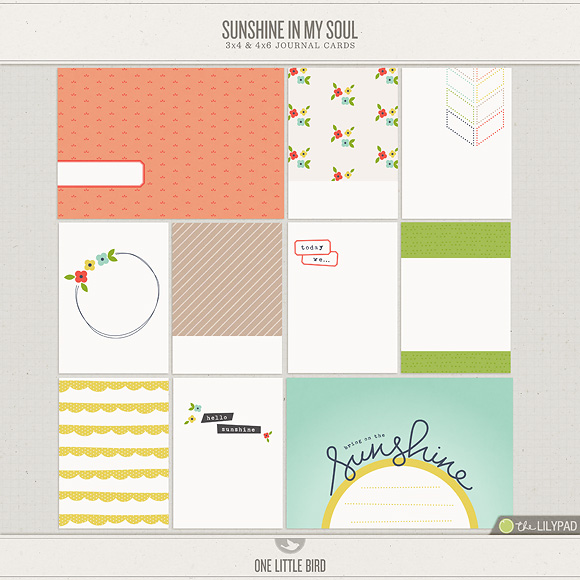 ---
 
Purchase the Sunshine in My Soul Digital Kit by 06/01/2014 and you'll save 20% PLUS you'll receive the Sunshine in My Soul Journal Cards free with your purchase.
---
|| LAYOUTS BY THE FLOCK & THE POLLYS ||
[nggallery id=107]