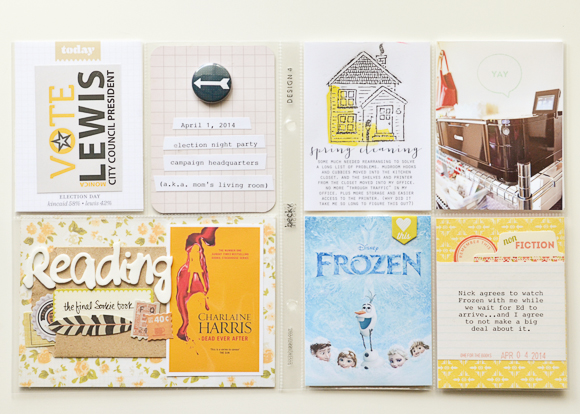 The past month has been full of summer events, trips and visitors – which meant I didn't make much headway as far as "closing the gap" with my Project Life® album. If ever there were a good excuse to fall further behind, though, it would be spending time with family and friends. I still haven't embraced perpetually behind as a state of being – and I caught this video that Stephanie Bryan put together for the Gossamer Blue blog that inspired me to dedicate a few hours the past couple of days to finishing up April. Most of my supplies here are from the July Gossamer Blue kits which contained a lot of Open Road (Crate Paper) and Public Library (October Afternoon). Adored them both.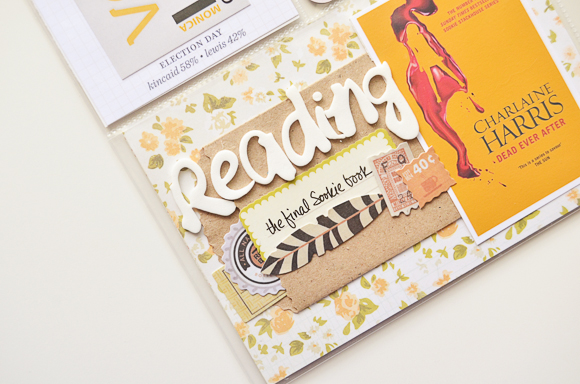 April kicked off with the anticlimactic conclusion to my mom's political race, documented for posterity. I so admire her passion – I'm not nearly as willing to dedicate my free time to political action. She keeps her seat on the City Council, she just didn't move to the President's chair.  I also finally got around to reading the last in the series of Sookie Stackhouse books in April – I made quick work of it. I've been reading more in 2014, part of my One Little Word of focus for the year – making more time for the things that replenish my soul. The switch from my tablet to a Kindle Paperwhite has made it much easier for me to relax with a book, especially at night before bed.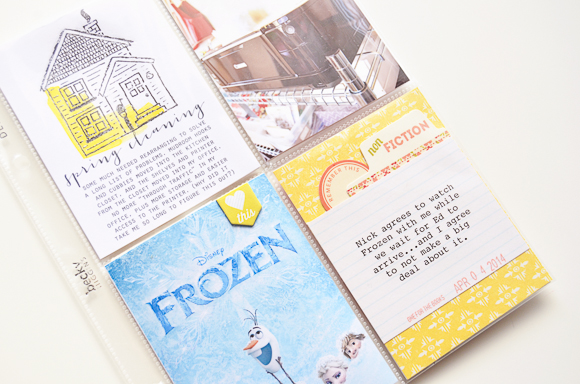 I was bit by the spring cleaning bug in April and spent time rearranging and reorganizing several areas of our house – including my office, where the only solid wall that I have was filled with hooks and shoe racks and used as a "mud room" of sorts. I moved the coat and shoe storage into a kitchen closet and repurposed some shelving on that wall instead – adding much needed storage in a room where the other three walls are all windows. It also allowed me to relocate our wireless printer to my office so I don't have to make the long trek (about 8 treacherous feet) into the kitchen to grab my prints.
Oh, and Nick agreed to watch Frozen with me, and I agreed we wouldn't bring it up. Ever.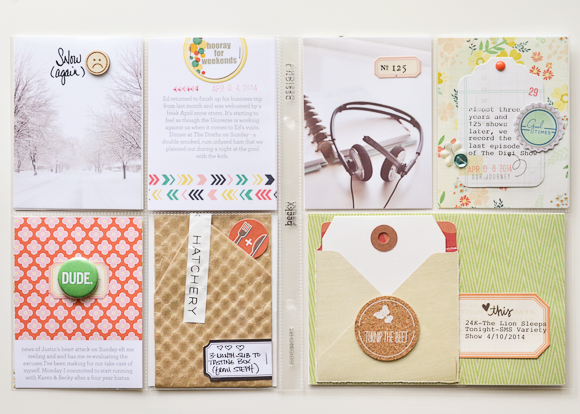 More Gossamer Blue July kits plus a printable card from Forever Young.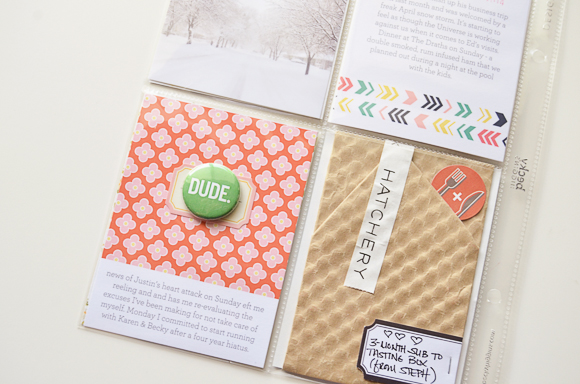 I loved the textured packaging and branded masking tape used to wrap the glass jars our first Hatchery box so I included some of it as a journaling card along with a sticker from Kelly Purkey's Mon Ami line (love it). Anything food related is likely to make it into my album.
The pink card documents a health scare concerning my sister's husband, and the subsequent ripple effect that made me agree to start running again with a couple of friends of mine. There's nothing quite like someone your age having a heart attack to make you re-evaluate your excuses. (And I have been running religiously and eating better ever since … )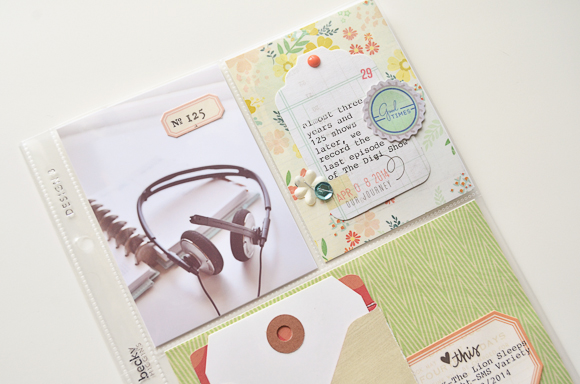 April 8th was when Steph, Katie and I recorded our last episode (Episode No. 125) of The Digi Show. I had documented it with a photo on Instagram at the time, so I used the same photo and put together a journaling card using what is really a mish-mash of various Crate Paper lines. I am completely smitten with them.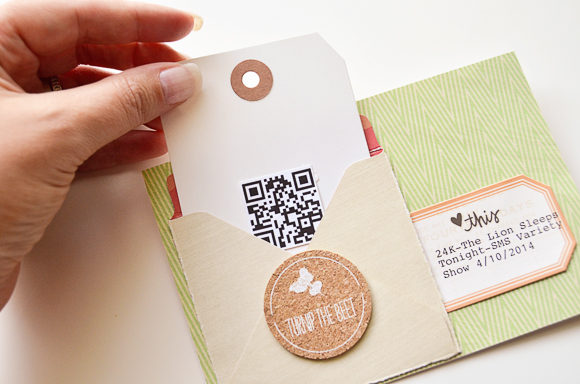 On the bottom half of this page I wanted to include the QR code to a video I shot of Nick's acapella group performing at their school variety show, but I kept struggling with placement. I've included QR codes in previous months on 3×4 cards and they were always much easier to manage. In the end I wound up making a small envelope pocket on my Envelope Punch Board from WRMK. I still feel as though I want to embellish the pull out tag a bit more, but I'm trying to let go of those feelings for the sake of the bigger picture … which is finishing up the month. When I saw the "Turnip The Beet" cork circle from Studio Calico I set it aside in my mind specifically for this.
More of my April pages to come, but in the meantime … a promise is a promise …
|| USING EXCEL TO ORGANIZE PROJECT LIFE SPREADS ||
In a previous post I shared how I was using Excel to plan my pages, and said in the comments that I would come back to explain the process a bit further. It's really not all that elaborate, but for my fellow spreadsheet lovers I took a screenshot of my April worksheet after I had completed the month.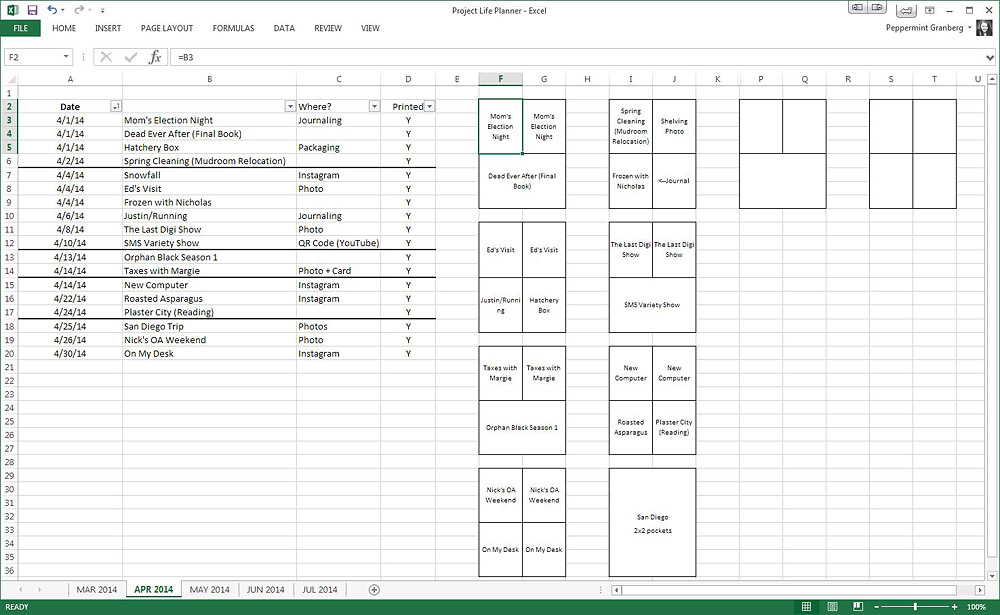 You can click on the image to enlarge it, but I'll explain a bit how it all works.
My album is a diary of my everyday life for the most part – a few bits from Nick's life make it in there, but he's very "anti documentation" right now and I try to respect that. In  the past when I was ready to work on my album I would pull together information from three place
photos from my camera(s)
notes in my planner (usually these are non-photo items – books, movies, quotes..)
my social media feeds
I would piece all of the information together in some hand-written form like pre-printed grids or chronological checklists, but if I made changes as I was working or stumbled upon an item I had forgotten about it usually threw the whole system off. I've also tried post-it notes, which were easier to rearrange, but the chaos of all the post-it notes in my album made me twitch.
All I've done here is centralize it all in Excel so that it's easy for me to sort all of my information and then organize it visually. Instead of jotting notes down in my planner, which lays on my desk every day, I now type them out in Excel – which is almost always open on my desktop anyway. When I import photos from my camera(s), I make note of any photos I want to include in my album and add the date and a brief description to the spreadsheet, as well. I leave social media until the end, usually when I finally sit down to complete the pages I'll take a trip through my Instagram and Facebook feeds and put dates and descriptions in for those, as well.
At the end of the month I use a filter in the column headers to sort it all into chronological order. I don't always put my pages together in chronological order – you'll note on this April sheet that I abandoned chronological order at the end of the month in order to best use the space. I only sort them into date order at the beginning because I've pulled information from so many separate places.
I've replaced printed grids with grids that I made in the spreadsheet by merging cells to match the 6×8 pocket page designs that I use – which is really just two. I leave the blank grids off on the right side so that when I have all of my information recorded for the month I can copy and paste the empty grids one at a time then populate each "pocket" by referencing the cells over in my list (i.e. "=B3") until I've filled as many pages as I can. Then I can expand items into more pockets or mark some pockets for filler cards in order to completely fill in any gaps.
It's really no different than what a lot of people are accomplishing with printables, calendars or post-it notes. I'm just letting my inner nerd drive this bus. It's much faster for me to let technology sort and organize this information than it is for my brain to do it.
Also of note, the "Where?" column is where I make notes on where to find stories and/or memorabilia. For example sometimes I just want to include the text I used on Instagram, so I note that the journaling is already on Instagram for that item. In April I had a business card from my accountant that I wanted to include, so I made a note so I remembered to go looking for it. The "Printed" column I use because I print at home on 4×6 paper, so if I'm printing out a 3×4 photo I'll scan the list to find another photo slated for a 3×4 pocket that hasn't been printed yet to fill the other side. Then I mark that one off in Excel and set it aside. The black lines are loosely added early on to mark where I think the page breaks might be, but honestly they wind up being completely inaccurate by the time I'm done. I forgot to delete them before I took the screenshot. (Whoops!)
I'm a little mortified that I even shared this! I'm imaging a bunch of people who never use Excel wondering how in the world this is EASIER than writing it down on paper. But I'm confident that my fellow spreadsheet nerds will nod along and totally understand why I'm harnessing the power of Excel's sorting and referencing capabilities.