We're about one month into Summer Vacation here and it's been a perpetual cycle of houseguests and travel for us. This year I've been making more of a conscientious effort to focus on our personal/home life more and to let my work life to flow around it – rather than the other way around. Some days I'm better at living in the moment than others – some days I beat myself up over the things that didn't get done. But each morning I start fresh, leaving space in my day (and my mind) for the things that I really want to see at the top of our priority list – Mre time for us, more time with friends and family, more laughter, healthier choices. Luckily we've been having the most beautiful summer which makes it all a little easier.
is mindspace is the inspiration behind two new products I've added to the shop this week. The Story Unfolds was built around three mantras: laugh louder, smile brighter, live better – they're my personal anthem this summer. They're the ingredients for a good life, don't you think?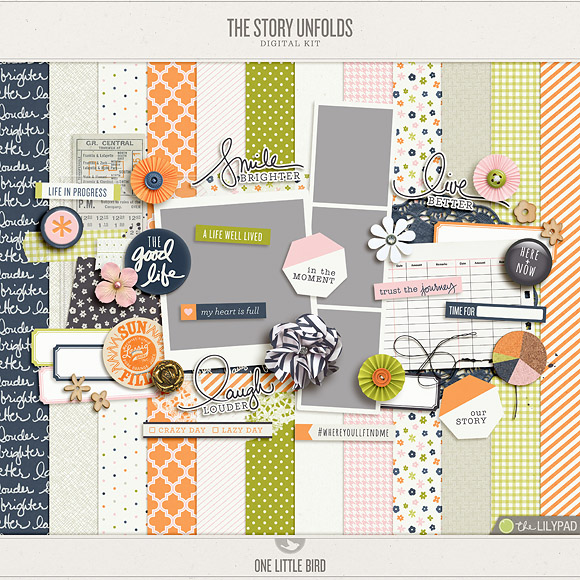 The coordinating The Story Unfolds Journal Cards include (8) 3 x 4″ journal cards  and (2) 4 x 6″ cards that can be used on your digital scrapbook pages, as well as in your Project Life®/pocket page albums. The package contains individual PNG files, JPG files with bleed (for professional print shops – like Persnickety Prints) and printable PDF and PSD files.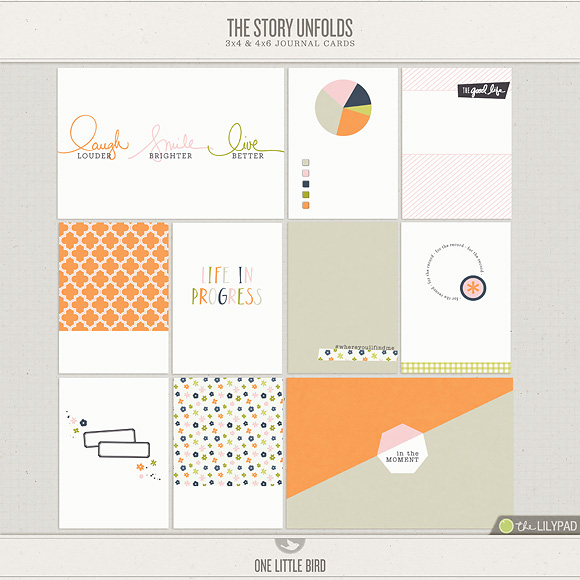 ---

Purchase The Story Unfolds Digital Kit by 7/20/2014 and you'll save 20% PLUS you'll receive the The Story Unfolds Journal Cards free with your purchase.
---
|| LAYOUTS BY THE FLOCK & THE POLLYS ||