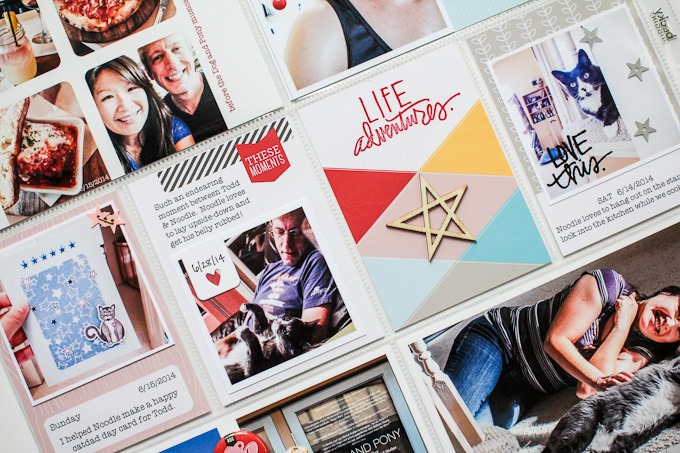 Hello there One Little Bird fans!  Welcome to the first pocket page post from our team!  This is Christine and I'm showing you a page I made with the One Little Bird "One For The Album" journal cards and elements.
I had my photos printed already.  When I looked at my photos and the colors, I thought the colors and theme of "One For the Album" was perfect for my page!  This page came together rather quickly for me.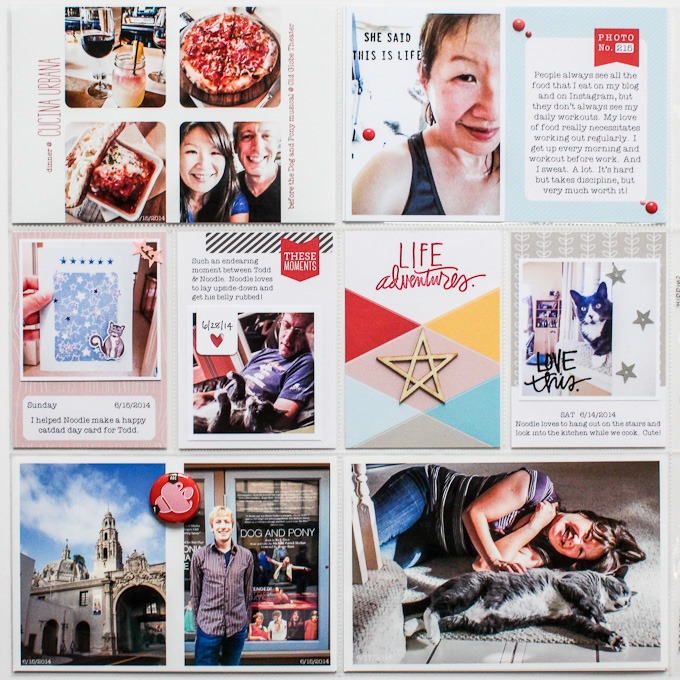 One of my favorite things to do in pocket pages is to make some 4×6 photo collages with some journaling on them.  That way I can decorate the journal cards a little bit more, since I already have some of the stories told on the photos.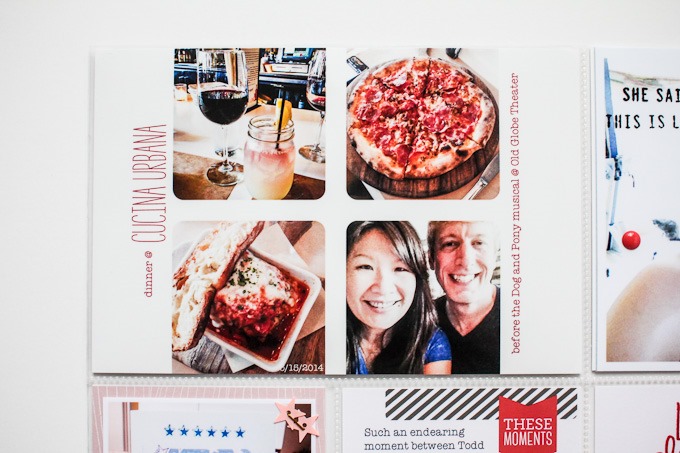 I love how this 4×6 journal card in One For The Album actually has blank space on one side for my 3×4 photo!  I typed journaling onto the digital journal card first, then printed it out on 4×6 Canon matte photo paper.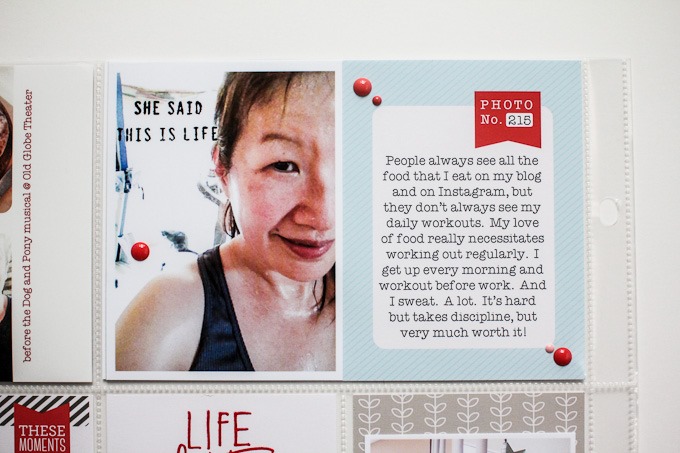 After printing my journal cards out, I added some stamping on both the journal cards and my photos.  I also added small embellishments such as the wood veneer star, some star sequins, and enamel dots.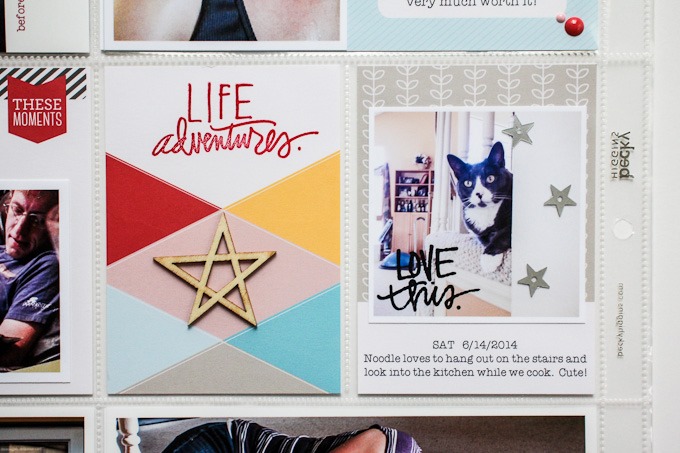 I wanted to show you a short little tutorial on how my page came together.  Since I had already sized my photos for my album and printed them out, I used those resized digital photos on a 12×12 canvas in Photoshop to plan out where everything was going to look like together.  I simply dragged my photos, collages, and journal cards onto this 12×12 canvas and moved them around until I was happy with the arrangement.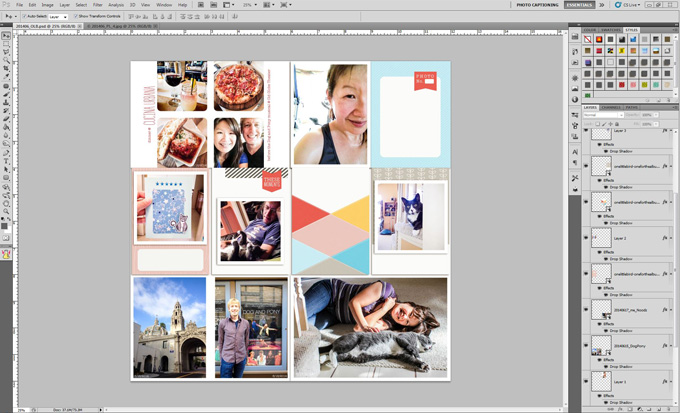 Then it was time to prep the journal cards for printing.  I usually print my digital journal cards on 4×6 matte photo paper (Canon), so I created a 4×6 canvas in Photoshop and dragged over two of the 3×4 journal cards that I planned to use.  I also dragged over the photos I wanted to place on top of the journal cards so I could gauge where to type my journaling.  For the left (pink) journal card, I knew my photo would be toward the top and cover up the bookplate design, so I used a little label from the One For the Album Elements kit at the bottom of the journal card to type my journaling.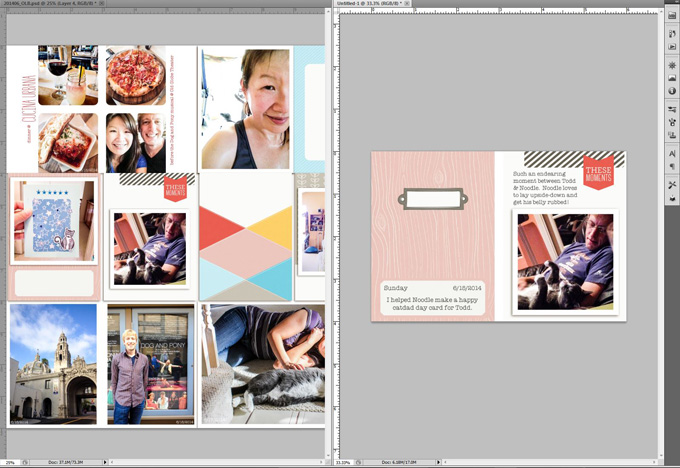 After I typed my journaling, I removed the photos (you can hide the photo layers in Photoshop by clicking on the "eye" on the left of each layer) and my 4×6 canvas looked like this.  I printed this out.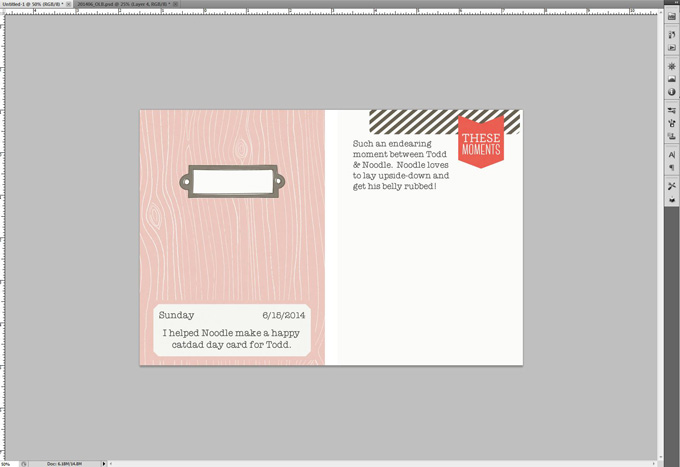 After it was printed, I used my paper trimmer to trim them to about 2.9×4 so they would fit in my 3×4 pockets.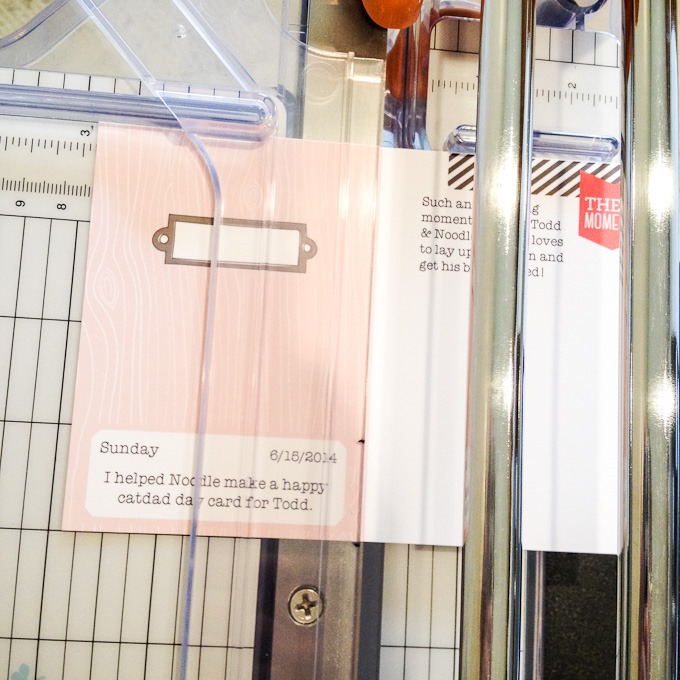 Here are my journal cards all printed out.  I adhered my photos on them and decorated them before slipping them into the pockets.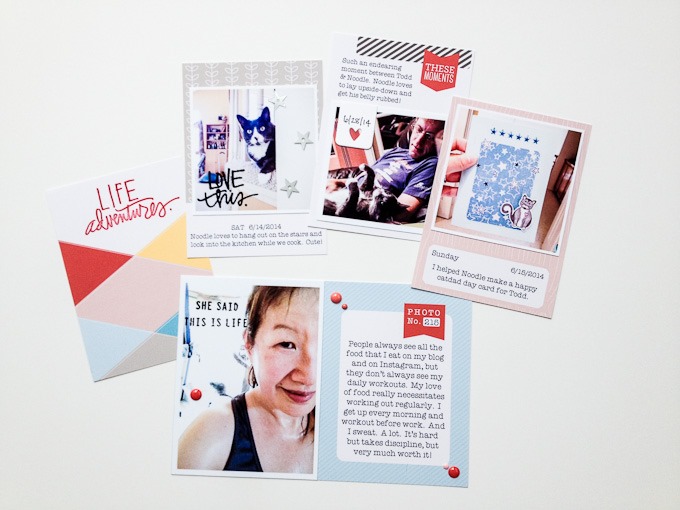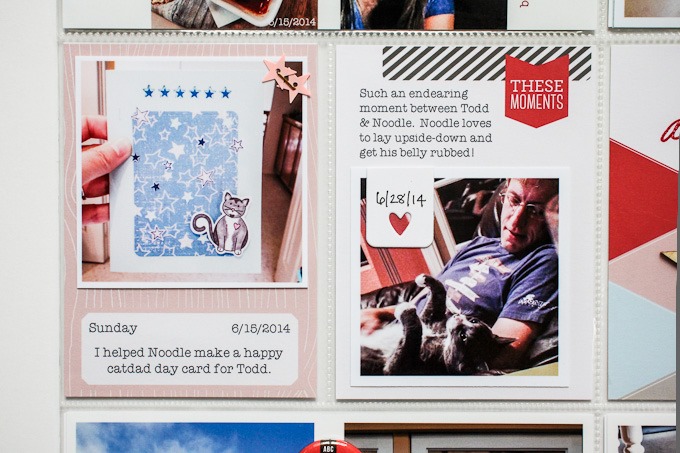 Using digital journal cards is very easy!  If you don't want to go through the process of typing on them before printing them out, you'll be glad that all of the One Little Bird digital journal card packs come with 8.5×11 PDFs that you can just print out easily.  Then you can hand-journal on them and decorate them to your heart's content!
One Little Bird products used:
[one_third last="no" class="" id=""]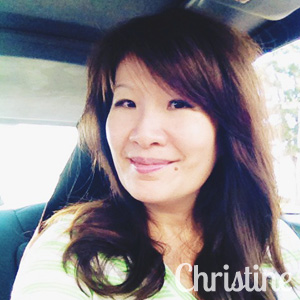 Blog | Instagram | Gallery
[/one_third]
About Christine
I've been scrapbooking since 2008. I love to tell my life stories with photos and pretty papers. I live in Southern California with my husband Todd and our cat Noodle. I work full-time as a financial analyst for a high-tech company. I love to eat, which means I try to workout as often as possible to offset my intake. I also love to read, knit/crochet, make cards, stamp, sew, and get my hands into anything crafty.