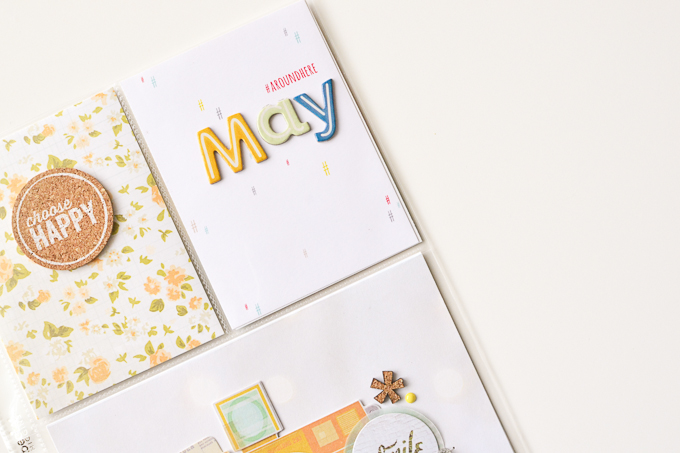 Popping in today to share a few of my May Project Life® pages. I finally moved my sewing machine up to a semi-permanent spot in my office in the hopes that I'll use it more – but I still feel as though I'm tragic when sewing paper, and I like to blame it on the machine. (I know it's the user, though.)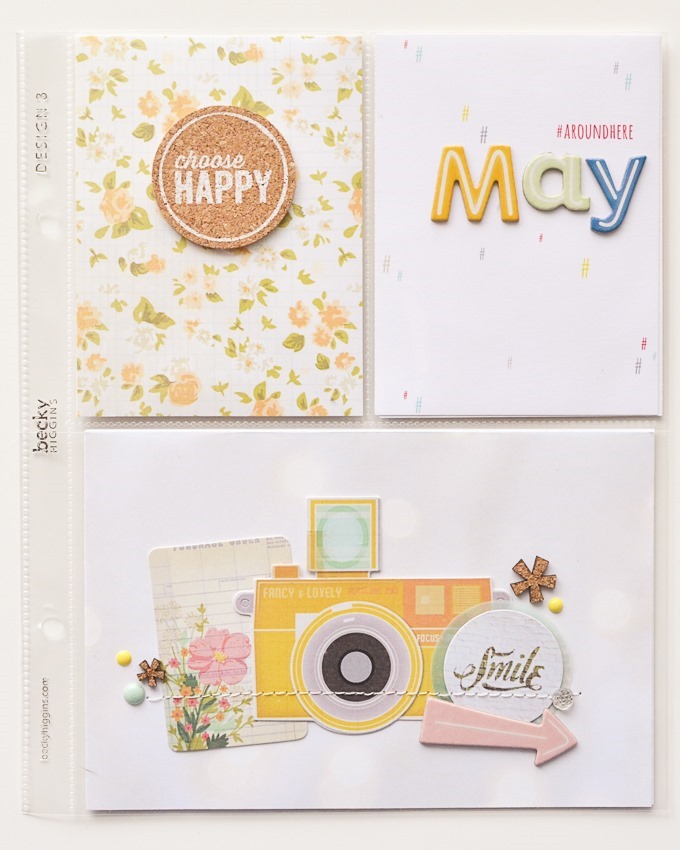 I suppose my question(s) for those of you that sew on your pages is: do you basically have to manually feed your layout through the machine? And does that just take a lot of practice? This 4×6 card was probably my first sewing success story, but I had to be vigilant about moving it through the machine at a consistent pace. I have a lot of epic sewing failures I could share where the stitching got all bunched up or too spaced out because of how I pulled it through the machine. The automatic feed grabby things (eh?) on my sewing machine don't like to move the paper at all, especially if it's a few layers thick. I definitely need some help/tips in this department!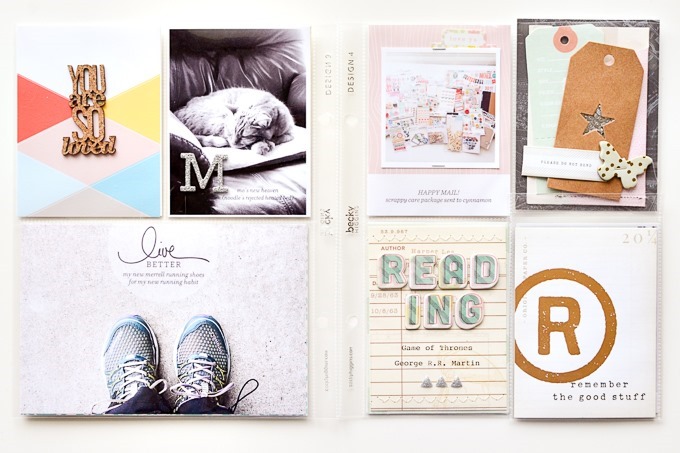 I typed/stamped on my photos before printing them more in May – part of a goal I made to use more of my digital kit items in my album. A lot of times I create a digital product themed around things going on in my life at the time, then I forget to use the product later when I put my pages together. I need a better system for this, like a "must use" folder on my hard drive.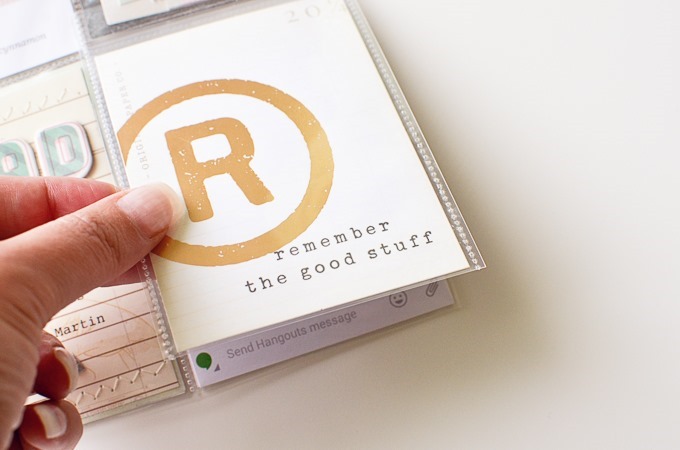 I finally ordered some Photo Flip Pockets from Simple Stories and used one of the 3×4 pockets on this spread to cover a conversation that Tom and I had in Google Hangouts. I love having the little interactive "flip" to the pocket.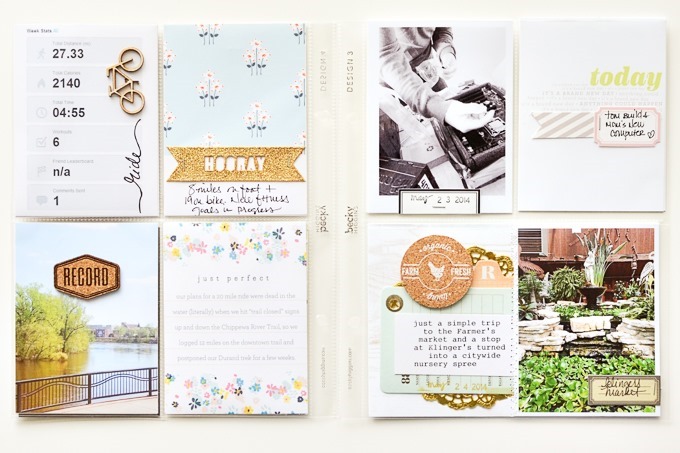 I'm still not in love with handwritten elements on my pages but I'm trying to incorporate my handwriting more and more as a time saver. I've decided that I mainly dislike the jarring black of my pen compared to the dark gray color I typically use when I print my journaling from the computer. This can probably be remedied with a gray pen, so that's on my list of things to track down.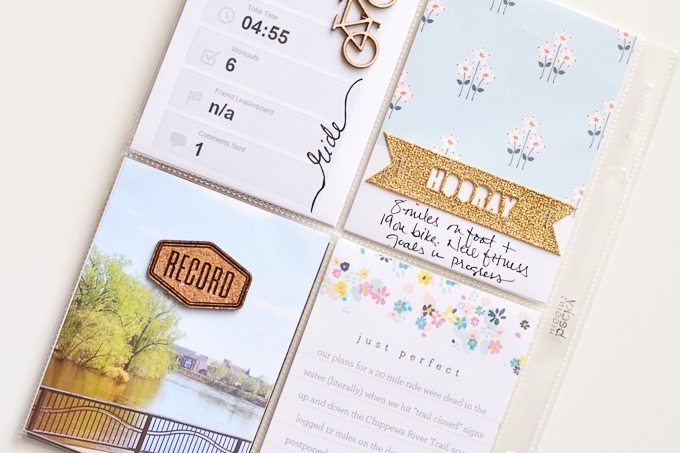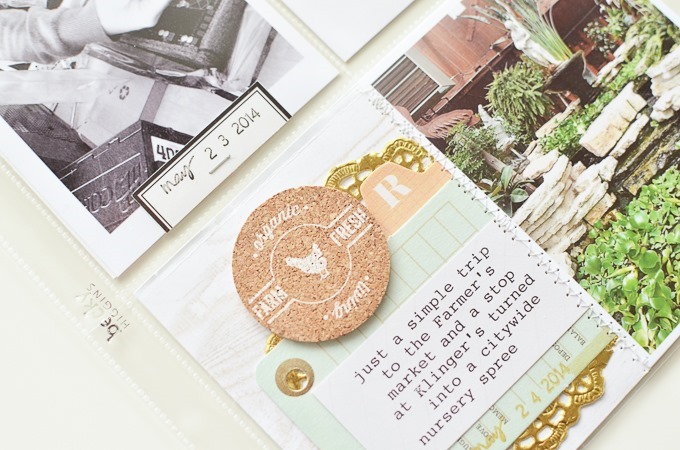 I love the date stamp from the Heidi Swapp Project Life line so much that I have to keep myself from using it on every card. Three things I can't pass up are roller date stamps, touches of gold and anything cork. All three are out in full force on this spread. (You can see my stitching woes on this card, though!)
Thanks for taking a peek at my pages! And I welcome your sewing tips, because I would loooooove to have a use for my sewing machine again. Also any recommendations for gray pens? I'm all about crowdsourcing.
MATERIALS USED | Around Here Journaling Cards, One For The Album Journaling Cards, The Story Unfolds Digital Kit, Hopscotch Journaling Cards, 3×4 Photo Flip Pockets by Simple Stories, the August Life Pages Add On No. 3 at Gossamer Blue, Notes & Things by Crate Paper, elements from Studio Calico monthly kits, assorted embellishments and One Little Bird exclusives from Gossamer Blue monthly Scrapbooking Kits, Daydreamer Digital Project Life Kit, Project Life 6×8 Page Protectors by Becky Higgins (Designs 3 & 4).