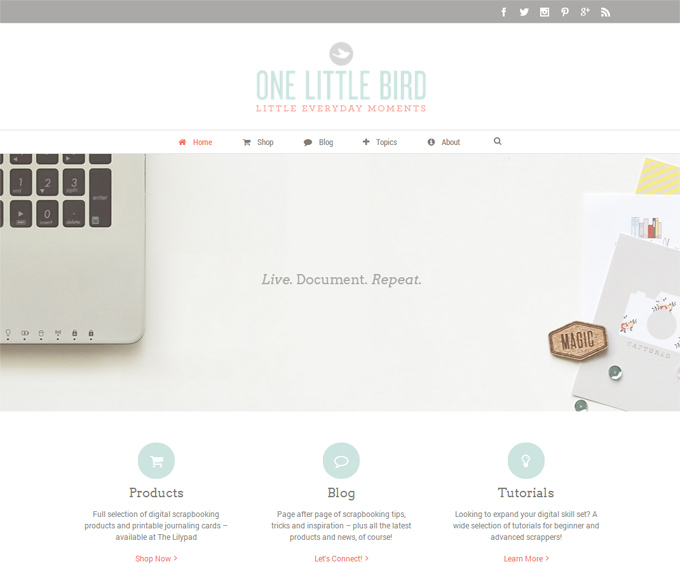 If you've visited the site in the past two weeks you may have noticed that I've done some redecorating and rearranging of content on the One Little Bird website. The biggest change being that everything is contained under one domain rather than having the blog split onto it's own. 
FEEDS + FEED READERS
It should be a seamless transition for your feed subscriptions and I should (hopefully) still be showing up in your favorite feed reader! Although if you follow me on Bloglovin, you can switch to the new site's feed here (and then delete the old one so you don't see me twice):  Follow my blog with Bloglovin
BOOKMARKS + PINS
All of your bookmarked pages and Pinterest pins should continue to work, as well – unless the page has been permanently taken down! I did take down a few really old posts, but I was confident no one would miss them. The only impact you'll see from the switch is that there may be a slight delay as you follow an old link in as it redirects to the new relocation. So feel free to re-bookmark those links as you visit them to get rid of the delay, but it's not necessary otherwise.
COMMENTS
I'm using new software on this site to fight comment spam, which was sneaking through a little too often on the old blog. The new software is aggressive. That's sort of a good thing and a bad thing. If you haven't commented here in a while it's possible that your comments may not show up immediately on a post – but I did receive them, and they'll get released the next time I go in and release comments. From that point on they should appear immediately (but there are always hiccups in the system).
If you run into any other issues, though, please let me know via the contact form here on the site!