Hi! Aimee here with you today to show off my new-found love for the Gramercy Road Collection. I am no stranger to Peppermint's kits. I've been on the digital team for just on a year now and I have always found that there is more than enough inspirational fodder to make many pages with each and every kit. Gramercy Road is no different. In the next couple of months I hope to show you four layouts, two cards and a mini album, but let's just start off slow today. This layout, entitled 'Today's Top Story' holds a special place in my heart.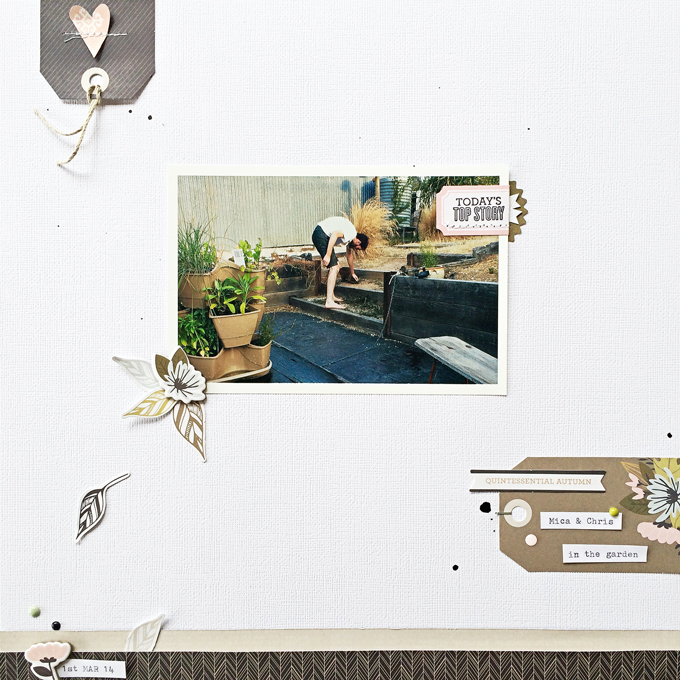 As Brenda alluded to last week, finding colours to scrap photos of one's husband can be hard. I naturally gravitate toward brighter colours (okay, mostly pink), but at the same time I understand that this does not exactly represent my husband. Gramercy road, on the other hand, meets both our wants. He really likes this layout and I cannot tell you how rare that is.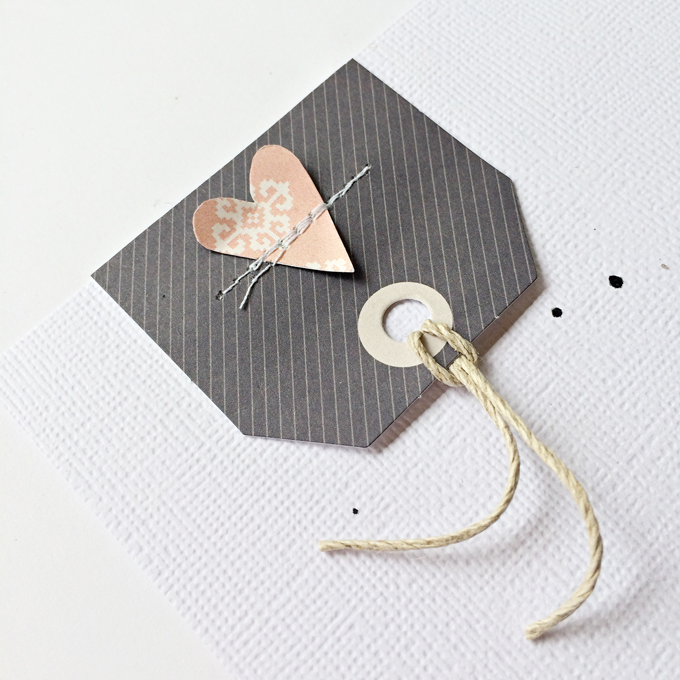 From a design standpoint, this layout is all about the tags. I like to keep things pretty simple, but at the same time convey a message. The photo for this layout was taken on the first night of Autumn when my husband, our cat and I were all enjoying the warm evening light in the backyard. I was reading a book when I looked up to find the two of them playing together – yes, the cat and my husband. I will carry that moment in my heart forever. It took all my strength not to cover the whole layout in hearts, but instead I settled with just one cut from my favorite pink paper.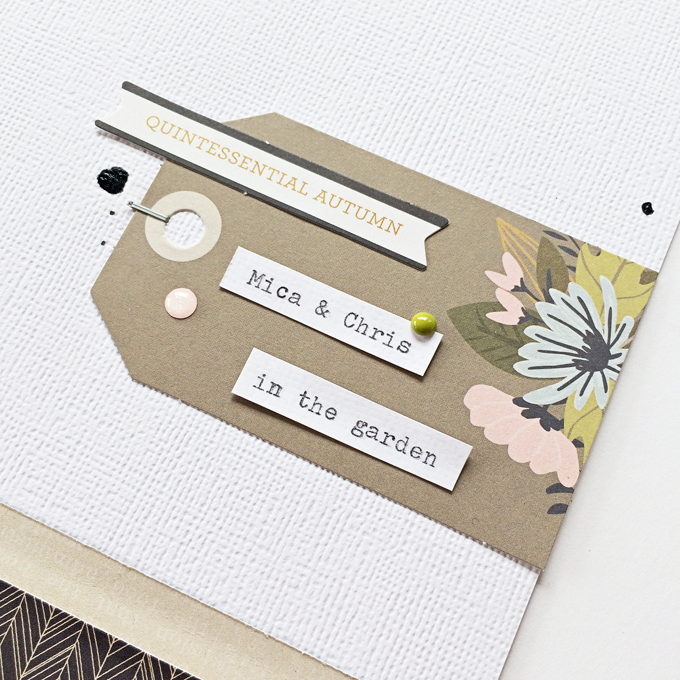 If the pink paper was my favorite pattern paper (close second is the the tan newsprint), then my favorite embellishment would have to be the enamel dots.  I don't know if you can see that well from the picture, but the pink ones even sparkle!
I would also like to take a quick moment to personally thank Peppermint for using the word "Autumn" as well as "Fall" in this collection. I know that might seem like such a small thing, but in Australia we don't use the word "Fall" …ever!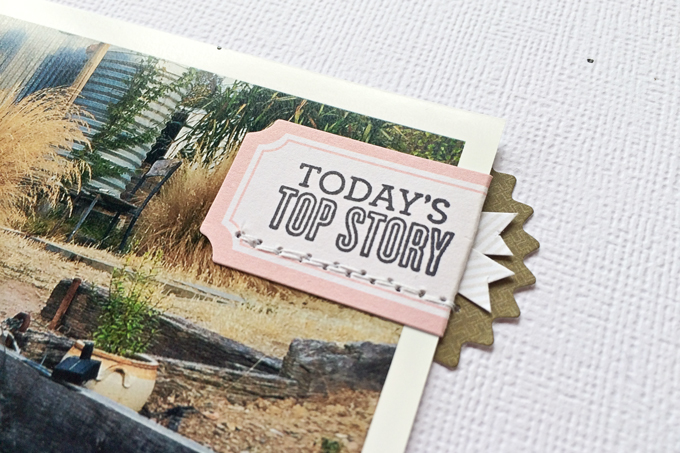 There isn't anything terribly exciting about this photo. I am not good at title work so I am always relieved when there is a stamp to bail me out. I did however want to show you the cute little ribbon tails I cut from the tear strip. I refuse to waste a single scrap of this collection.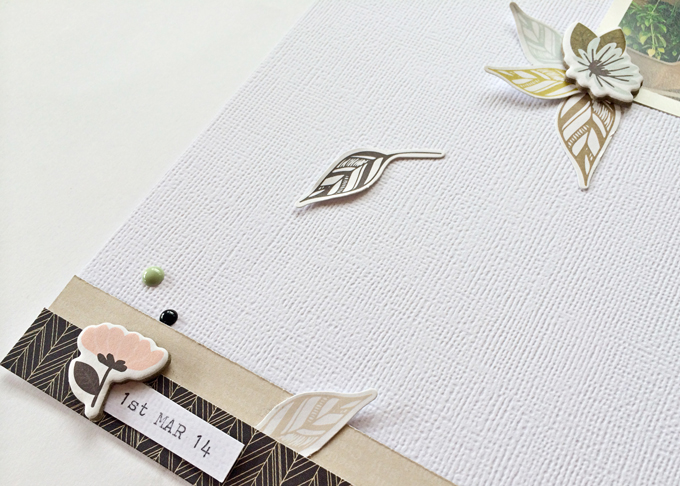 And that pretty much brings us to the end of my tour, but with all good tour guides I like to think I saved the best to last. I admit I have a tendency to up the exposure when photoing my layouts. I like bright white, but I really resisted the urge with this spread because I wanted to show you the amazing shadows and depth that these loose leaves create. Doesn't it just look like the two stray brown ones have just blown away from somewhere? With a little manipulation, you can even make them look like they are 'growing', similar to the grouping under the blue flower.
I hope you enjoyed this little look inside my album and I'll be seeing you again next month.
[one_third last="no" class="" id=""]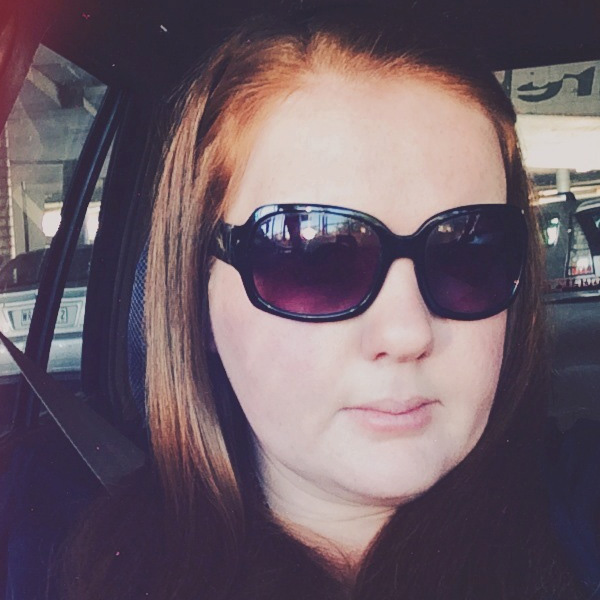 Blog
 | 
Instagram
 | 
Gallery
[/one_third]
About Aimee
I am newly wed living in Australia with my husband and our tonkinese cat, Mica. I live a pretty happy existence scraping by day and running our web design company at night. I am fairly new to scrapbooking. I started Project Life in January 2013 and digital scrapping in July of that same year. I have only been page scraping since the start of 2014. I like to think my style is clean and modern.