Hi guys! Kristy here, and I can't even begin to tell you how very excited I am to be guesting here at One Little Bird for the month of October! Can I tell you a secret? It's my first time EVER designing for a product! How exciting is THAT?! I'm totally honored, and have been pinching myself since Peppermint first contacted me!
I am a big fan of One Little Bird Designs (aren't we all?) so when Peppermint asked me to join the team for the month of October my wheels started spinning. There are so many great designs to choose from in her shop, I'll admit, I had a really hard time narrowing down what I wanted to use. When she released her "Who I Am" collection last month, I was pretty certain that I wanted to do something using that set, but what exactly?
Then it hit me. Mini-album!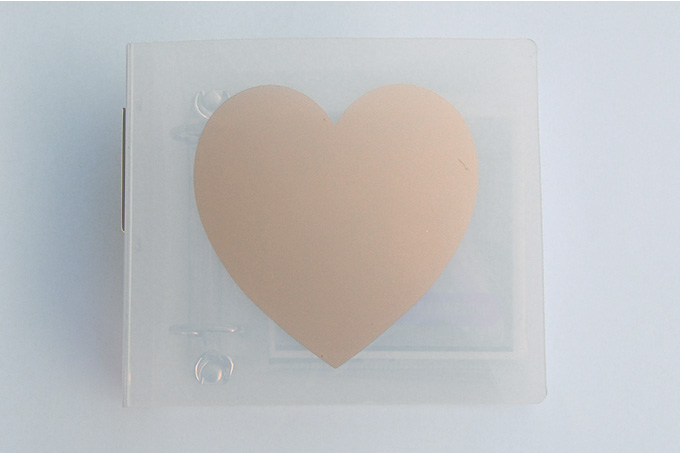 Now this is where you'd laugh if you knew me. In the 10 years I've been scrapbooking, I've attempted at least two dozen mini-albums, if not more. I always have good intentions, then I get bored, or I make it more complicated than it needs to be, and it gets cast aside for something else. But last year I figured out the secret to helping me get mini-albums done in two big chunks of time.
Yep, just two. In the first sitting I pick my pictures and my color scheme. In the second, I print my pictures, and actually get the album complete. So that's what I did for this album.
The big secret for me? Pick a color scheme, limit embellishments, and plan out the pages as you pick your pictures.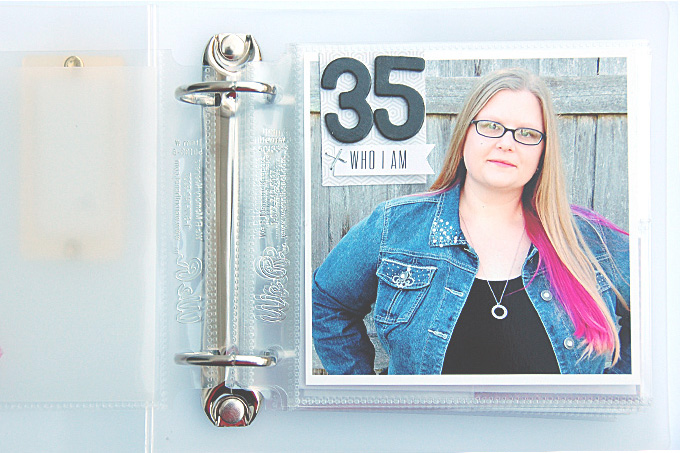 Every year I do the 20 questions game with my boys on their birthdays, and this year I had been tossing around the idea of including something similar for myself in our family Project Life album.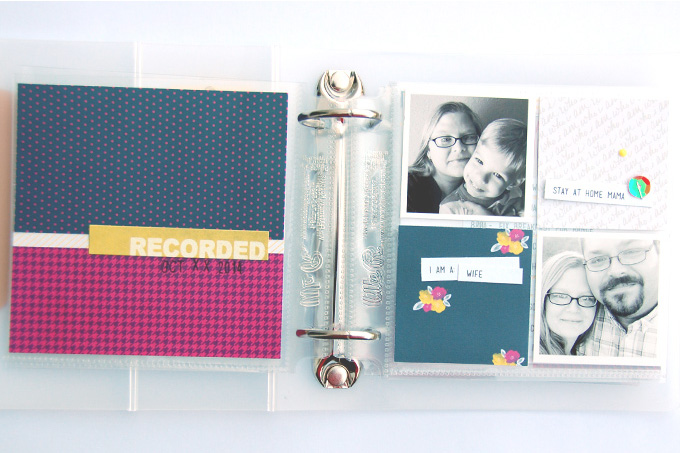 I wanted to be able include some additional pictures that don't always make it into our family album, and the "Who I Am" collection gave me the perfect excuse to put together a quick mini about some of my favorite things, and my daily routine right now, since this time next year I will be out of school, and will likely no longer be a stay at home mama.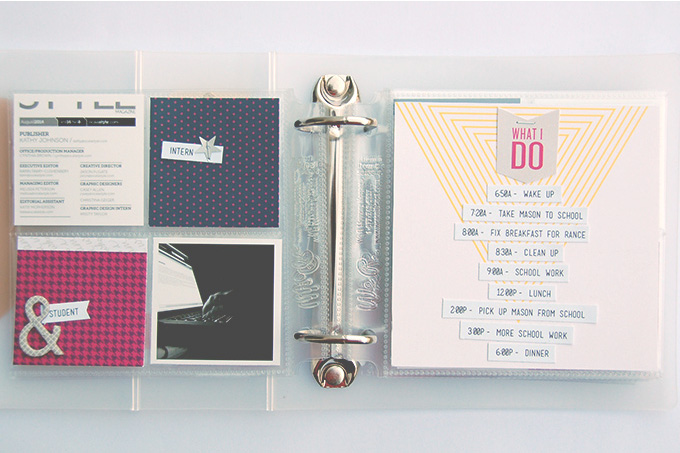 I'm typically heavy on the journaling in my scrapbooks, and I usually stick to using my own handwriting, but for this mini-album I knew that I was not only limited on space, but that I needed to keep it in an assembly line fashion so that I didn't get overwhelmed and bored.
I consider myself embellishment challenged for the most part. I love the look of layering and multiple embellishments that I see floating around in online galleries, but when I sit down to try and recreate that look myself, my brain shuts down. This works in my favor when I aim to finish a mini album quickly. I keep the options to a minimum, and keep moving forward.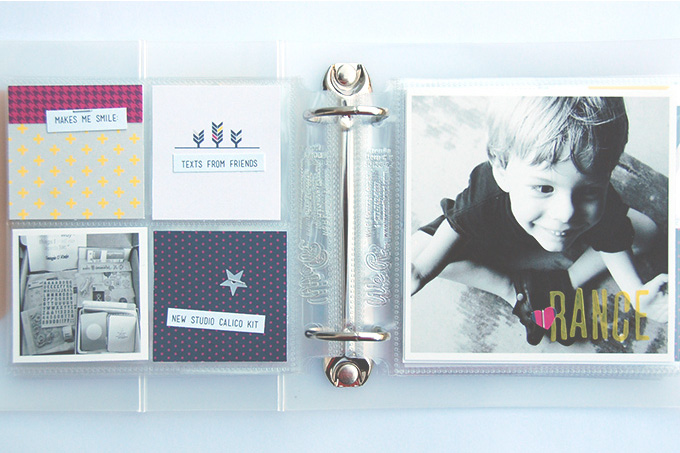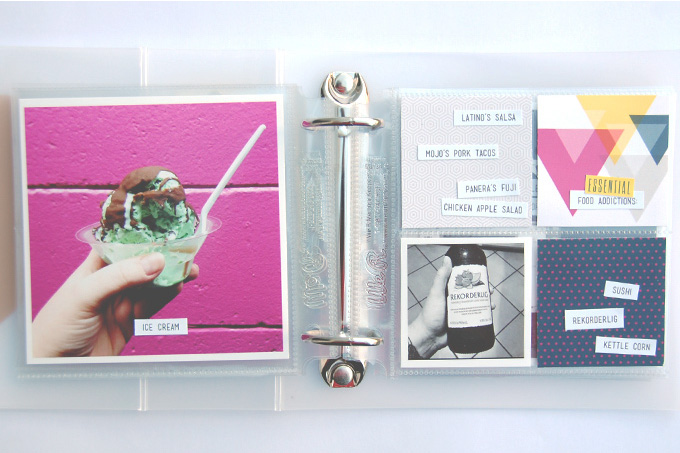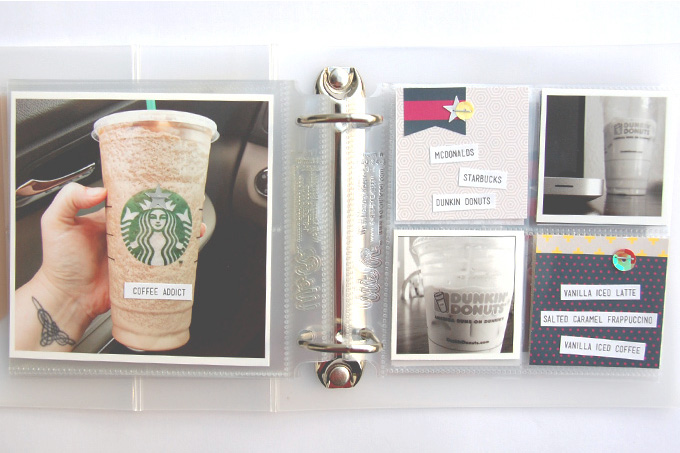 One of the happy accidents that happened while I was working with this collection was the bottom right blue card. My printer died on me half way through printing, so I was forced to send out some of the digital papers to an office supply store to print. I randomly dragged four different sheets onto a letter-sized canvas, and had them printed. When I brought them home, and cut them up, some of the 2×2 squares ended up with a little of another pattern on top or bottom. Those cards ended up being some of my favorite cards, and I don't know that I would have thought to combine the patterns on my own!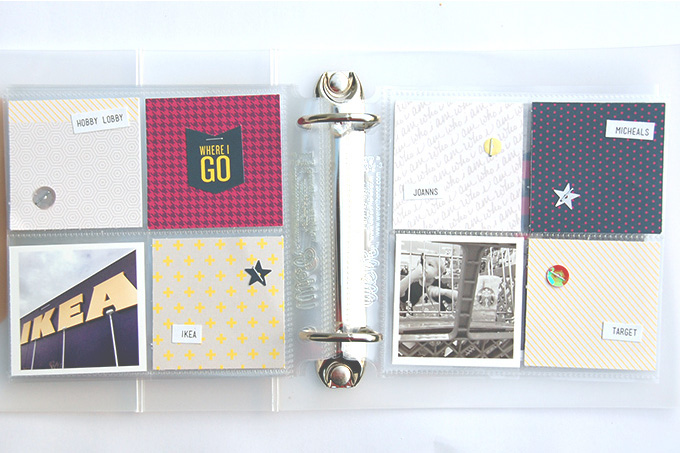 This is probably my favorite spread in the whole album. I'm absolutely smitten with this collection. I'm not typically a yellow lover, but paired with the navy and pink, and I just can't seem to get enough of it! (I left off how often I visit these places in case my husband decides to peek at this album!)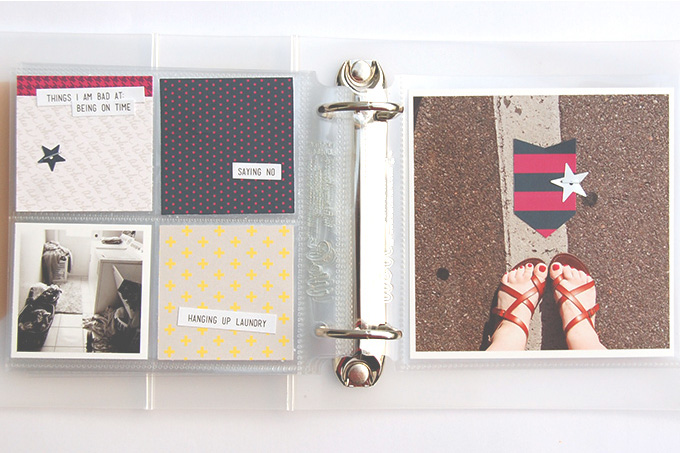 I loved all the fun little embellishments included in this kit, and it was fun figuring out how to include them all in the album!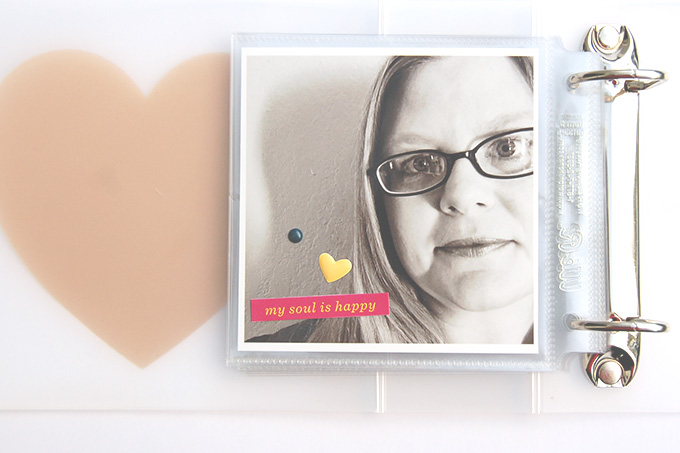 So can I tell you another secret? This is only the second mini-album I've completed. Crazy I know. But, in my defense, it's the only one I've attempted since the last completed one, so I'm doing something right! Focus on the pictures, keep it simple, get it done!
Collection used: Who I Am digital scrapbook kit and Who I Am journal cards.
I ran out of time before I ran out of inspiration using One Little Bird products, but I managed to sneak in two more spreads for my Project Life album for October.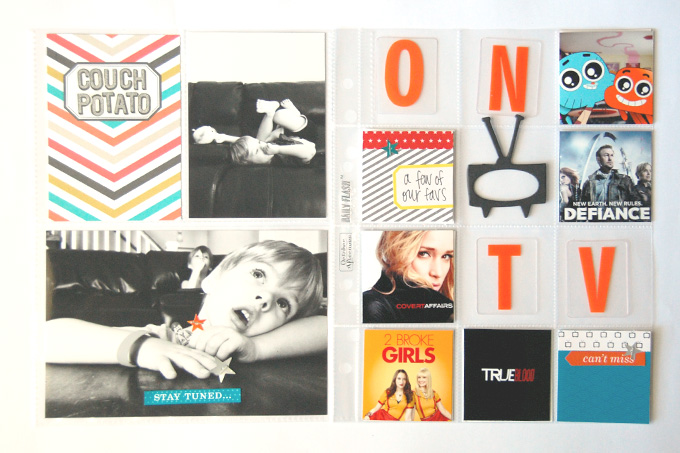 The past two years I've used a 12×12 album and a weekly format, which often left me with a few empty spaces to fill in little details like new products we tried, new songs we like, or shows we started watching. This year, I'm working monthly, and with a smaller 6×8 size, so I've found that often times I'm not getting in as many of those photo-less moments. When I spotted the "Stay Tuned" kit in the store, I knew I it would be a great collection to get me motivated to record some of the tv shows that are currently on repeat around here.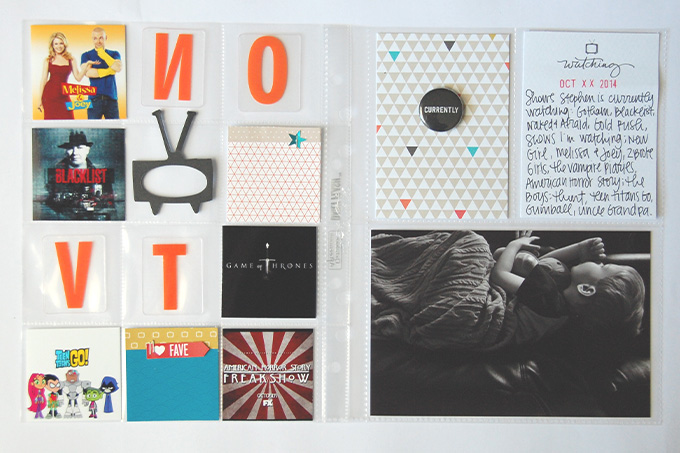 It was a good way to get in a few extra pictures of my boys on the couch, too, as there never seems to be a shortage of those! Sleeping, watching tv at odd viewing angles, playing video games, you name it! Seems to be the only time they are sitting still long enough that the pictures aren't blurry!
Collection used: Stay Tuned digital scrapbook kit and Stay Tuned journal cards
Thank you again!
[one_third last="no" class="" id=""]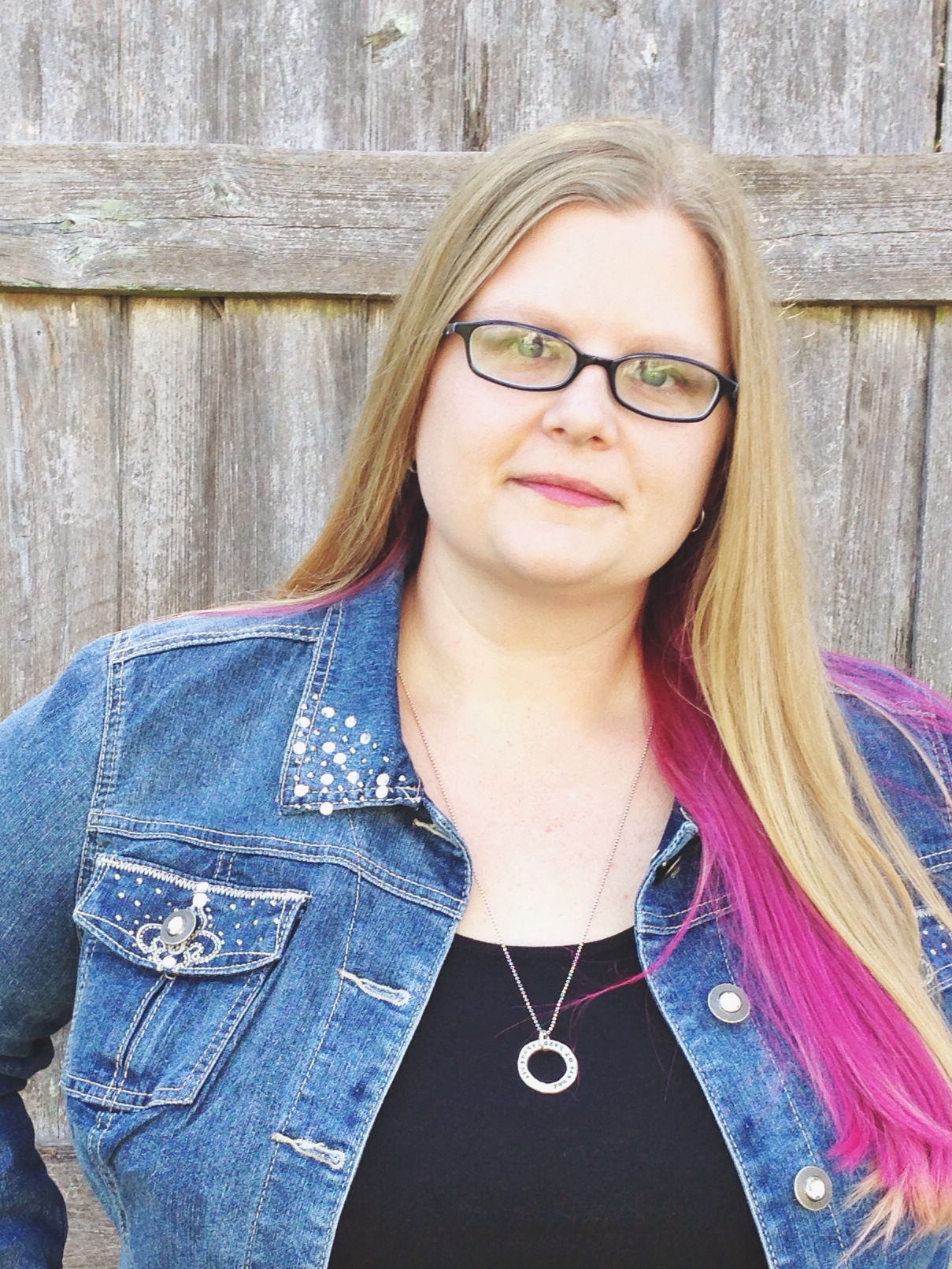 Blog | Instagram | Gallery
[/one_third]
About Kristy
I live in Florida with my husband and two crazy boys. I'm a stay at home mama, full time college student, and part time magazine intern. Sometimes people pay me to live out my dreams of being a pastry chef, and it is magic. I say dude more times in one day than is likely acceptable for a 35-year-old adult female who doesn't surf, and I can quote every Brat Pack movie verbatim. I started scrapbooking in 2004, and converted to pocket scrapbooking in 2012. I opt for minimal embellishments and maximum journaling.