Hi there!!  Stephanie here with you today to share some pretty eye-candy from Peppermint's brand new (and amazingly awesome) collection, Gramercy Road for Gossamer Blue!!  If you follow me on my blog or Instagram, you probably know that I have a little love obsession with fall.  I love everything about the season! The smells, the sights, the sounds and especially the colors!  Peppermint hit the nail on the head with this collection and it just screams warm and cozy. The colors are such a fun mix of bold and neutrals with these fun little bursts of green, pink and blue here and there!! Once I opened my box and started oooohhhh-ing and aaaaaah-ing over all the pretties, idea after idea just came to me and I couldn't wait to get started!!
Today, I have three layouts to share with you. Each of them is very different from the previous one and that just goes to show how versatile and awesome this collection is!
For this first layout, I played off the chevron pattern from the West Seventh paper. I loved the design of the chevrons and decided to cut apart my piece of paper and then layer part of the chevrons back on my page in a similar fashion. I love mixing up my papers this way and playing off of the design that is already there. I stitched each chevron into place using my sewing machine to add a little more texture and dimension.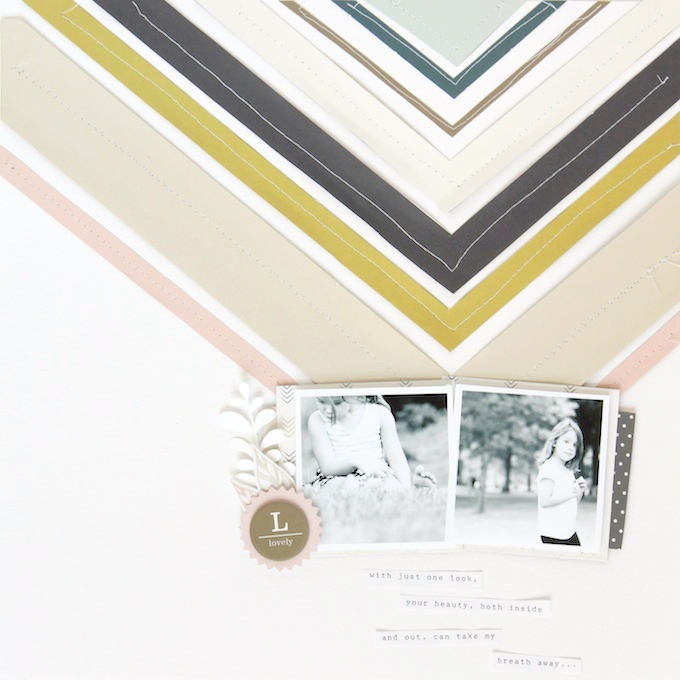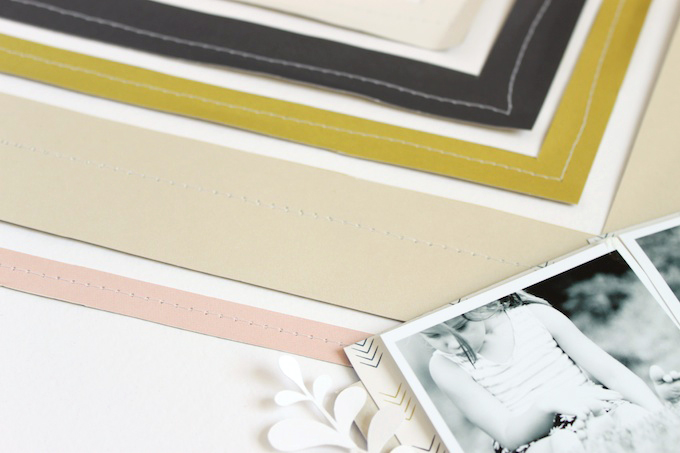 As you can see, I only used part of the paper.  I loved the way the colors popped off of the white background and wanted to have that partial visual effect along my page.  At the bottom of the last chevron, I layered two sweet black and white photos of my daughter.  I felt like the black and white helped keep my page balanced and serene.  Plus I really loooooove the dramatic effect of black and white photos!
Since the chevrons make a pretty bold statement on the page, I decided to just add a few of the beautiful die cut leaves alongside my left photo, as well as a chipboard piece.  I typed my journaling onto a piece of white paper and then trimmed out the pieces to scatter along the bottom of the page.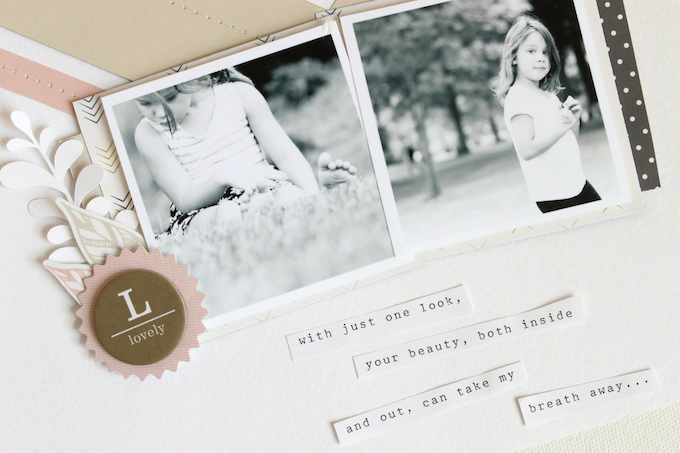 For this next layout, I took a completely different direction and focused on a grid design for my photos, papers and embellishments.  Grids are so fun to work with and can easily be tailored to any type of photo, page or design.  I kept my gridd pretty simple and uniform.  Each square is trimmed to 3×3 inches and then is layered with either photos, additional papers and/or embellishments.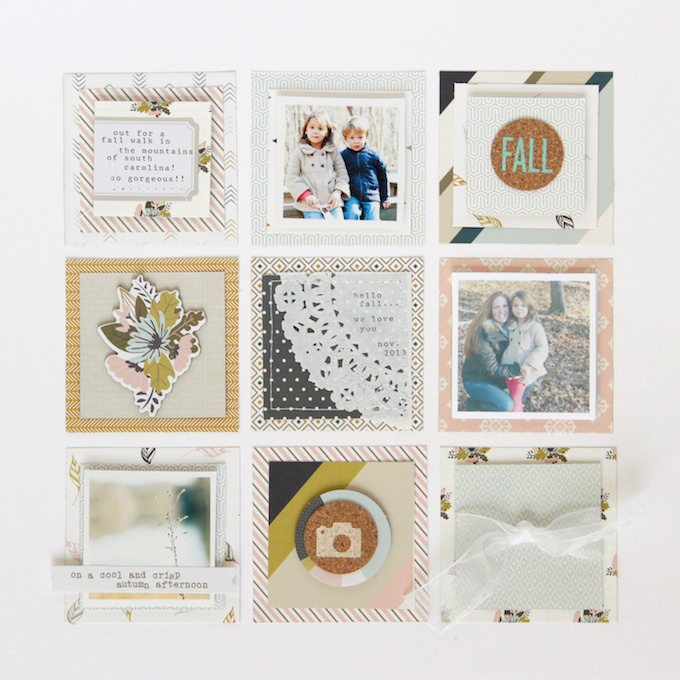 The top layers of grids are always my favorite!!  The cork circles were the perfect little addition to a few of the squares and I love the way the color adds more depth to the page. I used pop dots for all of my photos and the top layers to bring a little dimension and texture to the layout.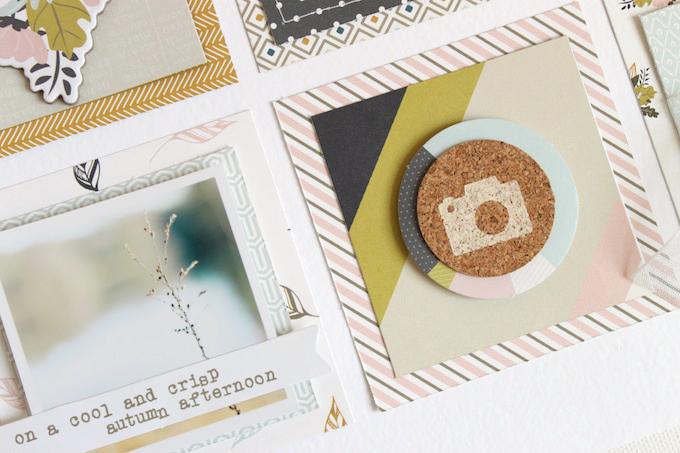 I also ran a few of the cards through my sewing machine to keep that "personal touch" going on throughout my page.  Sewing on paper always seems to add a finished element to my pages!  My  journaling is typed on both a doily, as well as a large label from the Gramercy Road collection.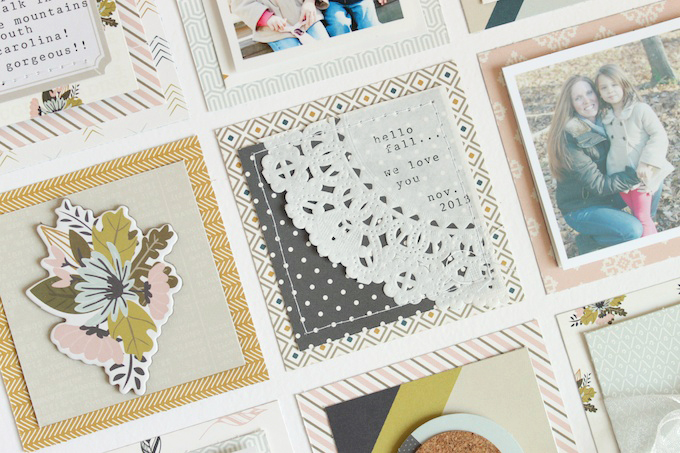 After using two layouts with the lighter pink and blue papers, I decided I wanted to do something a little more neutral.  My typical style is to begin with a white background, but every once in a while a patterned paper jumps out at me and I know I want to use it as the main backdrop for my page.  That's exactly what happened when I saw the Tupelo Ridge paper!!  I loved the neutral color and the light print on the paper and knew it would go perfectly with this photo of my son laying on our dark hardwood floors!
To create a "base" for the page, I began by painting a thin coat of gesso along the middle section of the paper.  It's kind of hard to tell in the photos, but in person, you can definitely see the contrast between the paint and the paper.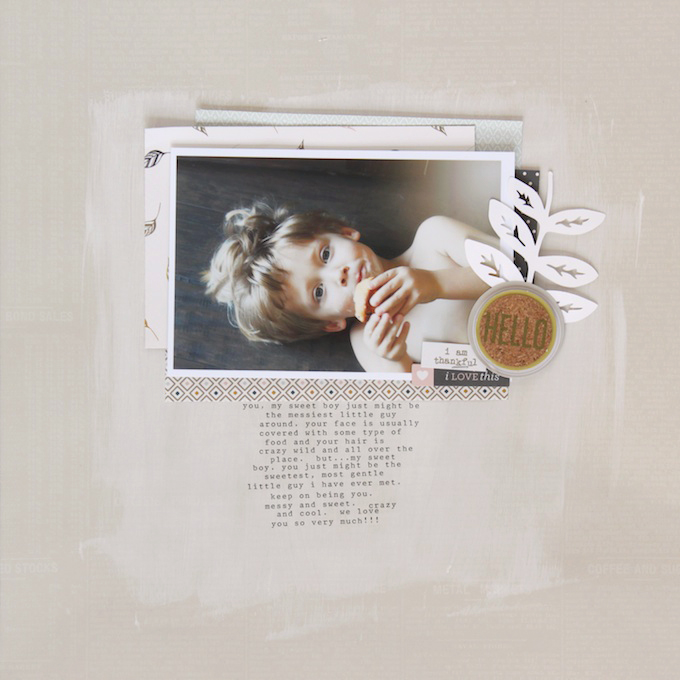 After my paint dried, I quickly ran my page through my typewriter to add my journaling.  (Note: if you try this trick, be sure to draw a faint line right under your bottom layer or photo so you will know where to begin typing!)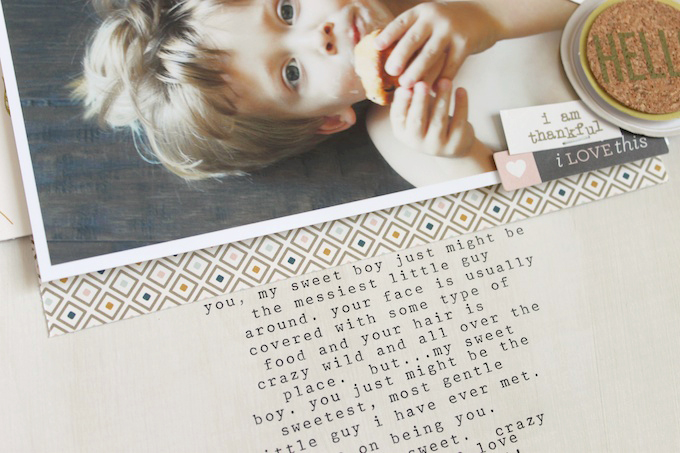 After my journaling was added, all that was left to do was add a few paper layers, my photo and a few embellishments!  It was such an easy page to make, but I just love the dreamy look and feel of the page!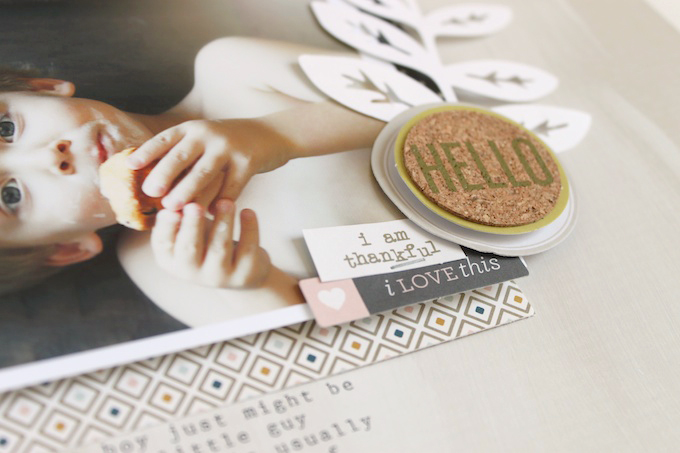 Thank you so much for joining me today!!  I so loved playing around with the new Gramercy Road collection and I hope that I have inspired you to go create something pretty!!  xoxo
[one_third last="no" class="" id=""]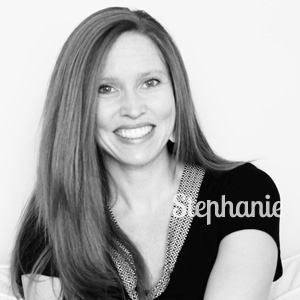 Blog | Instagram | Gallery
[/one_third]
About Stephanie
I live in North Carolina with my husband and two children. I started out with memory keeping through Project Life in 2011 and I have a new found love for mini books and traditional layouts. My style is simple and classic with lots of white space and occasional pops of color. I have a passion for photography and documenting those everyday moments.