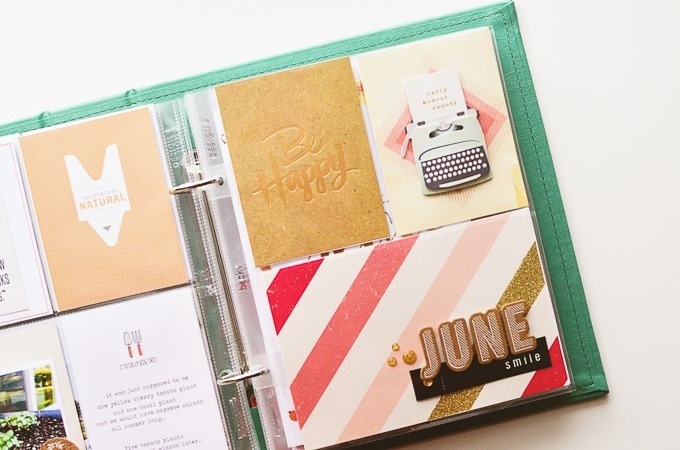 I had good momentum on my album throughout September and frequently found myself working on my June pages in the morning while I drank my coffee and eased into my day. Our schedule changed drastically at the beginning of September when my husband's work schedule shifted back to daytime hours after several years of working evenings. It turns out that early morning is a productive time for me, and I enjoyed playing with my album most days when I sat down at my desk.
I lost momentum in October when I faced a lot of deadlines and decided to dedicate those early morning productive hours to meeting those deadlines. June sat with four little unfinished pockets until I was able to sit down and finish it this past weekend.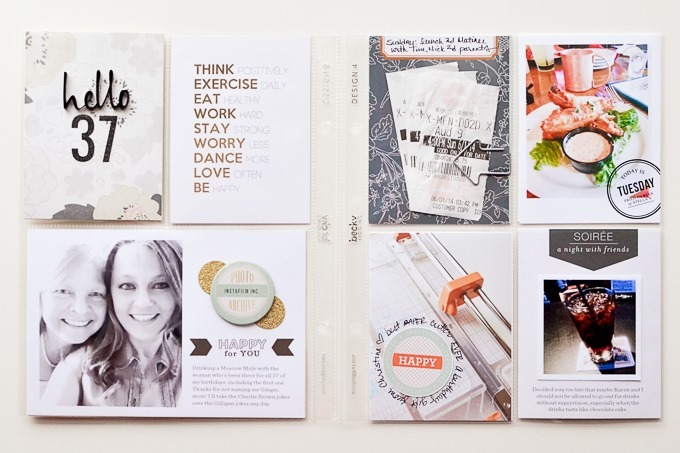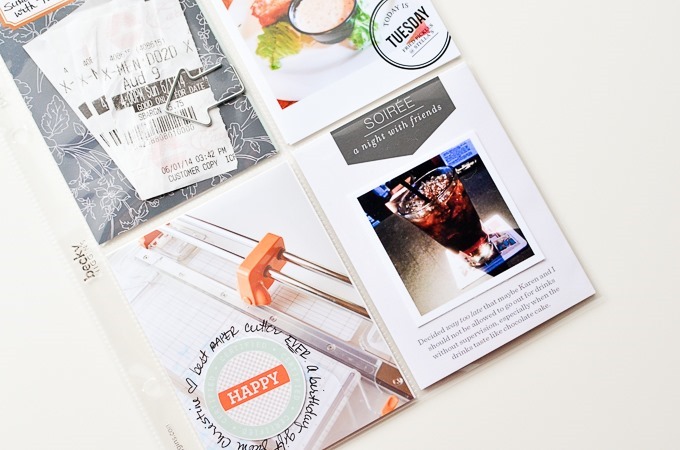 June kicked off with my birthday, so the first two pages are dedicated to that. I've never documented my own birthday before, so I made a point of taking photos and writing down notes this year for this personal album. It felt a little indulgent (and weird) at the time, but when I looked back on it all in September I was grateful that I ventured outside my comfort zone.
I had also saved my birthday cards this year, so I added an insert to my album using a Nine & Co file folder (Teresa Collins) from the October kits at Gossamer Blue and some Attach Me tabs from Basic Grey.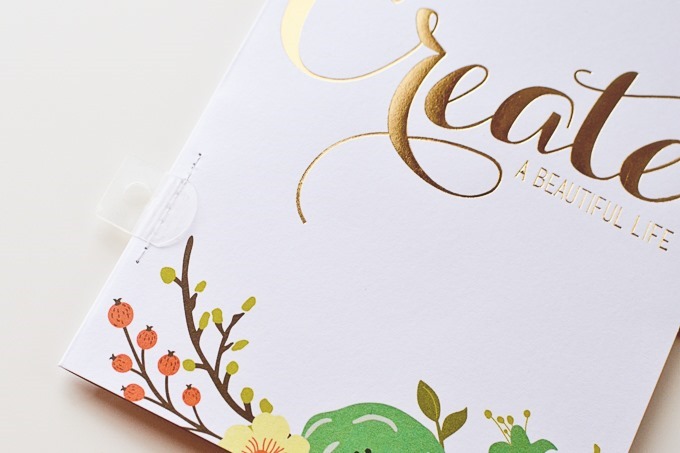 I had a hard time getting the Attach Me tabs to stick to the folder – they kept popping loose and then the folder would fall out of my album. I tried a few different adhesives then asked for some advice on Instagram. The consensus seemed to be that sewing them on was the only reliable option, so that's the route I took and it worked like a charm. (Thank you, Instagram friends!)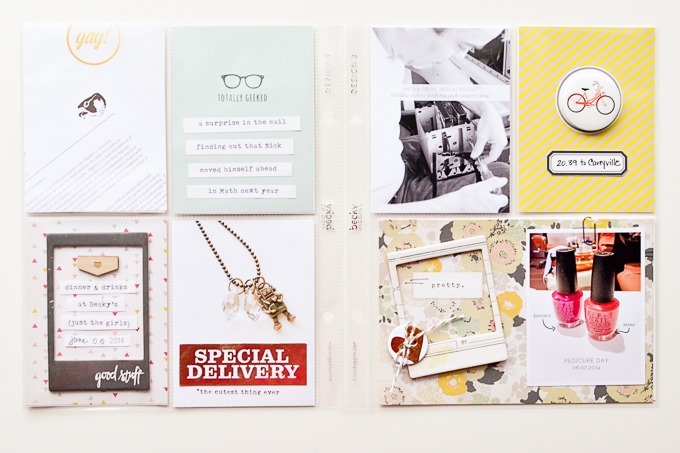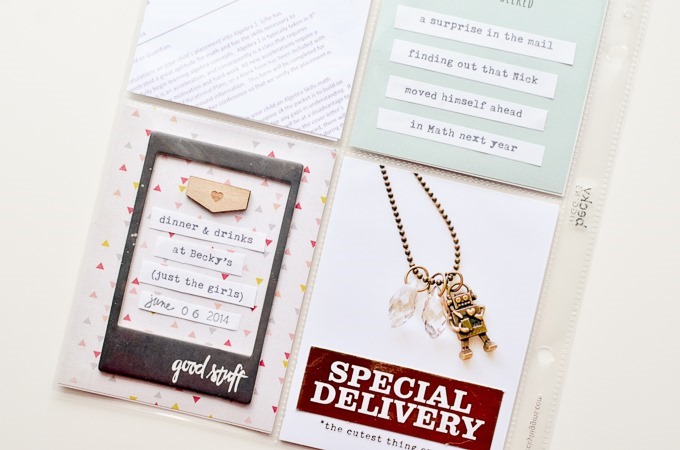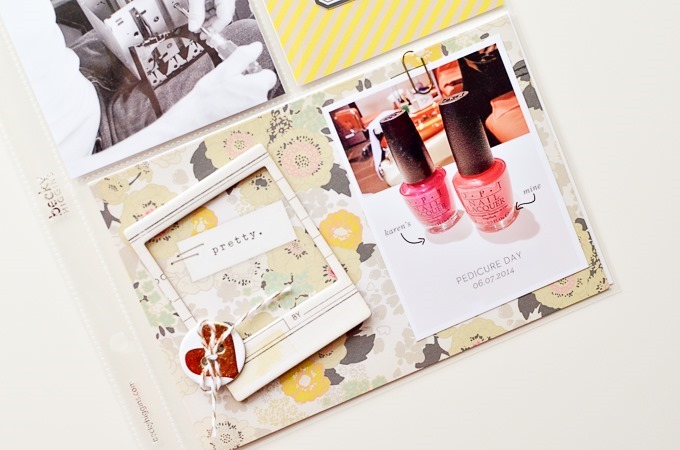 I played around with adhering things on the outside of the pockets in June, especially chipboard. My albums aren't heavily handled so I'm optimistic that they'll hold. I like having the dimension on the outside of the pocket – it starts to feel as though everything is sealed up behind the plastic after a while, and it's nice to have some tactile bits here and there.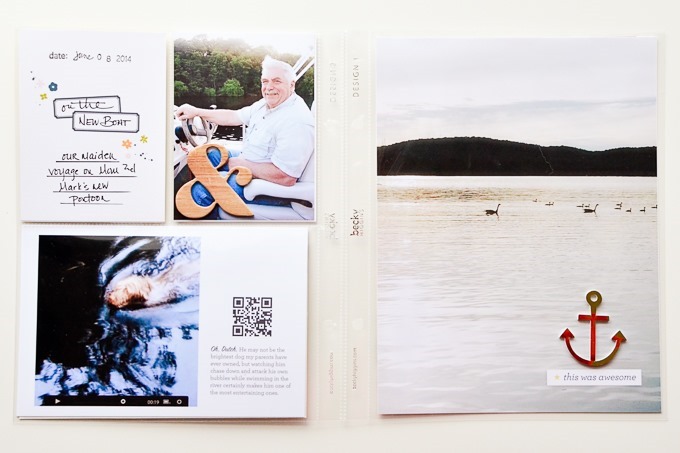 Earlier in the year I ran out of 6×8 pockets and had a hard time finding them in stock (locally and online). I finally managed to track some down in September and wasted no time adding full 6×8 pages to my album again. It felt good to break free of the Design 3, Design 4, Design 3, Design 4 cycle.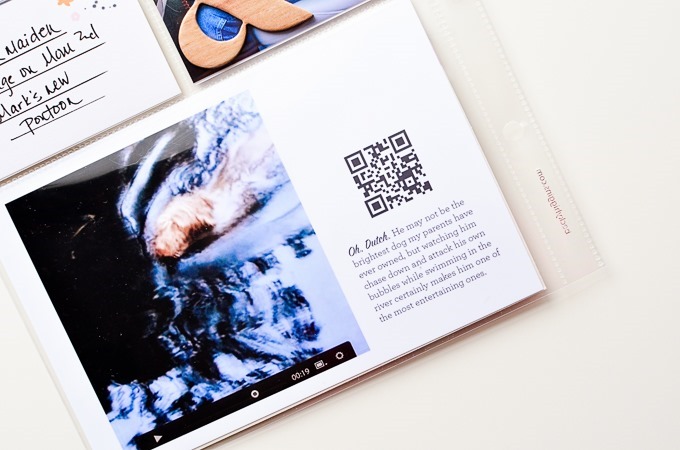 I can't let a month pass without at least one QR code and this is June's. My parents' dog likes to chase down his own bubbles while he's swimming and attack them. It's pretty amusing to watch, and I managed to get him on video after an evening out on their boat. I fall more in love with video every day as a means of storytelling – it was another factor in my switch to the iPhone 6. (It shoots awesome video!)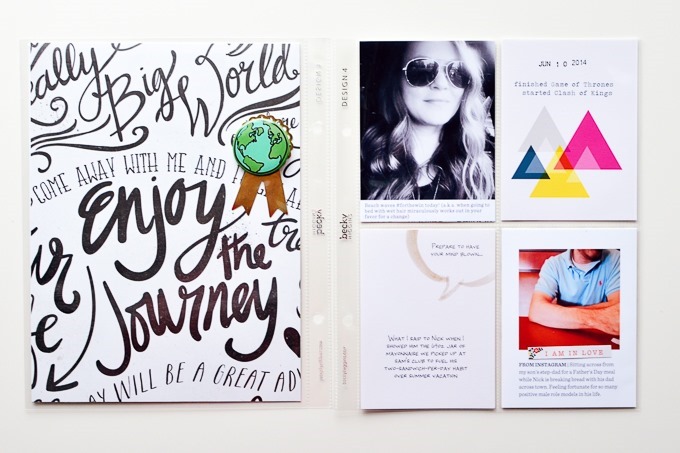 I didn't really have any large images for the flip side of the 6×8 pocket, but I loved this typographic paper from MME's Jubilee collection. So I just cut it down and embellished it minimally. "Enjoy the Journey" is always a good reminder for me. I spend a lot of time trapped in my head.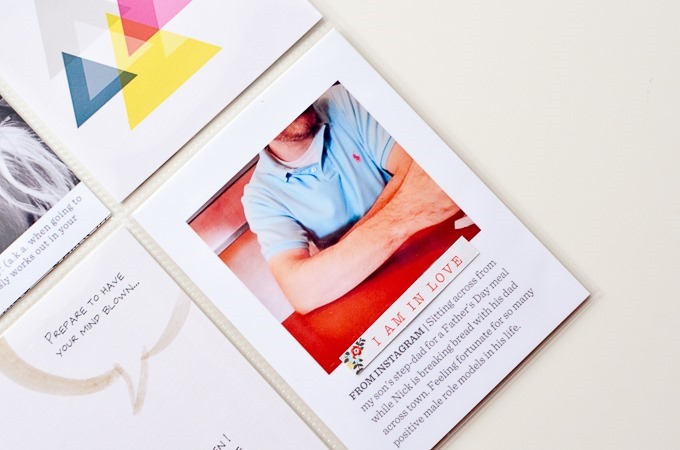 Maria Lacuesta's pages here on the blog really inspired me to dust off my Silhouette in September to utilize word art from my digital kits more in my album. I spend a lot of time rifling through die cut packs looking for little odds and ends for my photos, and it's infinitely faster to use the ones I've made.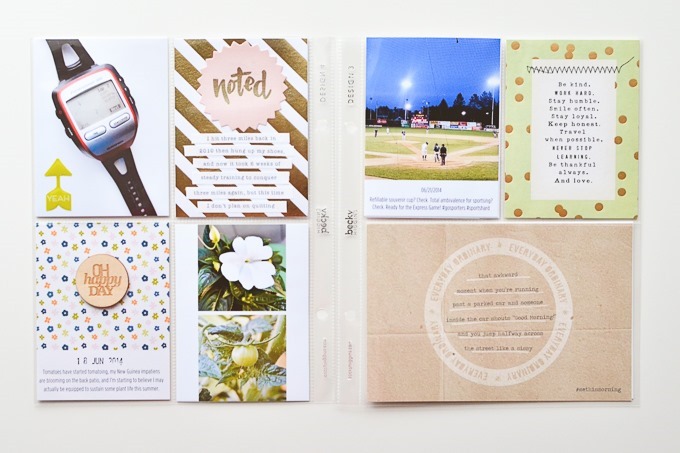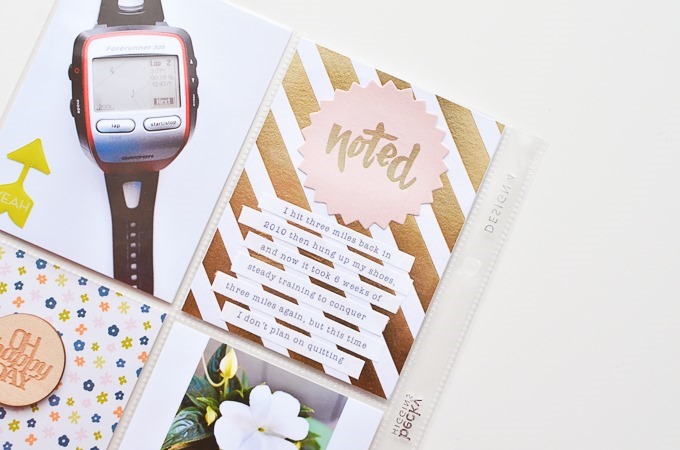 As much as I worry about how far behind I am on my album at any given time, it's pretty awesome to revisit these daily moments after there's some distance between them. I remembered how excited I was on this day in June when I finally logged my first 3 mile run of the summer – and by the time I recorded it in my album I was regularly running 5 or 6 miles at a time. It reminded me to feel grateful for how far I'd come.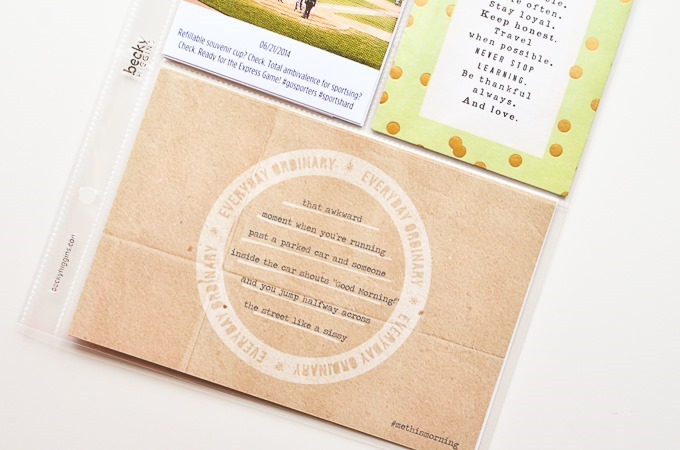 I regularly rob directly from my social media feeds for journaling – this is a prime example of a simple cut and paste from an Instagram photo (the baseball game) and a Facebook status update (my public freak out one morning) at the end of June.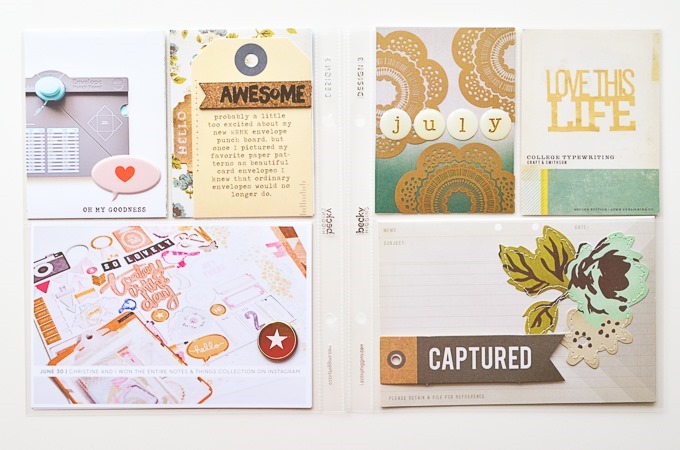 The end of June and the title page for July. These were the pages I finished up over the weekend, and my taste in colors and materials had definitely migrated towards autumn. I've become more comfortable with my sewing machine after receiving great advice from several of you here on the blog (thank you!), so I've been using it more and more.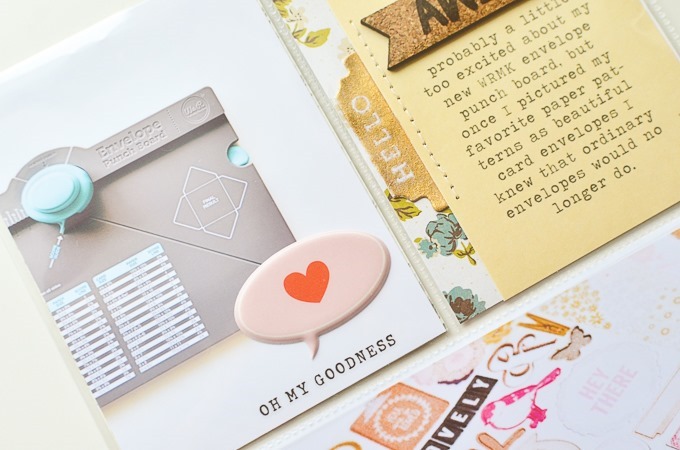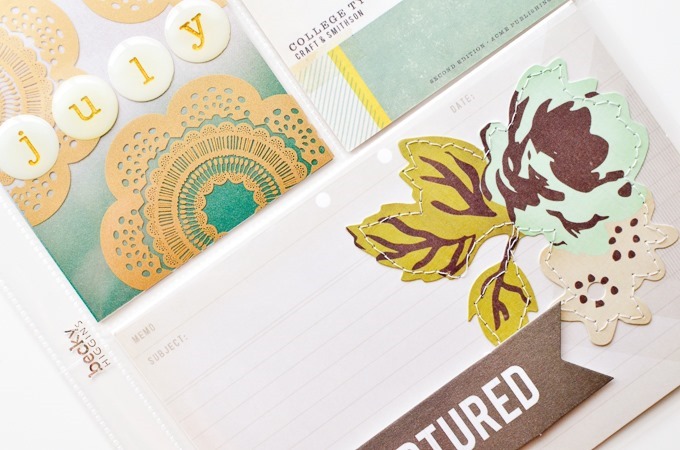 Overall what has become most apparent to me is that I'm becoming more efficient and I think that's probably a fairly natural progression as time passes with a long-term project. Earlier in the year it felt as though it was taking me longer to document a month than it took me to live the month. (Right?!)
But now I've got a system for planning my pages for each month, I've discovered that as long as I leave unfinished pages out on my desk I'll tinker with them during down time and I've been reintroducing digital products and processes into my workflow. I've also been insanely inspired by the tips, tricks and projects that the girls on the Pocket Page team have been sharing – and I've been incorporating a lot of those into my workflow, as well. I finished the entire month of July over the course of four days this week, and I attribute it to all these things.
It renews my hope that I won't still be working on my 2014 album next summer, but I've accepted the fact that I'll probably still be finishing it up in February (or March) – because I also seem to work more efficiently with that gap in time between living vs. documenting. I officially consider the procrastination part of my creative process.
Thanks for having a look at my June pages!
MATERIALS USED | The Era Of Journaling Cards, Soiree Journaling Cards, Around Here Journaling Cards, Who I Am Journaling Cards, Little Talks Journaling Cards, Lemon Drop Digital Kit, One For The Album Digital Kit  by One Little Bird; Today Is elements, 4×6 Photo Templates Vol. 3 by Paislee Press; Notes & Things Journaling Cards and Embellishments by Crate Paper; Attach Me stickers by Basic Grey; Cards from the September Life Pages Add On No. 3, plus assorted papers & embellishments from monthly scrapbooking kits at Gossamer Blue; Design 1, Design 3 and Design 4 pocket pages by Becky Higgins.