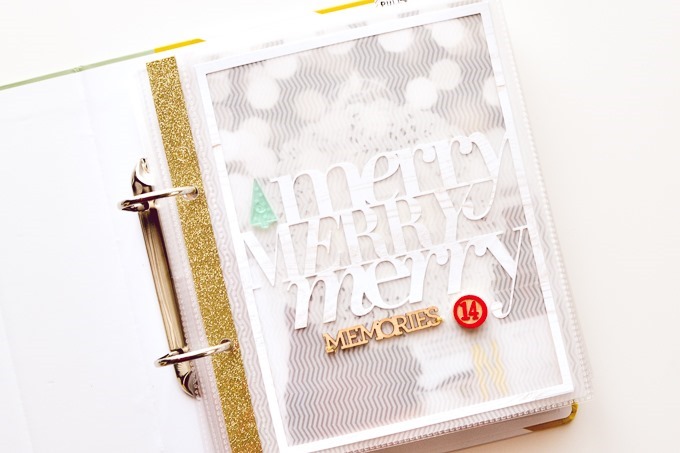 Hello everyone! I wanted to give a quick peek into my December Daily® album in its current state, complete through Day 12 (as of this morning). I debated back and forth on whether to attempt a dedicated December album this year, but 2014 was a year of "saying yes" – so I made the decision to approach this December album the same way I've been approaching my Project Life album all year, but in an extra festive way.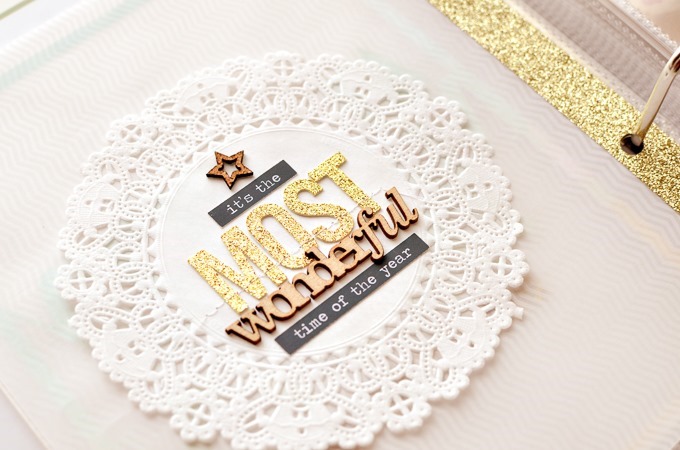 I took a very freeform approach to the album, unsure whether I would document individual days or only key stories and events. I also didn't create any foundation pages ahead of time, so aside from a few pages here and there the majority of the album existed only in notes I jotted down each day throughout the month. I started working on the bulk of the album after the holidays had passed.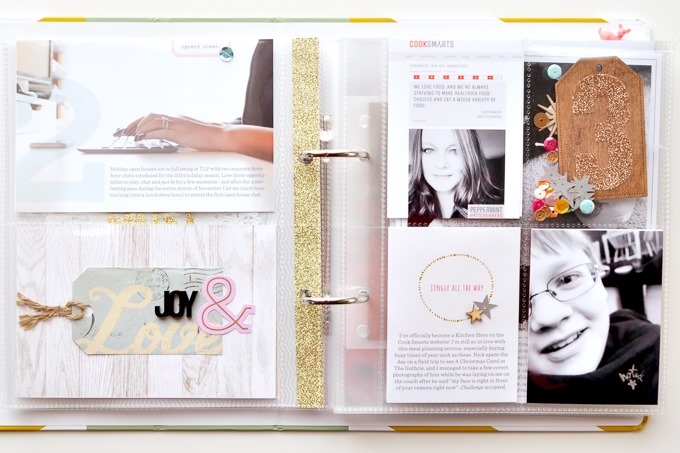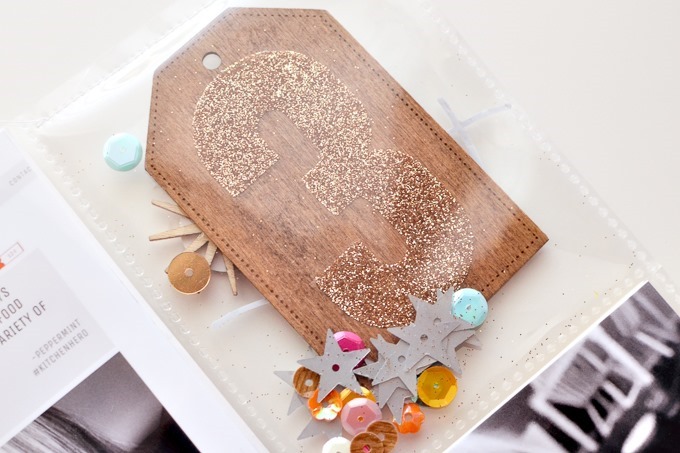 Early in the month we didn't have a lot of particularly holiday-driven events happening in our household, so I mainly recorded daily events and conversations in the same way I would have documented them for my Project Life album. The only difference was that I experimented a lot more when embellishing the pages.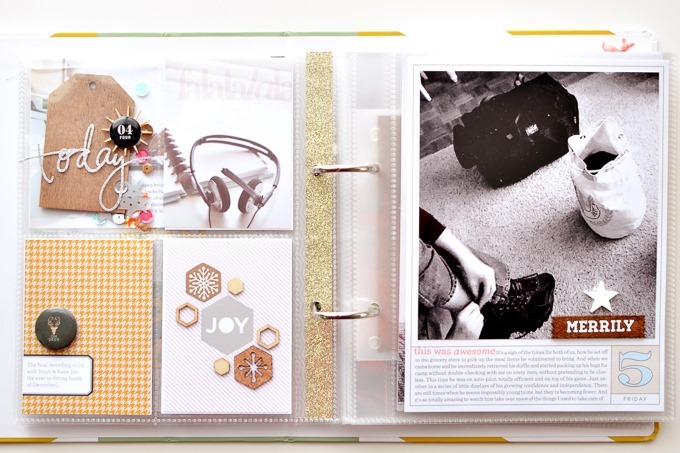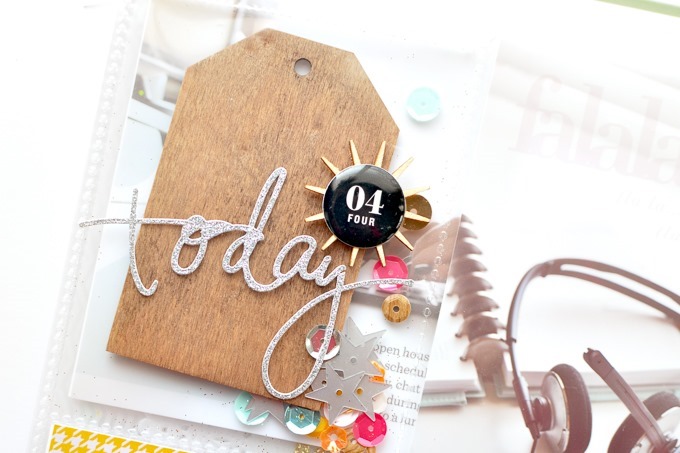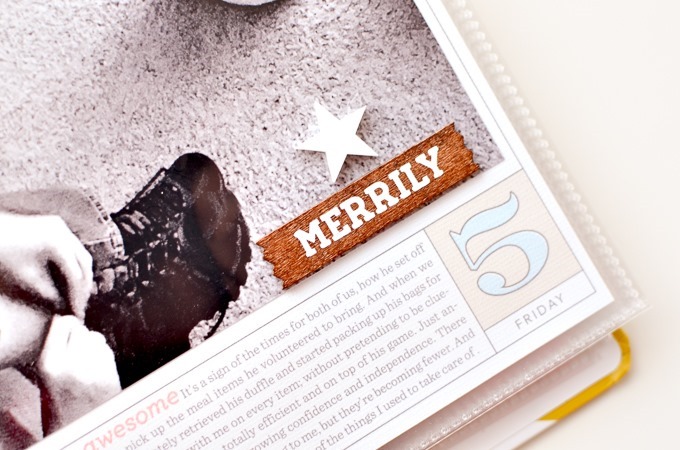 I played with transparency a lot more in this album than I do in my typical albums, I told longer stories and I embellished more intentionally. I also used more filler cards because of the daily format, a luxury I can't often afford in my monthly format. Days 4 and 5 featured the final recording of the D4 podcast and Nick's preparations for his December camp-out for Scouts, respectively.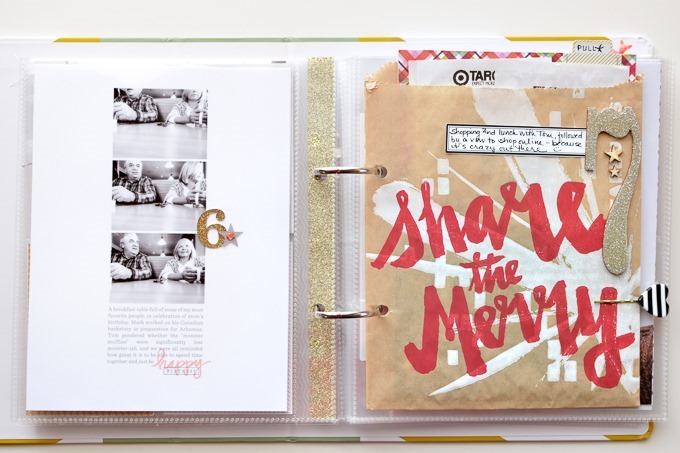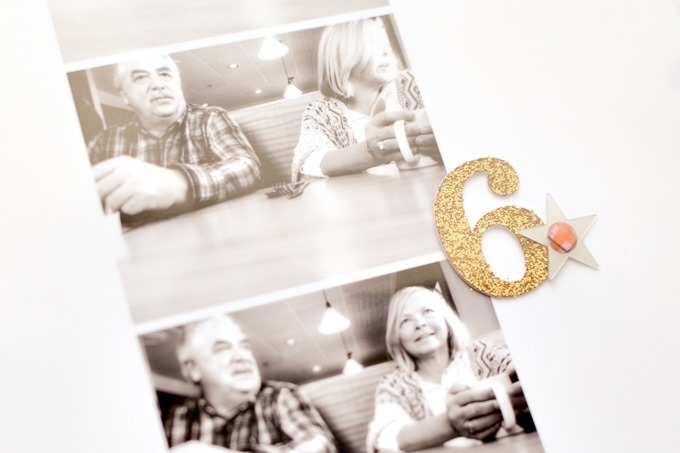 Working on this album motivated me to take more photos throughout December. I made heavy use of the camera on my iPhone, remembering to capture moments on the go like the series of shots I took of my parents while we were at breakfast on my mom's birthday.   I also thought "outside the pocket" more when assembling these pages, adding inserts like the Starbucks bag containing a pull-out pocket containing photos and receipts from a day spent shopping with Tom.
I think these Starbucks treat bags made an appearance in most people's albums this year.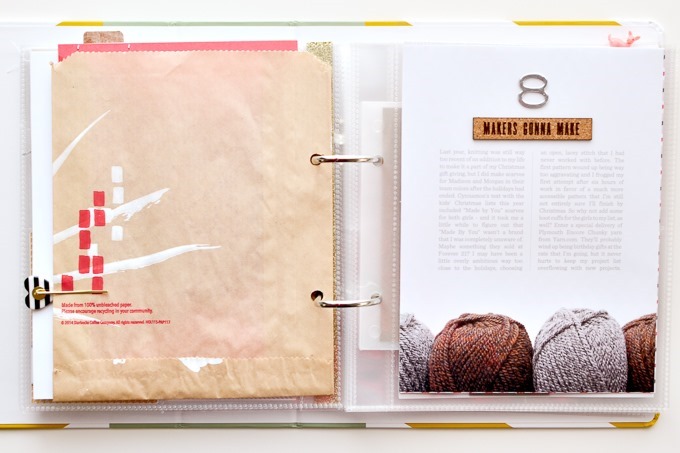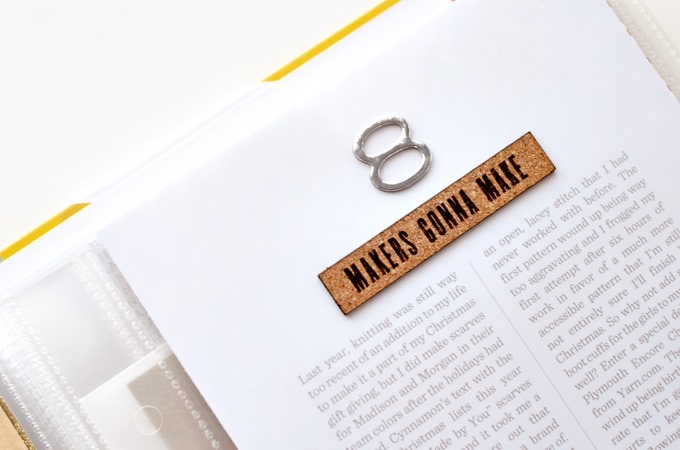 By far my favorite pages are the full 6×8 pages, and although I initially set my album up by alternating each of the different pocket configurations, I frequently found myself leafing through the mix to pull a 6×8 page forward. If I make an album in 2015 I'll definitely need to account for this in my supplies. Day 8 was when stories started to become more about the holidays – a page documenting the knitting projects I was frantically working on for my nieces.
I experimented with a couple of different ways to embellish the back of the Starbucks bag, then in the end decided to leave it as it was and move on. I may come back to it – or I may not. I was eating up way too much valuable time trying to figure this out, though.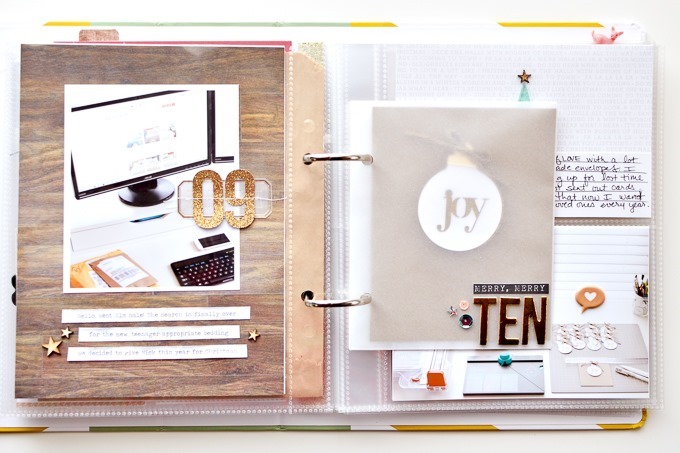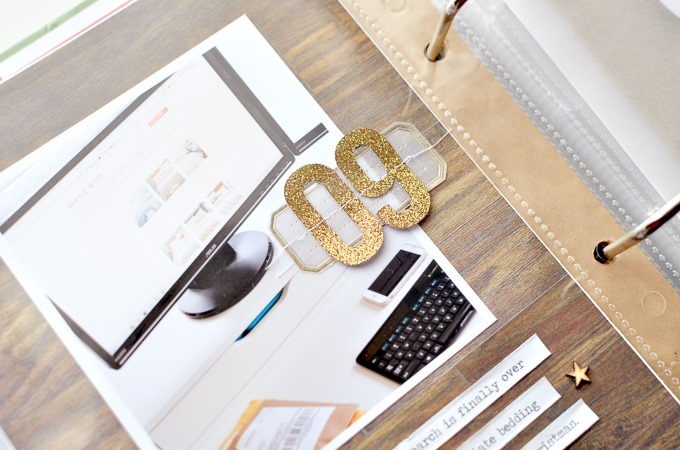 I did the majority of our holiday shopping online this year, as I do most years, so I used Day 9 to document a particularly grueling hunt for new bedding for Nick's room (his Christmas gift from us) which came to an end when I received an email announcing a sale at West Elm. West Elm always saves the day.
A photo of my desk felt most appropriate for telling this story because it had the added benefit of showing what had become a fairly common scene here in my office as the holidays came closer. The day's packages piled up next to me waiting to be opened, my phone in near constant use for addresses, texts and schedules – and one of my monitors with 20 tabs open – online Christmas shopping in progress (instead of work).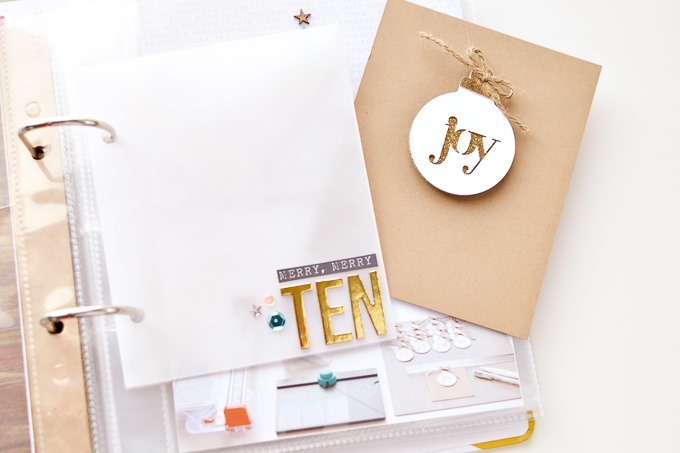 Day 10 was when I chose to tell the story of our Christmas card. Christmas card preparations actually spanned a five day period on my schedule so I sort of penciled it into a few different days, then not much else happened on the 10th so that's where it landed. I made a vellum envelope using the We R Memory Keepers Envelope Punch Board in order to include a copy of our fully assembled Christmas card in the album.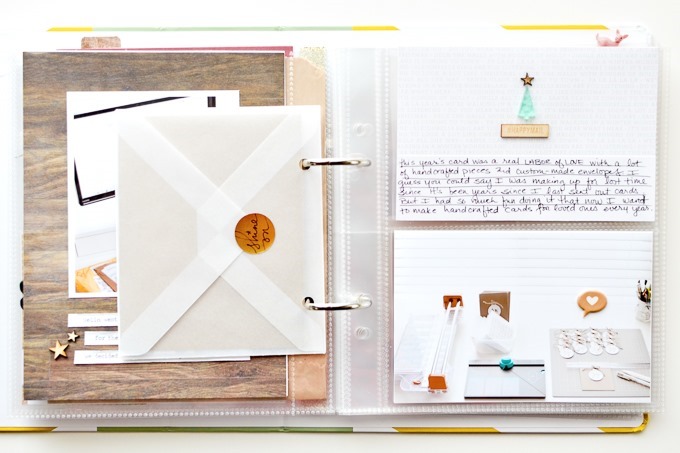 It folds off to the side so I could include a photo of my workspace over the span of days where I was assembling cards and a bit of journaling about the process. I don't typically like to hand write my journaling cards but at the time it was the quickest route. So far I have resisted the urge to remake the card, and I wonder sometimes if I'm the only one who has this internal struggle every time they come across one of their handwritten cards.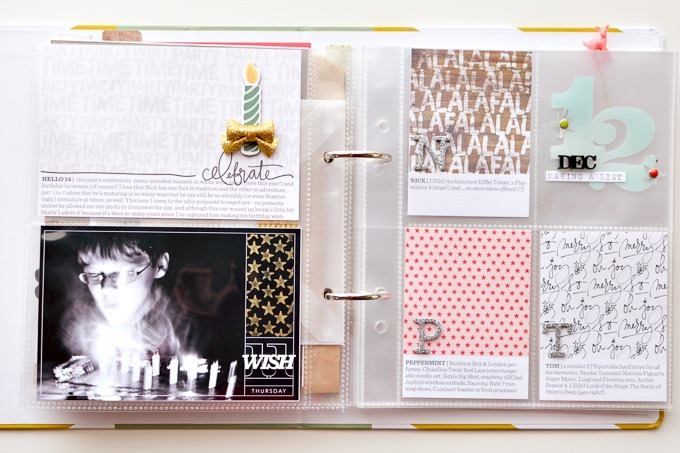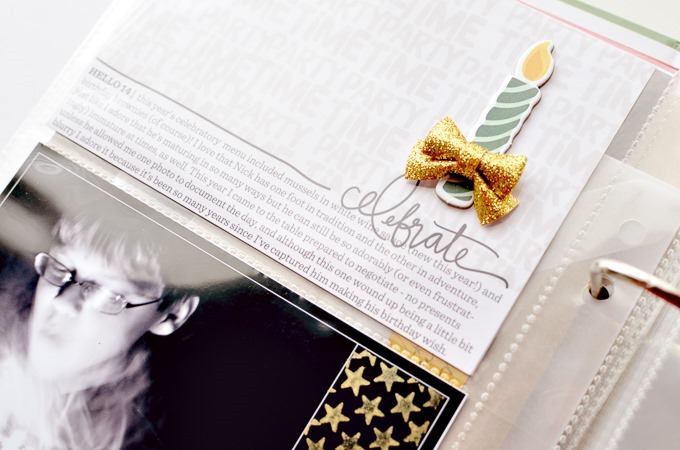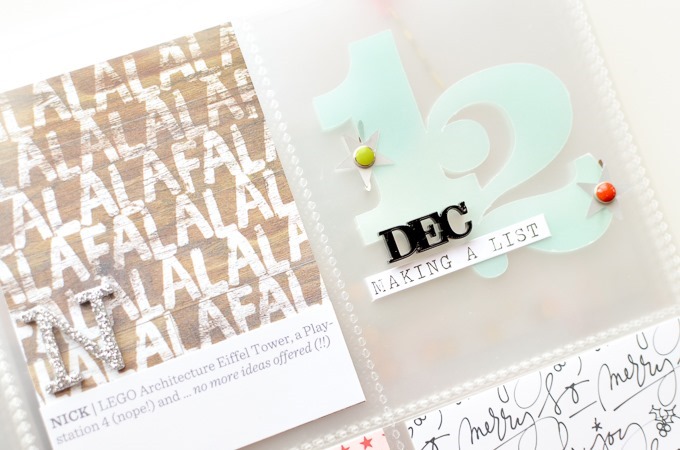 The 11th is always Nick's birthday (always!) and anyone who has a child with a December birthday, or has a December birthday themselves,  has become all too acquainted with the "combined birthday + Christmas" phenomenon. Mindful of this, I let his birthday stand alone and told the story of his celebration, avoiding anything overtly holiday themed.
On the facing page for the 12th we didn't have much going on – Nick had left for his dad's for the weekend, Tom and I were working, and we had a bit of a holiday lull – so I took the opportunity to document our individual holiday wishlists in my notes and then put them each on their own card for the album. Before I started the album I took some time to make a few of these all-purpose lists to use for any days where I came up short with photos or holiday stories.
And this is where the album ends … for now. I'm hopeful that I'll find time to finish up the remaining half of the month over the next week or two along with the remaining three months in my 2014 Project Life album. Overall I'm really happy that I decided to take on this project this year because it opened my eyes to new techniques that I want to carry into my regular albums – for instance, I want to start including more "outside the pocket" pages in my albums going forward, and play with size more.
The album has also reaffirmed a few things that I already knew to be true – like the fact that I prefer neutrals with subtle pops of color, and that the story behind each day is as important to me – if not MORE important to me – than the photos. Just like in my Project Life album, I feel perfectly comfortable making pages that are all journaling or using photos that are less than perfect as long as the story gets told.
Hope your week is off to a great start!
MATERIALS USED | December Memories 2014 Kit from Gossamer Blue; The Two Five Cut Files, Photojournalist Vol 1 Layered Templates, Merrymaking Journaling Cards, There's Something About Merry Journaling Cards and Fete Journaling Cards by One Little Bird; assorted embellishments and alphas from the Gossamer Blue monthly kits; December Daily 2014 Combo Pack by Ali Edwards; my Silhouette Portrait (can't live without it!) and the We R Memory Keepers Envelope Punch Board.