This week I thought it would be fun (and helpful) to share some of our favorite tools and supplies for our pocket albums and hybrid projects. Having the right tool for the job will speed up your workflow tremendously – whereas having to fuss, fidget and otherwise mess with the wrong tools and supplies will stop you dead in your tracks. I enlisted the help of the pocket/hybrid team to put together a list of our FAVORITE supplies in the hopes that you might be able to find a solution to anything that's giving you trouble in your own workflow.
SENDING OUT TO PRINT
Sending your photos and supplies out to be printed at a professional lab is a totally great option if you have it available to you. Donya sends out all her prints and prefers Costco for quick 4×6 prints, and Persnickety Prints or White House Custom Color for anything larger. I do love Persnickety Prints and have printed with them in the past – and they can print your journaling cards, Instagram photos and even full page layouts all in one shot.
PRINTING AT HOME



Jennifer, Maria, Christine and I all print at home because we've found it just fits into our workflow a little bit better (planning ahead isn't a part of our typical workflow!) Our home printers are all variations on the same Canon Pixma printer, which I've illustrated above so you can see the differences between each one. In actuality all four of us have previous generations of each of these printers, but I've linked the images above to the current incarnations so you can read more about each of them. I've had printers over the years from a variety of companies and the Canon Pixmas are my favorite. I can load photo paper into the rear tray and have beautiful, borderless prints in a few seconds.
PHOTO PAPER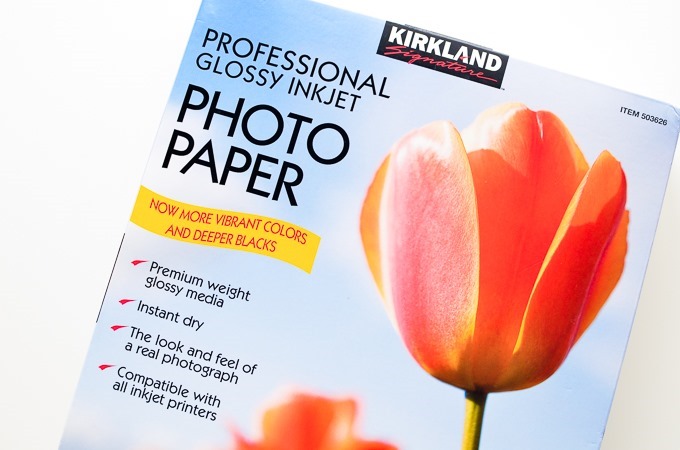 Costco photo paper for the win! If you're a Costco member (or know one) you can't beat this Kirkland Signature paper when it comes to quality and price and we're big advocates of both their 4×6 paper and their 8.5 x 11 paper – which is great for larger prints and collages. Christine did an extensive comparison of this paper alongside other popular photo papers on her blog showing the differences in tone, clarity and paper weight. Her post convinced me to switch over from my beloved Epson Ultra Premium Glossy paper (which is still my pick if Costco is not an option for you). It's a pristine white – no gray or yellow undertones – it dries quickly and the paper doesn't curl or bend after printing.
CARDSTOCK (MATTE PHOTO PAPER)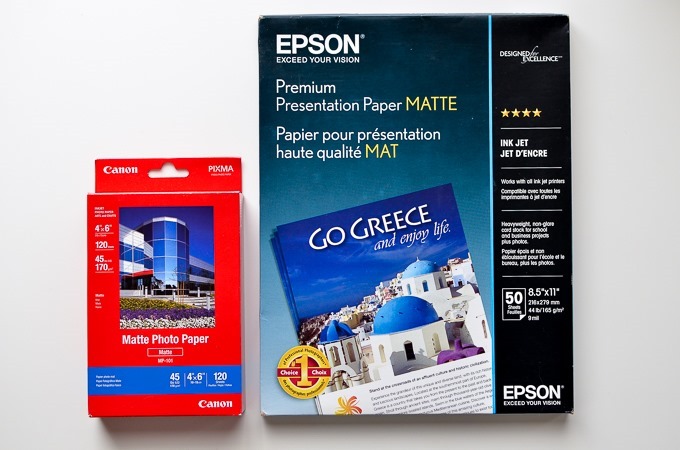 For our non-photo needs, we adore Canon 4×6 Matte photo paper – which is actually a cardstock finish as opposed to a true matte photo finish. We love this paper because you can print just one or two project life cards at a time with no paper waste, which is perfectly in sync with our desire to not have to think too far ahead. Finding this paper was a game changer for me, and you can read my original post about it for more information.
For bigger print jobs, we love Epson Matte Presentation Paper for its vibrant colors and heavy paper weight. It's great for when you want to print a lot of journaling cards at once or for Print and Cut jobs on a Silhouette. Which brings us to…
DIGITAL DIE CUTTERS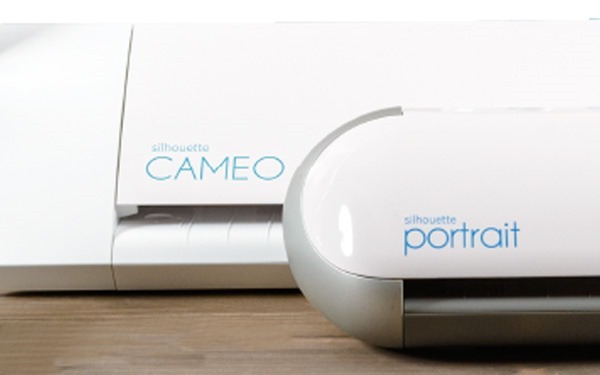 We can't live without our Silhouette die cutting machines, and consider them a must-have for hybrid scrappers whether it's the 8.5 x 11" Portrait or the 12 x 12" Cameo. My Silhouette Portrait was one of my first purchases when I decided to start doing hybrid projects and it's so wonderful to have my entire catalog of digital products at my disposal for my pocket pages – not to mention for cards, gifts, home décor and organization projects.
ADHESIVES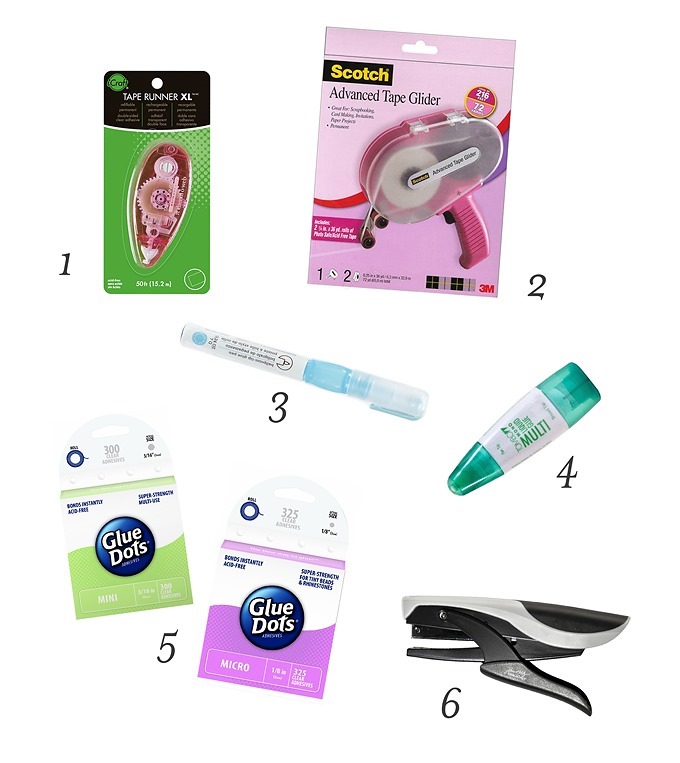 PENS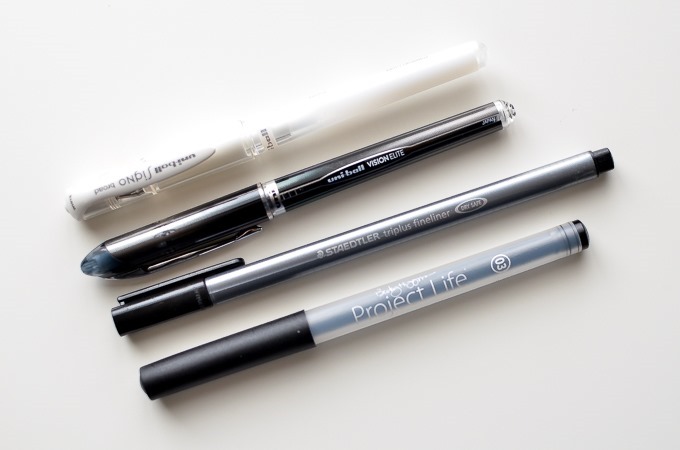 I don't have a photograph of all the pens that I'm going to talk about here, because I don't own all of them (yet!) – but I'll link up to all of our favorites in no particular order:
ADDITIONAL TOOLS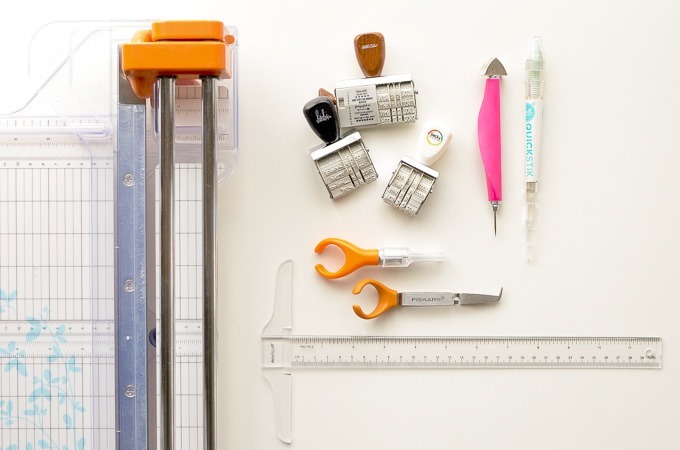 A few more favorites that are a bit less "essential" but still so handy you'll wonder how you lived without them.
A Good Paper Trimmer – I have three, and they're all handy for different things, but if I could only choose one of them I'd choose the Fiskars ProCision without hesitation. It cuts super straight, folds in half for easy storage, and it self-sharpens so the blade never needs replacement. It's a bit expensive for a paper cutter, but if you keep an eye out on Amazon you can frequently pick this one up for 50% off or you can get it at your local Michaels with a handy 50% off coupon.
A T-Rule – I picked mine up for a dollar or two at the office supply store a while back and it's almost always on my desk while I work because my eyes must be a little off-kilter, I can never seem to place something straight without the help of a T-rule. Also when I want to place several alpha stickers on a card or a page I stick them to the edge of the T-rule first, then place them on my page then peel the ruler out from under them.
A Roller Date Stamp – either one that you love, or a couple dozen (like me). In pocket pages, especially, it's nice to be able to quickly stamp a date on a card, a photo or a piece of memorabilia. I have some that are just dates and some that have little phrases with dates.
Fiskars Fingertip Craft Knife – this one I'm really specific about, because it's a great little knife and it's way safer and more precise because of the design.  You slip your index finger up through the top loop before wrapping the rest of your fingers around it like you would hold a pencil and it gives you a lot more stability and control than you get with a normal craft knife
"Squeeze To Open" Tweezers – a lot of pocket page embellishments are small and hard to handle, and a pair of tweezers can eliminate A TON of frustration. The photo above is of my Fiskars Fingertip Tweezers but in this particular case I don't feel as though the finger loop has any real advantage or purpose, and sometimes it's actually a bit awkward and in the way. The important part here is the "Squeeze to Open" because then you can squeeze it open to grab your tiny little embellishment and once you let go it clamps down and you can set the whole thing down to apply your adhesive, let the dog out, take a phone call, etc. Christine has these EK Success tweezers and they seem to make way more sense, design-wise
A Paper Piercer – I just recently purchased this We R Memory Keepers paper piercer because I was "making do" with other pointy objects around my office to poke holes in paper and page protectors and I started to feel as though a trip to the emergency room was imminent. Really any paper piercer will do. Tim Holtz has one by Tonic Studios and the retractable design is probably a lot safer than the one I have if you have small, curious children to worry about. But most of the time when I need to pierce a piece of paper it's because I'm going to be using a brad – in my December Daily album, especially – so I went with this WRMK to spare my fingernails the agony of setting brads, as well.
A "Pick Up" Tool – mine is the We R Memory Keepers Quick Stick and I know Silhouette has one, as well. I'm sure there are others? The tool is filled with a Play-Doh like putty (that's the only way I can think of to describe it) so small objects will stick to it temporarily so you can place them on your project. A good pair of tweezers makes this tool much less essential, but I tend to use this tool more for paper items (word strips, small alpha stickers, etc) and for cork items. My tweezers tend to break or leave marks in cork items, and they will bend paper strips slightly sometimes
That wraps up our recommendations for pocket scrapping/hybrid supplies – at least our basic, must haves! If you're looking for any specific solutions or product recommendations please let us know in the comments! And feel free to share your own favorites and must-haves, as well – because we're always on the look out for new tools and products to streamline the memory keeping process here on the One Little Bird team.
Have a great week!