Hello everyone! This week I've updated the shop with a truly essential item – weekly 4×6 title cards (and stamps!) They've been on my list of products to make for quite some time – and I knew that I wanted them to be handwritten and super-versatile so I needed to set aside enough time to do them properly. So happy to have them available for you to add to your memory keeping toolbox! These will serve you well year after year.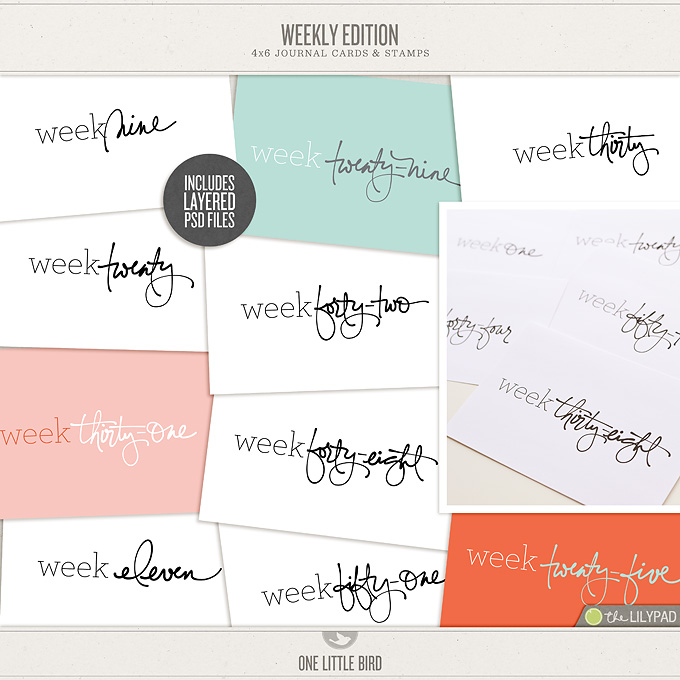 This package includes weekly titles in a variety of formats for whatever your needs may be. If you need 4×6 journaling cards you'll have them in black and white PNG files as well as layered PSD files that allow you to customize the colors to match your project. (Tip: You can also use those separated layers in the PSD files to move the components around for custom configurations and sizes). For "outside the pocket" uses, I've also included each weekly title as individual PNG stamps that you can use as word art on your layouts, your photos, your planner pages, etc. They're also all bundled up nicely together in an ABR brush file for use in your graphics program. So whether you're a pocket scrapper, a traditional scrapper or you're looking for some overlays for your photography projects (Project 52, anyone?), your bases are covered.
Early Bird Savings
You'll save 20% on the Weekly Edition Journaling Cards & Stamps through 1/11/15.
Inspiration