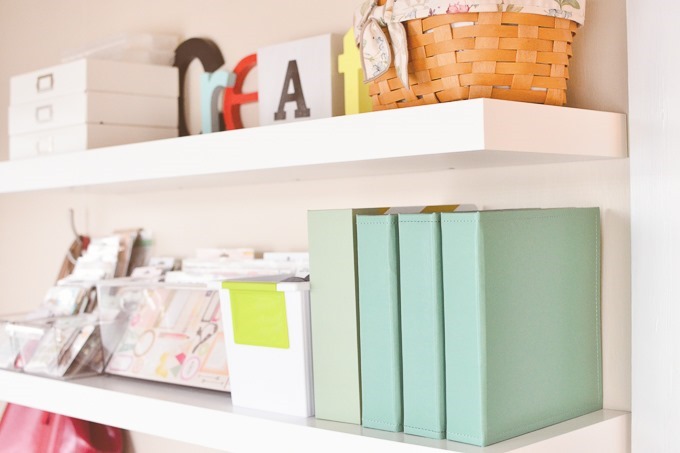 In 2014 I loved using the 6×8 albums and pocket pages and it didn't take me long to fall into a rhythm with that format, which made each month a little bit easier than the one before. Definitely love those little pages. (Although I will admit that I wish the Becky Higgins binders had label holders on the spine – but I'm fixing that problem with some Martha Stewart Adhesive Bookplates that I have on order.)
For 2015 I thought I'd change things up just a little bit because I want to return to sharing some bigger moments in my album this year, but I'm still very smitten with the idea of documenting everyday photos, quotes and memorabilia. That being said, I don't want to have two separate albums going. So my plan is to mix pocket pages and regular pages in one 8.5 x 11" WRMK Album – in Greige – a color I could just marry, quite frankly.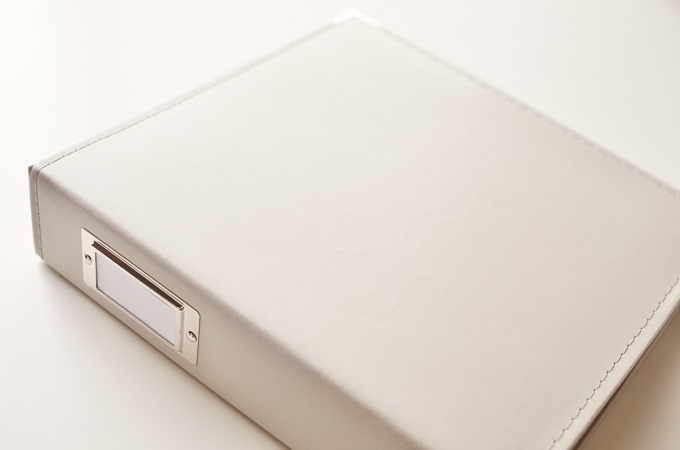 I've started my 2015 album as a bit of a compendium of gathered thoughts from this year. My goal is to include a mix of everyday items and photos along with full page layouts that give me more room to write a bit more about the things that are on my mind.
I know that I could record bigger moments in a pocket format and I could record smaller, everyday  moments in full-page spreads – but I have this whole thing about scale in my memory keeping (I talked about it on this episode of Paperclipping Roundtable last year) and it's hard-wired into me. I love pockets for the things that feel smaller in scale to me – a meal out, a funny conversation with Nick, movie tickets or just a photo I like that I don't want to get lost in the mix. A lot of times I don't have much to say about those things because they stand on their own. I'm simply documenting that they happened.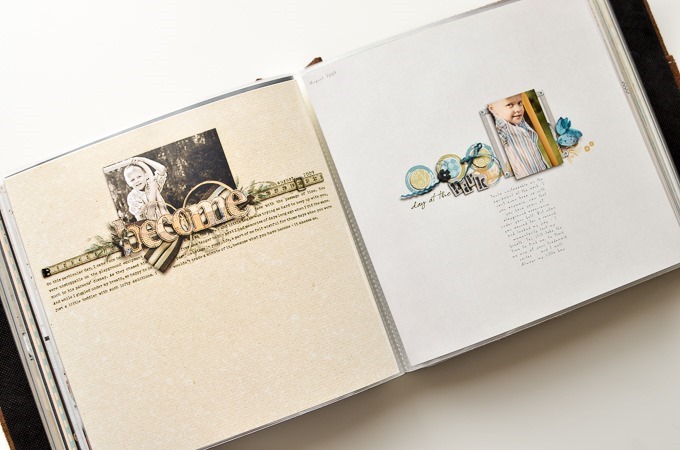 And then I love full pages for the things that feel bigger to me – like reflections on my family, on motherhood, on my past and on my hopes for the future. The bulk of my digital albums are made up of pages like the ones above, where I write journal entry style passages about whatever is on my mind. This type of documentation has been missing from my repertoire for the past couple of years and part of what I love about the 8.5×11" format is that it will be easy for me to print digital layouts here at home to include as well as paper ones.
I've always put my albums together by the year that I created the album, so this approach doesn't require that I adopt a brand new approach to how I organize albums. The album above is every digital page I made in 2009. I've done it this way because I don't always scrapbook photos chronologically. I tend to have something I want to say and then I find a photo to accompany it. Each year's album documents my perspective in that year but the photos and events can be very fluid. If I put albums together based on when the photos were taken, my voice would jump around a lot.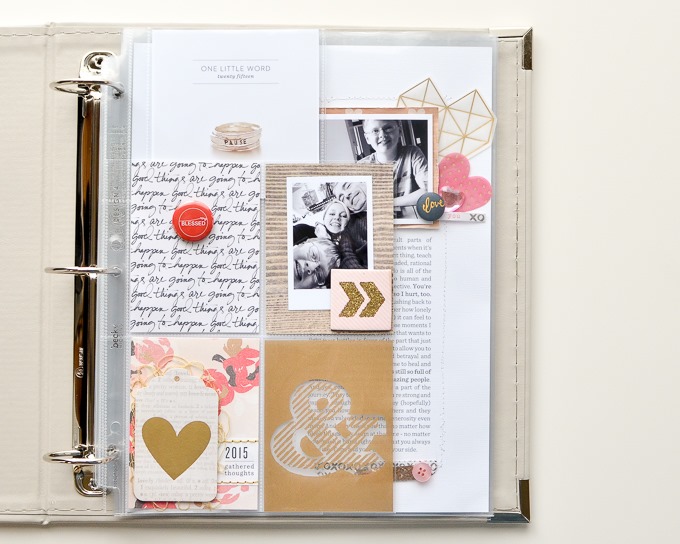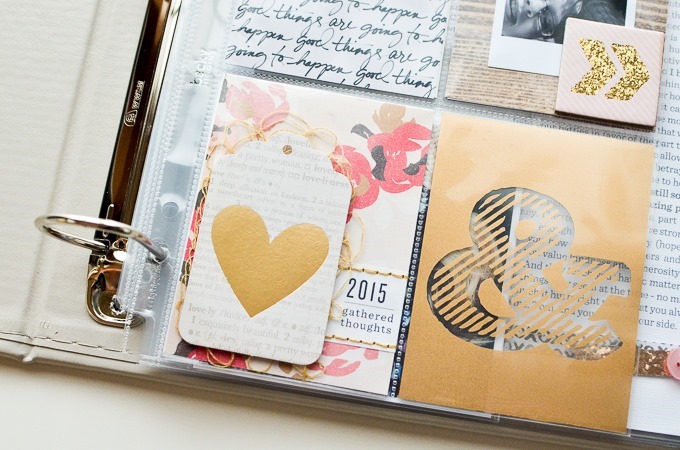 At first I wasn't sure whether I would like the mixture of page sizes in one album, given my obsession with things lining up, but after finishing the first couple of pages I became a little bit obsessed with the idea. I like that one page sort of flows into the next. This first page is just a Becky Higgins 6×8" Design 4 Pocket Page that I punched new holes for with a Crop-A-Dile. I have a lot of these 6×8" protectors from last year so I'll continue to punch them to fit, but I've heard that the new 6-hole 6×8 pocket pages from Studio Calico fit without modification.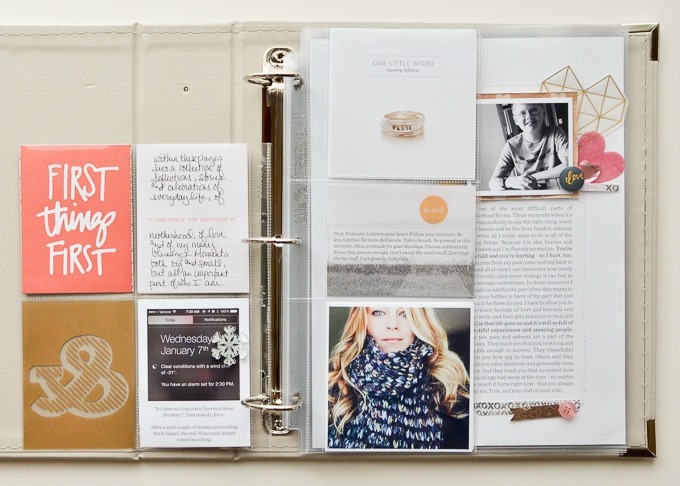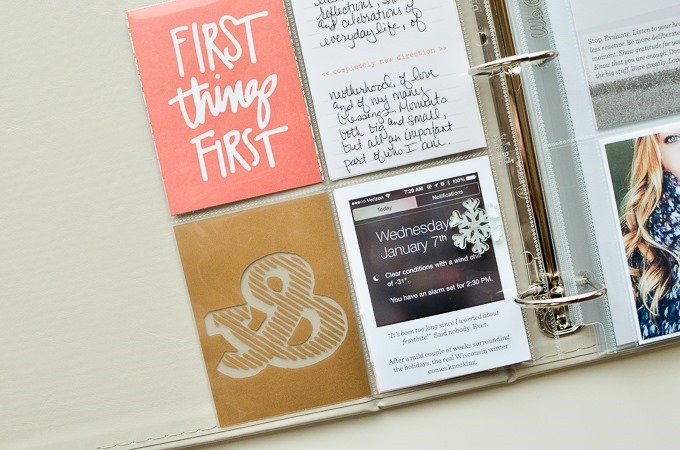 I've subscribed to Ali Edwards' Story Kits this year, as well, and I incorporated a couple of her cards from January's "Firsts" kit on the flip side because it felt fitting and gave me a chance to document my change in direction for this year.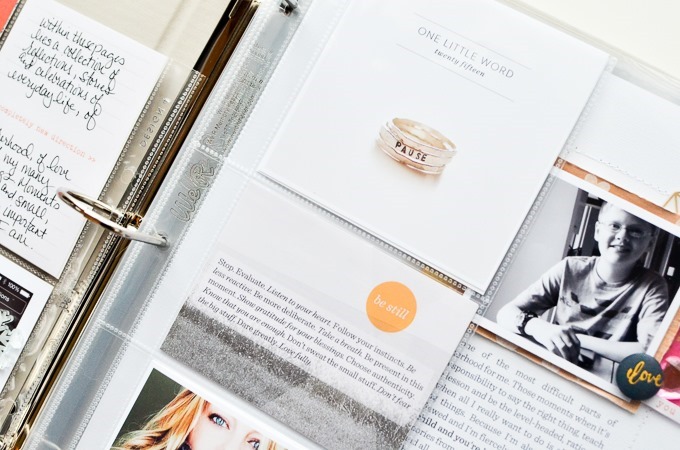 On the right side I cut a We R Memory Keeper's 8.5 x 11" pocket page in half to leave two 4×4 spots and one 3×4 spot. On the front I documented my word for 2015 – pause – with a photo of a stamped ring I received as a Christmas gift in order to keep my word visible throughout the year. Below the photo I  included a card with some of the notes I made when I was choosing my word this year. The card was one that I designed for Gossamer Blue November kits.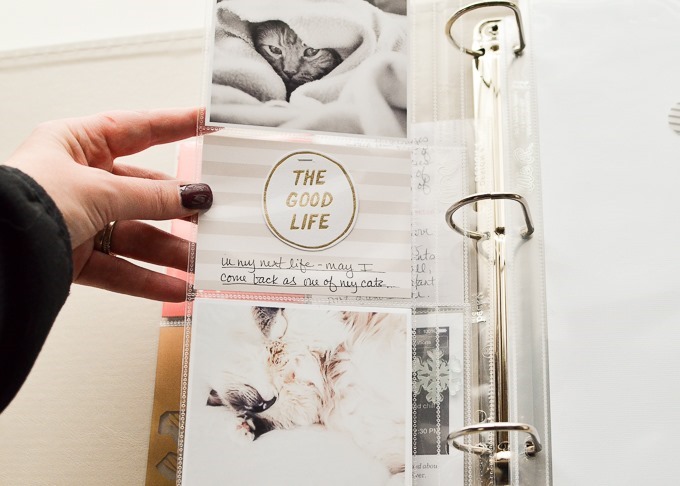 The flip side of this insert includes a few photos I took of the furry royalty in the house. I decided that I really like these 4×4 square pockets since so many of my photos are already cropped square for Instagram. And I'm considering making horizontal versions of all of my 3×4 digital cards going forward because I see myself using this particular page design pretty frequently. The cards I make for Gossamer Blue already include the horizontal versions so they came in handy here (this striped one is from the January Add On No. 3).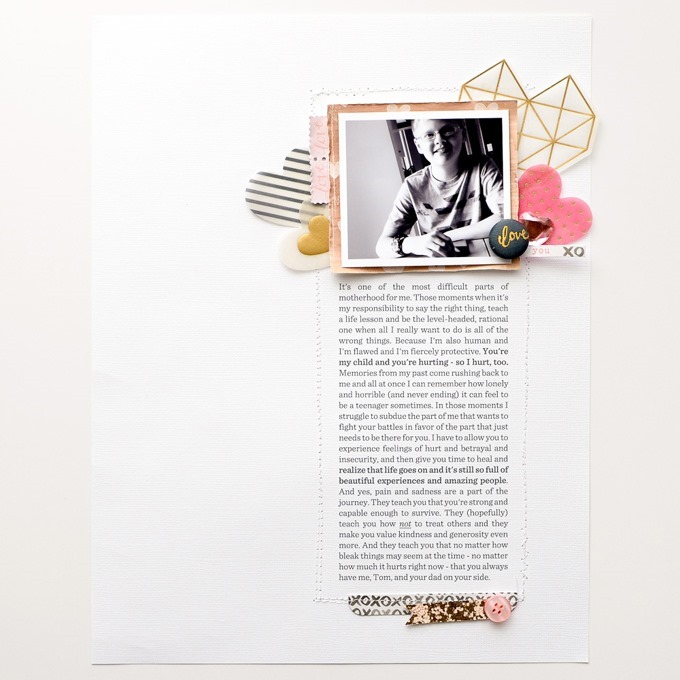 The right side is an 8.5 x 11" layout that I made  to tell one of my "bigger stories" – the first paper page I've made since 2004, I think. Lately we've been dealing with the topic of toxic friendships vs. healthy friendships around here, one of the issues I thought I might be able to avoid as the mom of a boy. It turns out that life lessons are doled out regardless of gender, and no teenager is exempt.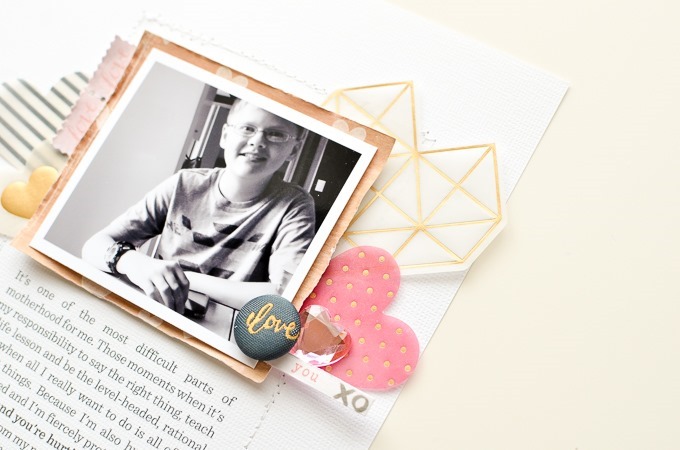 I like pink and I used a lot of Kiss Kiss by Crate Paper on these first few pages of my 2015 album. I know there are a lot of moms of boys who find it to be a difficult color to work with in their projects and I get that – I used to be one of those people. Since I journal from my perspective I don't really shy away from using pink anymore – although it used to be a bigger deal for me. Now I tend to look at each page as more of a diary entry, so the products I choose reflect what what I'm drawn to in the moment. This particular page was one about love and strength and acceptance so I let the words guide my choice in products as opposed to stressing about the "boy photo".  (Plus  Nick is almost totally okay with pink at this point in his life.)
I'm really excited to see how this album takes shape as the year goes on, and I'm looking forward to incorporating more of these bigger stories in my album again. I would love to hear what sort of ways are you are expanding or simplifying your memory keeping routine in the year ahead, as well! Feel free to share your plans in the comments.