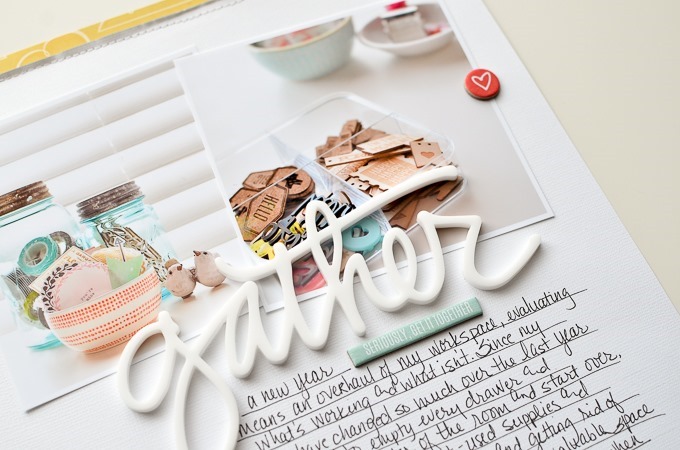 One of my goals for the year ahead is to set aside some more consistent time for memory keeping by actually writing it on my calendar – instead of my previous method of telling myself it will simply fall into the ever-elusive "free time" category. Because "Totally Free Time!" isn't something I ever actually write on my calendar. This past Sunday was SuperBowl Sunday which is known in our house as "SuperWhat? Sunday" because we don't watch sports – which made it a great day to continue working on my 2015 Album.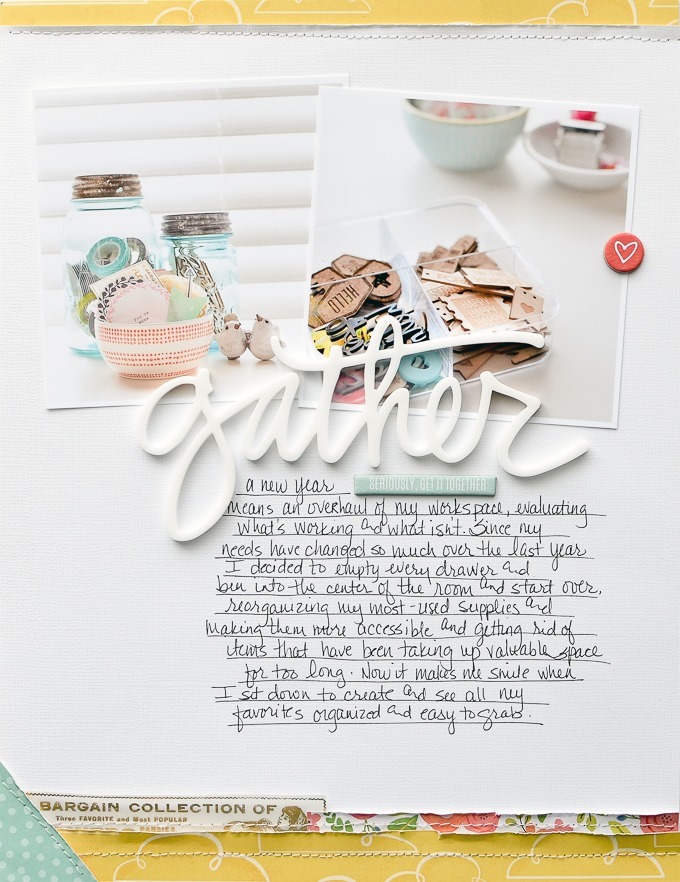 I'm subscribing to Ali Edwards' Story Kit™ this year as encouragement to focus on bigger stories – and January's theme of "gatherings" inspired this traditional 8.5 x 11" page documenting the weekend in January that I spent reorganizing my workspace in preparation for a new year of memory keeping. I used materials from that Story Kit (the acrylic word and the chipboard accents) plus some papers and die cuts from the February Gossamer Blue kits.
What started as a quick purge of old supplies one afternoon turned into a realization that the way that my workspace has been organized no longer works with the way that I'm using it. And the only real solution I saw to that problem was to empty everything out – all my desk drawers, every little bowl, every single bin – into a big mess in the middle of my office so I could start over. Then I hyperventilated for a minute or two and got to work putting things away more logically, grouping things together based on how and when I use them.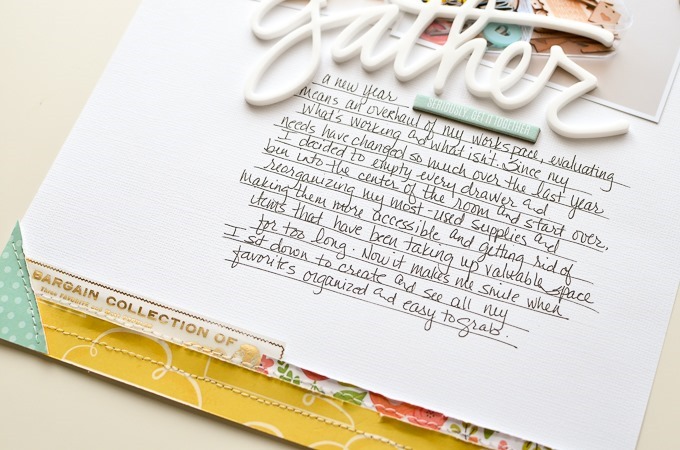 Reorganizing my space and implementing some new systems for keeping it organized has made all the difference in my workflow. I have a hard time concentrating if my desk is in chaos, and since I work and play in the same small space it's very easy for me to ignore a creative urge purely because the prep and clean up time seem like too much of a bother. Eliminating that excuse was something I knew I had to tackle. And then documenting it seemed like the perfect January story to tell in my album.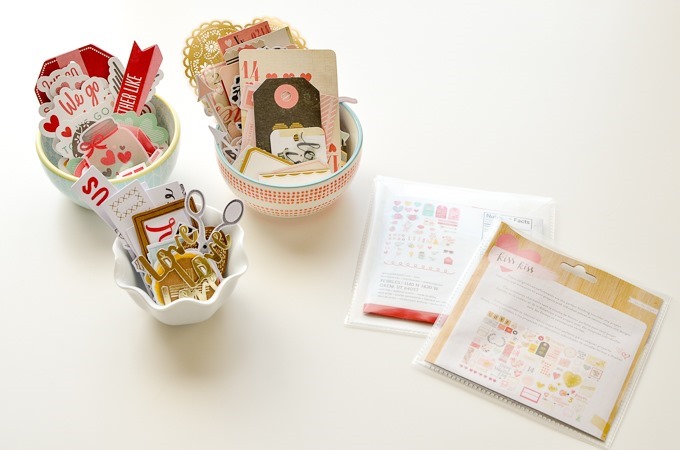 I wanted to share a quick peek at how I organize a few of my supplies – not an all-encompassing explanation of how I organize everything. But this layout was sort of a two-for-one in that one of the photos shows a new addition to what we'll call my "tiny bowl obsession". I can't pass up a cute tiny bowl but at this point I have to have a serious conversation with myself whenever I want to purchase new ones.
I love tiny bowls for keeping new supplies out and easy accessible, I just use them more if I can flip through them in the bowl. So now I immediately open new die cut packs and separate them out as soon as I get them. But I keep the backer card (the one that shows all the contents, usually) and pop it into one of these 6×6 plastic CD sleeves and they all get filed away into a clear plastic bin on my shelves.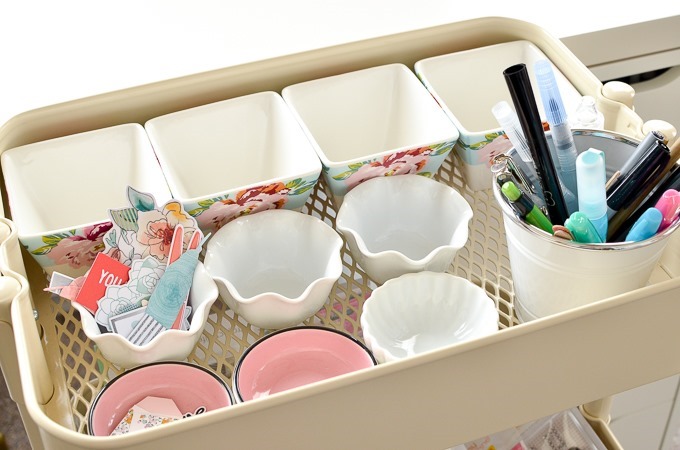 Periodically I go through and empty out all of the bowls to start fresh – I just emptied most of the bowls on the top tier of my Raskog cart a couple of weeks ago. So whatever remains of each package gets sorted back into the proper sleeve and filed away. Just until the bin gets too full, and at that point I have to make some tough decisions about what to keep vs. what to give away.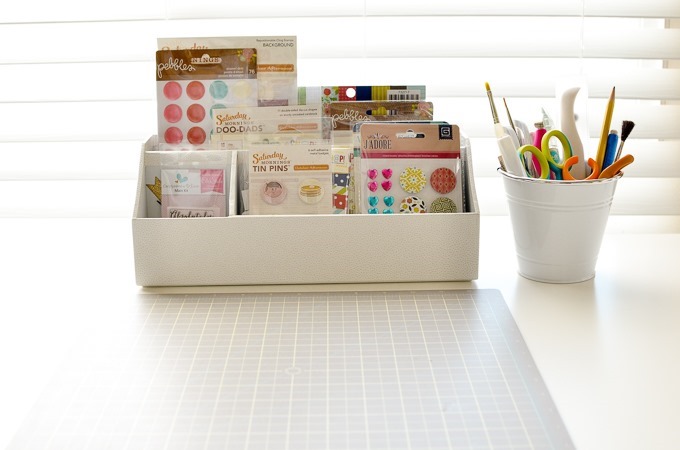 I like to keep current month's kits together because they're already coordinated. So for products that are convenient enough to use without dumping them out (items with backer cards) I usually just sort them out into this Stack + Fit Desk Organizer by Martha Stewart. I picked it up at Staples and it's the handiest way I've found to keep products out and visible. At the end of each month these get broken up from their kit and sorted out into clear plastic bins.
I keep some things together by type if I seek them out by type – for instance, all of my badges/flair are together, all of my enamel dots are together, my stamps are all together in Avery Elle storage pockets, etc. Whatever remains sort of gets sorted by package size into bins – small to large. Later on if I'm on a quest for something I just grab a bin and flip through it from front to back until something jumps out at me.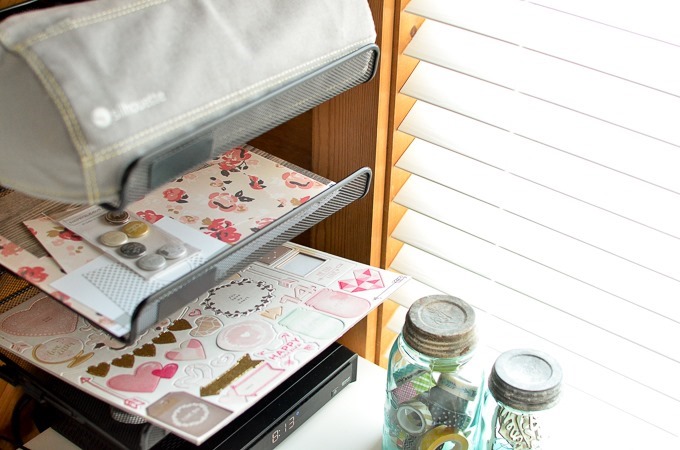 One last thing that I do to keep my workspace tidy and the chaos at bay. My office is small and my desk is L-shaped – my computer is on the short leg, and then I use the longer 7-foot extension as my workspace for everything else. I've had these wire letter trays attached to the wall in the corner of my desk for a few years now and they've served various purposes, but I recently emptied out two of them and I use them as "discard bins" as I work. This way items don't pile up on my actual workspace, but if I need another scrap of paper from the one I just cut or another item from a package I just used, it's still handy.
My intent is always to clean out these bins and sort items back to their actual home at the end of every scrap session that I have, but honestly … sometimes things just pile up in there over the course of a few projects and I'm okay with that since they're up and out of the way. I know when I post photos of a project in progress on Instagram I'll get the occasional comment like "Your desk is so tidy" and truthfully these little trays at the end of my desk probably deserve about 95% of the credit for that. Right now they're quite full so I'll probably dedicate a little bit of time this weekend to cleaning them out before I work on my next project.
Hope you're all having a great week!