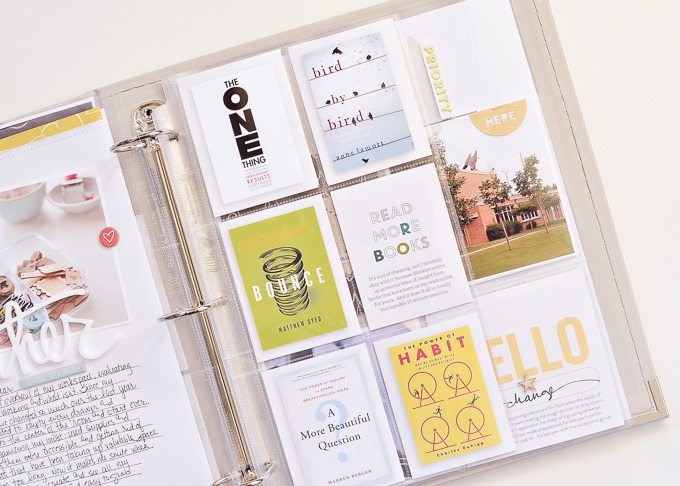 Today I wanted to share a few of the pocket pages that I added to my 2015 album in February, as well as a little update on how this format is working for me. (Spoiler alert: I'm still loving it.)
I posted on Instagram a couple of weeks back that I was finding myself using pockets more for collections of thoughts rather than monthly chronological moments, but I'm not mad at it or anything – it's nice to change things up. I struggle to use multiple images on a layout, so the pockets give me a good place to do that.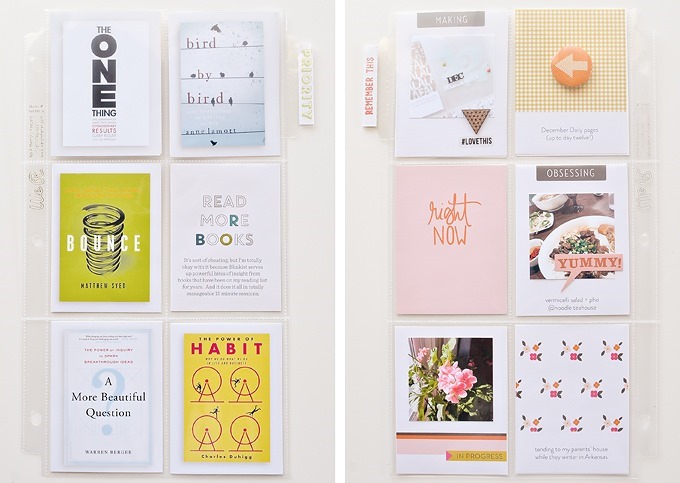 The insert above was a WRMK 9-pocket 8.5×11" page protector  that I cut down to six pockets, with the front side documenting some books I "read" on Blinkist. Have you heard of Blinkist? They distill over 1,000 books a year down to their most important messages – which they call "blinks" – so that you can absorb the most valuable insights. I'm a bit of a non-fiction junkie but I find that there's a lot of overlap in the types of books I read, so I'm using Blinkist as a way of pre-screening books or brushing up on the key facts of books I've already read. Most of them are 15 minute reads so they're a good way to pass the time while waiting in the school pick-up line or the dentist's office. If I feel as though the book brings something new to the table then I add it to my Kindle reading list so I can read the entire thing down the line.
The "Read More Books" card is from High Street Stories.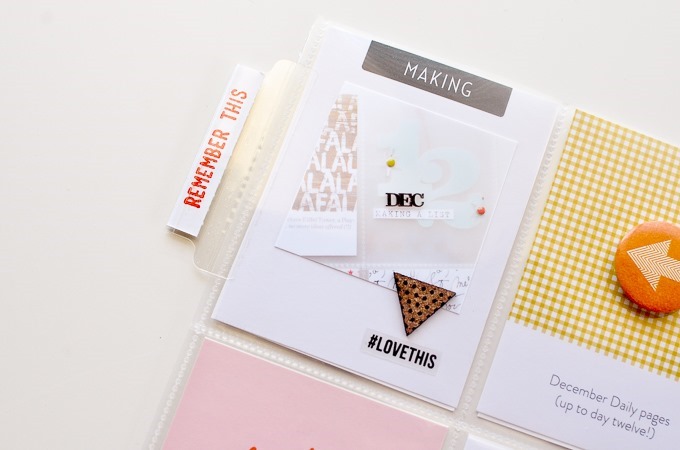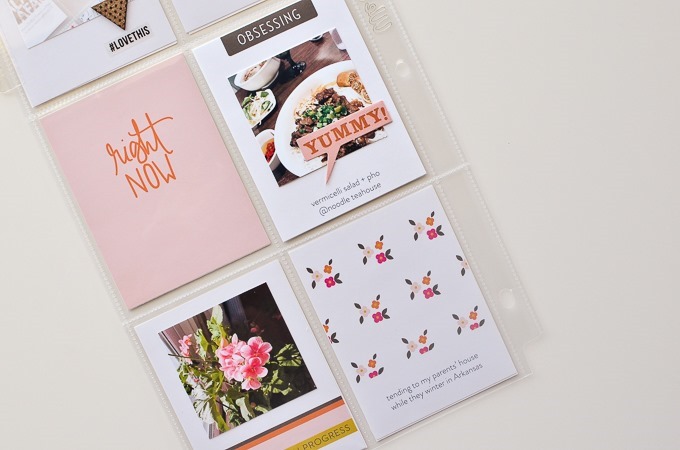 The back side is more reminiscent of my monthly pages from last year, sort of a snapshot of what our weeks looked like at the end of January. The pages are a little awkward to flip when they're cut down and layered like this, so I attached a 2"  Avery index tab to the edge and stamped each side. The end of January I was all about working on my December Daily album (still stalled on day 13!) and Tom's obsession with the Pho at Noodle Teahouse was in its infancy. We now go out for Pho every week, the withdrawal is too hard to watch. For continuity I chose all my cards on this side from the same set (Currently) and added in a few coordinating elements from the February kits at Gossamer Blue.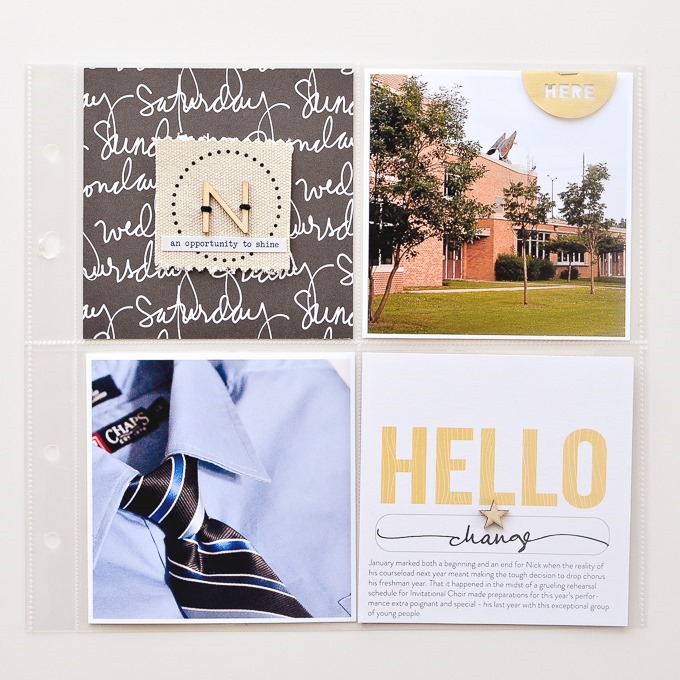 For the facing page I chose to document a little of what's going on in Nick's life. Next year he'll make the move from Junior High to High School and the groundwork for that transition started in January. It's been really interesting for me to watch him move through the same school district I went through, and to see how much each of these schools has changed and then also how they have so not changed. And I remember making this move myself and how big that High School looked, and now it's even bigger – bordering on massive. Even the mascot that adorns the roof has been replaced with a more menacing version.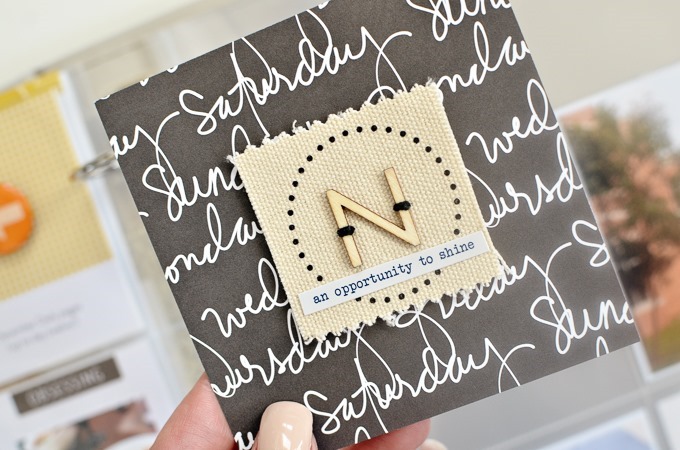 I've been incorporating bits and pieces from the monthly Story Kits from Ali Edwards into my pages this year, this card was a mixture of the January "Firsts" kit (the word strip) and the February "Gatherings" kit (the stamped fabric). The card was part of a set that I designed for the February Life Pages Add On No. 3 over at Gossamer Blue – it's easily one of my top 10 favorites of all time, I love how the handwritten days of the week all came together for the pattern.
The "Hello" card on the bottom right was from One For The Album and this pocket page was a 4-pocket 8×8" page that I found at Hobby Lobby, made by "The Paper Studio". I really like the 4×4" square pockets, it's so easy to just cut 4×6 cards down for it, so I'll be using this pocket page quite a bit, I think.