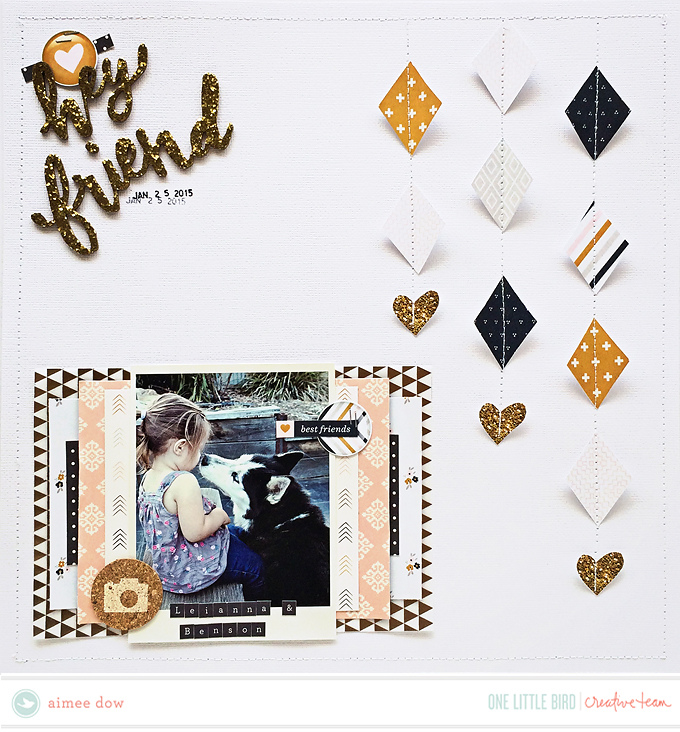 If there is one thing I have learnt about myself in the two years I have been scrapbooking, it's that I'm a white cardstock kinda girl. First thing I do when I walk into my studio is pull a piece off the shelf and lay it out on my desk. It's a clean, defined slate to start with. The bonus to this method of scrapbooking is that it lends itself to hybrid creations.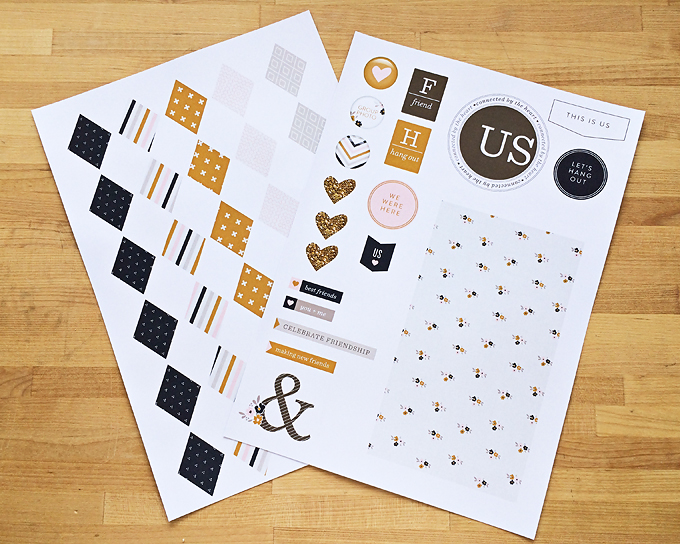 I knew I wanted to do a diamond-themed layout using the Better Together collection, so it was just a matter of putting together my print sheets. On the first, I laid out all the embellishments that I thought would suit my theme and on the second I created five rows of diamonds. I used a clipping mask to clip the pattern papers over the top and just like that, I had a ton of equally sized diamonds. If I was a smarter woman, I would have set it up to cut on the silhouette, but hand cutting never takes me very long and usually eats into my house cleaning time. So… not really a bad thing.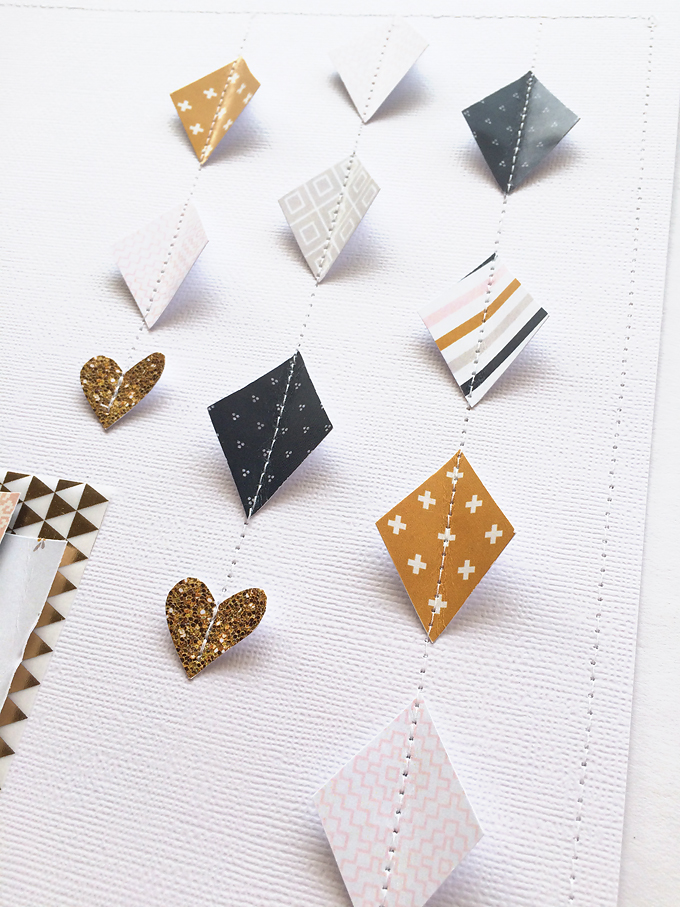 I machine-stitched my diamonds and hearts in place and bent up the edges to create dimension. I also sewed a border around the outside of the layout in order to tie it all together.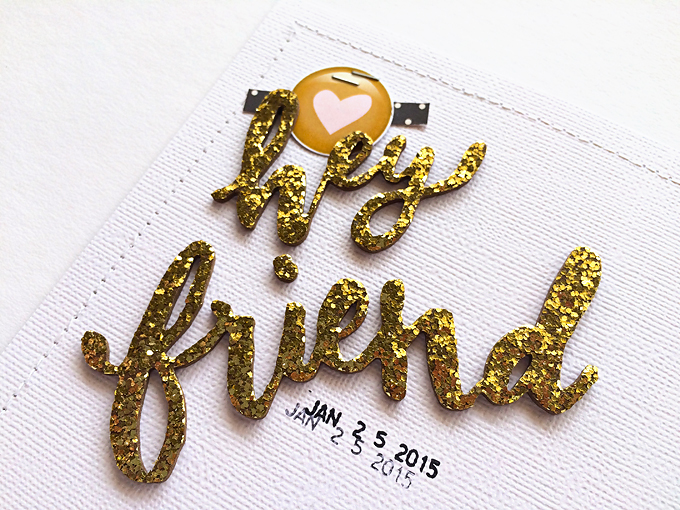 I created a title with Maggie Holmes Open Book glitter words. I love that they are so bendable and I think they go so well with my printable glitter hearts.  I added one of my printable flairs, a date stamp and an off-cut from Gramercy Road Paper that I had in my scrap bucket.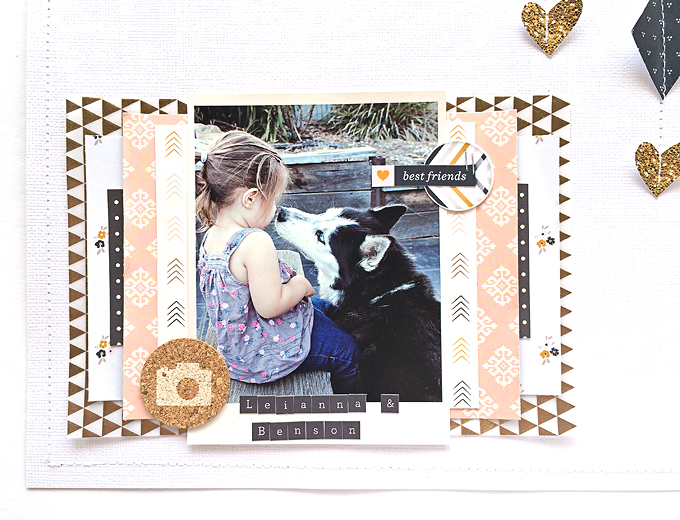 Actually, I found a lot of Gramercy Road leftovers in the bucket. Both collections work so well together, so I decided to use a combination of the two to build up the background for the photo. It's not my child and it's not my dog so I don't feel the slightest bit remorseful for snapping the pic of their hugs and kisses. Nor do I feel bad about scrapping it. I look forward to the day I can present Leianna with an album of her most embarrassing moments. I hope that at the very least she will be able to appreciate the time and effort I put in to it. Sure the top two embellishments are printables from Better Together and the cork circle and Alphas are Gramercy Road, four embellishments is plenty! Especially when you back it with some MME gold triangle vellum. The aim is sophisticated bling, not "hey look, your toddler raided my jewelry box again" bling. So that pretty much brings this layout to a close – and in less than an hour. That, my friends, is why I love hybrid so much. Until next time.
[one_third last="no" class="" id=""]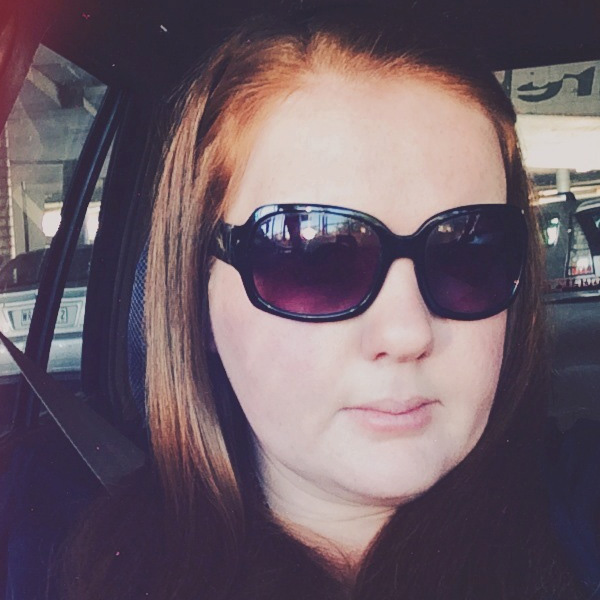 Blog
 | 
Instagram
 | 
Gallery
[/one_third]
About Aimee
I am newly wed living in Australia with my husband and our tonkinese cat, Mica. I live a pretty happy existence scraping by day and running our web design company at night. I am fairly new to scrapbooking. I started Project Life in January 2013 and digital scrapping in July of that same year. I have only been page scraping since the start of 2014. I like to think my style is clean and modern.