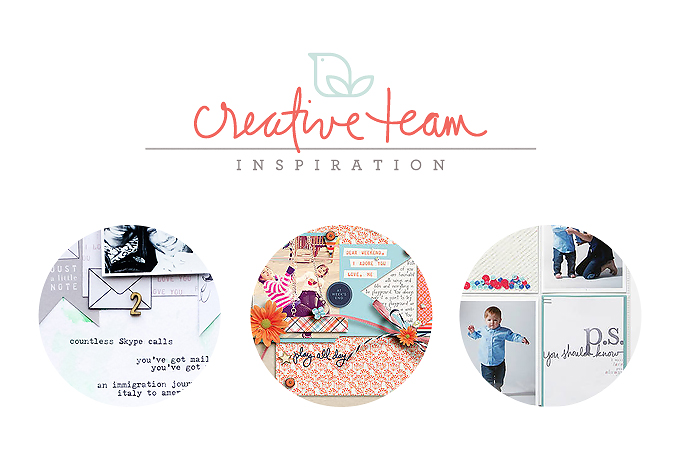 Closing out the week with a little bit of inspiration from the Creative Team using some of the latest products added to the shop. First up, projects using the Dwell digital kit and Dwell journaling cards.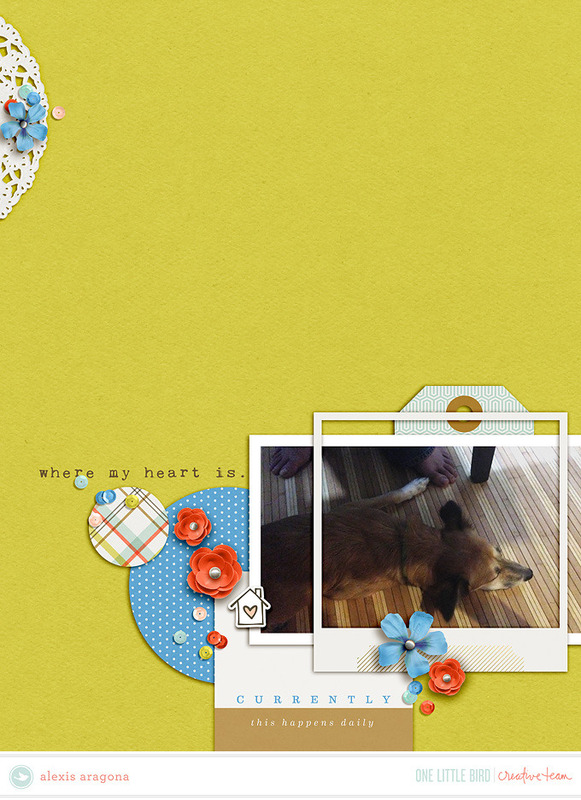 I always love to see journaling cards used on traditional layouts, and I love how Alexis uses this card as she would any other piece of word art on her page.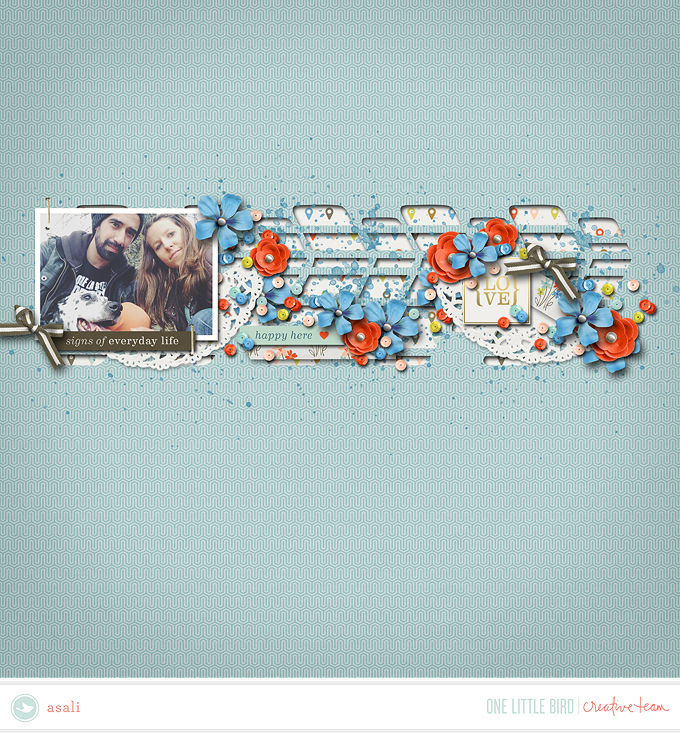 There are so many different ways to draw a person's eye across the page, but I think the "delicate scatter" is one of my favorites because it brings such a sense of motion. I really admire Asali's zig-zag scatter of flowers and sequins on this page.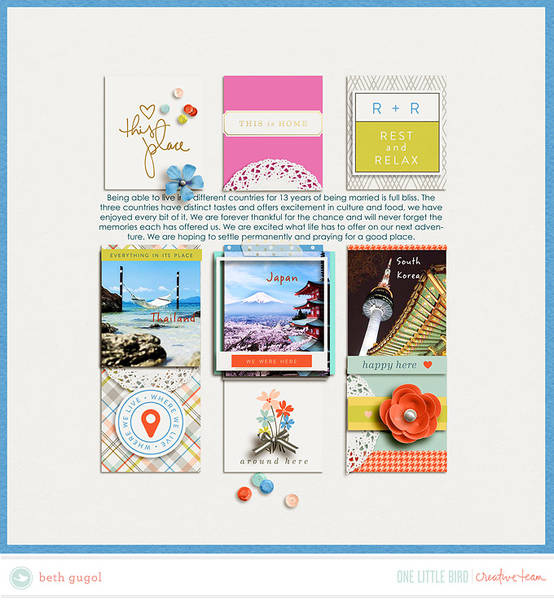 Beth's grid layout had me mesmerized for quite a while, the longer I looked at it the more I noticed every little detail – like the doilie scraps on a few of the squares, that tiny little bow on the flowers (perfection, I love tiny bows) and how many different patterned papers she layered throughout this page without it feeling too busy. I love her style.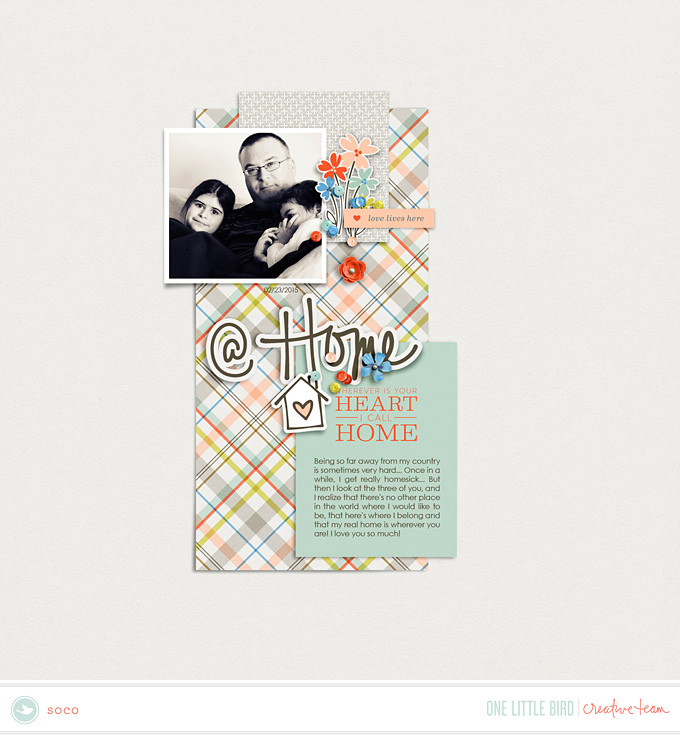 Another example of using journaling cards as "journaling spots" on a traditional layout – in this case it allowed Soco to use that big piece of patterned paper on her page, with the card serving as a counterbalance to her photo above.
Next a few pages using the recently released Postscript and Postscript journaling cards.
Totally in love with this hybrid page by Wendy Morris-Saponaro documenting all of the correspondence and travel that went into her long-distance relationship with her (now) husband. I really admire her very freeform approach to page design and the thoughtful way she uses paints and scribbles without it looking deliberate.  (Oh how I wish I had that ability!)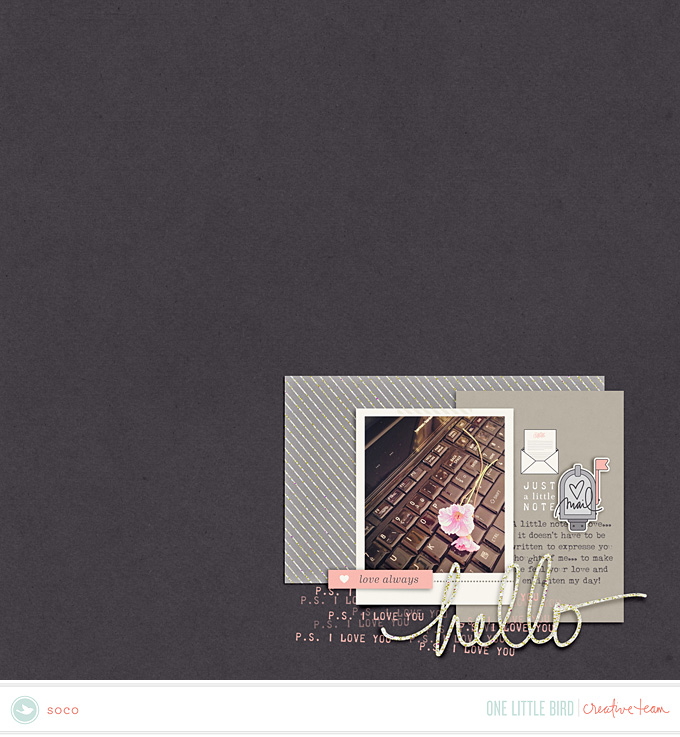 The sentiment behind Soco's page is one that I really adore – that a note doesn't have to be written to express that you're thinking of someone. It reminds me of the days when I used to find little dandelion bouquets on the kitchen table left by my (then) toddler.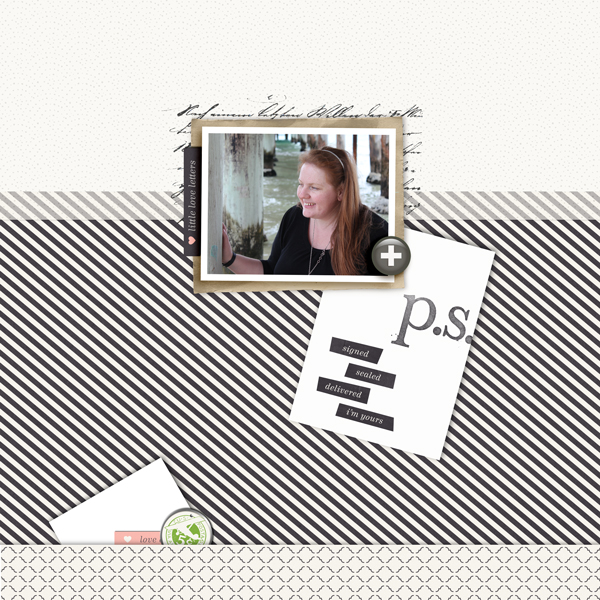 Aimee has a gift for using bold patterns on her pages, and she said she couldn't let this stripe go unused – I always love to see how she brings her paper techniques to a digital page, in this case those little "bits" tucked into the bottom edge like a pocket makes me happy.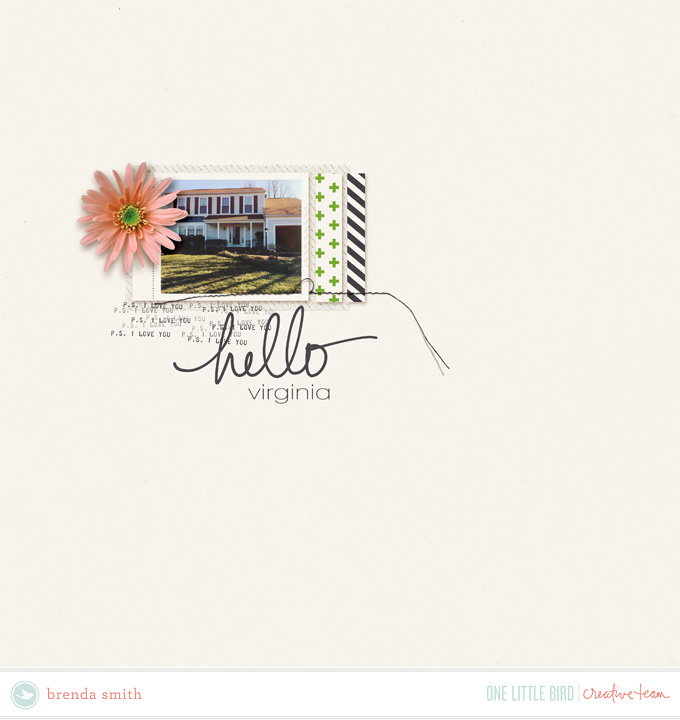 Brenda's page demonstrates a non-literal use of the kit by using it to document her cross-country move. Love the simplicity of this page.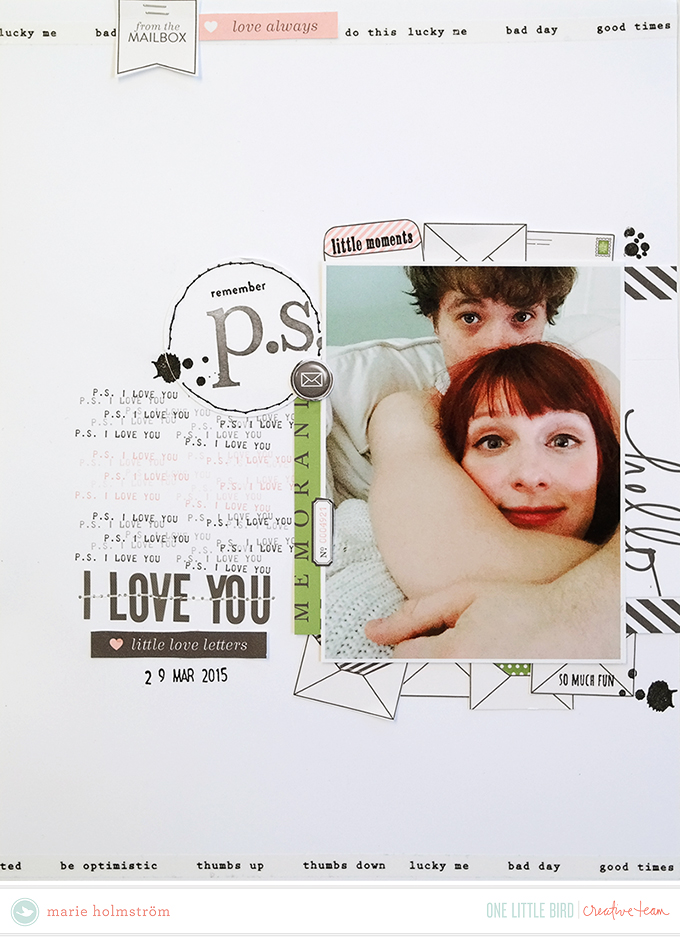 Marie is one of our April guests, and I adore this hybrid page from her. I love how she tucked all the little envelope die cuts around the edges of her photo – and that little strip of typewritten sentiments at the bottom is something I think I may totally copy on a future page. I'm always on the lookout for edge finishes, and that one has my heart.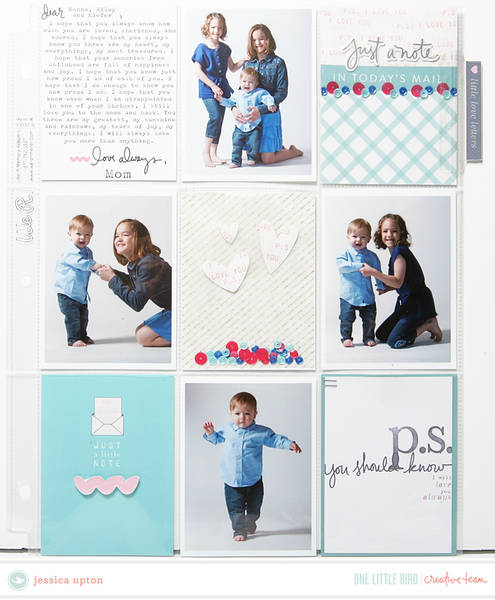 This pocket page from Jessica just melts my heart, with her love letter to her kids in the top pocket. Love how she recolored the "just a little note" card to add that pop of blue to the bottom, too – it's a great balance to the blue card in the opposite corner.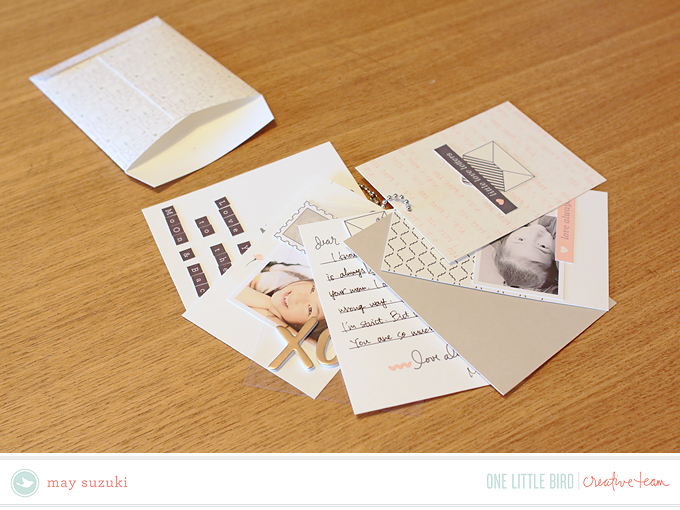 May totally floors me with her hybrid projects, She finds such creative uses for journaling cards – especially. I love how she used the digital paper to make an envelope to hold this little interactive mini album of sorts. I put this on my "must try" list.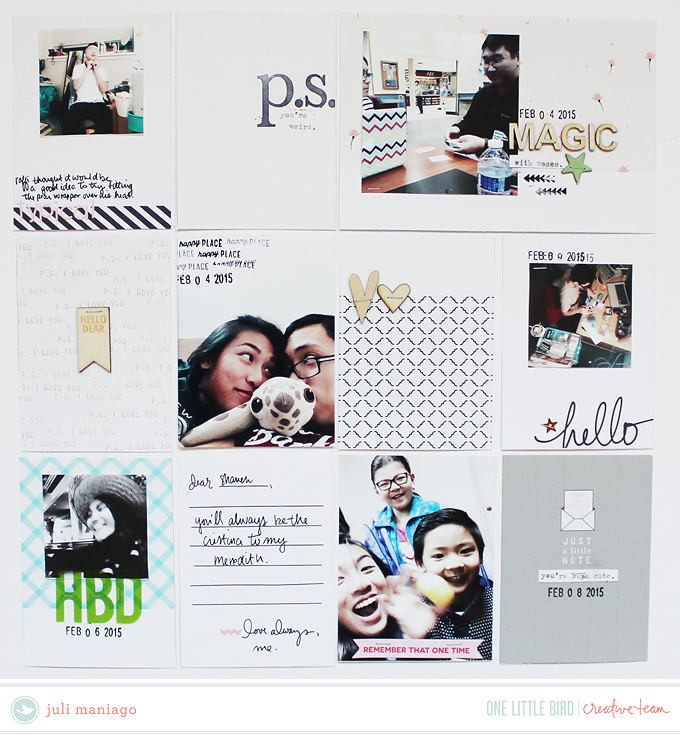 Juli's "single girl scrapbook" updates are something I always look forward to, because I so admire that she's documenting this portion of her life and wish that I had this kind of record of my own life. The "P.S. you're weird" card is my favorite.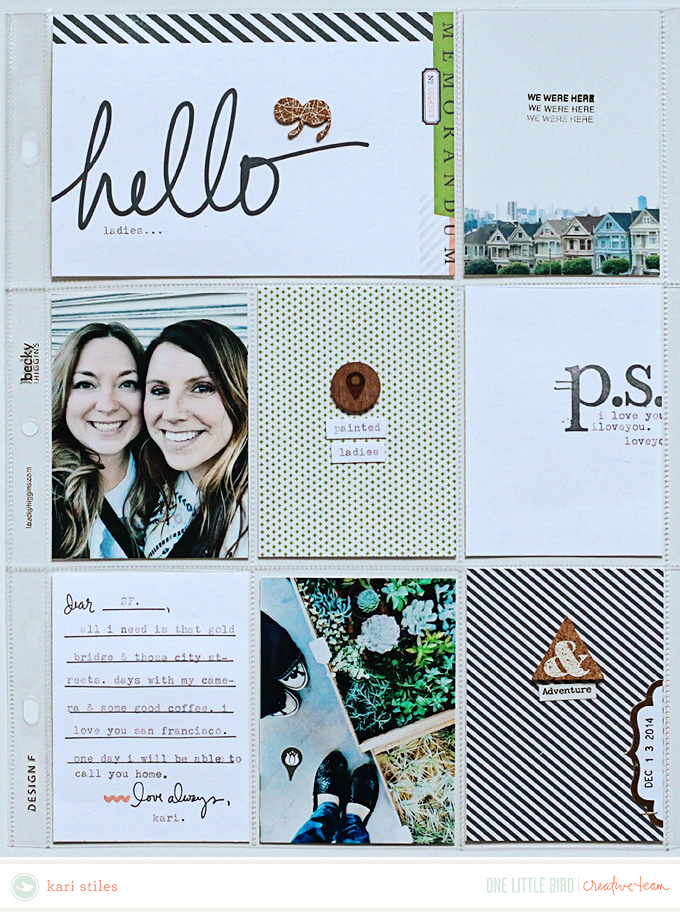 I am in love with Kari's photography and the poetic way in which she writes – and I'm always inspired by how strongly her personality comes through on her Project Life spreads. There's a "voice" to her creativity, and I'm all ears.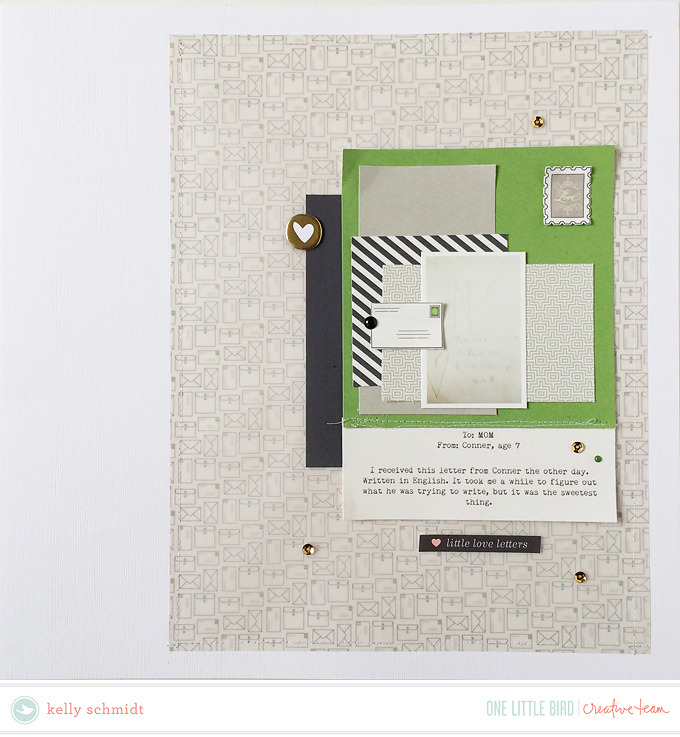 You can probably tell by now that I really love how diverse the projects are from the team this year, and I'm especially excited to have so many inspiring hybrid pages to share with you – like this one from Kelly, documenting a letter from her child. I like how she placed the stamp die cut in the upper corner just like on an envelope – the genius is in those little details.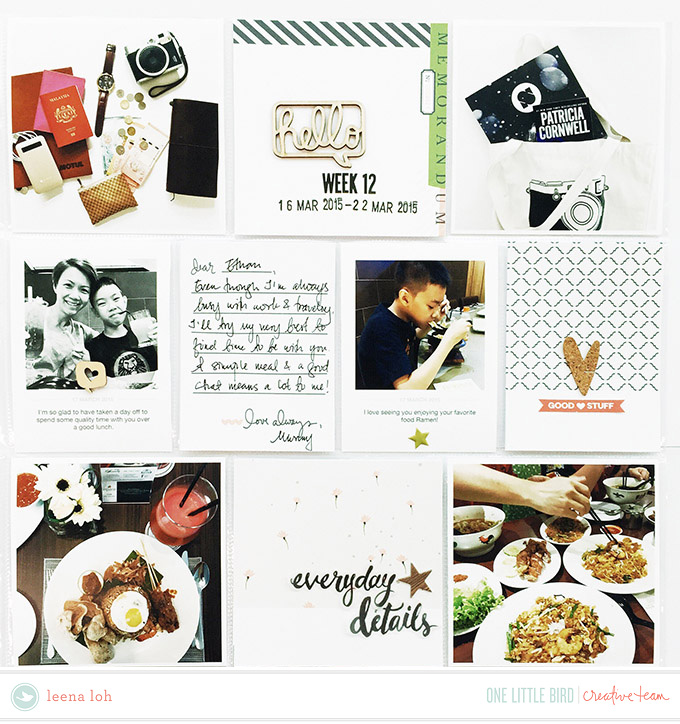 I have to confess that I sort of live vicariously through Leena's instagram feed. I love the way she captures the everyday moments, especially the food (of course….) and I'm always so inspired by the way she puts it all together into a pocket page format in such a cohesive way.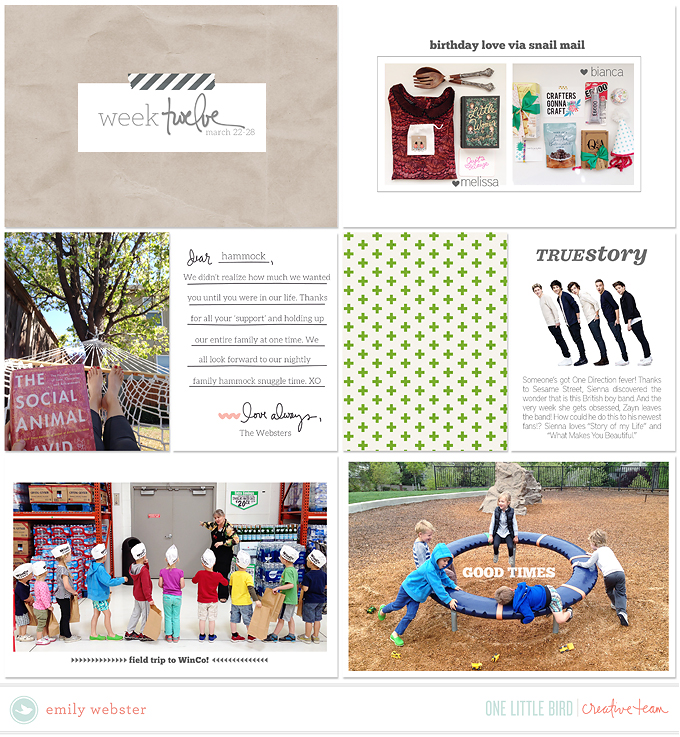 Last but not least, this happy little pocket page by Emily – I loved how she wrote that letter to her hammock, it's a less obvious use of the "dear ____" format for documenting a lighthearted, everyday sort of moment.
Have a great weekend!