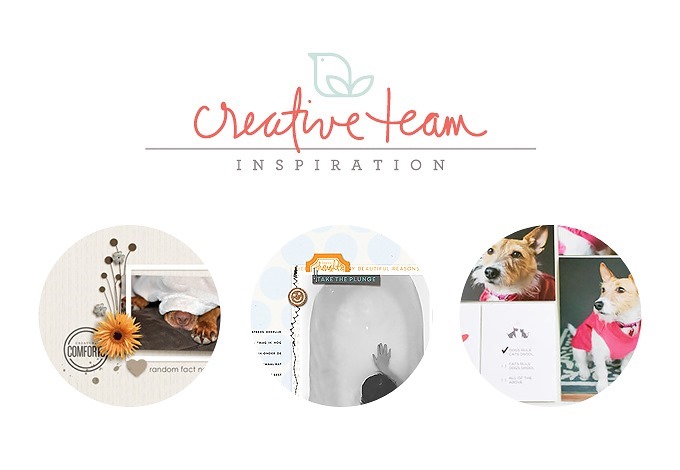 I have a jam-packed installment of inspiration from the 2015 Creative Team for you today to close out the month of April and hopefully inspire you to do a little creating of your own this weekend.
This time around the team created projects using the product (or products!) of their choosing, which means you may discover a few "new to you" products from the One Little Bird archives, or maybe rediscover a few products that you already own.
Digital Projects
---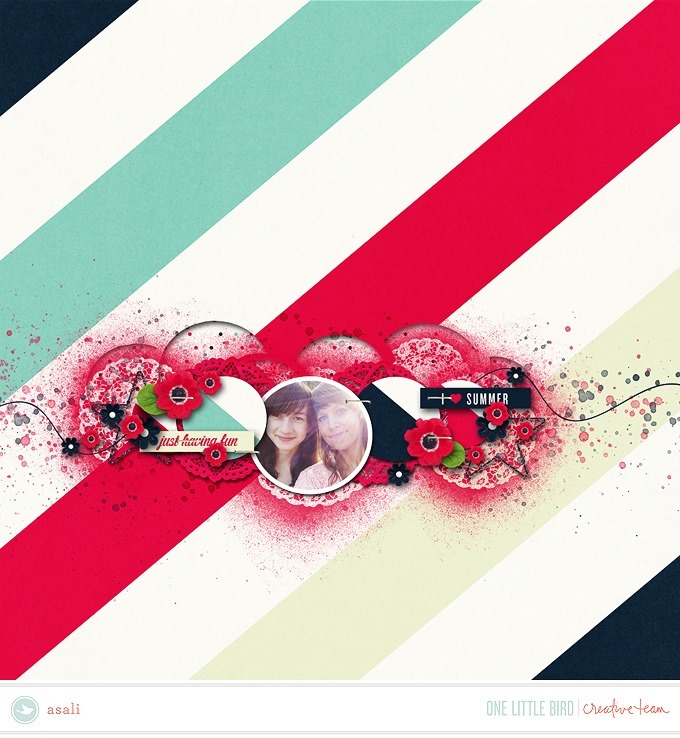 Asali's page breathes new life into Carson Park, a summer favorite from 2013. Whitespace doesn't necessarily have to be "white" to be effective, and Asali is really skilled at showing how being minimalist doesn't mean you have to be afraid of color.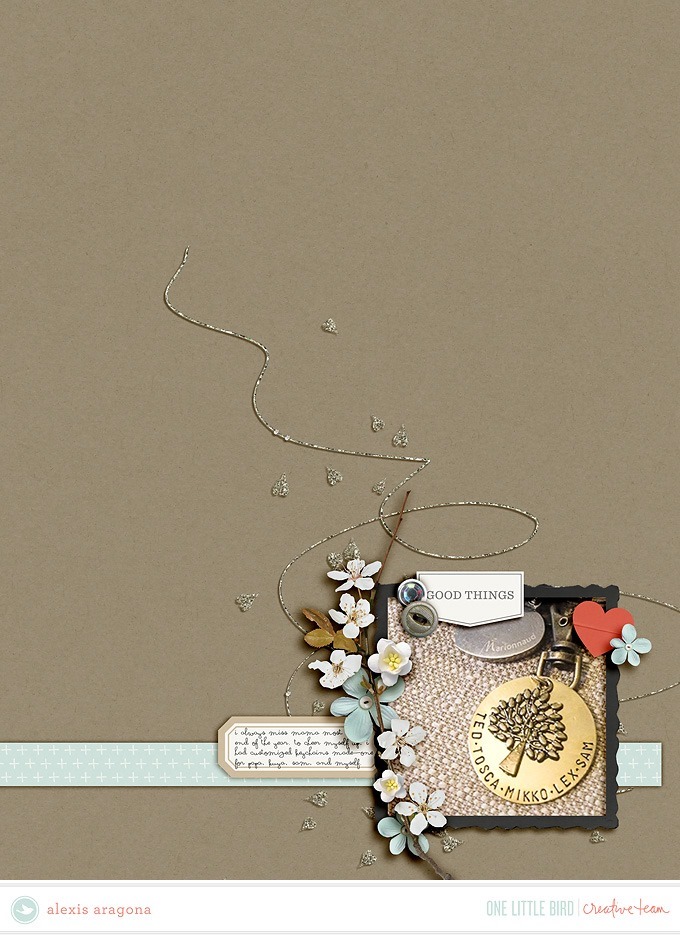 I love the layers of flowers that Lex built up her this page (using Silver Linings) and by tucking the glittery swirl and leaves into the background she did a masterful job creating a sense of motion on her page that follows the same line.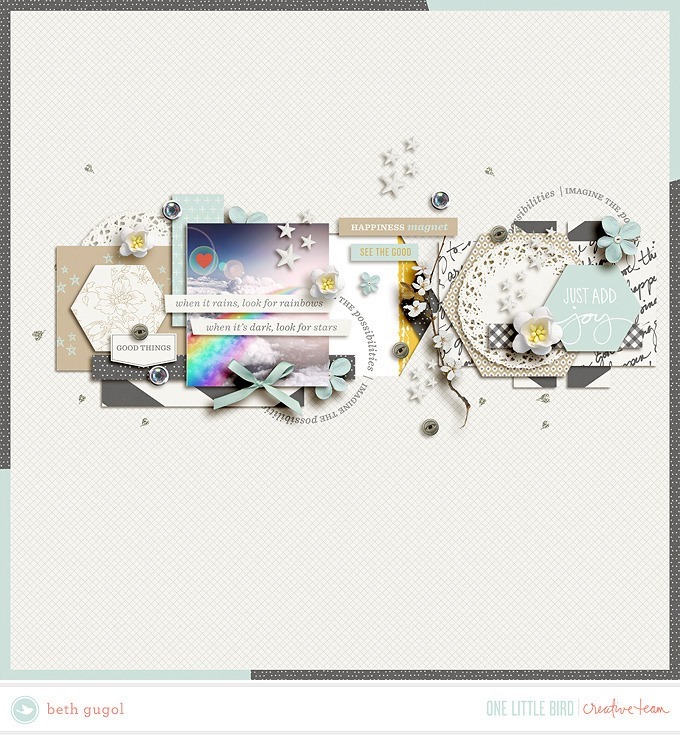 One of my favorite things about Beth's pages (this is another one using Silver Linings) is how much dimension she manages to build into her compositions. Her shadow work is always phenomenal.
Tara is one of our April guests, and I love the genius way that she built her photo right into the camera lens on her page (Kit is Woodridge, but the camera drawing is from Click and lens frame is from Focal Point).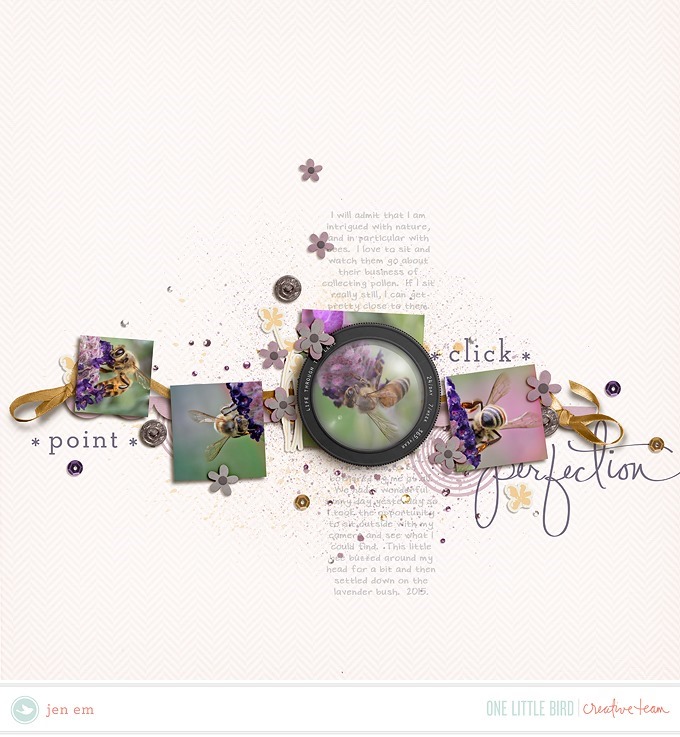 This page by Jen shows uses the Click kit a little more extensively – and this series of macro shots by Jen is utterly amazing. (I'm not that daring, myself – I'm the type who turns into a total shrieking baby around bees).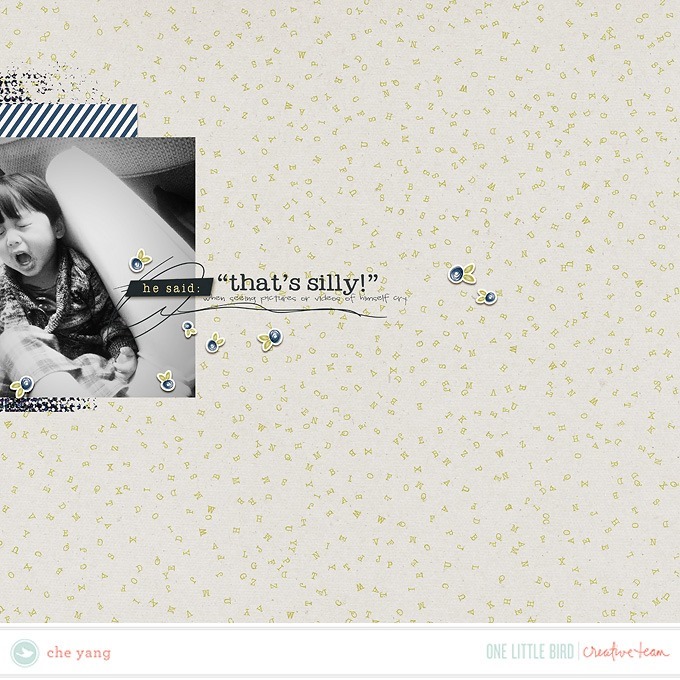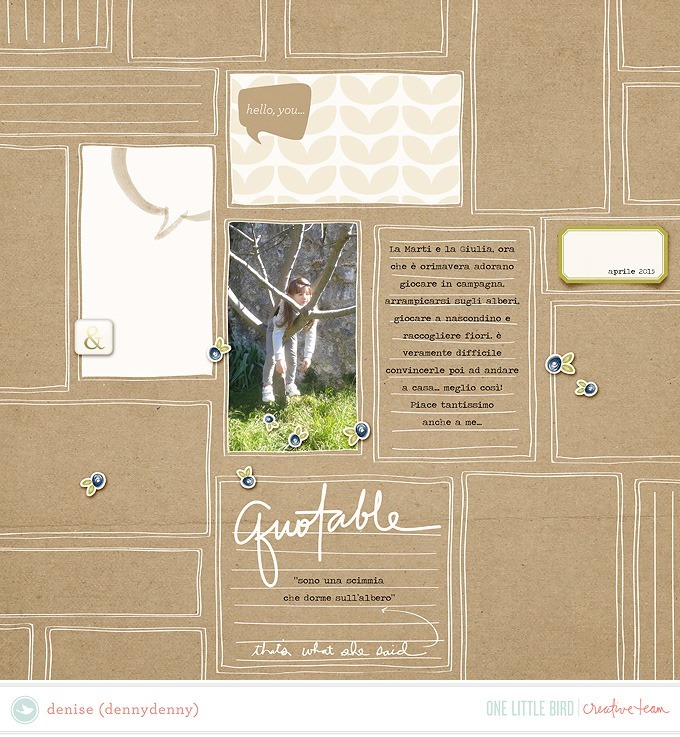 A couple of pages from Che and Denise using Little Talks (Denise uses a few extras from the old line of Conversation Pieces that I did with Liz) – both lines are perfect for documenting conversations and quotes, which are some of my favorite pages to look back on. Especially the little things that our kids say when they're young. I  love documenting little quotes.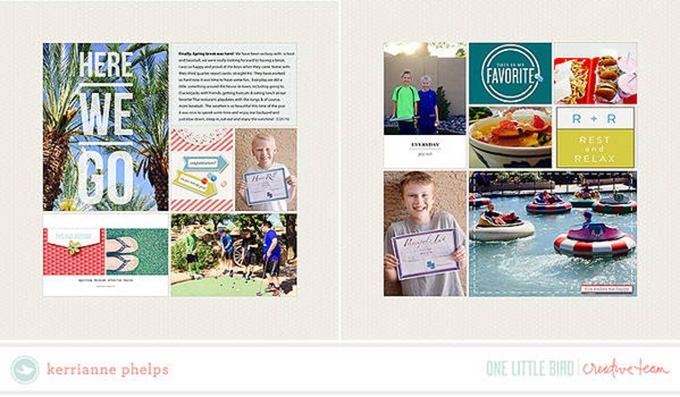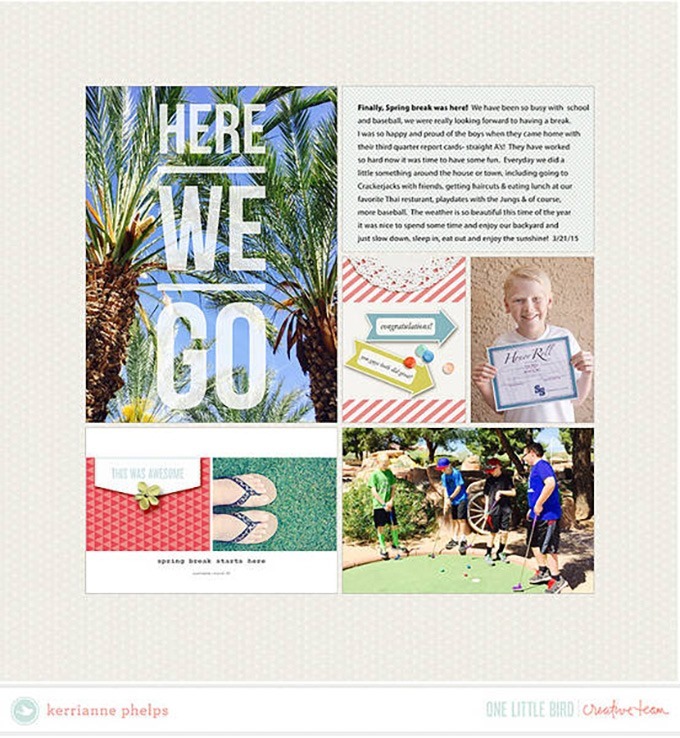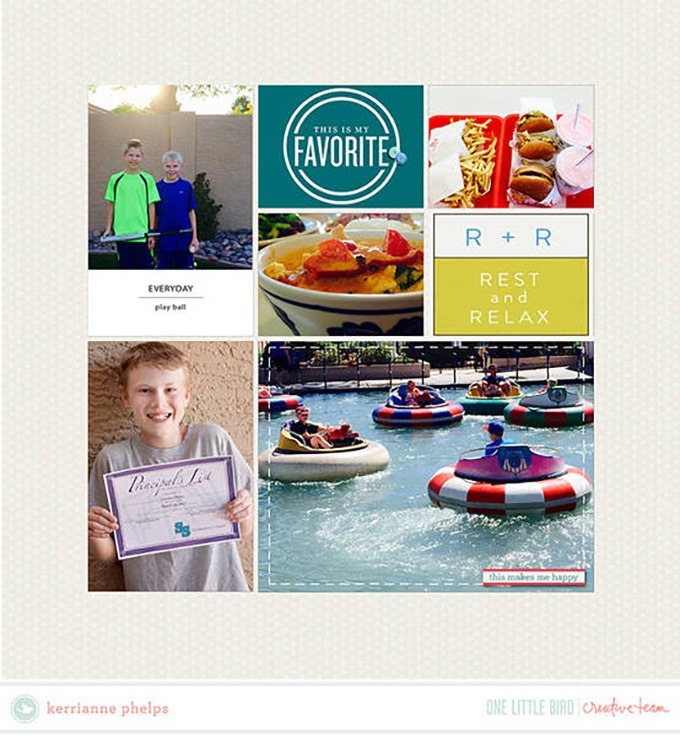 This two pages spread by Kerrianne documents her kids' Spring Break with a fun grid layout that's really reminiscent of a pocket page layout – which means she can fit a lot of photos and journaling into her pages to cover all the highlights, instead of doing individual pages for each moment.  (Products used: This & That Kit & Journaling Cards, plus a few bits from Dwell)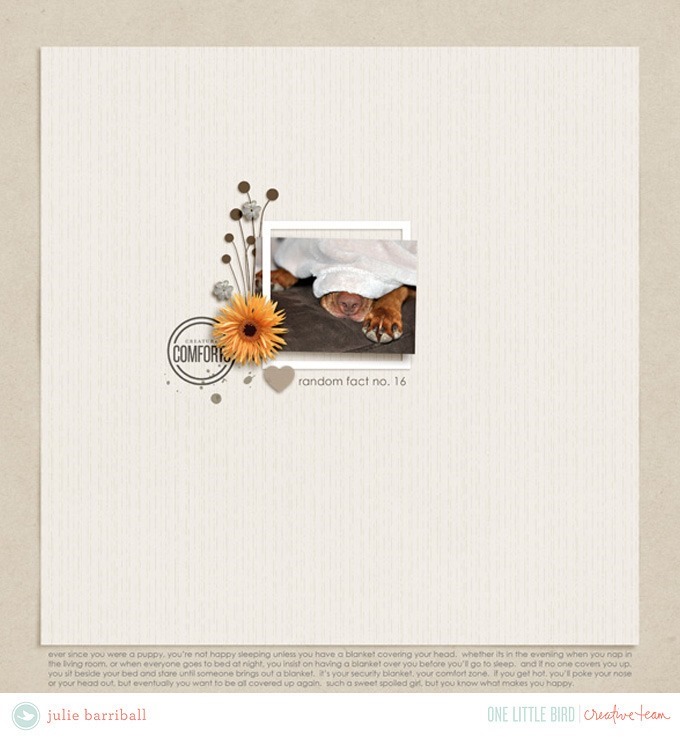 Love this cute, simple "random fact" layout from Julie (using Equinox, Flight Plan No. 27 and a few other odds and ends). That shadowing on the photo is built into the template, which means you don't have to agonize over achieving realistic shadows. Work smarter, not harder. :)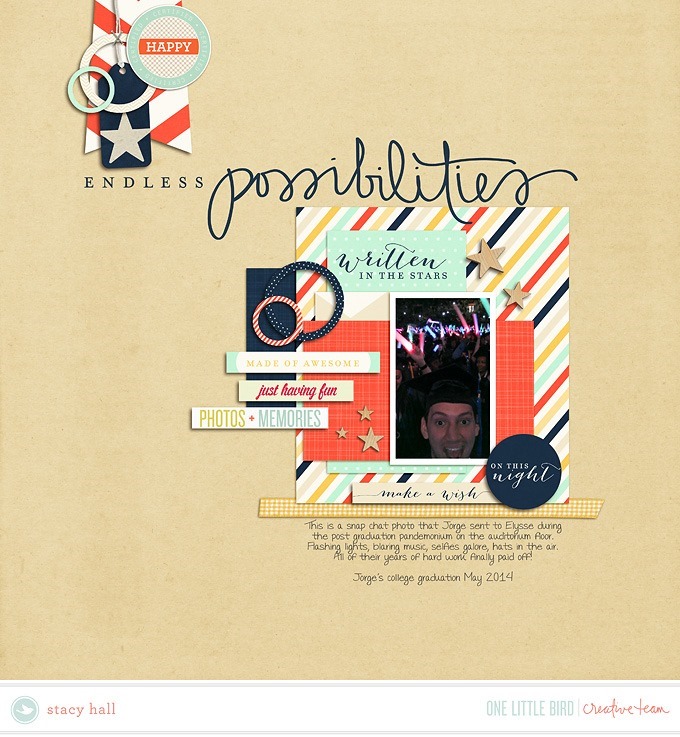 Stacy always uses a big mix of products in her pages for this feature, and I envy her ability to still maintain a cohesive look. The majority of this page was made using Stargazer.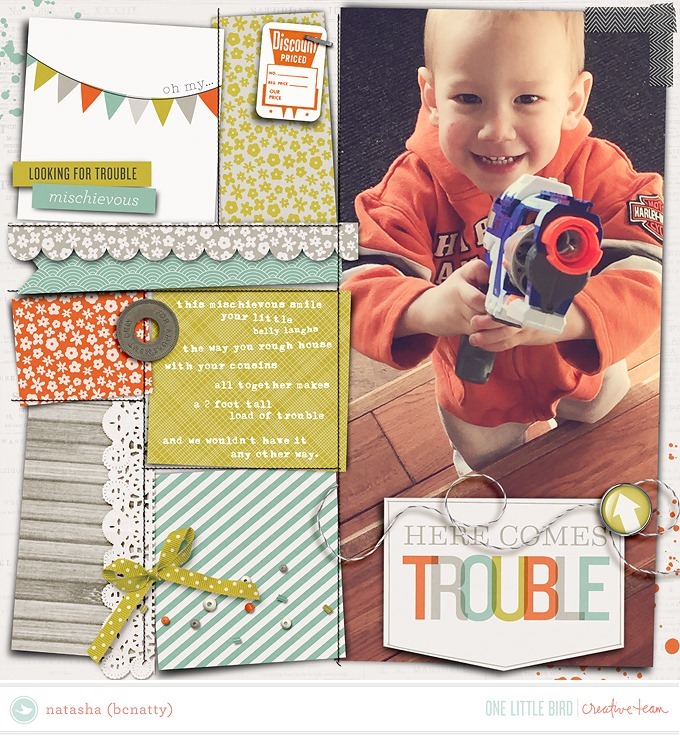 Such an adorable page (and photo) by Natasha! I love how the slightly off-kilter blocks of paper add to the mischievous vibe of her design (using Troublemaker). Little touches like that add a ton of playfulness to a very playful page.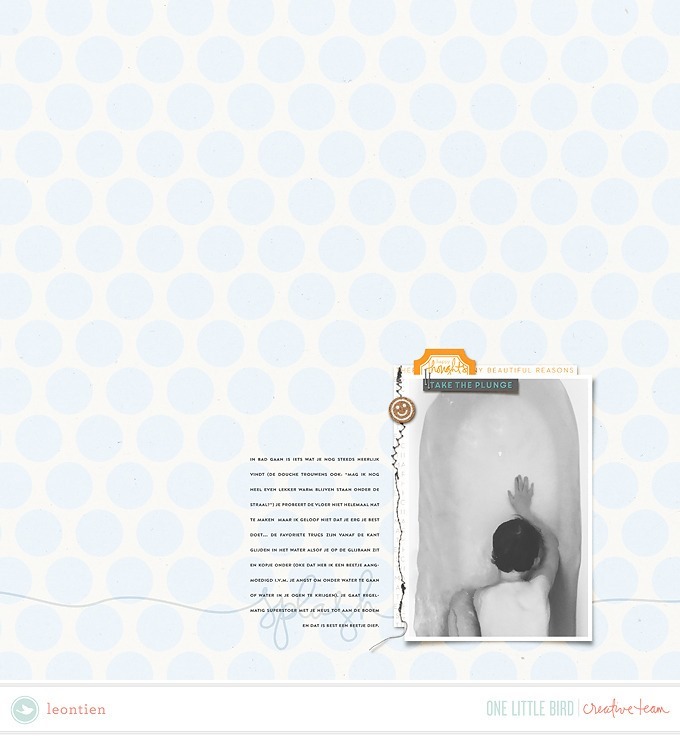 Leontien always wows me with her amazing photography, she shoots photos from such interesting perspectives – and then her clean, minimal page designs (this one uses Halcyon) really allow her photography to be the stars of her pages.
Another page using Halcyon, I love how those strips at the bottom really anchor Susanne's page.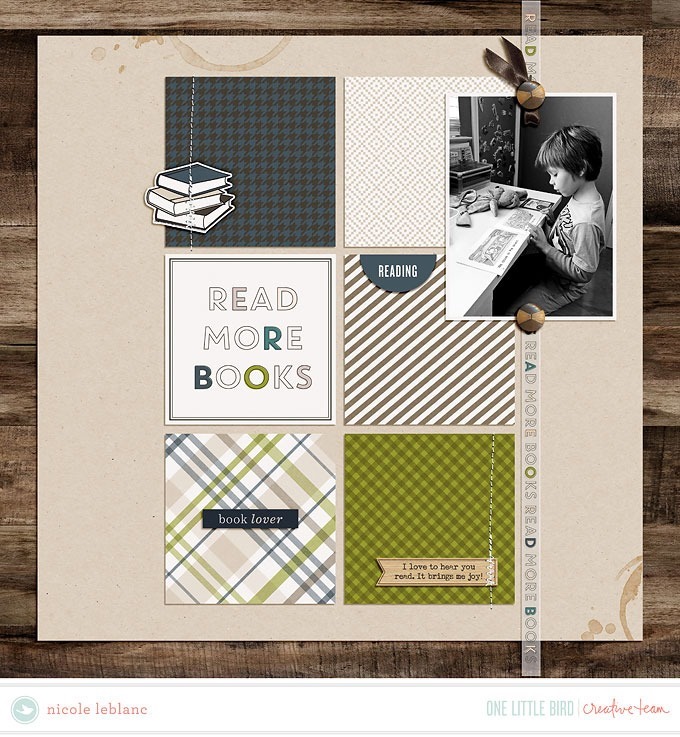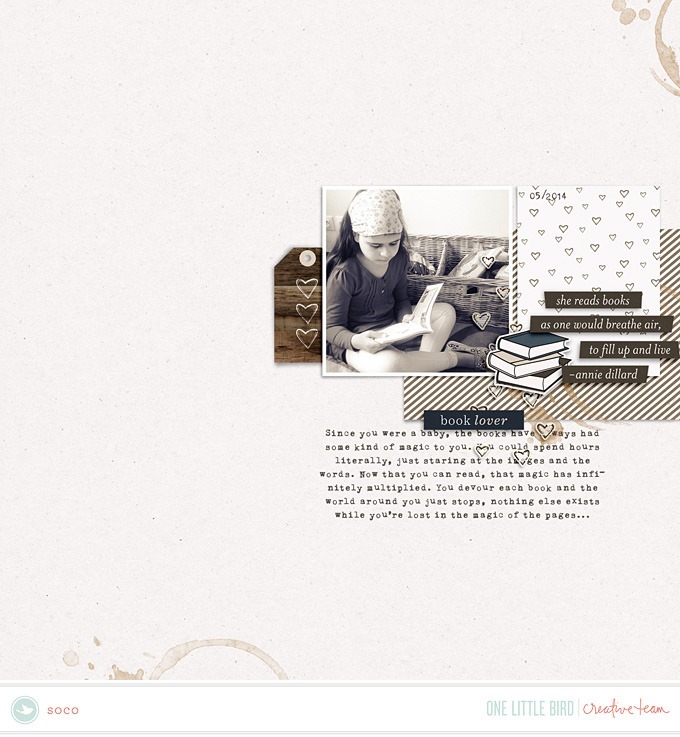 And a couple of pages from Nicole and Soco using High Street Stories round out the digital inspiration this time – I love seeing pages that document love for the written word, and this kit is tailor made for that.
Pocket Page Projects
---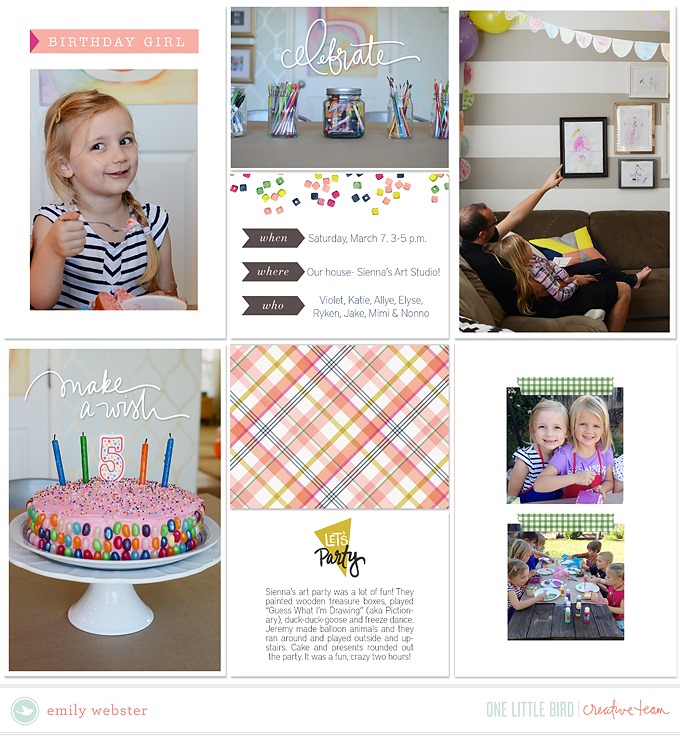 This event-based page from Emily (using the Fete kit and Cards) is a good example of how to include big events in your Project Life album by dedicating an entire page in your spread to them.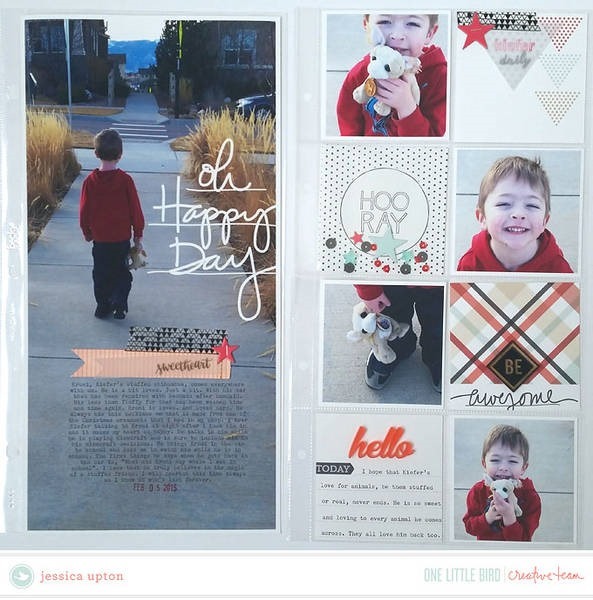 I'm head over heels for this 6×12 insert that Jessica made documenting her son's favorite little stuffed animal. The photos are absolutely priceless. (Products used: Hopscotch Journaling Cards and Artisan Journaling Cards)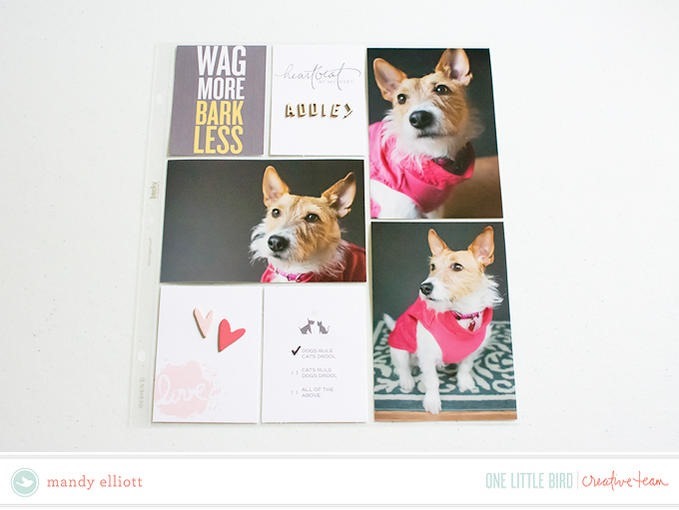 Mandy's page (using Heartbeat At My Feet Journaling Cards) showcases a collection of professional portraits she did of her adorable little pup. Her page illustrates a little photography tip that you can use in your own projects: using photos that have your subject looking "into" the page from the edge. If this had been the left hand side of her spread, her dog would be looking "out" from the album.
I always love Leena's bright and colorful photographs and the way that she carries that style over into her journaling card and product choices on her Project Life spreads (she's using Halcyon Journaling Cards here). Airy and cheerful is a style after my own heart.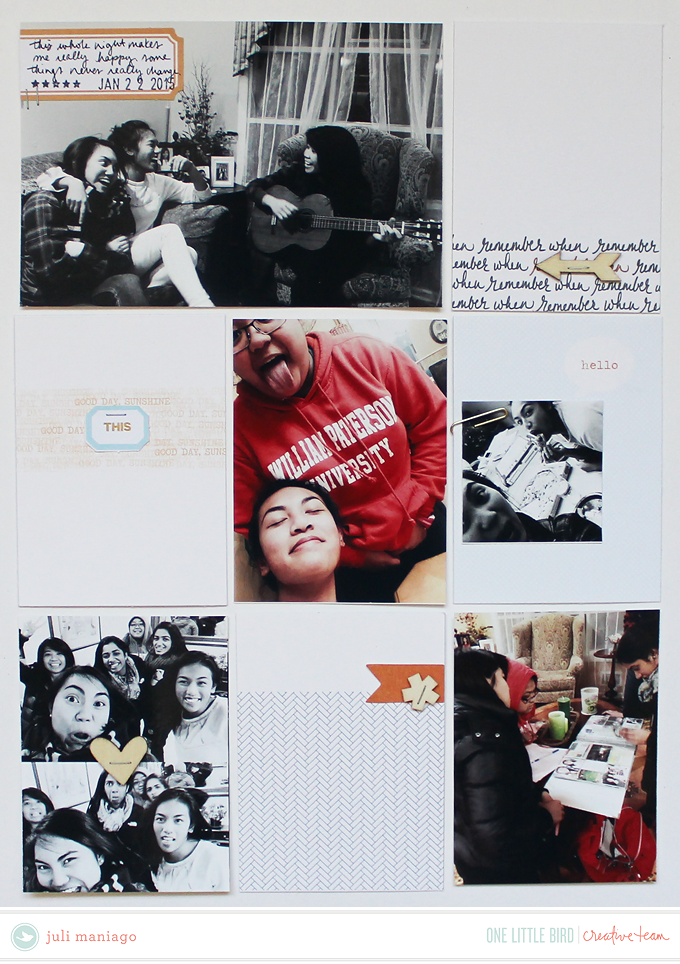 Juli's pages always make me smile – she always has the BEST candid shots of her family and friends. I almost always come away from viewing one of her pages wishing that I could hang out with her for an afternoon – and it's so awesome to me that she manages to convey that energy and emotion in her designs. (Journaling cards from Halcyon, Little Talks and The Era Of)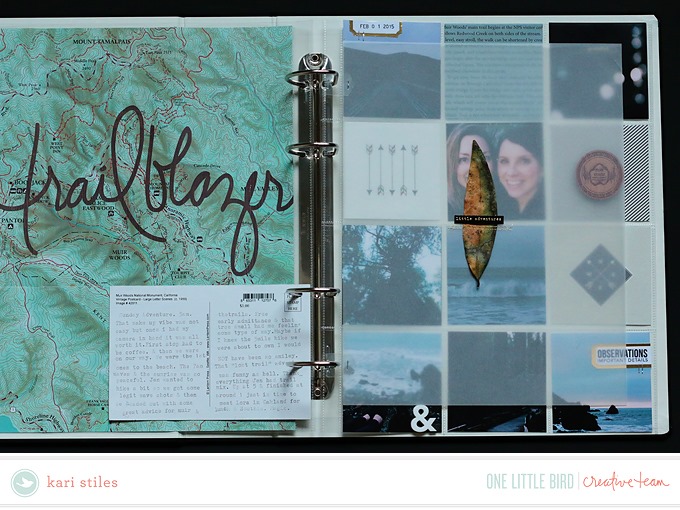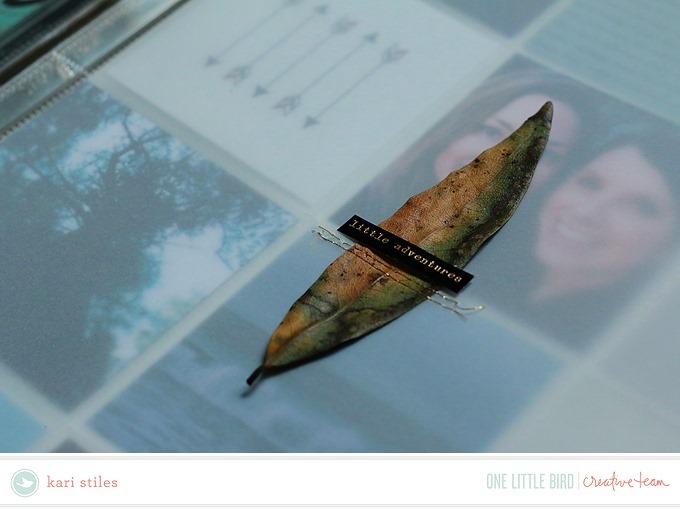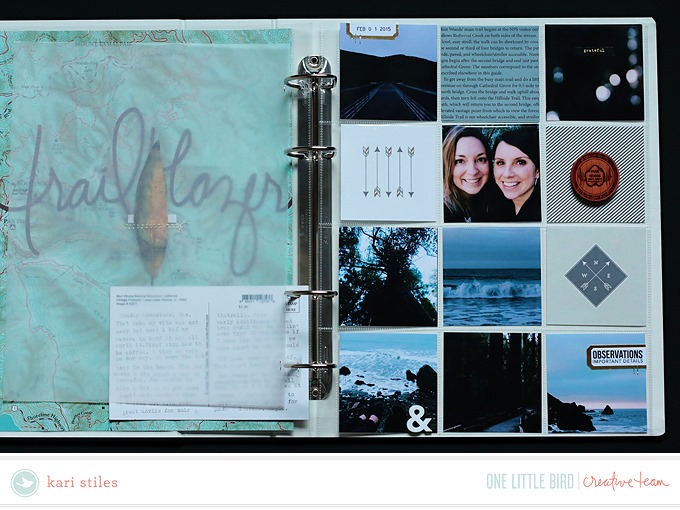 Kari's pages are always a lesson in contrast for me – she's so masterful at capturing mood and drama in her page designs and her photographs. This vellum insert that she did with the stitched leaf is one of my favorite things, ever. She's using Trailblazer and the coordinating Journaling Cards on these pages.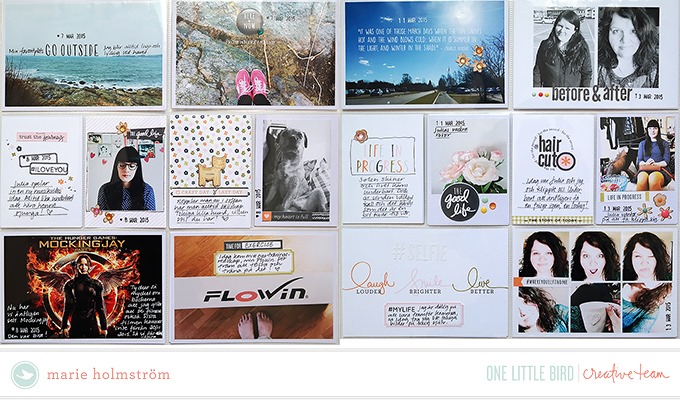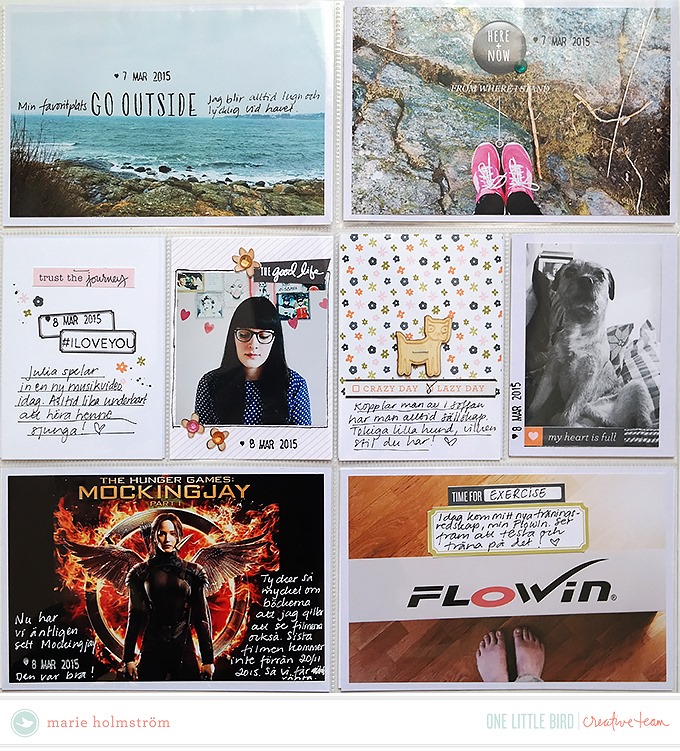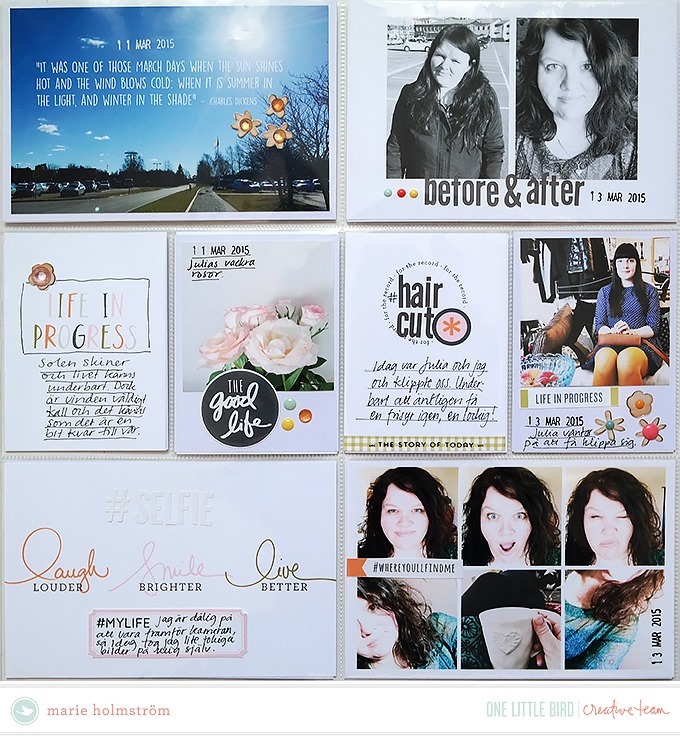 Marie joined us on the team for the month of April and put together this two page spread using The Story Unfolds kit and journaling cards. I totally adore her weekly format in her album – especially since it's a format that I struggle with, myself! I thiink it's awesome how her date stamp is a consistent, unifying element across both pages.
Hybrid Projects
---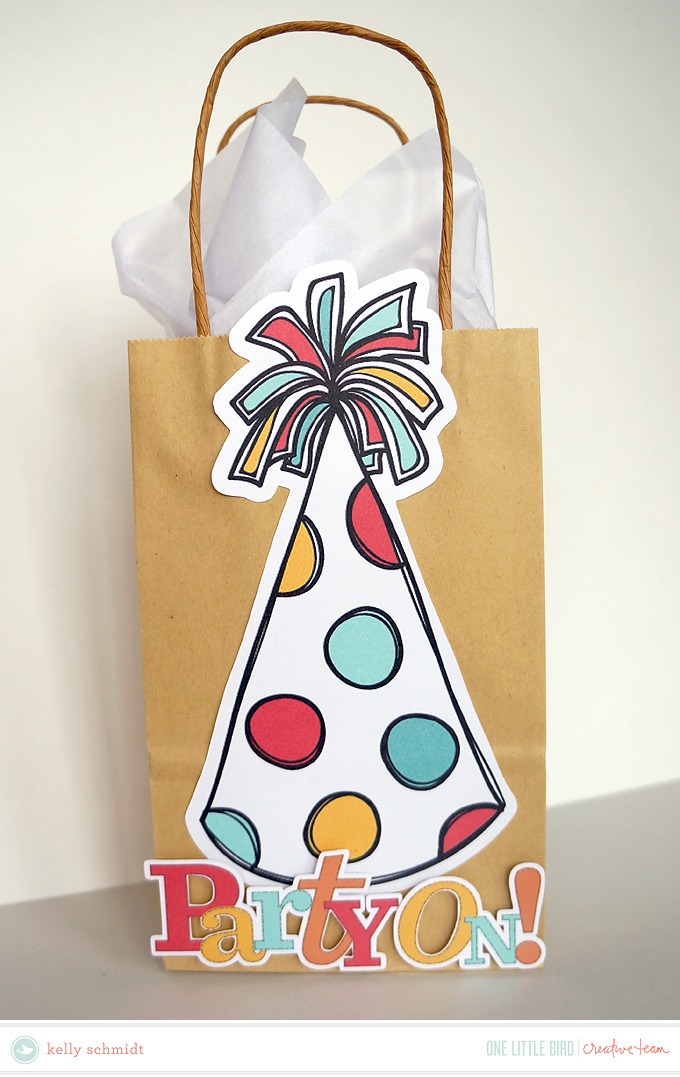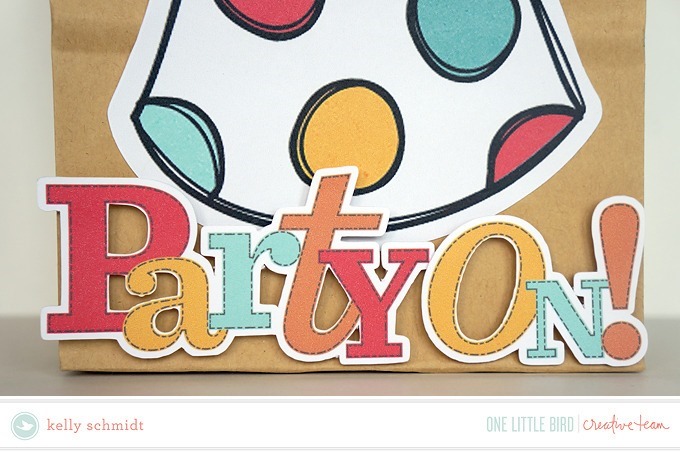 Kelly's hybrid gift bag (using the Jubilee Party-On element pack) knocked my socks off when she posted it! This is a product from waaaay back in the archives for me, back before a Silhouette was even a thing – so I love that she dug this up and used it in such a creative and fun way.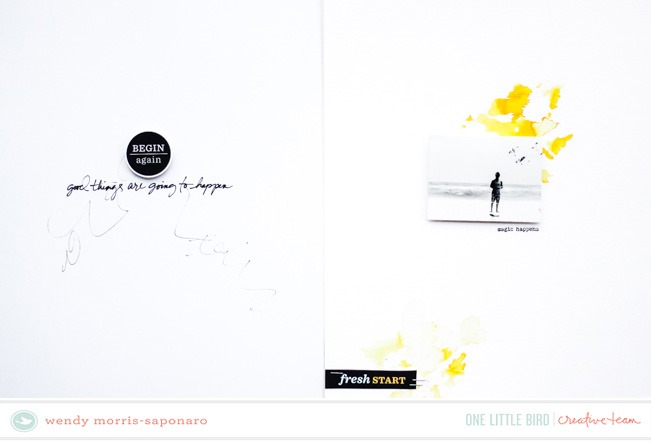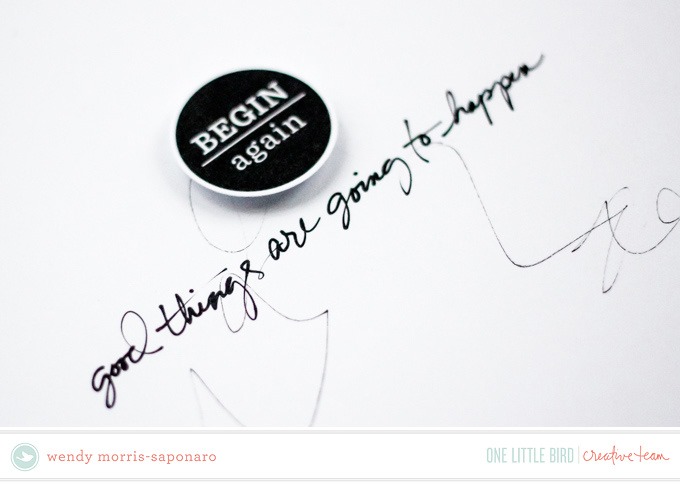 This hybrid, two-page spread by Wendy (using Silver Linings) is a perfect representation of her trademark style – with her seemingly effortless use of paint and ink.  Her pages always feel so organic and emotionally-charged to me. To say I'm excited to see anything she makes is a huge understatement. That splash of yellow is divine.
May's creativity seems to know no bounds and every time she posts a new project I am mesmerized. I had no idea of the existence of DIY shrink paper until I saw this little necklace that she made (using the papers from Halcyon) and now it's on my list of products to track down. How fun would these be as an arts & crafts table at a child's birthday party?