Lately, things have not exactly gone my way. I've been so terribly sick for almost 3 weeks now and scrapbooking has been the furthest thing from my mind. My style of scrapbooking is usually a fairly labour intensive affair. My scrapbook pages tend to take anywhere between 4 to 8 hours to create and my Project Life spreads take even longer. To make matters worse, I scrap standing up, but recently I simply don't have energy or the strength to do so right now. I, like so many others, worried about falling even more behind. I am tightly wound at the best of times, but stressing about scrapbooking is a burden I just did not want to bear. So at the beginning of last week when I was starting to feel a little better, I sat up in bed and began to edit my photos on the laptop. It only took half an hour to edit a week's worth of photos and then I would submit them online to our local Officeworks for printing. Before too long I got to thinking just how much I can actually do from bed and it was with great surprise I discovered you can rule the world – or at the very least complete a Project Life spread.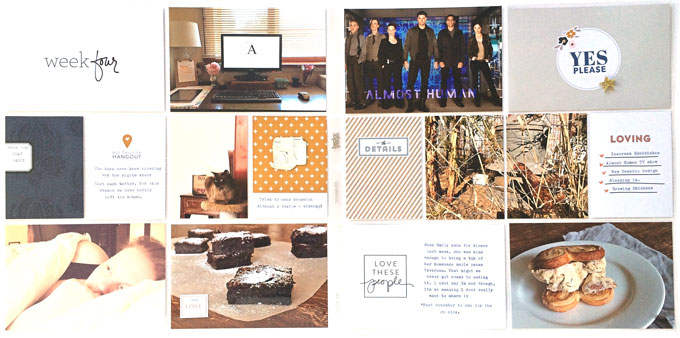 Here is a closer look of at the two sides: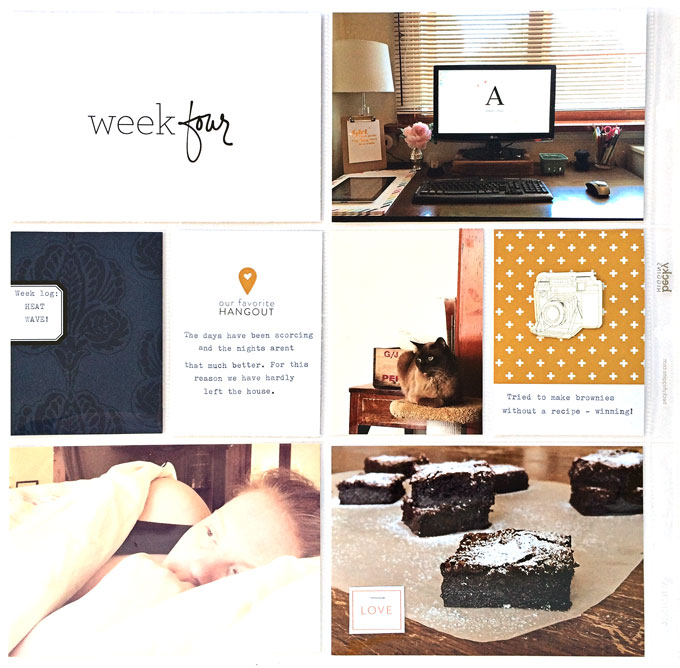 And the right side: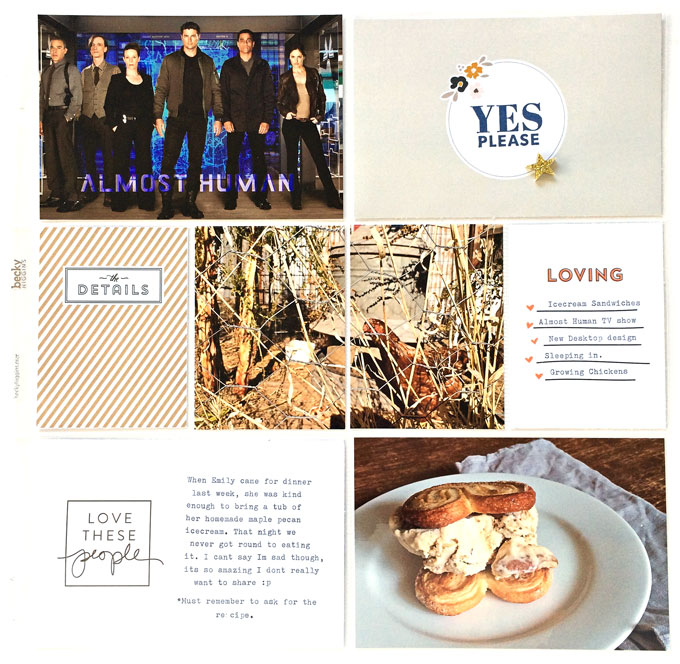 The first thing you will notice is all the photos are brown. BROWN! The true colour of an Australian Summer, but not really conductive to a pretty spread. I really thought this was going to be a huge challenge, but I work with so many talented ladies here on the One Little Bird Creative Team and going back through our galleries I found a couple of collections that worked perfectly with brown photos. Here they are for your future reference: Little Talks, Love List and Better Together. I emailed the print sheets of all 3 collections along with a 4th sheet I made myself with the "Week 4" from Weekly Edition and couple of elements from the Love List collection. Then I sent my ever helpful husband to go retrieve them when he picked up the photos – told you I could do it all from bed.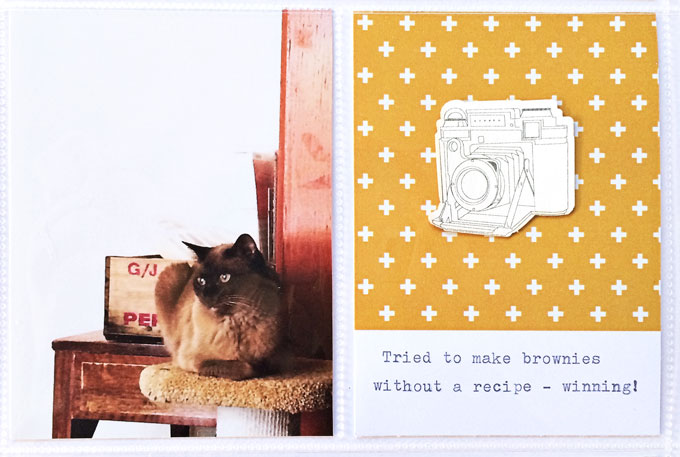 Speaking of bed there is now a really great picture of Mica, the typewriter and I, just hanging out. Since I'm dispensing useful advice, a laptop is far more easy to wrangle in bed than a typewriter. Naturally now I can see the benefit of adding text to the cards before you send them off to print. The vintage camera on the other hand is a left over from an old Studio Calico kit.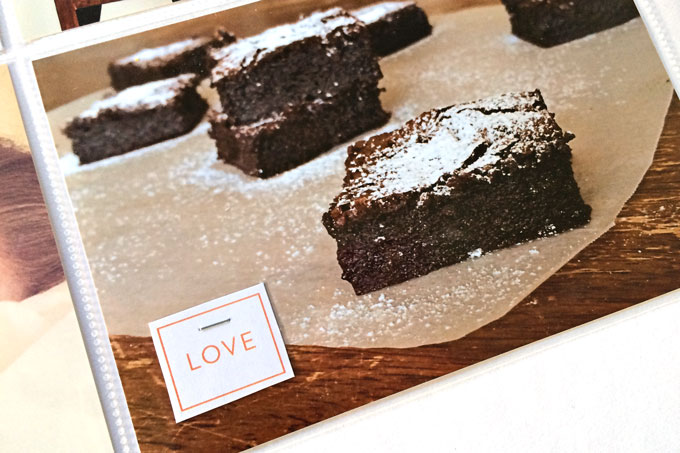 Just in case you are wondering, here are my without a recipe brownies with a love list element thrown in for good measure.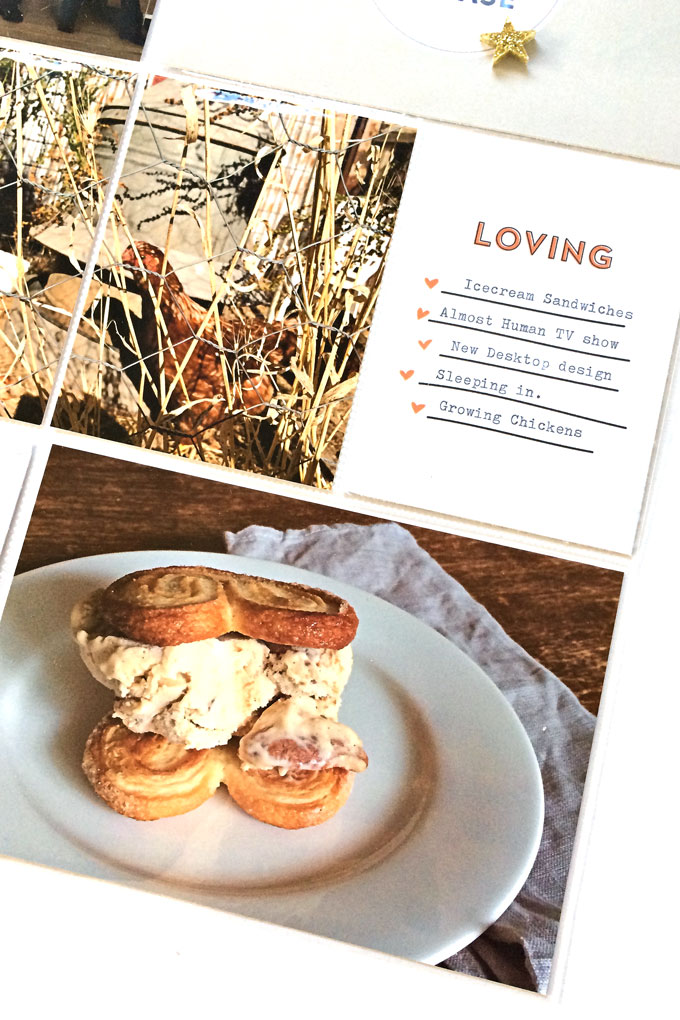 My favourite card is without a doubt this one from the Love List collection. I am not the most grateful person during a heat wave so this is a nice reminder that it's not all bad.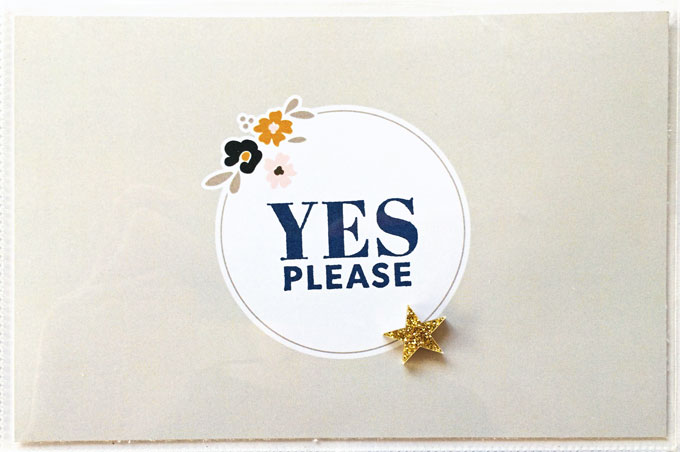 Followed closely by this wreath card from the Better Together Collection. I like to think it was kind of brave of me to attempt stamping in bed with cobalt ink (and a Kelly Purkey wood stamp). Had I got it on our white sheets I'm pretty sure that is not the sentiment my husband would be expressing. Thank god it was a huge success. Oh and just in case you were wondering the pretty gold star is from Colour Cast Designs.
I must admit I really do love this layout and I can't get over just how easy it was to bring together. It has really inspired me to better organise my digital cards so they will be just as easy to access as my kit cards.
Until next time,
Aimee Xx
[one_third last="no" class="" id=""]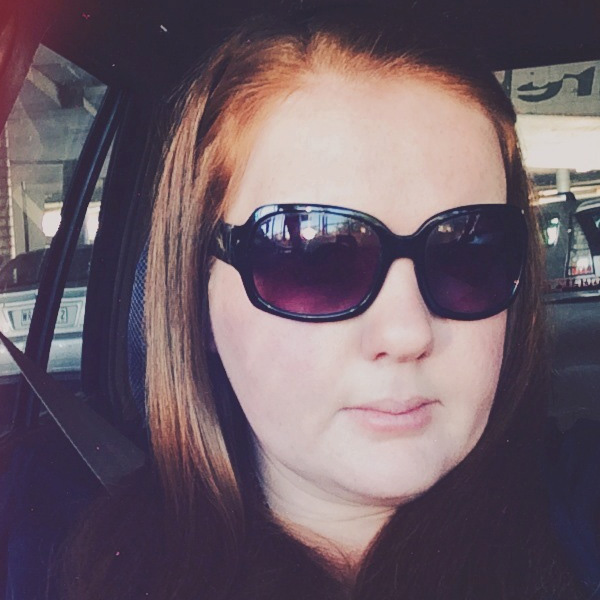 Blog
 | 
Instagram
 | 
Gallery
[/one_third]
About Aimee
I am newly wed living in Australia with my husband and our tonkinese cat, Mica. I live a pretty happy existence scraping by day and running our web design company at night. I am fairly new to scrapbooking. I started Project Life in January 2013 and digital scrapping in July of that same year. I have only been page scraping since the start of 2014. I like to think my style is clean and modern.