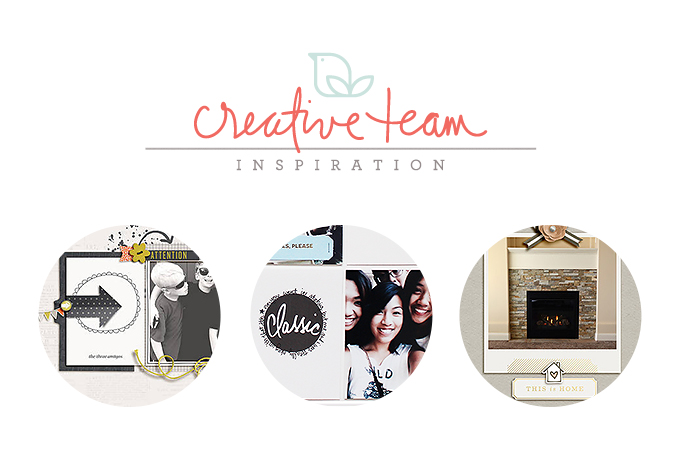 As May comes to a close (already?!) I'm back today to share some infinitely inspiring projects from the 2015 Creative Team – and a few of our guests! This collection of projects is one of our monthly "artist's choice" exhibits where each team member uses products of their choosing – new or old – with the hope that you'll fall in love with a product you haven't seen before, or fall back in love with one from your own archives. I look forward to this feature every month.
Pocket Page Projects
We'll shake things up a bit and shuffle the categories this month – beginning with pocket pages!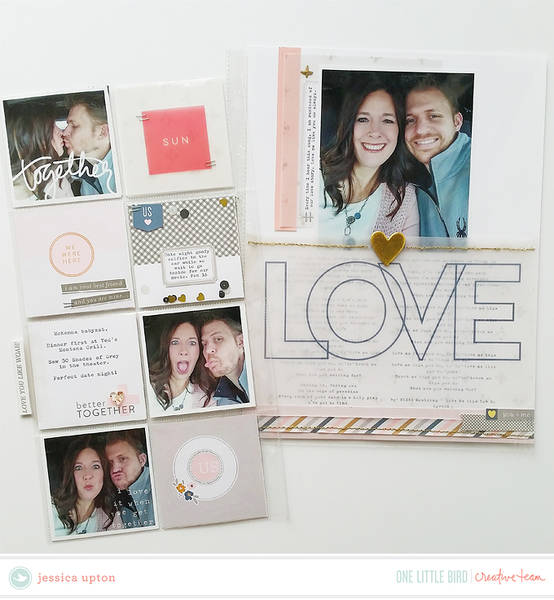 I really admire how Jessica creates themed Project Life™ spreads, which is a format I've really embraced this year in my mixed album. If a weekly or monthly format is feeling like a bit of a struggle for you, I strongly urge you to try it out for yourself. Materials: Better Together Kit and Journaling Cards.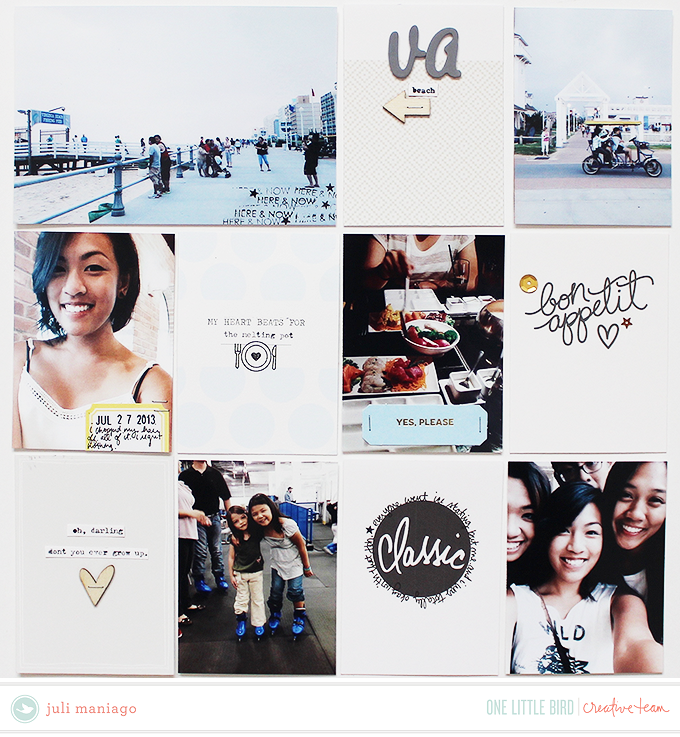 Loving this neutral pocket page by Juli and her clean and simple style when it comes to embellishing her pages. Stapling everything down is one of my favorite time-savers, and it has a way of adding a little extra something to the page. I haven't put my finger on what that "something" is, exactly – but I know I'm a fan. Materials: The Era Of Journaling Cards, Halcyon Journaling Cards, Timeless Journaling Cards and Prix Fixe Journaling Cards.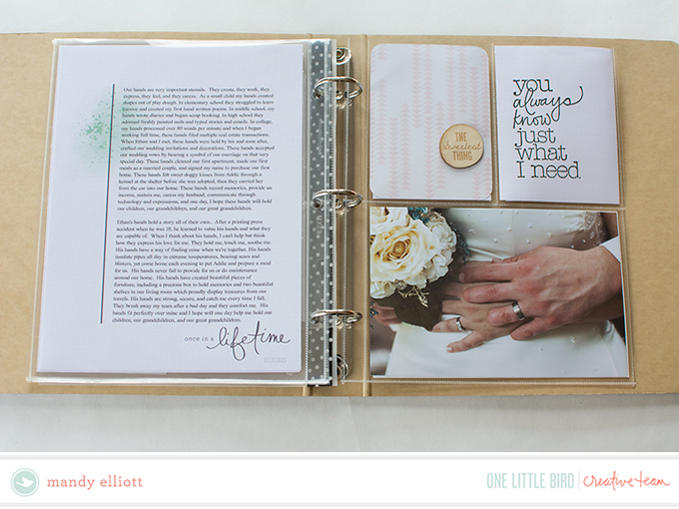 I grapple with "story scale" a bit in my own memory keeping so I tend to move larger stories over to a list of full layouts to make, so I was really inspired by Mandy's use of a full 6×8 page to tell a bigger story in her pocket album. Materials: Crazy For You Elements.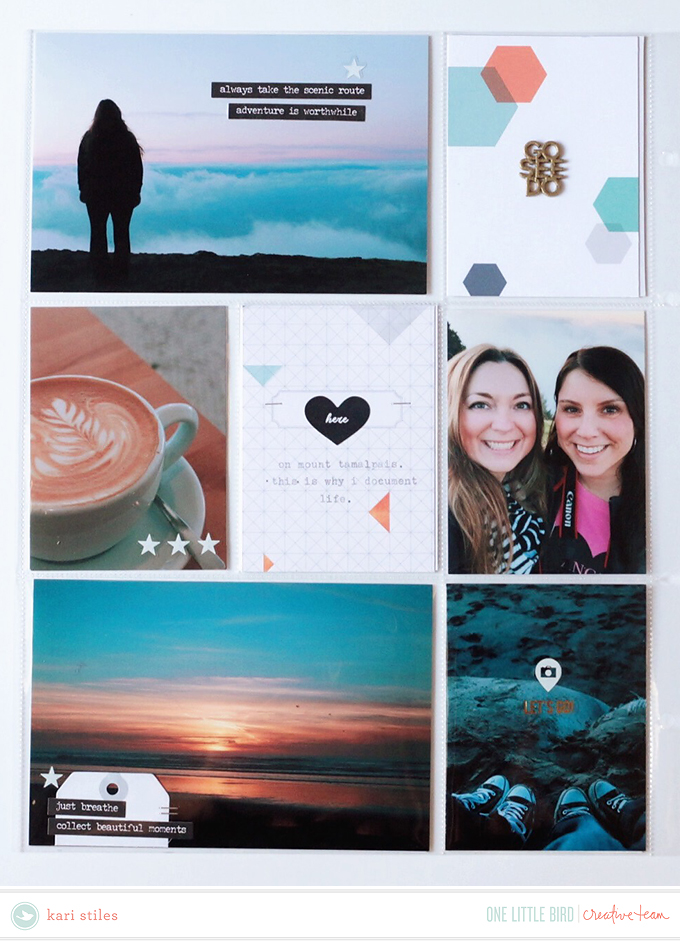 Kari's photos always captivate me, and I adore how her album has a clear and strong focus on her images. On this page I'm most inspired by the repetition she achieves with the star stickers, and in awe of how she perfectly coordinated the colors between her photos and the journaling cards she used. Materials: For The Record Journaling Cards.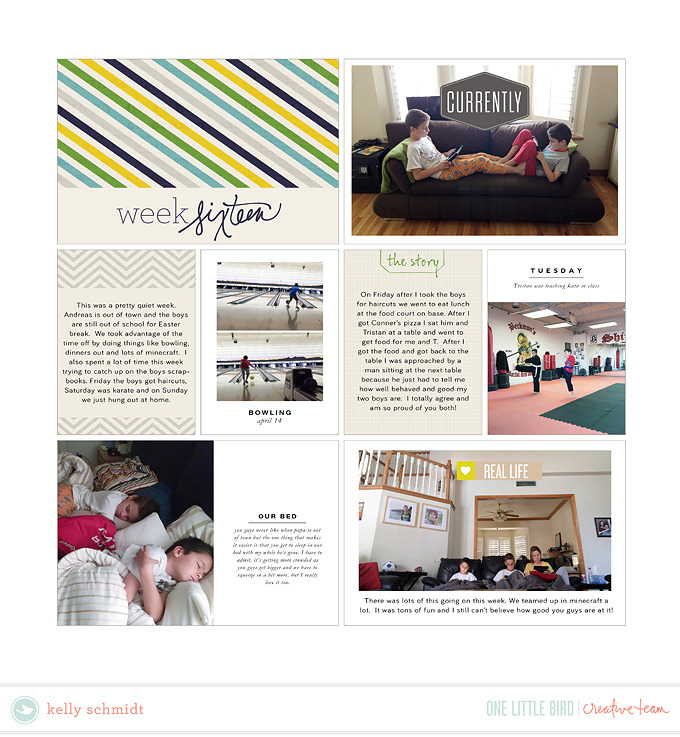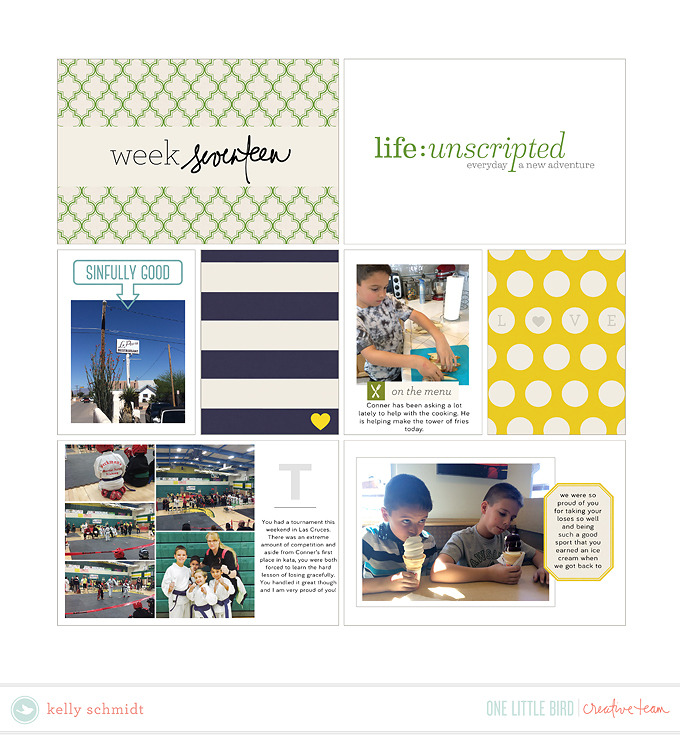 Once again, I'm completely in awe of the way Kelly manages to fit so much journaling onto her pocket pages without overwhelming the overall spread. Her clever use of word art and captions directly on her photos always inspires me. She's another good example of how to fit larger stories into a pocket format. Materials: How It Began Journaling Cards, Prix Fixe Kit, Bird Seeds No. 2 (retired).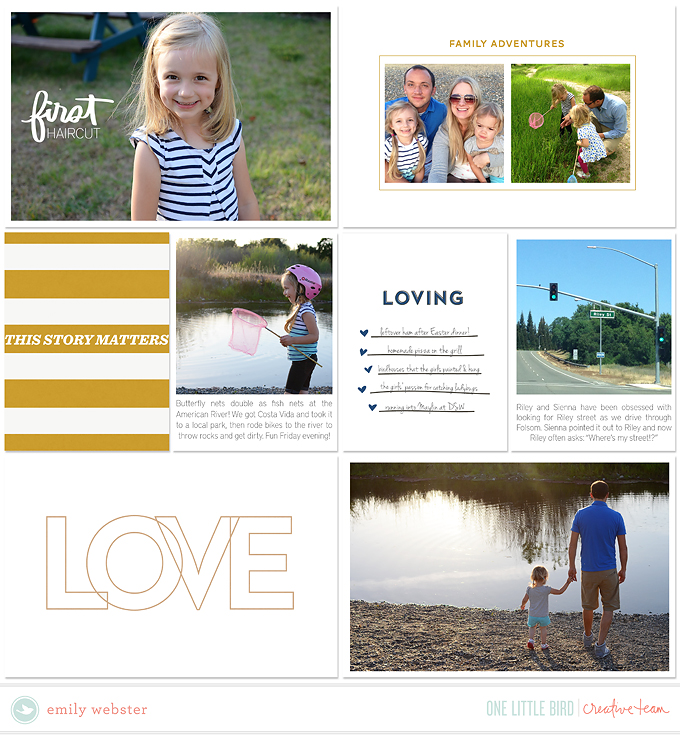 Don't you just love Emily's pages? I really admire how our digital pocket page team members are creating such clean and modern pages this year – no extra embellishment required. They're such great examples of how to document so many everyday moments, even if your time and/or space is limited. Materials: The Love List Journaling Cards.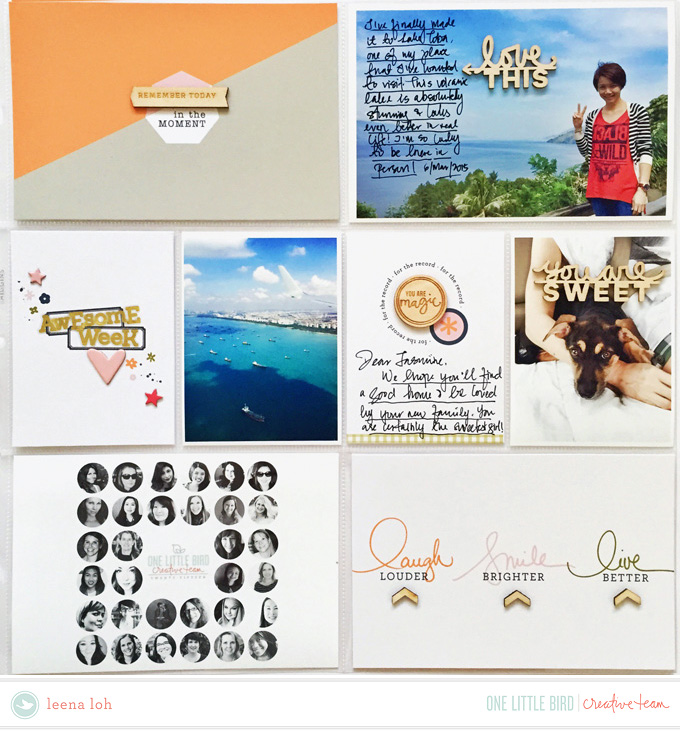 Leena is one of my favorite Project Lifers – I love the way that she incorporates color into her layouts in such a cohesive way and how she makes embellishing look so easy, even though I know it's not! She always seems to add the most perfect little finishing touches to her photos and cards. Materials: The Story Unfolds Journaling Cards.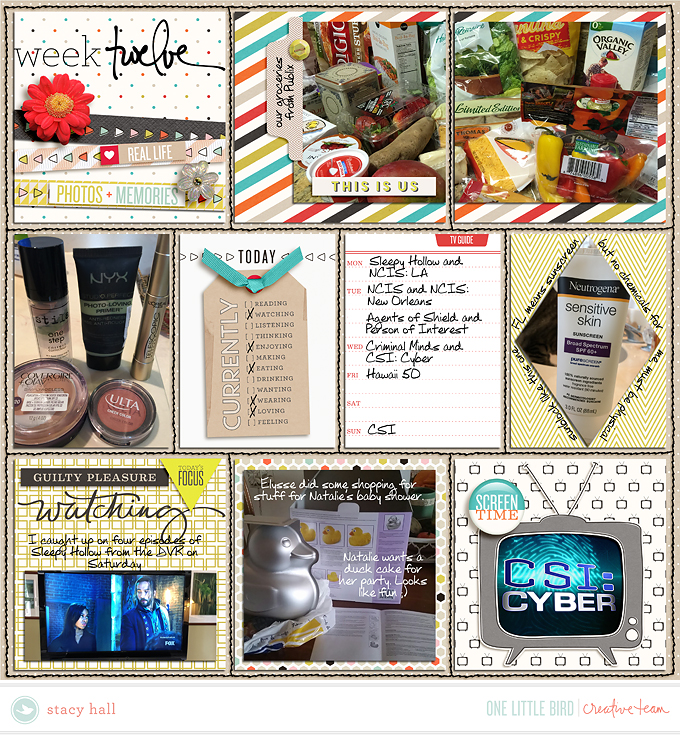 I think I've included Stacy's pages in the Digital Projects section in previous months, but she really has a foot in both worlds with her pages – incorporating a ton of digital technique into her gridded, pocket-style layouts. Love her use of stitching as a separator. Materials: Stay Tuned Journaling Cards, At The Moment Kit, Around Here Elements and Weekly Edition Title Cards.
Hybrid Projects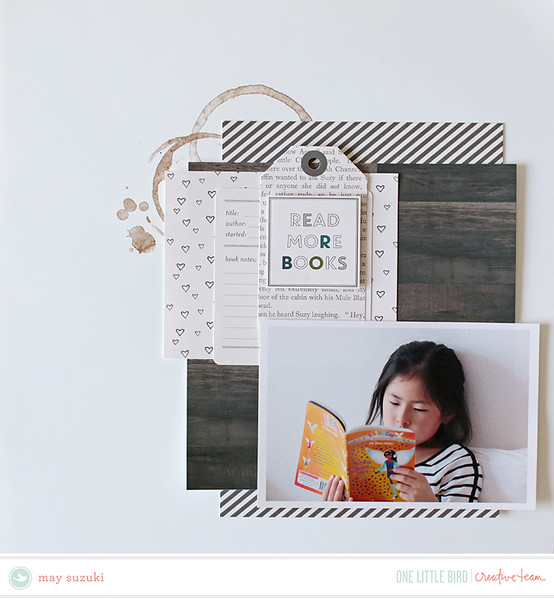 May covers a lot of creative ground with her hybrid projects, and I always love what she comes up with. When she works her magic on a hybrid layout it always goes straight into my favorites. I love the loose, dimensional feel of her pages and how everything doesn't feel completely stuck down to the page. Materials: High Street Stories Kit and Journaling Cards.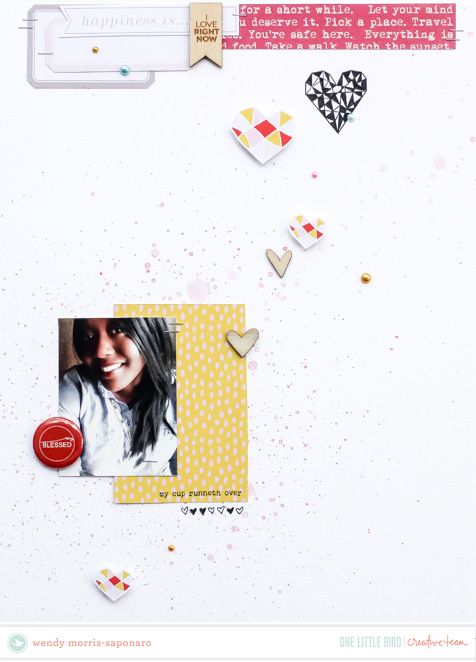 Love Wendy's second page using Serendipity (and also a little bit jealous of her gorgeous selfies!) – I know I said it before earlier on Juli's pocket page spread, but I love when staples are used to tack down paper and elements on a page. I've done it in my Project Life albums but never on a traditional layout, so onto my list it goes. Wendy's mix of different hearts scattered across her page is genius. Materials: Serendipity Kit.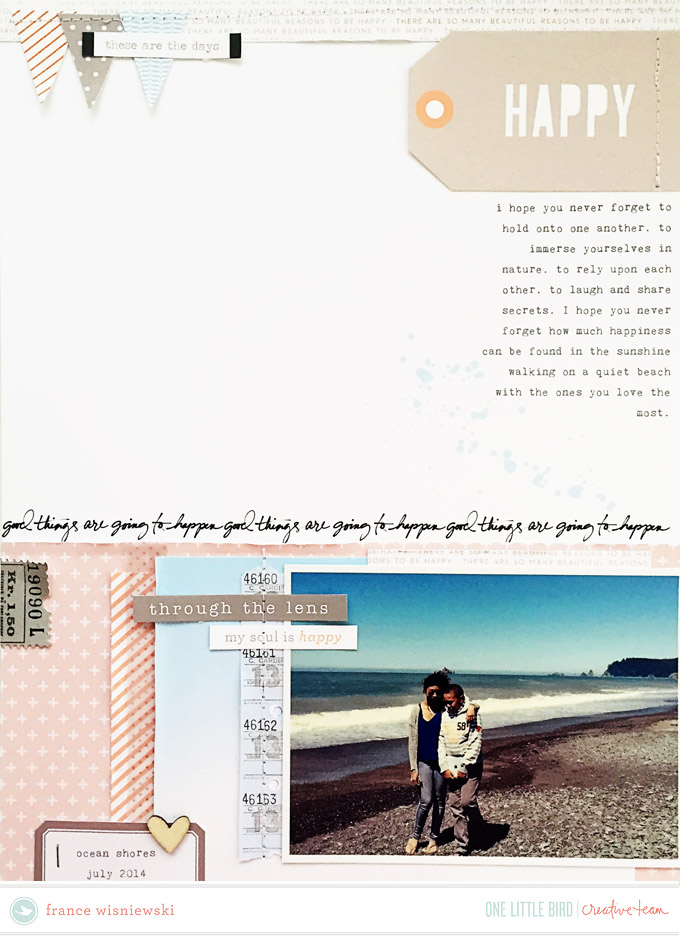 Our May guest, France, swept me off my feet with this beautiful hybrid page. I love her sporadic use of stitches on this page, especially the set that runs through the middle of her word snips by her photo. Also the handwritten word art printed onto her background. She's inspired me to dig out that file and use it on a page of my own. Materials: At Week's End, Guppy, Halcyon, One For The Album, Serendipity and Silver Linings.
Digital Projects
This is the "meat and potatoes" of our inspiration posts, as my grandmother used to say. Lots of digital inspiration for you all today!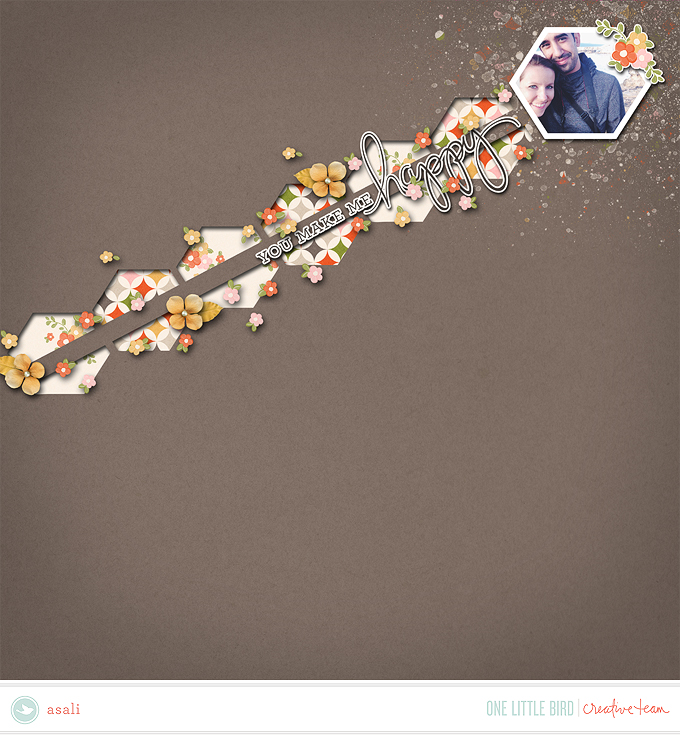 Asali always has such interesting compositions. I love how this diagonal one pulls your eye right up to her photo. Materials: Beyond Measure.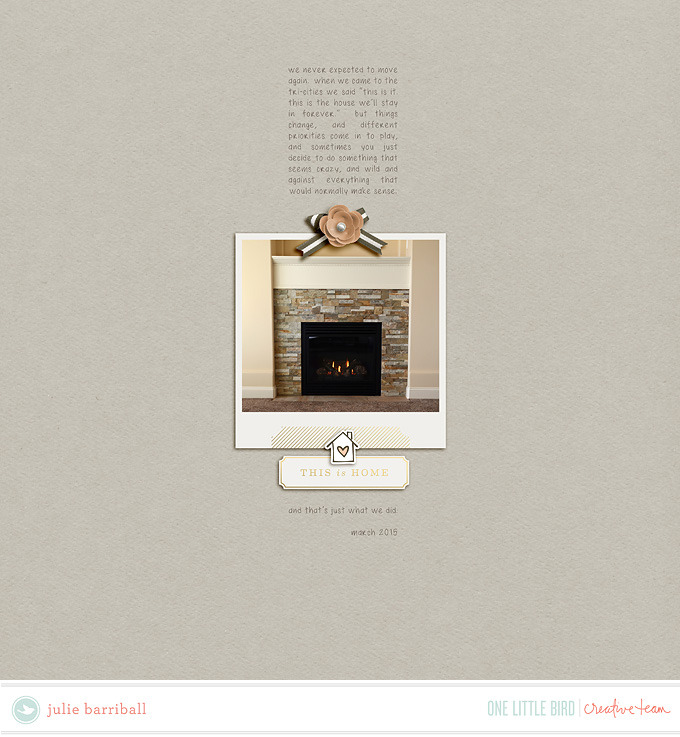 Both of Julie's layouts are like a breath of fresh air with their monochromatic palettes, she's a girl after my own heart with her love of neutral backgrounds. Materials Used: Dwell and Halcyon.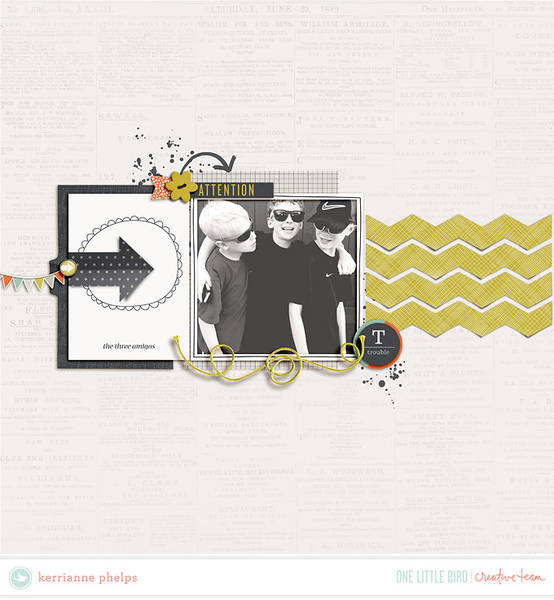 I'm absolutely in love with this page from Kerianne, and she made me see this older product of mine in a totally new light. Materials: Troublemaker Kit and Journaling Cards.
"Before and After" layouts are some of my favorites. Especially if you have photos that you want to use from your pre-scrapbooking days. I think it's awesome how both of Molly's photos are from the same angle, which really captures how much her son has grown. Materials: Dwell, Take Root, How It Began and Little Talks.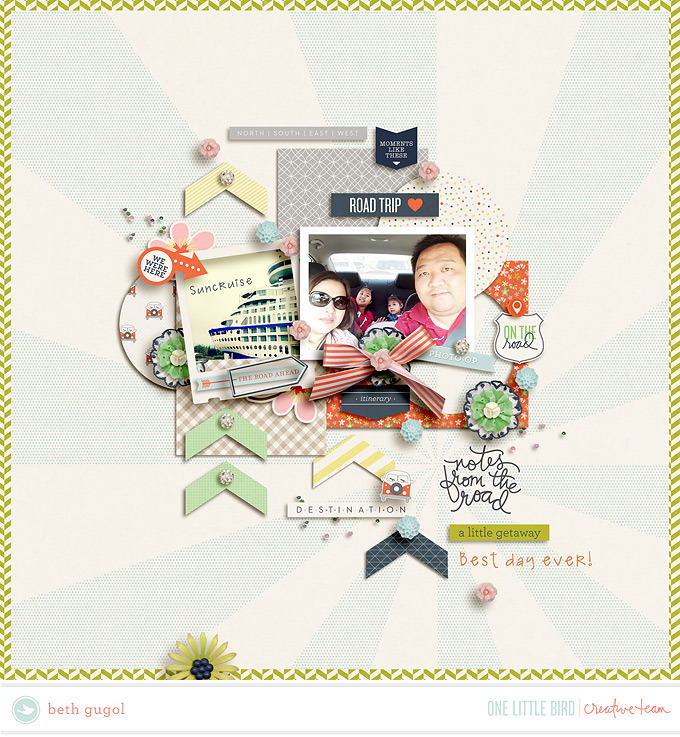 I can't stop looking at this road trip layout from Beth! I love how she always manages to tuck so many little elements into her layouts. Materials: The Daytrippers (still one of my favorite products of all time).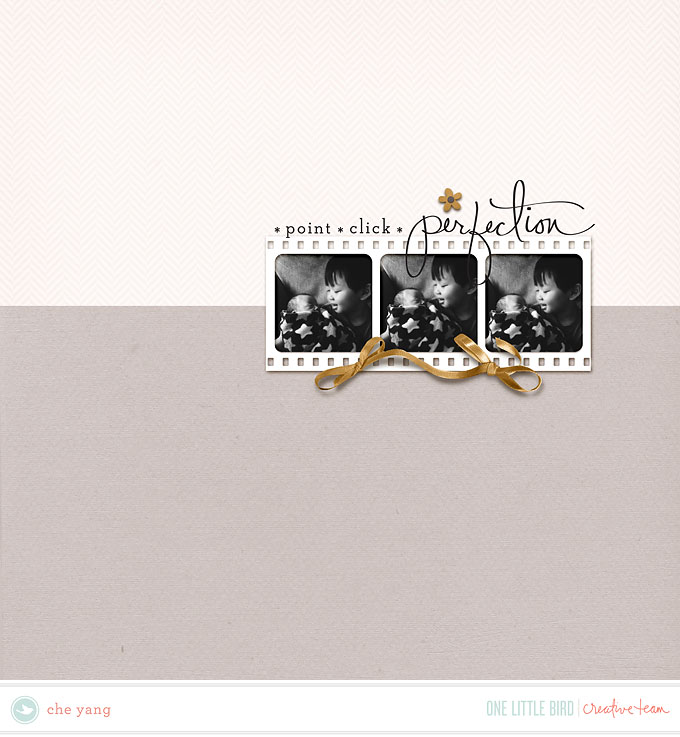 The photo repetition in Che's layout is a great technique for including small photos without having them get lost on the page. I used to use this one a lot back in the day of extremely low-res phone pictures, which really wasn't that long ago! Materials: Focal Point.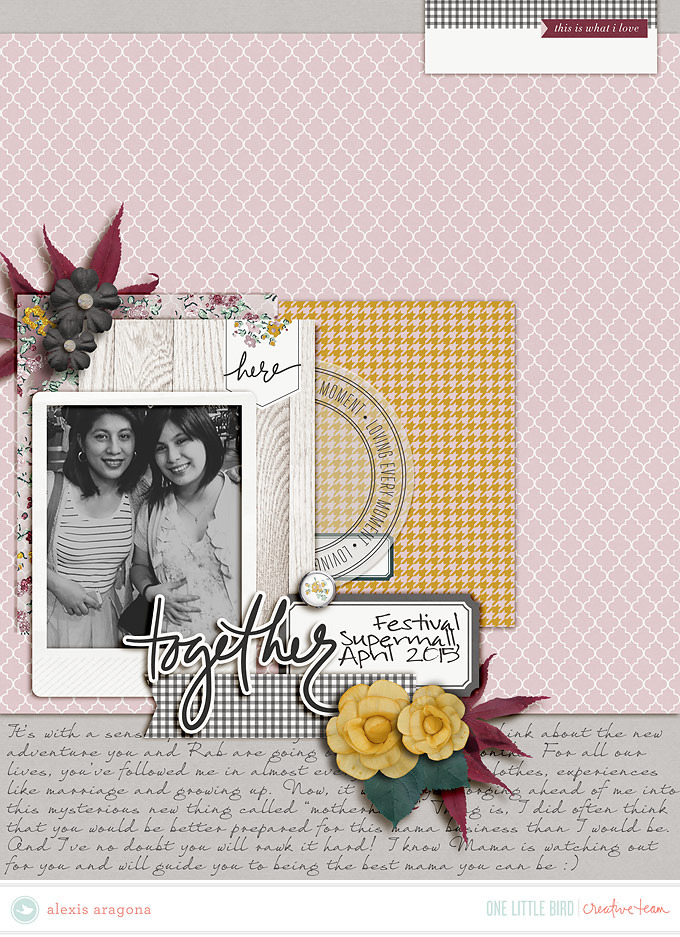 Love Lex's heartfelt journaling on this page about "this mysterious new thing called motherhood" – these are the types of pages I love seeing in people's albums. Pages that document something that's on your mind right now, in this moment. Materials: Woodridge.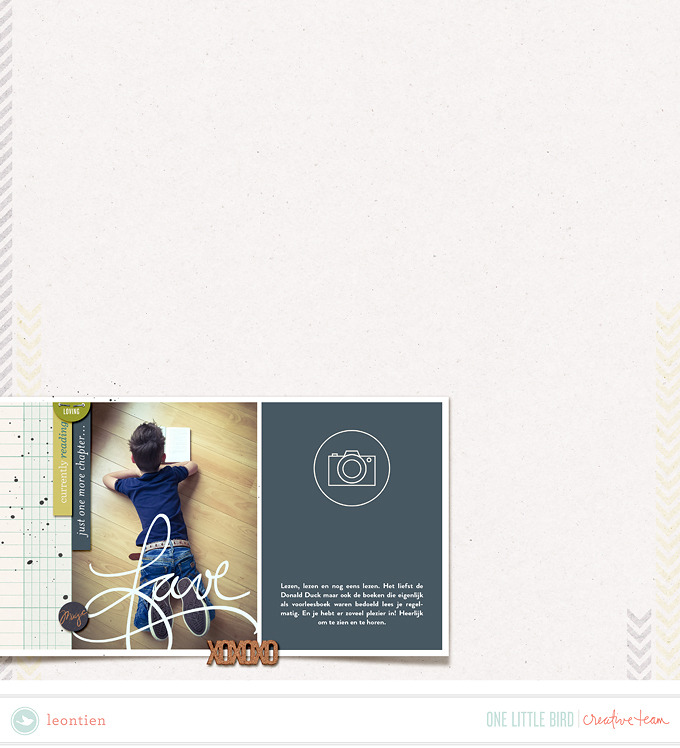 The realistic shadow on Leontien's photo made me do a double-take (because she dabbles in hybrid, as well!) This layout feels really touchable to me. Materials: High Street Stories, Stuck on You, Artisan and Happygram Elements.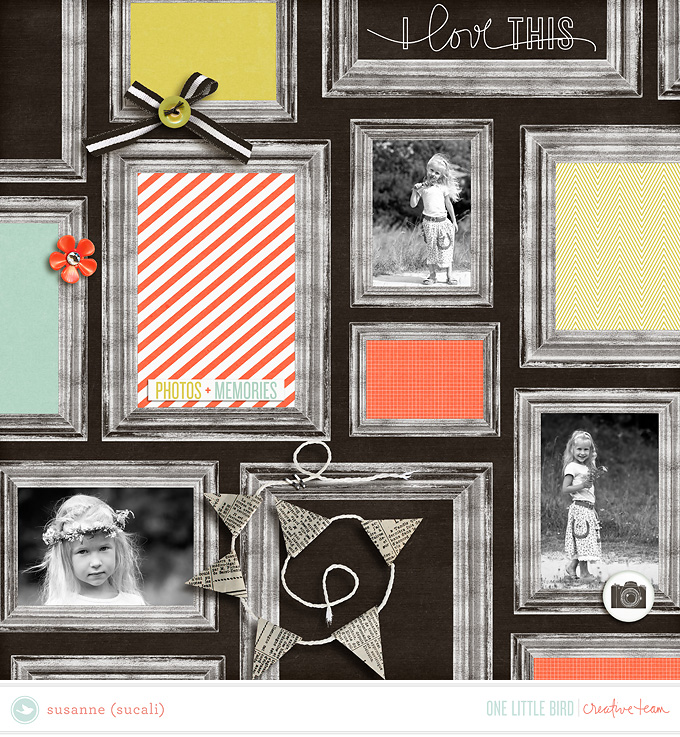 Totally mesmerized by Susanne's layout. That black frame paper is so dramatic, and she really played into it with her black and white photos and thoughtful use of dimension. Materials: Click.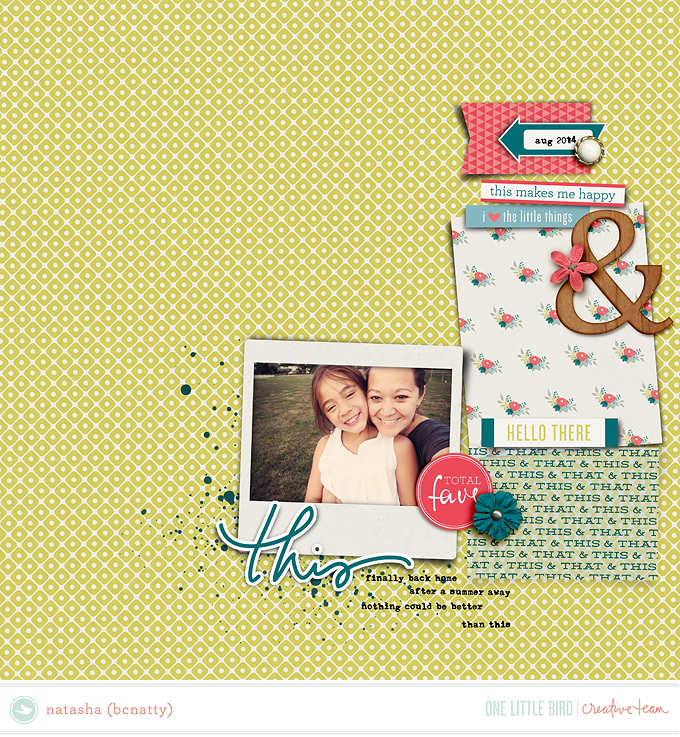 An inspired use of pattern and tilt in this layout by Natasha. I love how she mixes different patterns. Materials: This and That.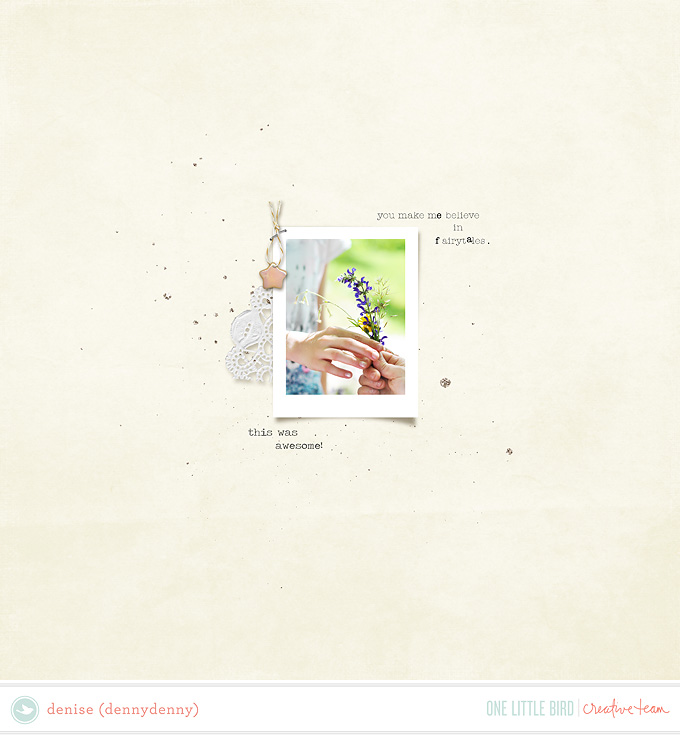 I fell hard for this delicate little page from Denise. Sometimes the simplest pages have the most impact. Materials: Fairytale.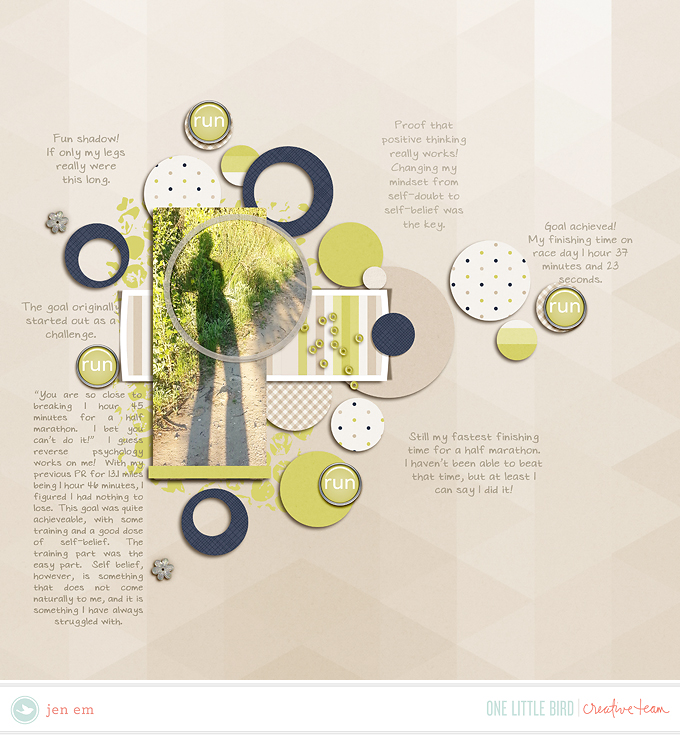 Jen is like my running idol, I enjoyed reading her perspective on setting and achieving running goals – and the self-doubt that goes along with it. Love that she used a shadow pic on this photo, breaking the mold of the typical running shoe photo. Materials: This Magic Moment.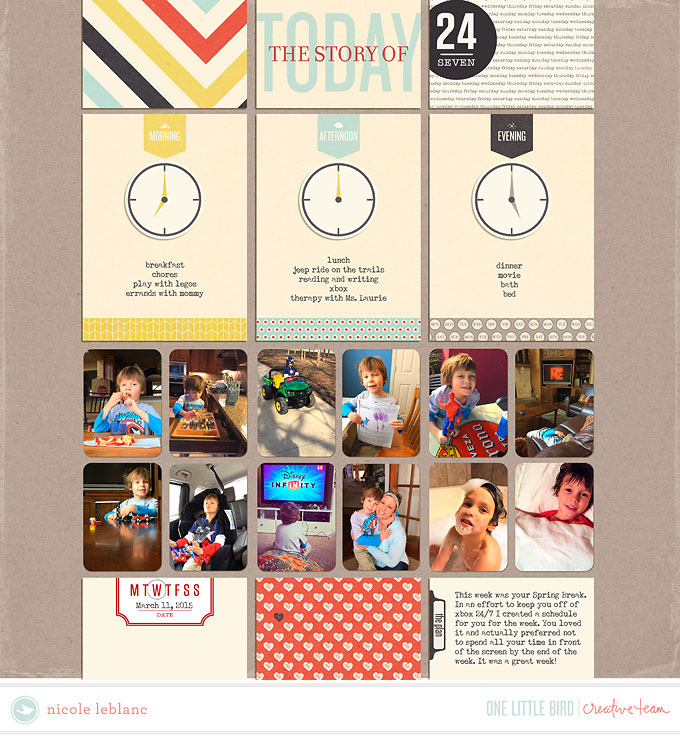 Love Nicole's inspired use of those morning/afternoon/evening cards on her page! Such an inspiring example of how to document Spring Break. Materials: Dayplanner Kit and Journaling Cards.
Have a great weekend, everyone! (And a fun Memorial Day weekend to those of you in the US! I see a bit of grilling and flower shopping in our future!)