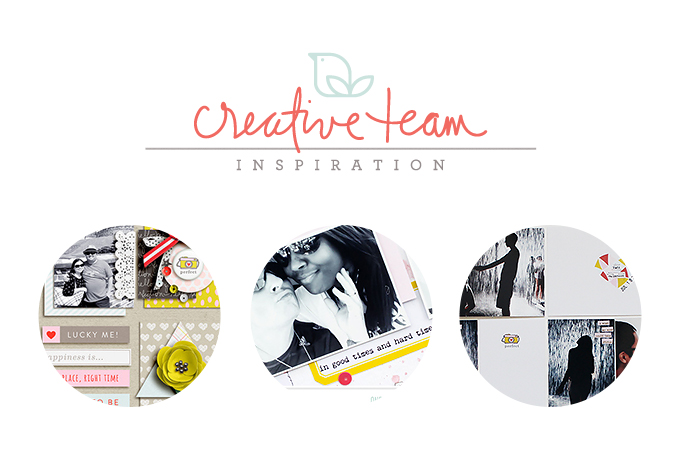 Hello friends! Just popping in as we close out another week to share a little more inspiration from the creative team using thew recently released Serendipity and coordinating journaling cards.
Digital Projects
Love Asali's masterful use of a patterned background paper – as usual. Using the black and white background and black and white photos makes the colors in the elements really pop on her page.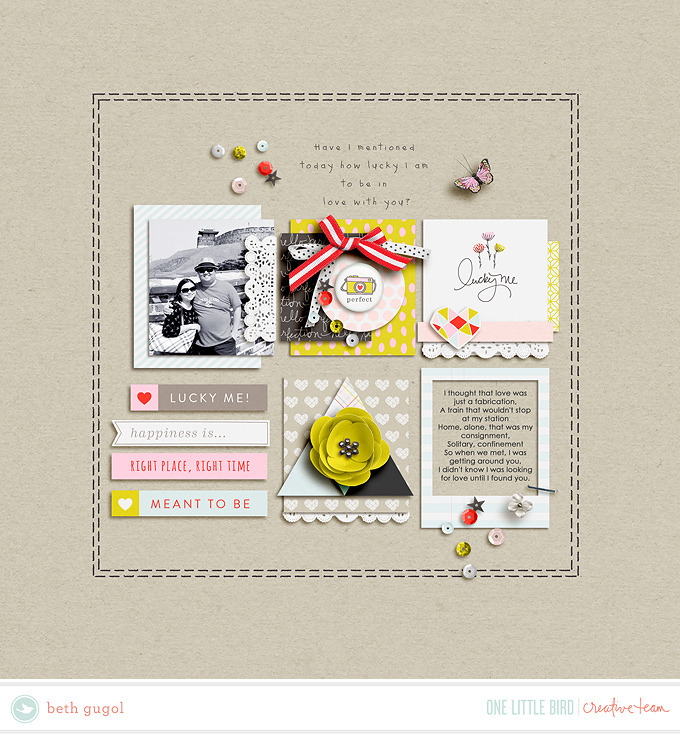 Adding a border around a page's composition is one of my favorite techniques of all time. I love Beth's use of one here, and also her choice to sub all those word snips for one of the squares in her grid layout.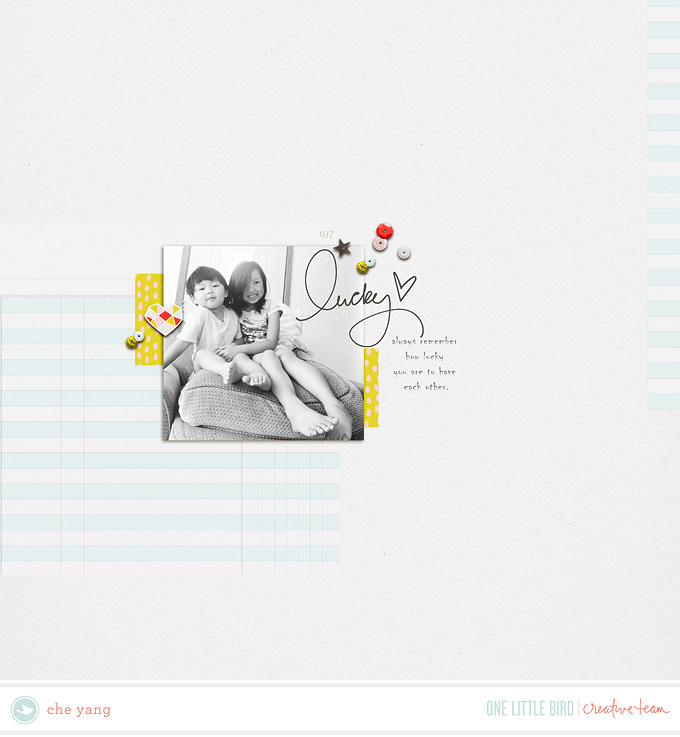 It's really "black and white photos for the win!" with this batch of projects – that little pop of yellow has so much impact this page of Che's.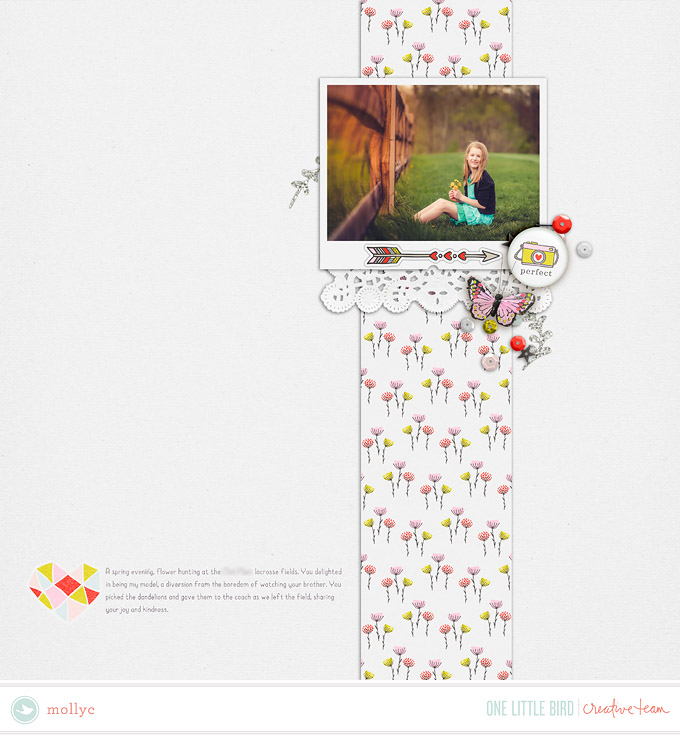 We're so happy to have Molly joining with us again this month! Her portrait photography never fails to wow me. I love seeing how she pairs her beautiful photos with products.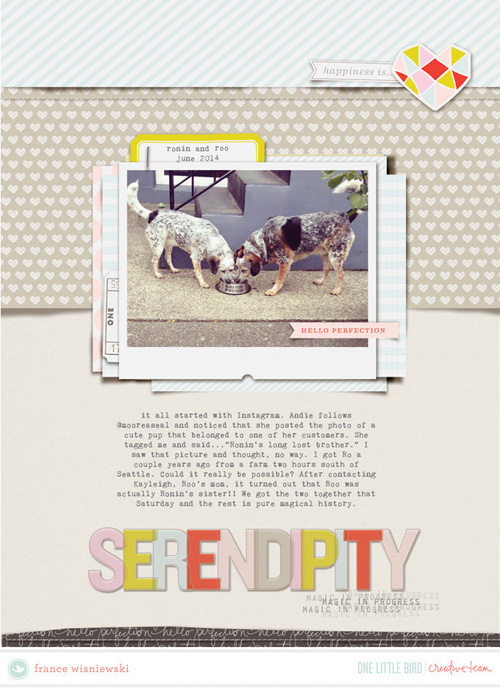 France is another of our May guests, and I love how she's gone 100% for her first project, since I primarily know her as a paper/hybrid artist.
Hybrid Pages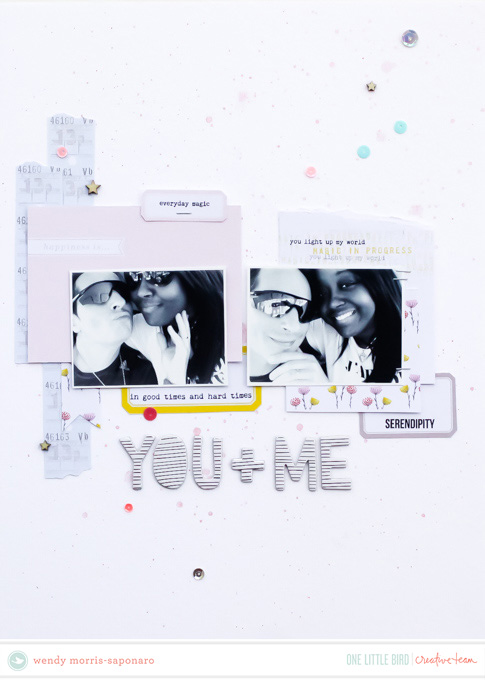 Once again, totally smitten with Wendy's hybrid technique – and I'm envious of her mastery of the "effortless, natural scatter", which is a technique I continually struggle with. I agonize over scatters – I'm way too Type A.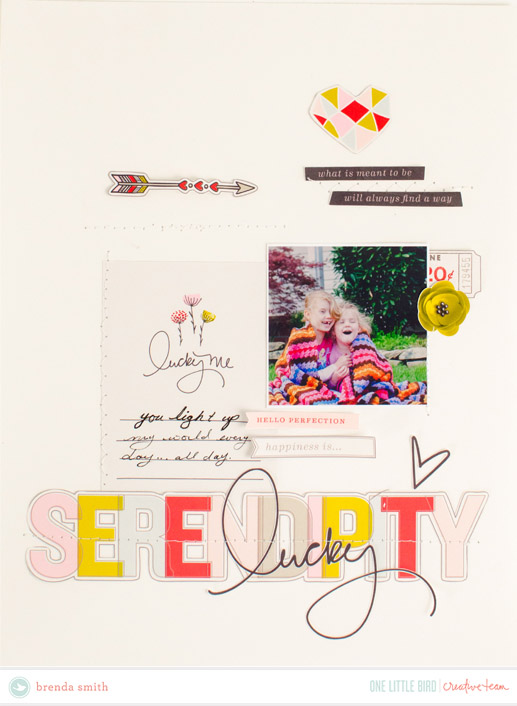 How awesome is it that Brenda's photo matches the kit so perfectly? The ultimate serendipitous moment. Love her layering of the word art in her title.
Pocket Pages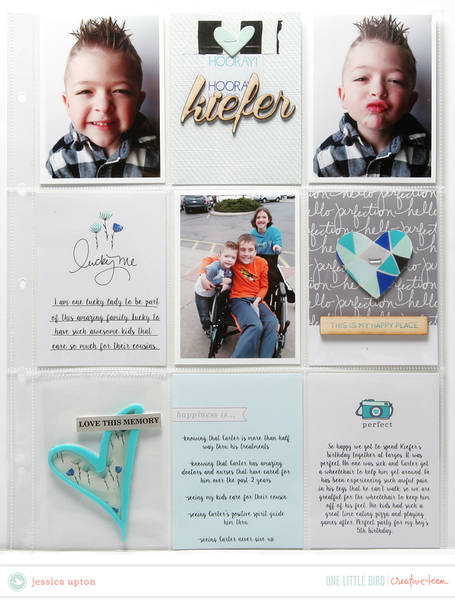 So many wonderful pocket pages to share with you this week. Love how Jessica showcases the ability to change the colors of her journaling cards before printing them in order to create this monochromatic page.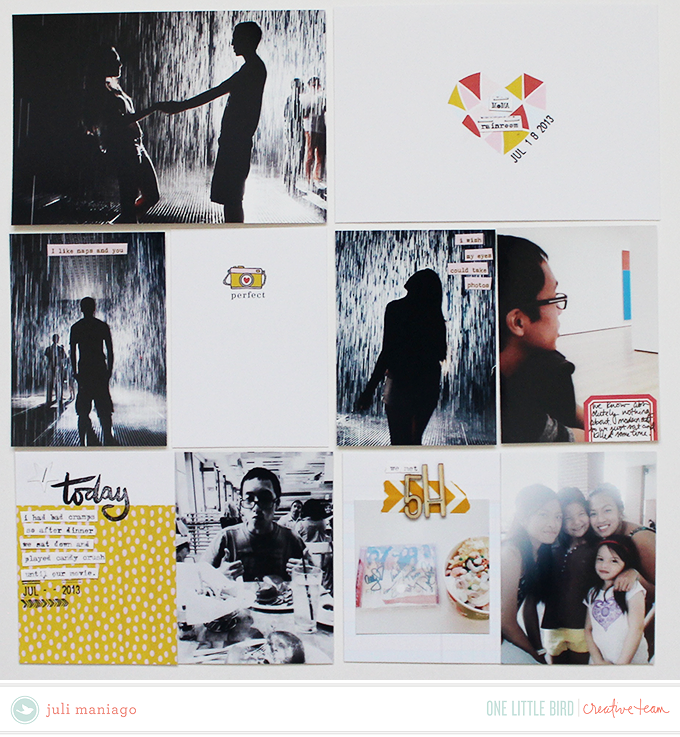 I'm a little obsessed with Juli's combination of dramatic, contrasty photos with these cards – with her unifying color being that yellow.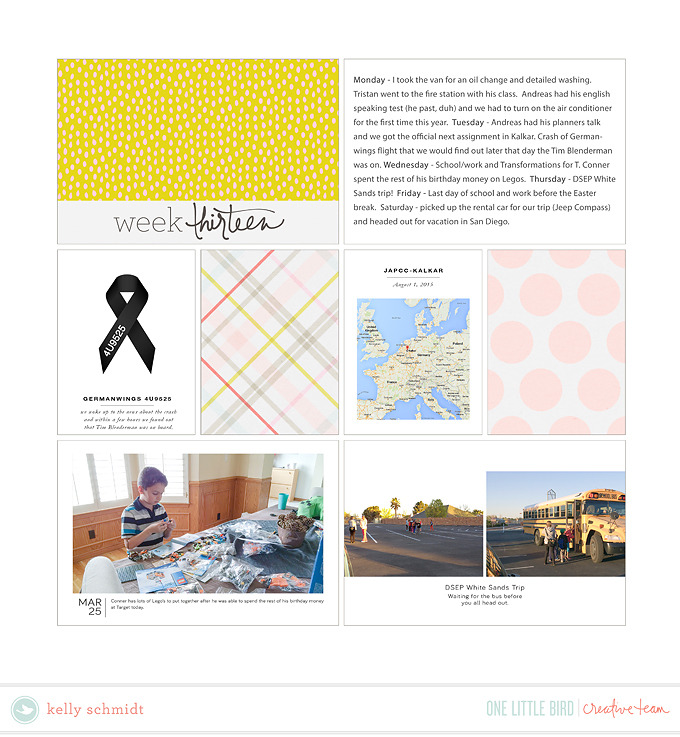 Kelly's spreads are always so perfectly balanced. Love how she alternates photos, filler cards and journaling cards in her pockets to keep her pages so uncluttered and gives the eye plenty of places to rest.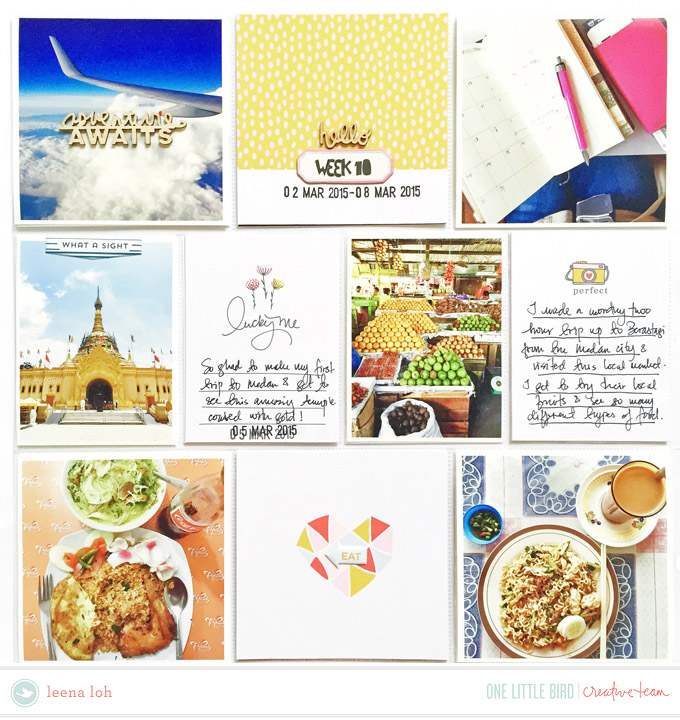 Leena has me obsessed with the Design K Project Life layout – because I love square photo spots and I sometimes have problems making the landscape 4×6 cards work for me. Squares feel so much more manageable, it's it quick and easy to cut down the 4×6 cards to work in this configuration.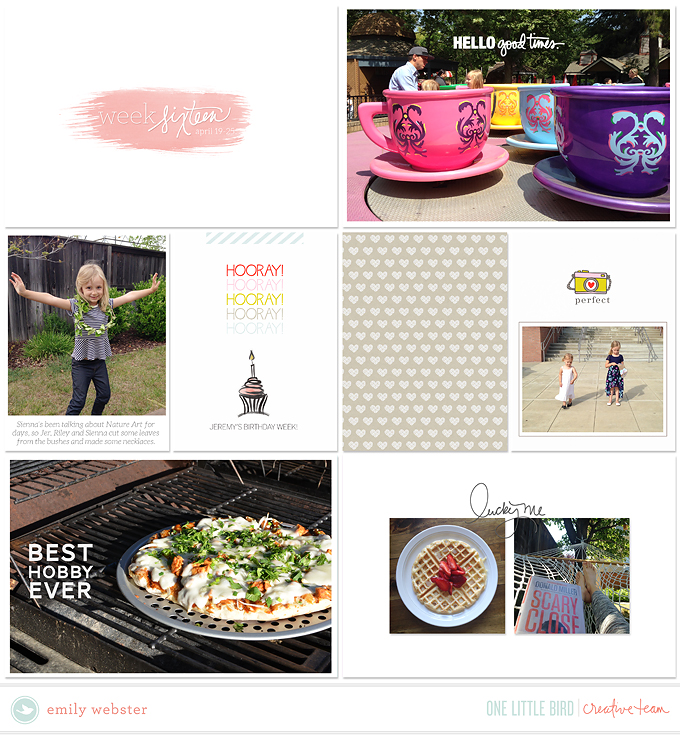 An all-digital Project Life page from Emily – I'm not going to lie, my eyes immediately go to the pizza picture. I'm thinking that I should pick up that hobby, myself. I always like how Emily adds stamps and journaling directly to her photos on her spreads.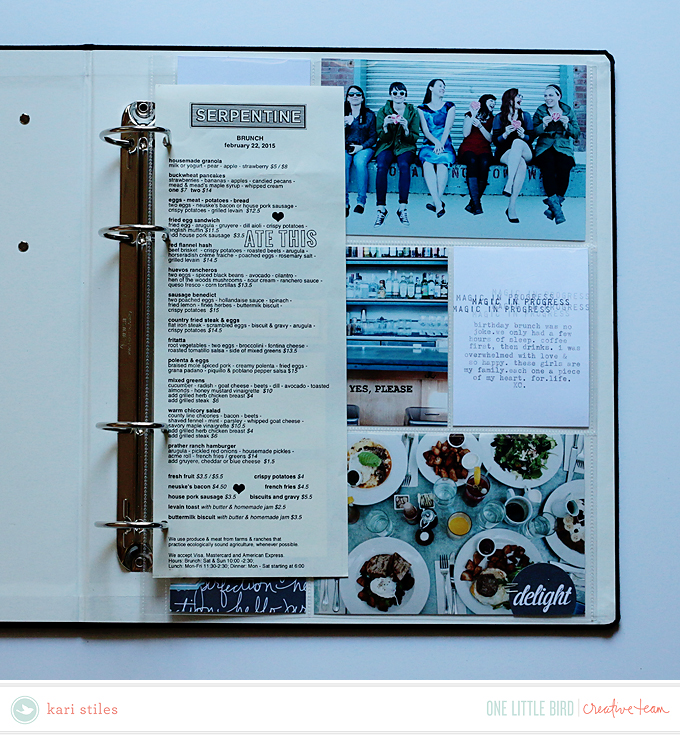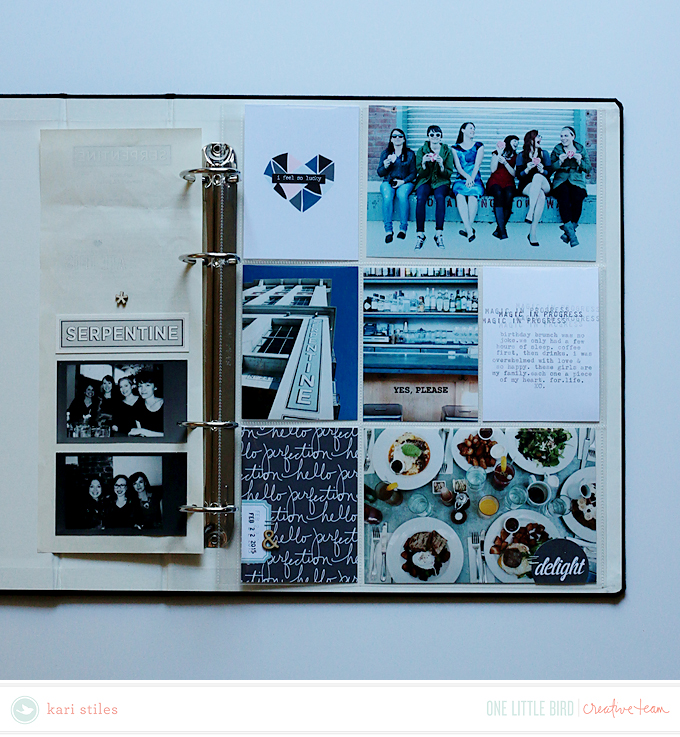 Love how Kari included the menu in her album for this brunch with friends. I always save memorabilia and then rarely manage to incorporate it into my own album – but Kari's page makes me want to try harder.
Have a great weekend! And a big Happy Mother's Day to all my fellow moms this weekend – may it be filled with delicious treats and tons of hugs and kisses! (Maybe a bubble bath and some breakfast in bed?)