Hello everyone!  I'm so excited to share these spreads with you well, because one, they took a while to complete and two, there were hundreds of photos to go through!  Since I don't scrap strictly week to week, I tend to just fill up two 6″ x 8″ spreads when I have lots of photos to incorporate.  But this time I had TONS of photos and also wanted to use my ephemera in the design.   I started by going through my camera shots and created a folder of favorites for the event.  As I'd come across ones I really loved, I'd copy them over to the folder.  Once I had gotten through them all, I again culled the faves folder, edited what remained, printed them on my Selphy and voila!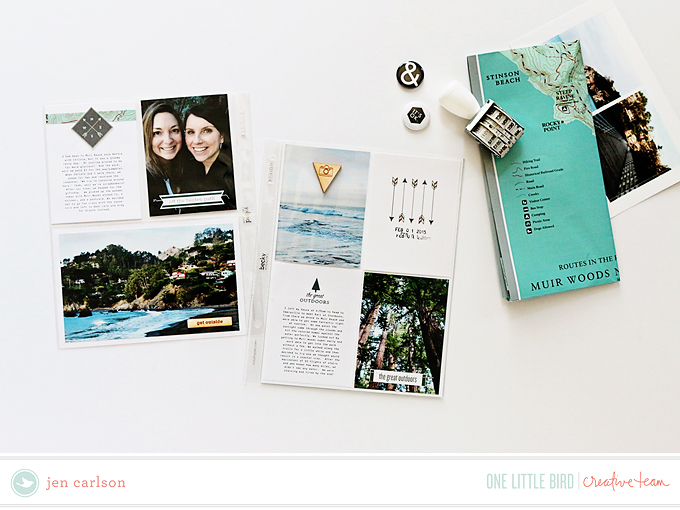 I started my spread by using journaling cards and elements from the Trailblazer collection.  For the top left card, I cut out the compass element and placed a paper strip underneath of the Muir Woods Park map I had picked up.  It was an original touch to the card and pulled in more of the green tones I was using.  The "off the beaten path" & "the great outdoors" elements I recolored in Photoshop and stitched directly to my photos.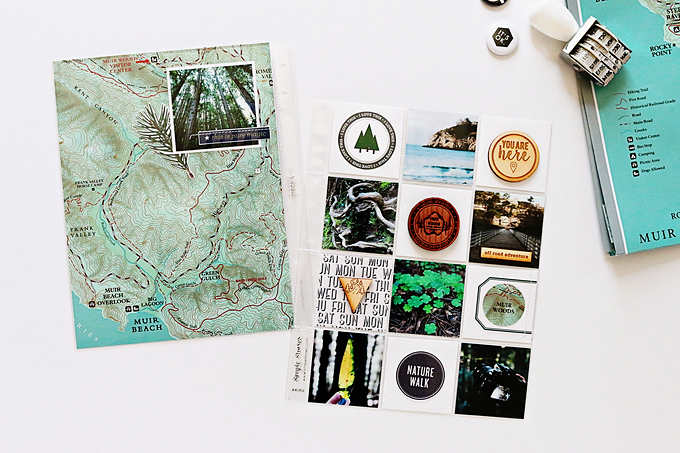 For my next spread, I cut out a 6″x8″ piece of the park map and added a matted small photo to it.  The pine sprig is an element from the Trailblazer collection.  The element, "this is pure magic," is from the collection "This Magic Moment" which I stitched down to the page.  Another item from the "This Magic Moment" collection is the black and white days of the week square (1st square, 3rd row down).  I just loved the pattern and the b/w format made it really versatile.  The "Nature Walk" circle is from the Trailblazer digital kit (bottom row, middle square.)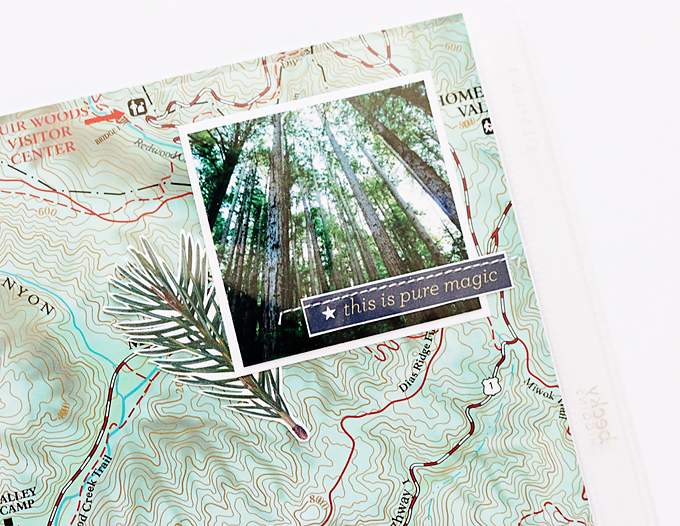 Here's a closeup of the map page.  I carefully hand cut around each of those pine needles!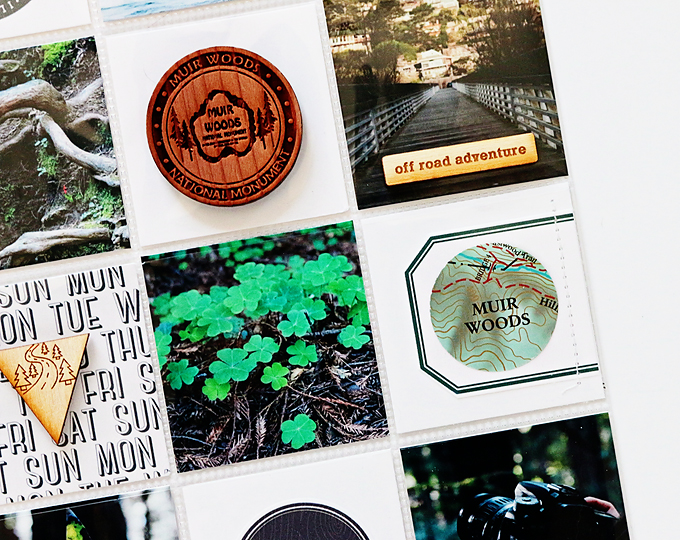 Above I used a label from the Trailblazer collection, recolored it, punched out a circle from my map, and stitched it to a white 2″x2″ square.  On the closeup below, I took the 3 trees element from the Trailblazer collection, recolored it a darker green, punched it out, and popped it up with foam tape from the "I Love This" ring, taken from the "Memory Collector" kit elements.  I just happened to get lucky they fit perfectly, as I had no grand plan before printing them out.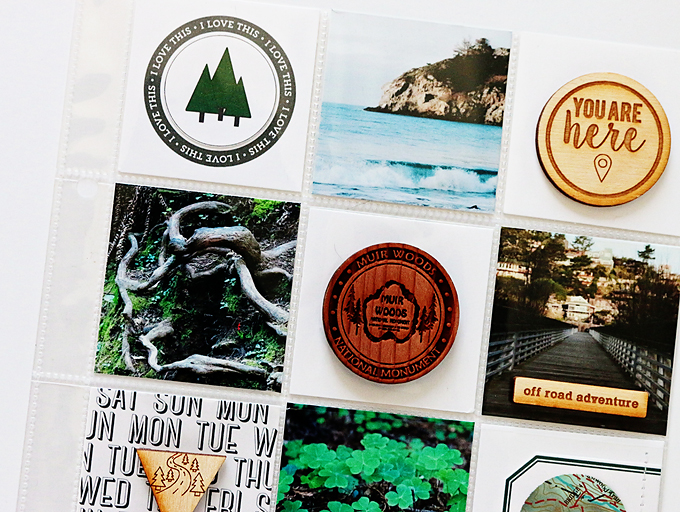 Thank you so much for stopping by and taking the time to read through my post!  I hope this inspires you to branch out and mix & match different collections to suit your style!
Other items used:  wood veneers by Color Cast Designs
-Jen
About Jen
I started scrapbooking in 2000 as a result of a family trip to Europe. I create traditional 12×12 layouts and am a sucker for a good sketch. Last year I started Project Life and have been hooked on pocket pages ever since. I grew up in St. Louis, MO, but moved out to Northern California 10 years ago, where I work as a Process Engineer at a biopharmaceutical plant. I enjoy baking, cooking, brunching, exploring the coast, and loving on my boyfriend (Derek) and 3 fur kids (Beer, Gracie, and Winston).