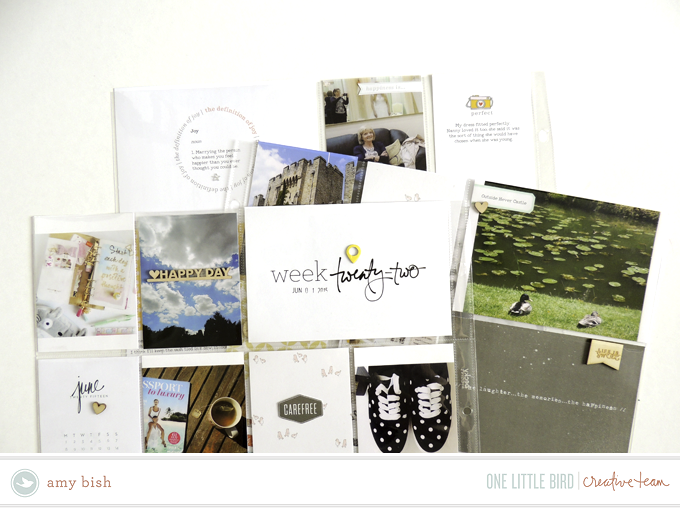 Hi everyone, Amy here! I'm so excited to be this month's guest blogger and have the chance to share with you my latest layouts using some of my all time favourite One Little Bird designs. I document my life weekly, so pocket pages are my memory keeping method of choice; I love scrapbooking on a small scale and really focusing on the little details whilst keeping most of my layout 'clean'. For me, scrapbooking shouldn't be fussy. I've played around with lots of different styles but my simplest layouts, like those pictured below, always turn out to be my favourites.
The first two pages I'm sharing are a pair. They document week 22 of my year which was a pretty ordinary working week for me, bar the sunshine (it's been unusually hot in the UK recently!). I decided to capture the good weather by printing a screen shot of the weather forecast on my phone as well as getting snappy happy at my garden table. I also got to visit Hever Castle during the week (perks of being a primary school teacher – school trips!) which was wonderful with lots to see and photograph. The ducks we saw sleeping on the grass (before they waddled over to steal our lunch!) inspired me to choose the Frolic edition as a starting point for this layout. I was absolutely charmed by the tiny bird design the first time I saw the Frolic cards and papers and they seemed like a perfect fit for this week.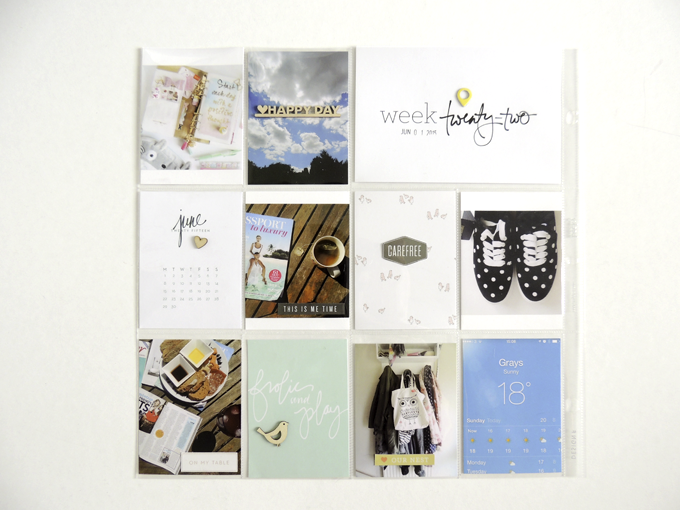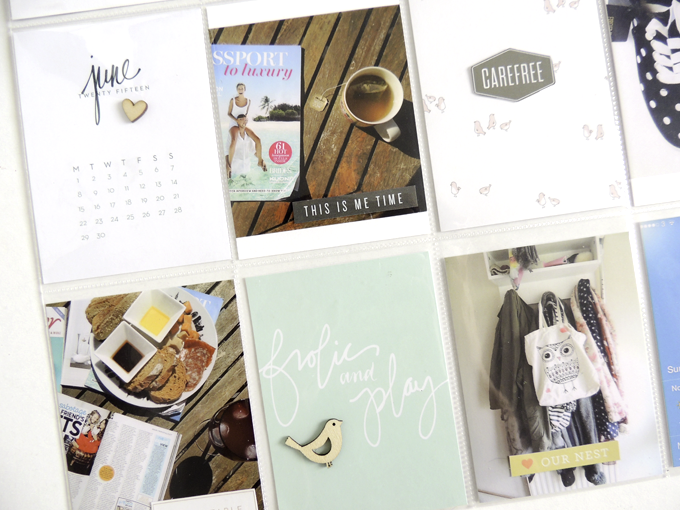 I added the text to my cards before printing. This is one of the perks of working with digital cards: you can type your journaling and not have to worry about messy handwriting spoiling your page! I have a love/hate relationship with my handwriting so this is a big plus for me! I also stamped some phrases on my cards after printing; I kind of went with my gut feeling on this as I hadn't planned to do any stamping originally. Interestingly, I feel like I can be a bit more daring when working on hybrid layouts. If I make a mistake on a digital card, I can always reprint it. The same goes for embellishments: all of the 'die cut' (I used scissors!) shapes I used are from the Frolic and Artisan kits, so I had an unlimited amount embellishments on hand. How lovely it is to be able to print as many pieces as you need! I also added a few wood veneers from my stash for texture.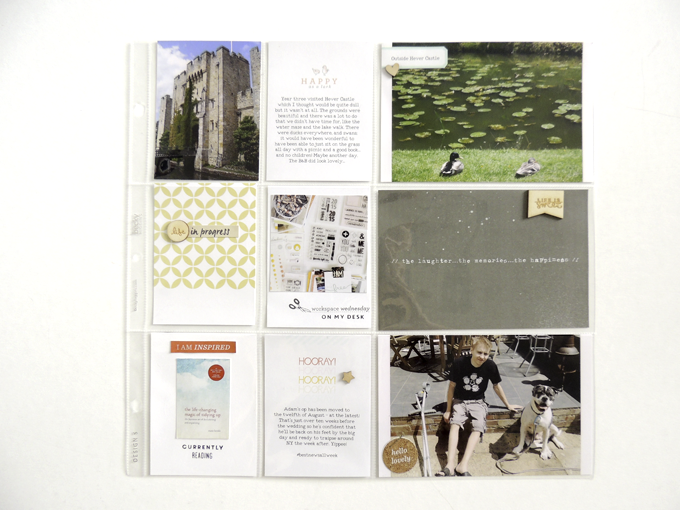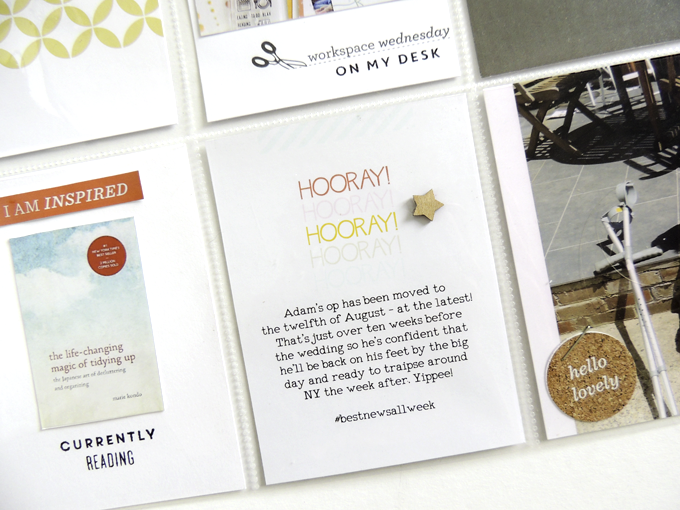 My final page documents the day I finally tried on my wedding dress. This was such a big day!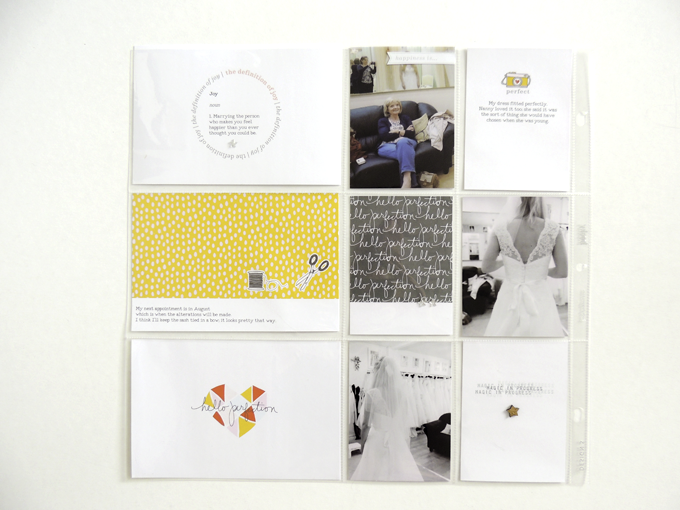 The Serendipity cards and embellishments were perfect for recording this with their splashes of colour – and that tiny camera! So cute! The word 'perfection' really describes how I was feeling when I finally set eyes on my dress. It was such a nerve-wracking experience, waiting for it to arrive. What if it wasn't what I expected? What if I hated it?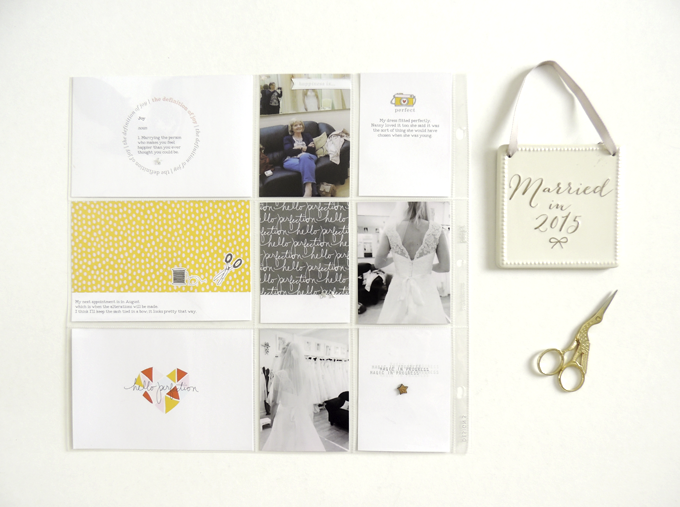 The 'magic in progress' card completely captures the feeling of trying on my dress for the first time. I felt a lot like a fairy tale princess, like Cinderella ready for the ball! It was a really special moment that I got to share with my mum and nan. I also slipped in the 'definition of joy' card from the Frolic range and added a little bit of fluff about joy being marrying the man of your dreams – or something like that!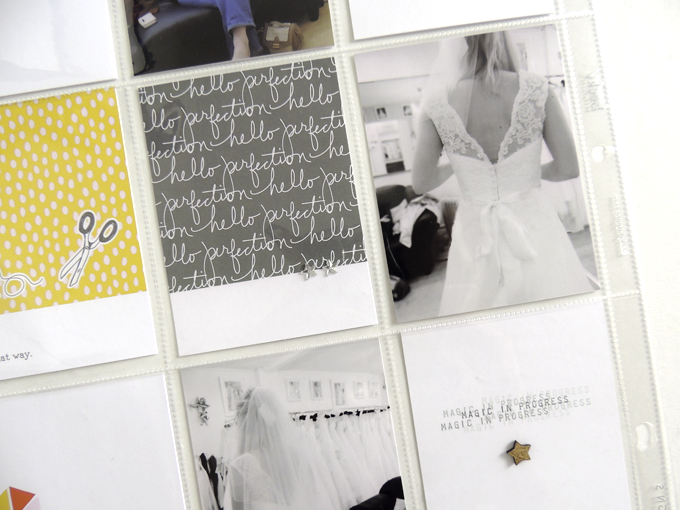 Thanks for stopping by to check out my layouts. As always, happy scrapping!
Supplies used: Calendar cards, Weekly Edition cards, Frolic cards and elements, Artisan cards and elements and Serendipity cards and elements (all from One Little Bird).
[one_third last="no" class="" id=""]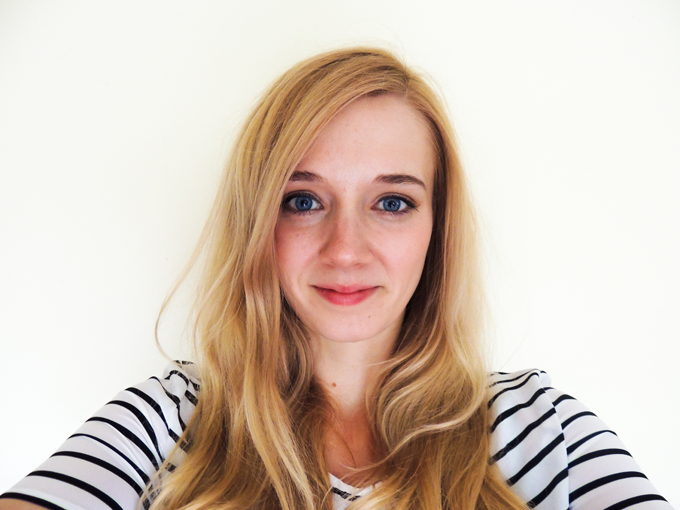 Blog | Instagram | Gallery
[/one_third]
About Amy
I'm a student teacher who lives just outside London with my fiancé, Adam, and our fur baby, Baxter. When I'm not at school, I spend most of my time hoarding craft supplies, drinking coffee and scribbling on bits of paper. My favourite kind of memory keeping: pocket pages that I can slip snippets of our lives into.