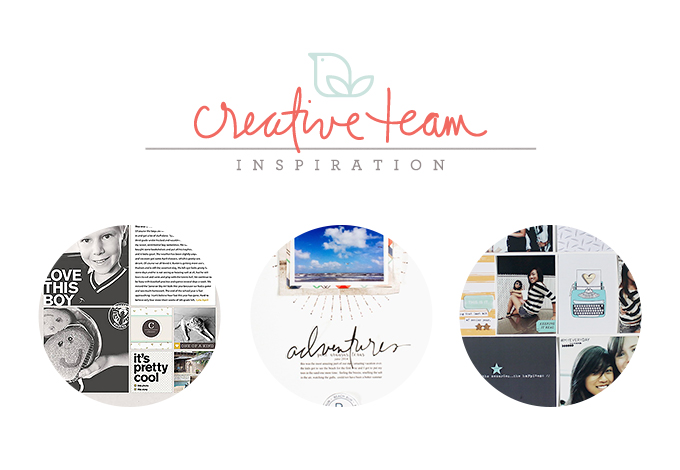 Hello, my fellow memory keepers! I'm back once more with another HUGE dose of inspiration from the Creative Team. This time around we have another edition of "artist's choice" projects – they're one of my favorite posts, and they seem to be one of your favorite posts, too! For these projects each team member uses whatever products are calling their name – old or new, mix-and-match. It's always a really inspiring free-for-all.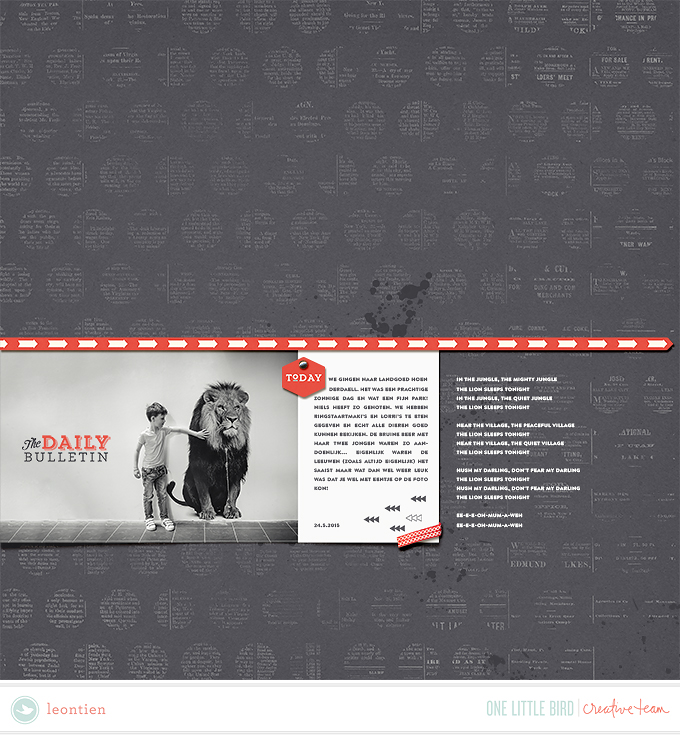 True story: when I first saw this layout of Leontien's I thought the lion was real. I love her mix of journaling and song lyrics on this page. And, as always, her clean and graphic style really shows off her amazing photography. (Materials: The Daily Bulletin Kit + Cards.)
A hybrid page from Kari Stiles this month – I think I've said before that I'm really excited to see her making dedicated pages for her beautiful photographs. I love how she used these word art circles as headers for documenting her dreams, plans and goals as they stand right now. I want to do this myself, now! (Materials: Who I Am.)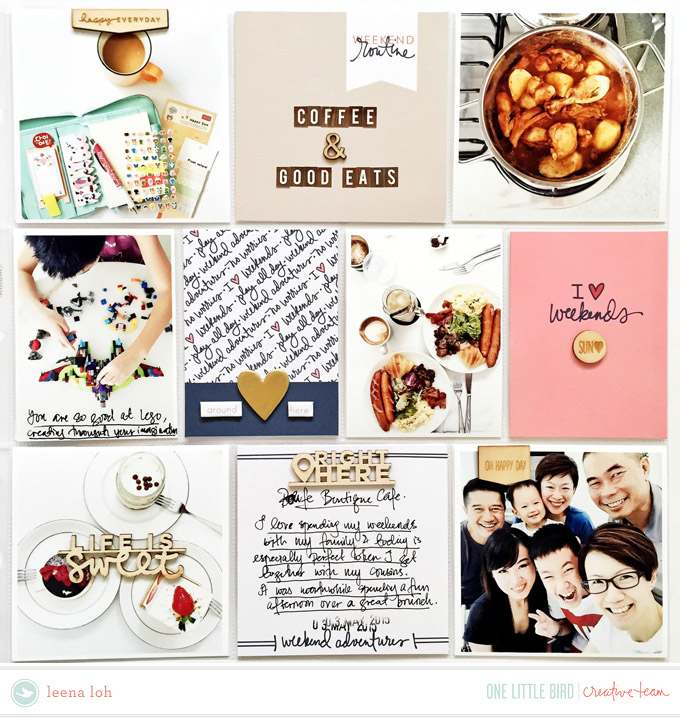 A fun pocket page from Leena documenting her weekend adventures with her family – which is always guaranteed to include some swoon-worthy food photography. (Materials: At Week's End Journaling Cards.)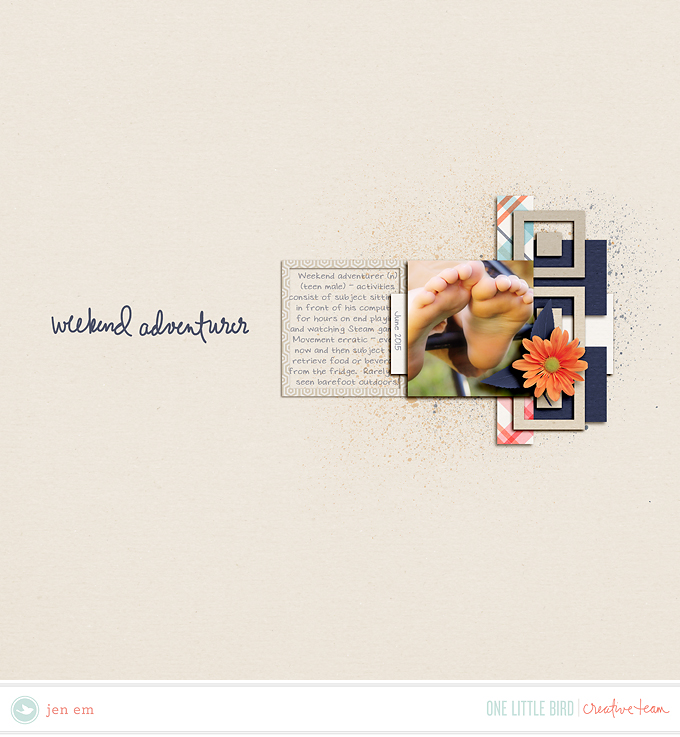 Jen's witty, documentary-style journaling about the weekend habits of the teenage male cracked me up. "Rarely seen barefoot outdoors" indeed! (Materials: At Week's End.)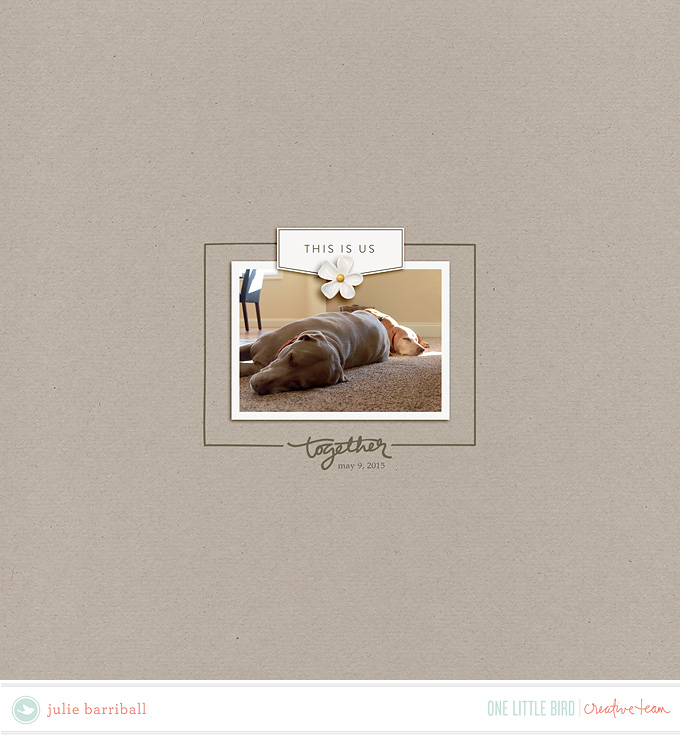 Word art is my go-to strategy for subtle page titles (it's why I include so many in each product!) Julie's page here is a good example of letting elements tell the story. (Materials: Better Together.)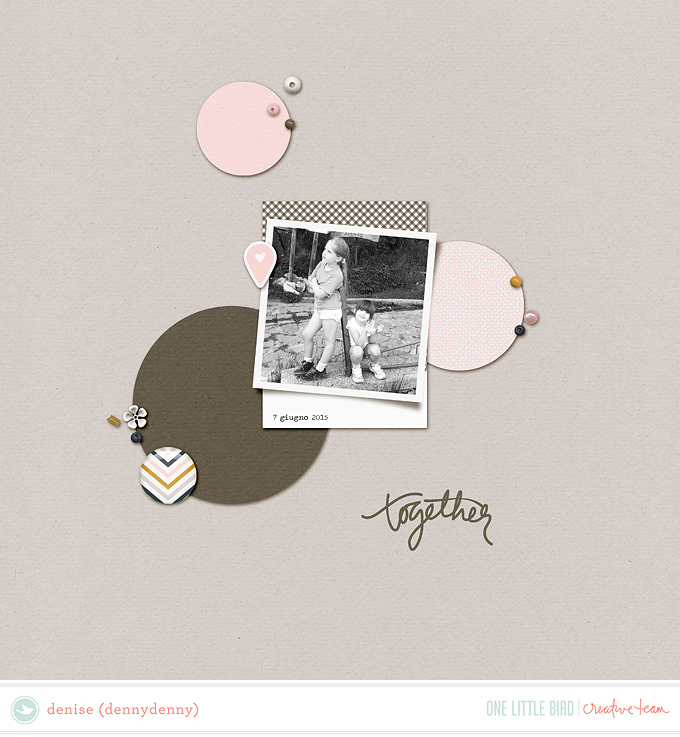 Denise has the circles on her page placed in a perfect triangle – which plays into the principles of grouping (items in threes) and symmetry. It's the little things that make a page feel finished. (Materials: Better Together.)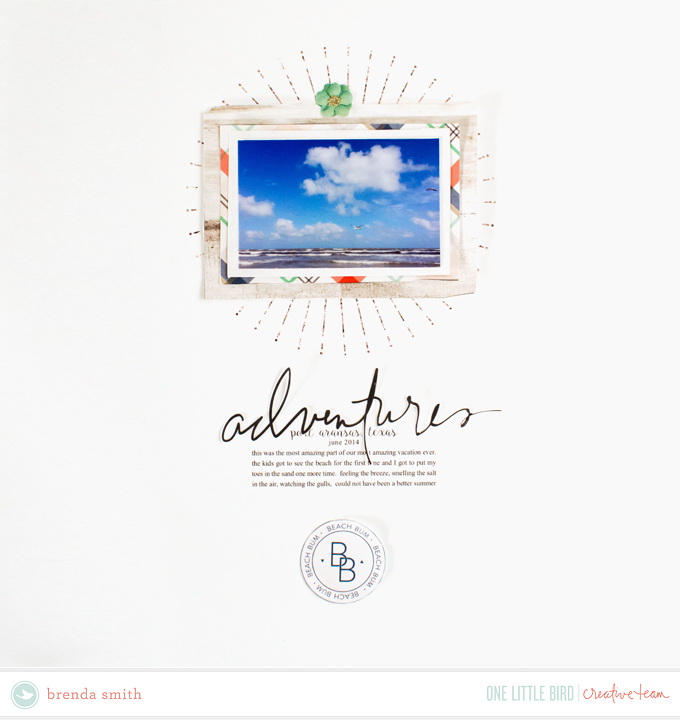 Love this column design hybrid page from Brenda, and how she added some subtle, inky water spots to her page to give it depth. (Materials: Cabana.)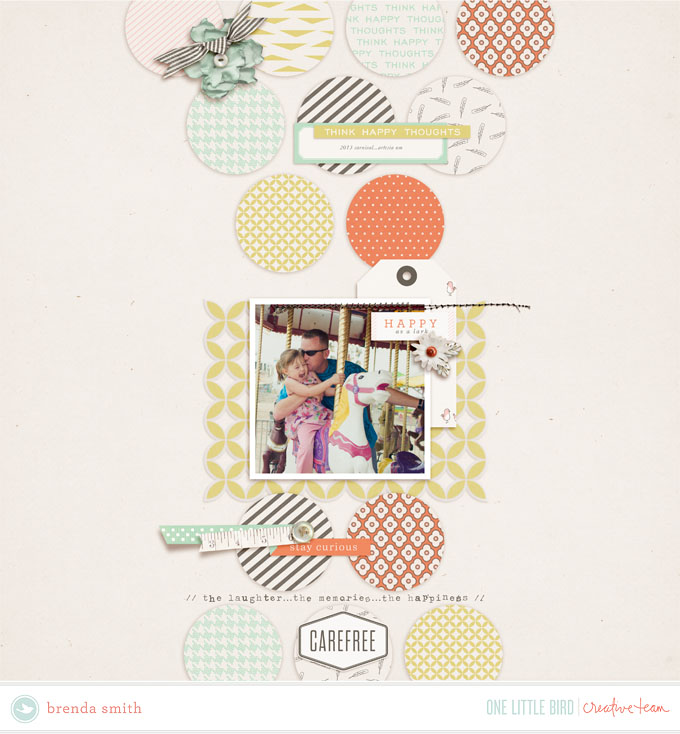 Another page from Brenda, this one is totally digital. I love how the circles of patterned paper draw your eye down to her photo. (Materials: Frolic.)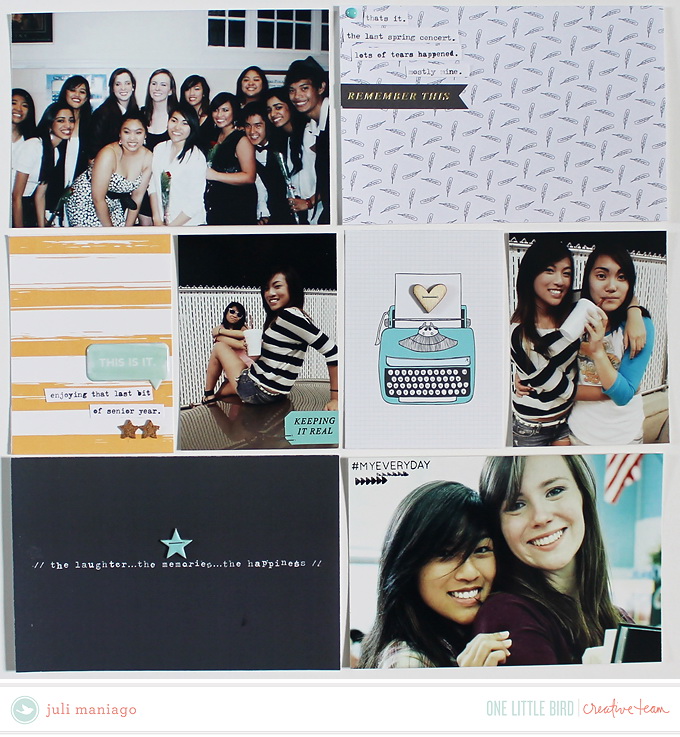 I find Juli's page documenting the final bits of her senior year of college is so inspiring – and once again, I wish I'd had the presence of mind to document these periods in my life as thoroughly as she has. (Materials: Halcyon Journaling Cards, Frolic Journaling Cards, Busy Week Journaling Cards.)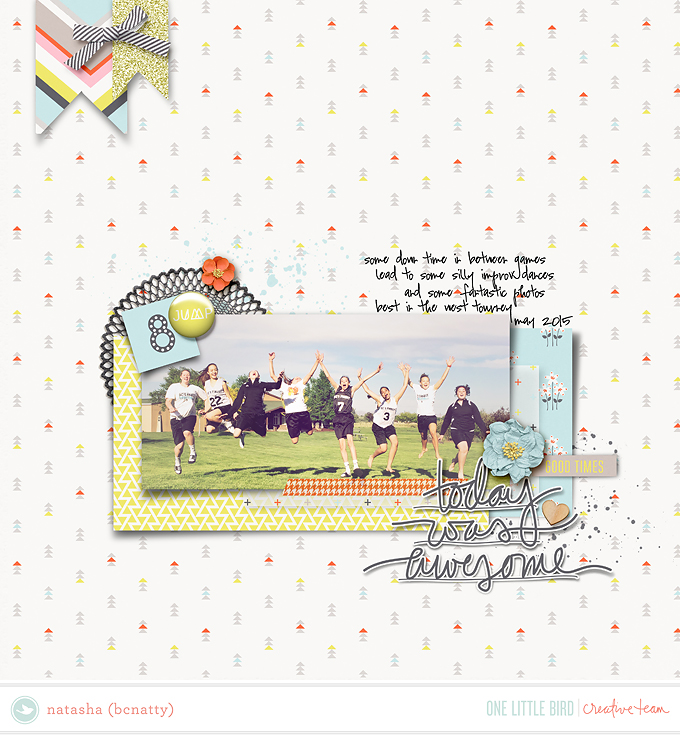 Super fun mix of patterns here from Natasha. She's a natural at this. (Materials: Hopscotch.)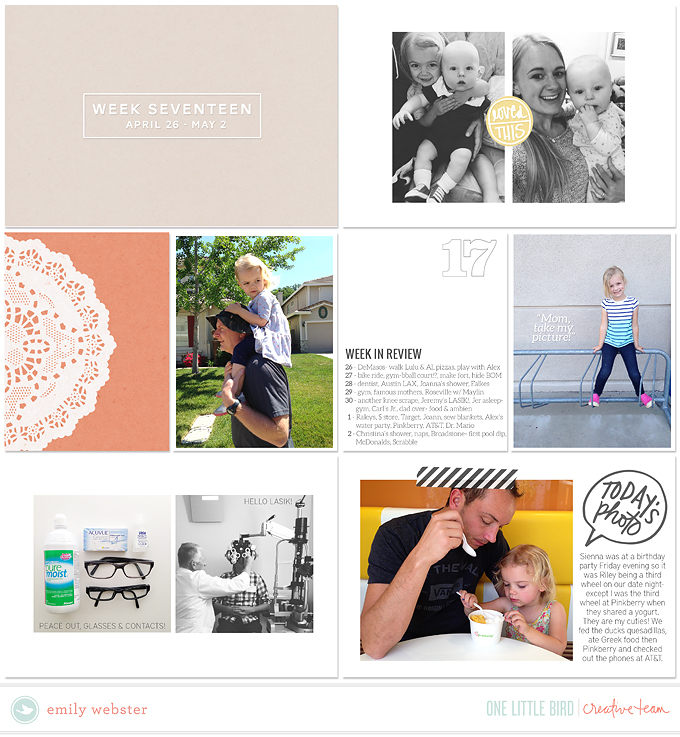 Love Emily's candid, everyday photos of her family in her week 17 pocket page. (Materials: Suncatcher Papers)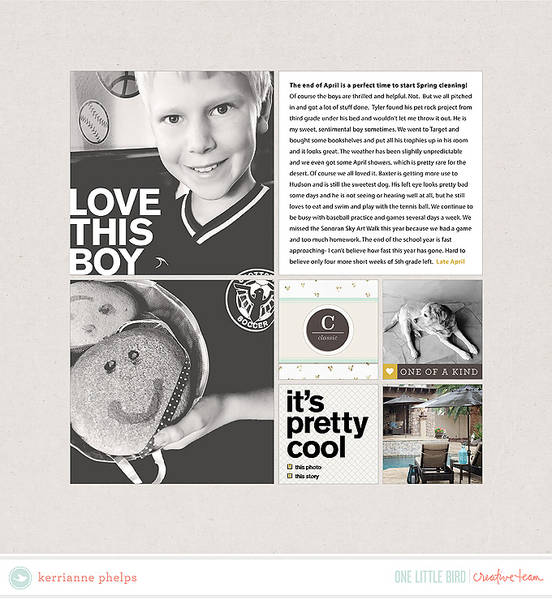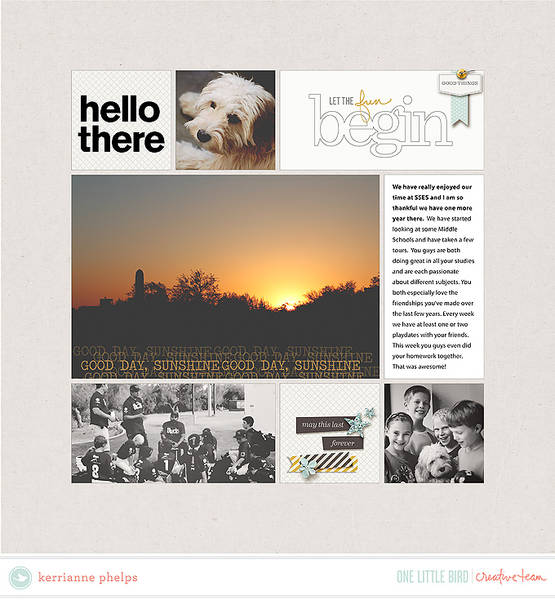 I fell hard for this two-page spread of Kerrianne's. I adore the bold, graphic feel of her page – like the pages of a magazine. (Materials: Halcyon Kit + Cards, Silver Linings Kit + Cards, Timeless Kit + Cards.)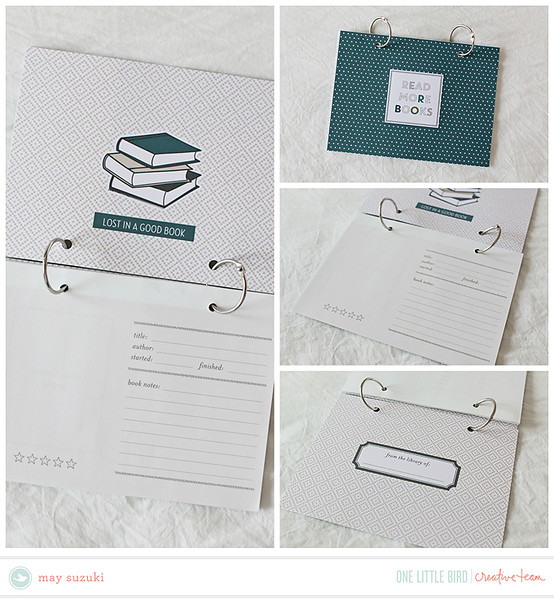 Aren't you always excited to see what May has in store each month? I know I am! Her hybrid projects get the wheels turning in my head – like this summer reading log book for her daughter that she put together. Her daughter said she's going to read 100 books during summer break! So ambitious. May might need to get some bigger rings for this reading log if her daughter meets her goal! (Materials: High Street Stories Journaling Cards + Digital Kit.)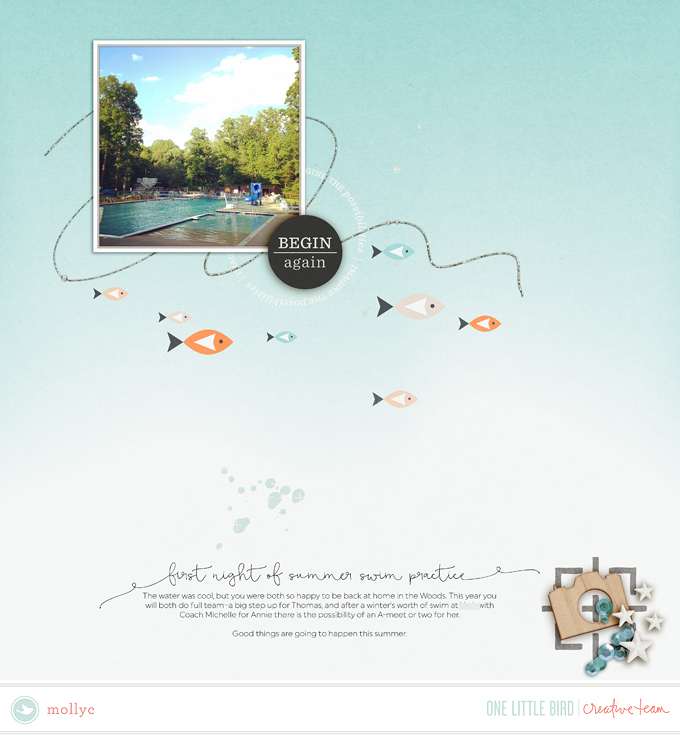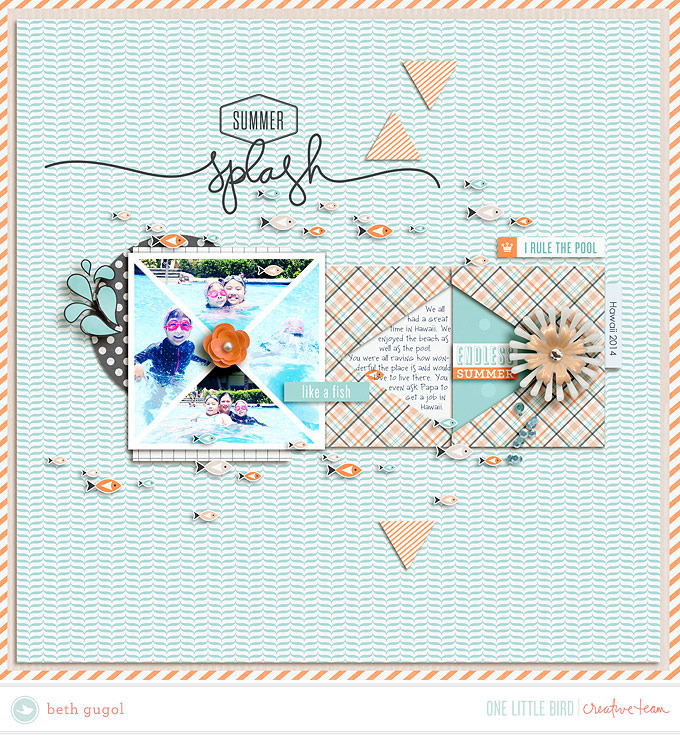 This product line was made for pool photos. When I took swimming lessons as a kid, the first year students were all in the "guppy" class, which is how this kit got its name. Love these pages from Molly and Beth documenting pool time with their kids. (Materials: Guppy, Silver Linings, Click.)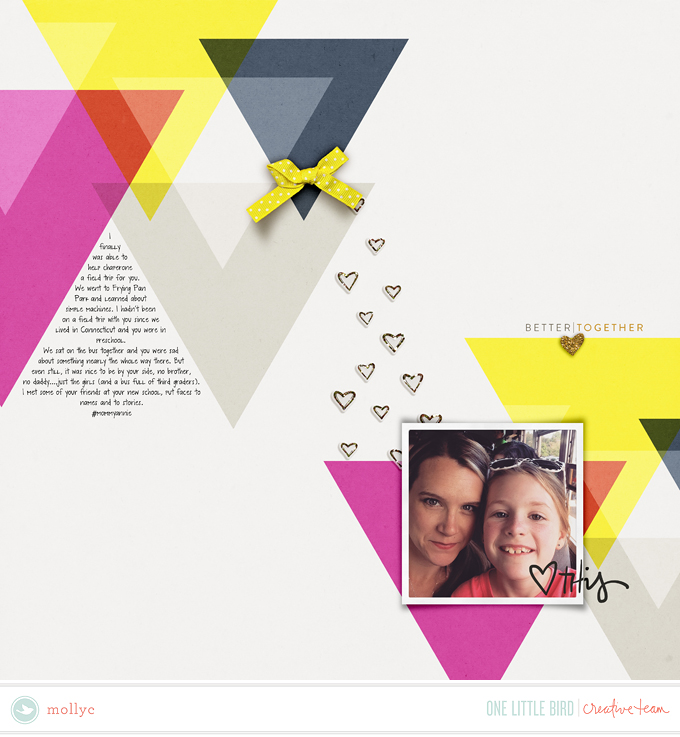 Probably my most-used (and most-recognizable) paper ever, and I never get sick of seeing how people's pages come together with it. I love it so much I included a version of it in an upcoming paper line with Gossamer Blue so I can see if it gets as much love in the paper world as it does in the digital world. And this paper almost wound up on the cutting room floor when I was putting the kit together – I thought to myself "No one is going to use a paper this bold!". Boy was I wrong! (Materials: Who I Am, Better Together, High Street Stories.)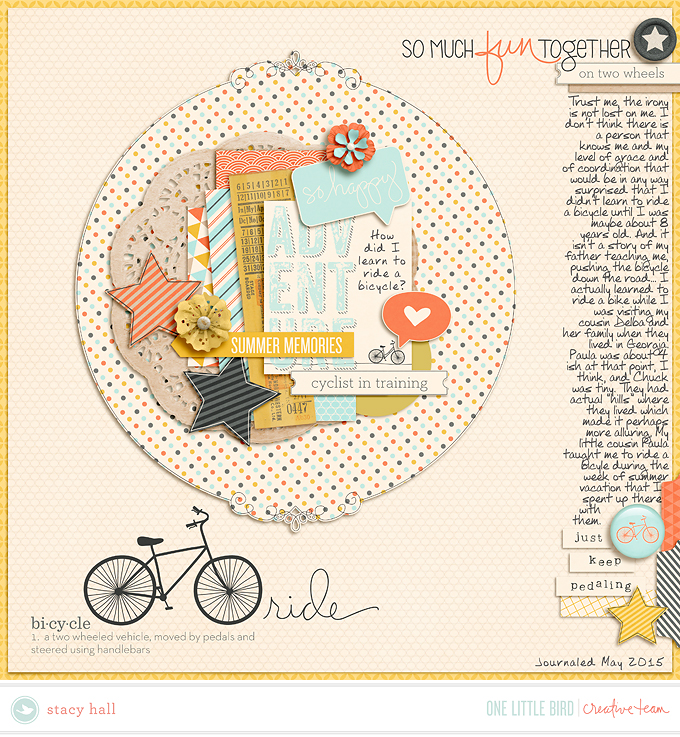 I just adore this "backstory" style layout from Stacy, documenting how she learned to ride a bicycle. I think I may have her beat, actually! I didn't learn until I was 10 years old, but the rest of my story is similar. It's hard to resist that wind-in-your-hair feeling of coasting on a bike down a hill. (Materials: Pedal Pusher, In The Loop 3, Flight Plan No. 13)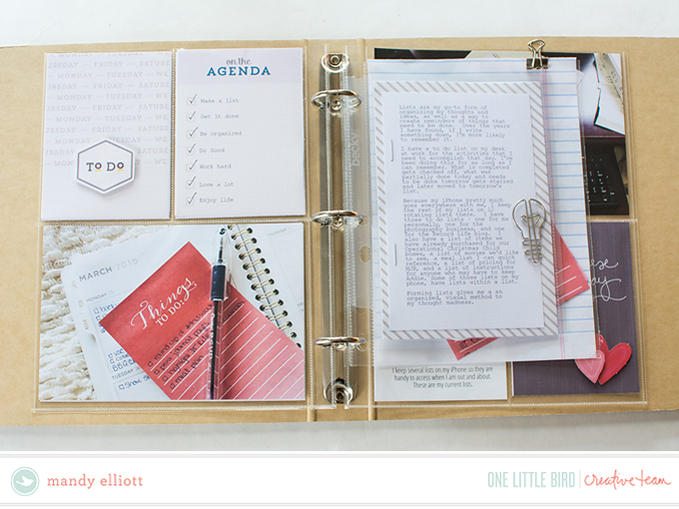 When Mandy posted this page she said this set of journaling cards "speaks to her happy, list-making heart" – and as an avid list-maker myself, that's exactly why I made it. (Materials: Per Diem Journaling Cards.)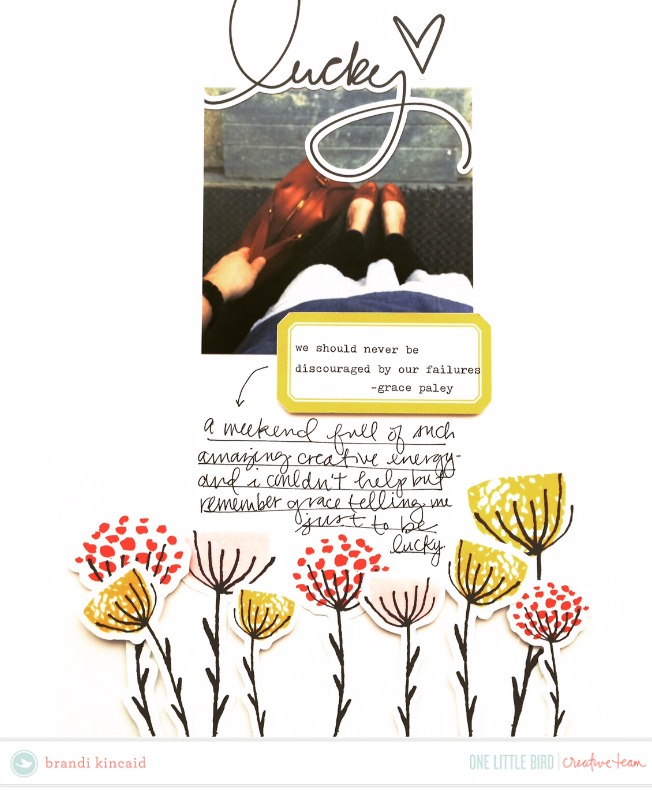 I'm head over heels for this hybrid page from our June guest, Brandi Kincaid. I love these flowers blooming up from the bottom of her page. (Materials: Serendipity.)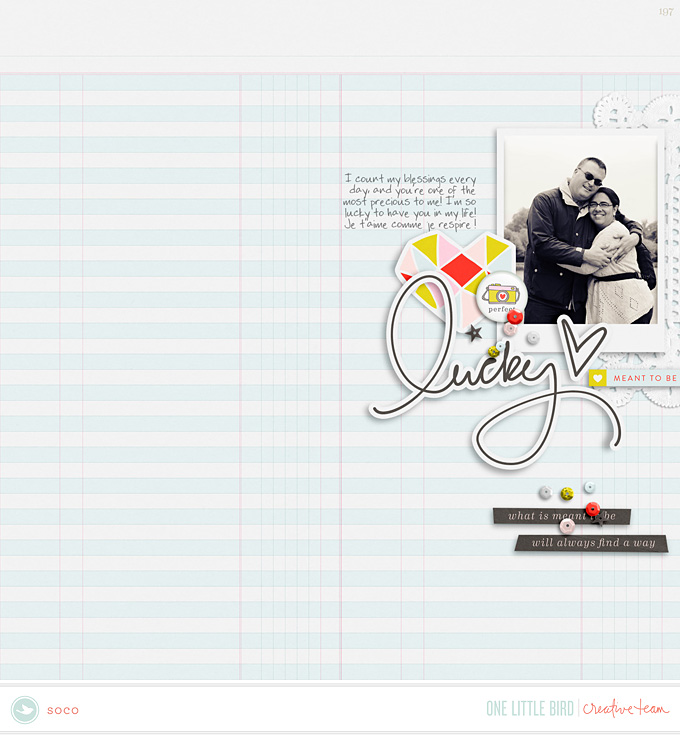 I love a composition that's pushed all the way to the edge of a page. This one from Soco has perfectly placed pops of color. (Materials: Serendipity.)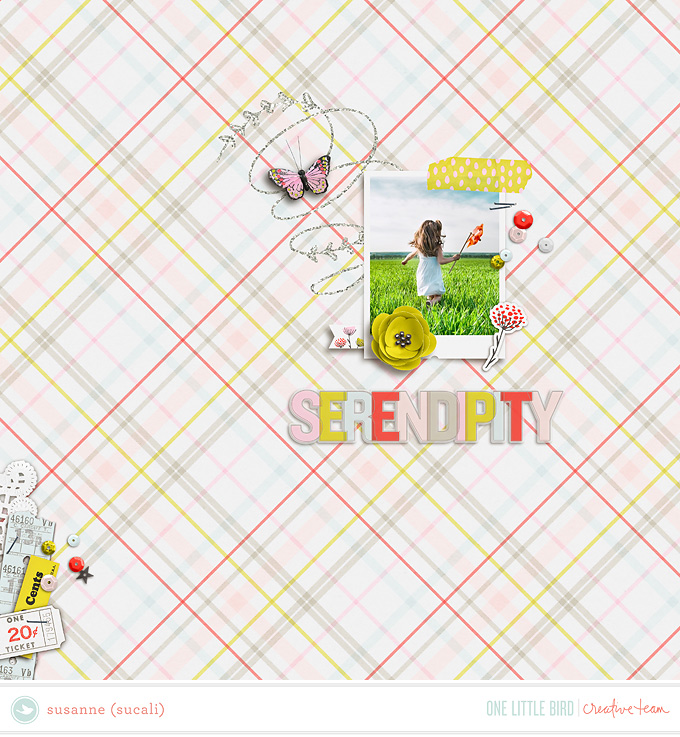 It's a block of Serendipity, in case you hadn't noticed. The bright, cheerful colors in this kit make it perfect for pages about love, happiness and good fortune. (Materials: Serendipity.)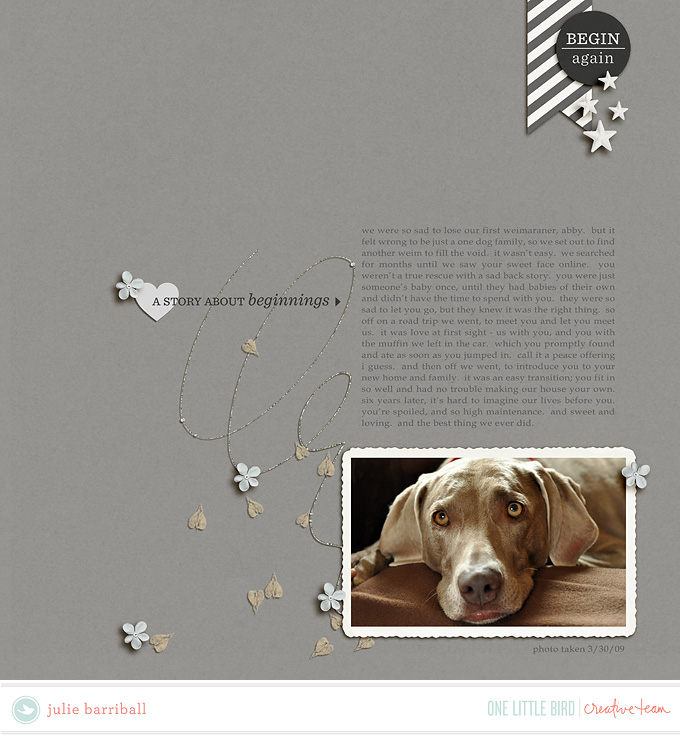 Julie and I have "known" each other in the scrapbooking world for a lot of years. So I remember Abby's passing, and the introduction of Aspen – and I loved reading Julie's journaling on this page documenting her beginning. A true example of the types of stories that need to be shared. (Materials: Silver Linings.)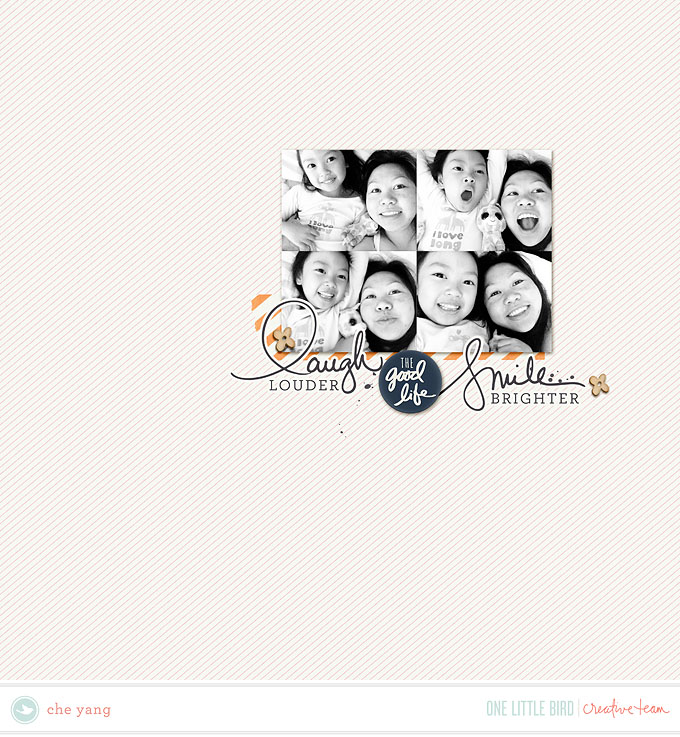 I'm always a little bit jealous of "photobooth" style photos because I tend to feel as though I'm lucky to get ONE usable photo, much less four or five! But Che's layout here inspires me to keep trying. (Materials: The Story Unfolds.)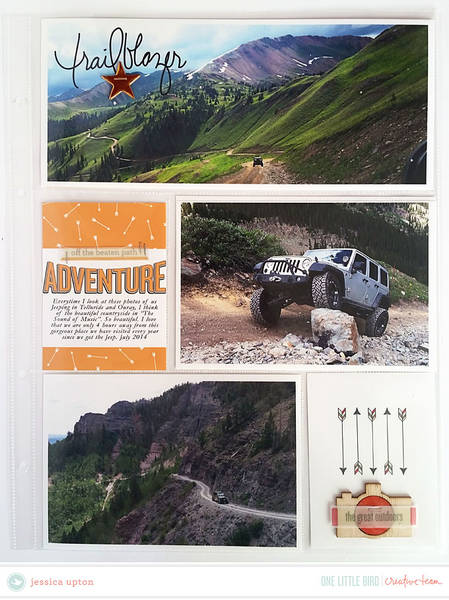 On Instagram, Jessica said that these cards are perfect for Jeep adventures – and she had me at "Jeep", because I've been drinking the Jeep kool-aid for years! (Materials: Trailblazer Journaling Cards.)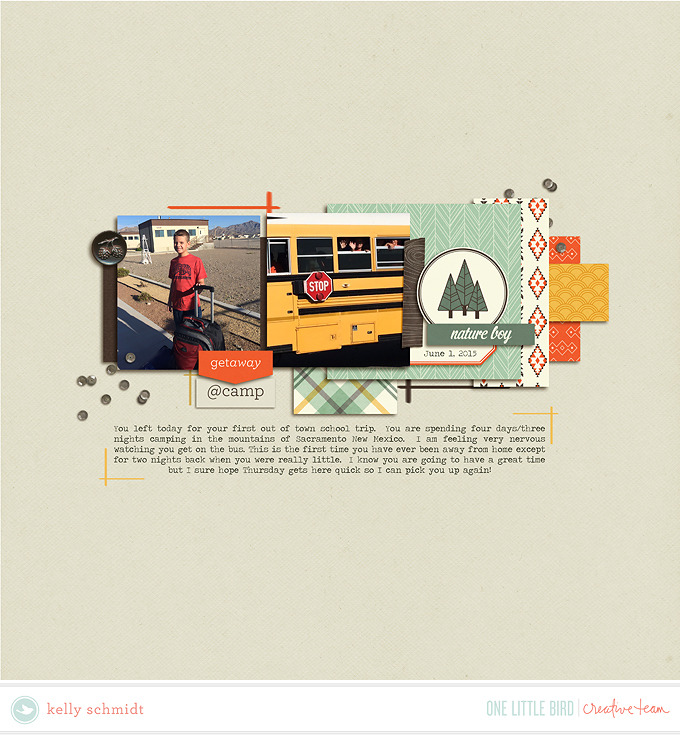 And a digital kit using the digital kit, of course! I actually made this kit to document some of my son's adventures at Boy Scouts Summer Camp, and love how Kelly is using it here to document her own son's camp story. (Materials: Trailblazer.)
Have a great weekend, everyone!