Hello everyone!  I'm here today showing you an "out of the box" project using Peppermint's Serendipity collection elements!  I converted the heart and lucky .png files into cut files and created these cool summer t-shirts using iron on vinyl and my Silhouette machine!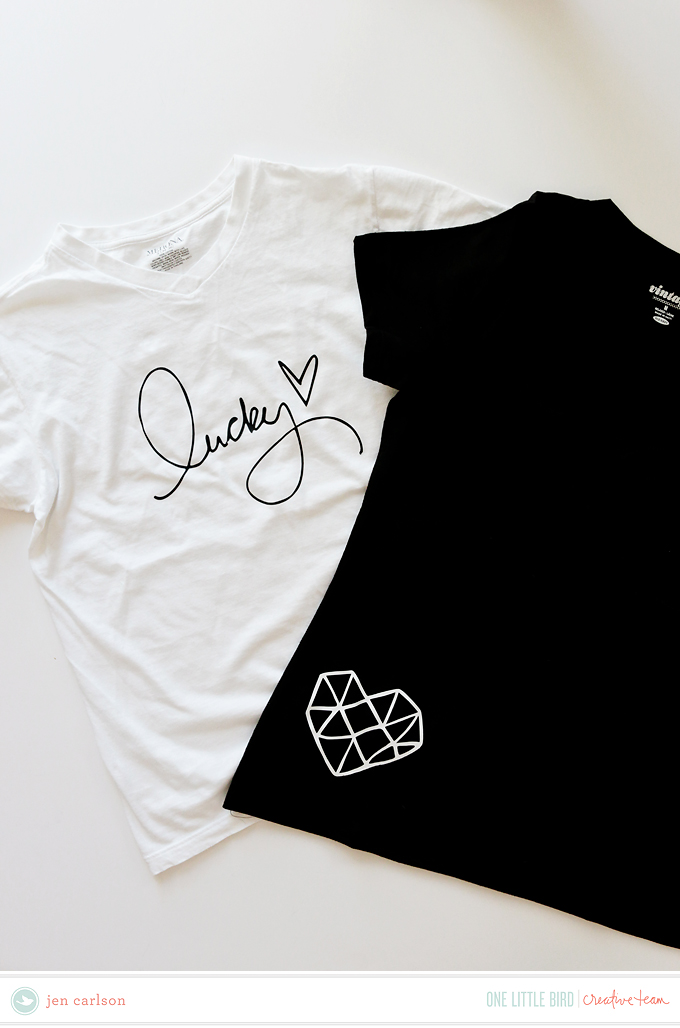 Do you have a Silhouette machine?  You can start by opening one of these files in the Silhouette program.  Next, open the "trace window".  Select "trace area" and expand a square around the entire object.  Click "trace."  You'll now be left with one outlined image and the original, stacked on top of each other.  If you drag one to the side you can see the two separated.  Delete the original and you're left with the outlined image.  Size the image by stretching the box according to your size t-shirt.  For my "lucky" t-shirt I enlarged the word to 8.5in x 6.5in.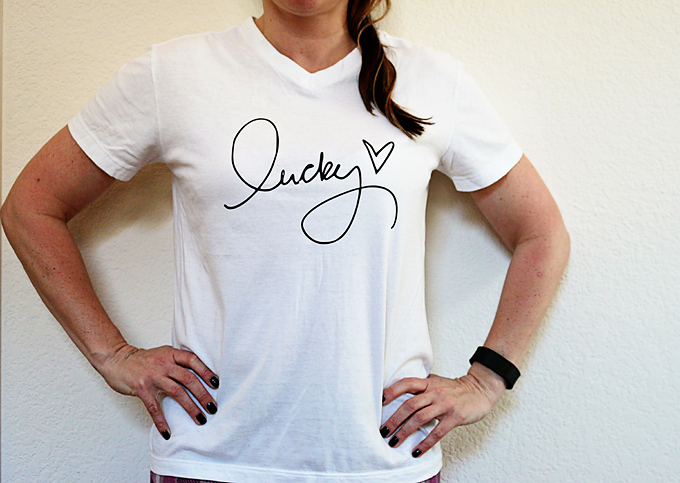 One thing to note when you're cutting out words is that you'll have to use a mirror image as the word needs to be cut out of the reverse side of the vinyl.  To do this, once you've created the traced image, click on the tab "object."  Drag down to "transform" then "mirror options."  On the right side a mirror options menu will pop up.  Click either "mirror left" or "mirror right."  This will create a mirrored image and leave the original; delete the original.
Once your image has been sized, you're ready to cut!  Click on the "cut settings"icon.  Under this menu select "Silhouette vinyl."  Settings I entered were Speed=8, Thickness=33, blue blade, double cut.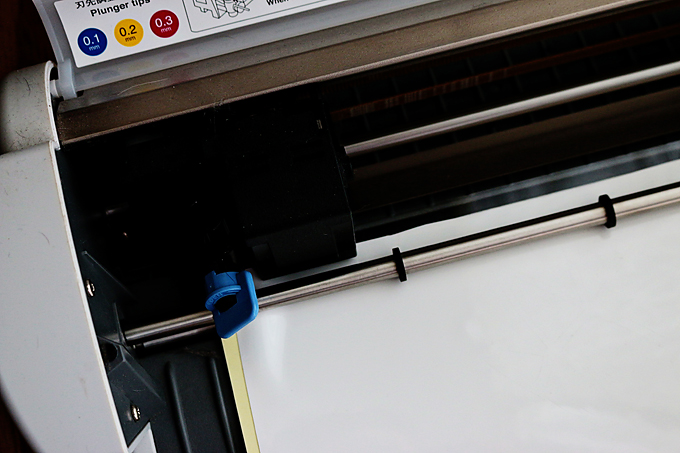 I bought some generic brand iron-on vinyl off of Amazon in black and white.  There are two layers to a sheet of it: the vinyl and the clear backing.  When you place a piece on your cutting mat, make sure the matte colored side is facing up, shiny side down.  You're ready to hit the "cut file" button!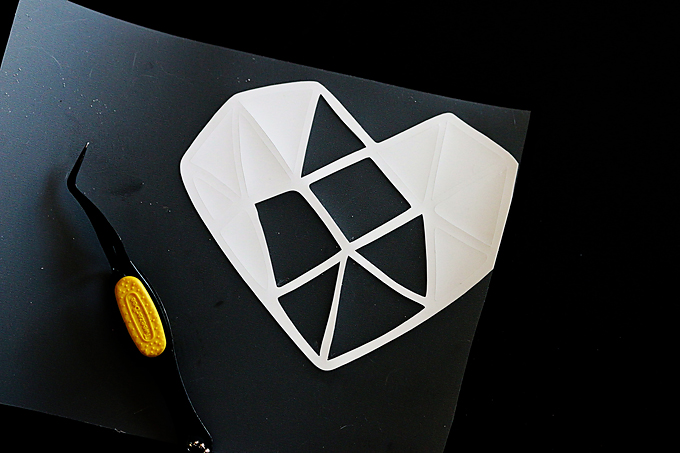 Once your image is cut, peel the colored vinyl away from the clear backing, leaving your image.  I used a sharp tweezer to pick out the in-between pieces.
Set your iron to 4 and let it warm up.  Place your image vinyl side down on your t-shirt.  Press with your iron firmly on a flat surface on top of the clear backing and hold in each area about 5 seconds.  Make sure you're moving the iron around, but giving every area at least 5 seconds.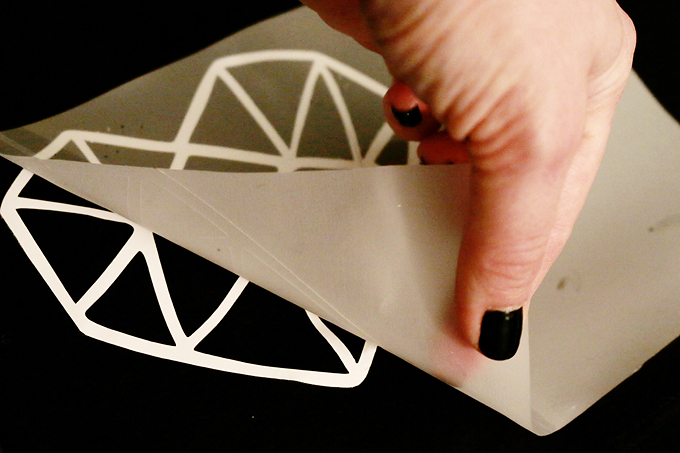 You can check by carefully lifting up the clear backing and SLOWly peeling away.  The vinyl should not lift up with the backing.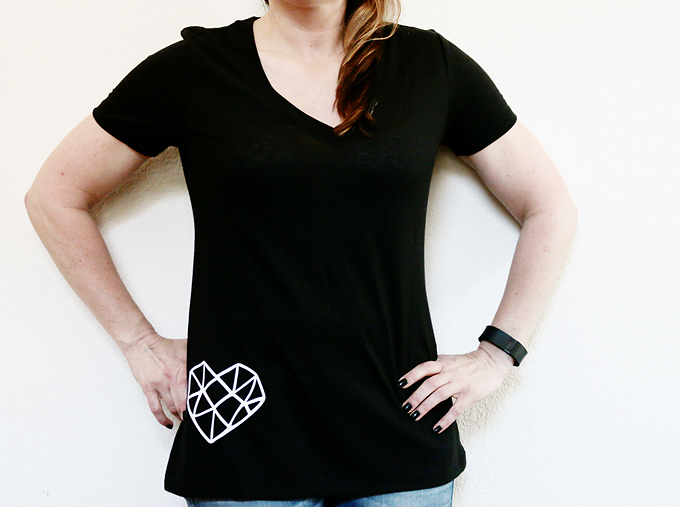 And voila!  You have a brand new custom t-shirt with a super cool One Little Bird design on it!  The mark of a TRUE scrapbooker!
Hope you enjoyed this post!  Thank you so much for coming and taking a peek!
XX, Jen
About Jen
I started scrapbooking in 2000 as a result of a family trip to Europe. I create traditional 12×12 layouts and am a sucker for a good sketch. Last year I started Project Life and have been hooked on pocket pages ever since. I grew up in St. Louis, MO, but moved out to Northern California 10 years ago, where I work as a Process Engineer at a biopharmaceutical plant. I enjoy baking, cooking, brunching, exploring the coast, and loving on my boyfriend (Derek) and 3 fur kids (Beer, Gracie, and Winston).